Jordan Peele's 'Get Out' Almost Had A Much More Bleak Ending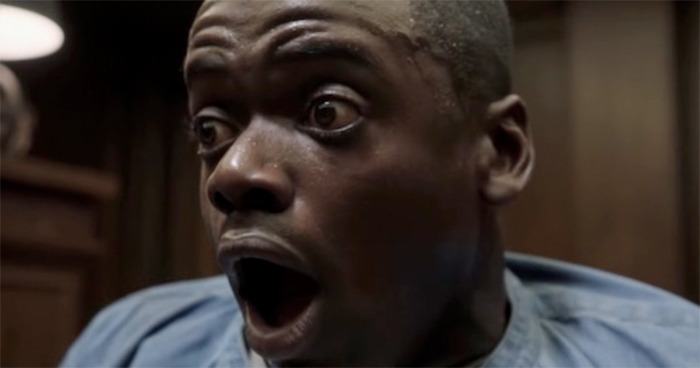 Even though most of the buzz around theatrical releases right now is centered around Logan, let's not forget that there's a perfectly good horror film called Get Out that's also begging to be seen.
Directed by Jordan Peele (one-half of the comedic duo known as Key & Peele), the film follows Chris (Daniel Kaluuya) and Rose (Allison Williams) a young interracial couple who are about to partake in a weekend getaway. The only problem is that this is the first time Chris is meeting Rose's parents (Bradley Whitford and Catherine Keener), and there's something that's not quite right about their overly accommodating behavior. But Chris never could have prepared himself for what's really going on.
We don't want to spoil any of the surprising twists and turns that Get Out makes, but Jordan Peele recently discussed the existence of an alternate ending that would have taken a much more bleak, dark turn. Well discuss the Get Out alternate ending after the jump, but beware of major spoilers from here on out.
At the end of Get Out, our main character learns that his girlfriend's family is at the center of a ritual that takes the consciousness of aging white people and places them inside the bodies of younger, stronger black people. As he's being prepared to have his body overtaken by a blind man played by Stephen Root, he escapes, kills each of his captors (including his girlfriend who was in on it the whole time), and ends up getting away with the help of his airport security friend Rod (Lil Rel Howery).
However, there was an alternate ending that was once in place when the movie was first written that was much more bleak. Instead of Chris being picked up by his friend Rod at the end and getting away from this insanity, the original ending had the cops showing up and arresting him for the murder of Rose and her family. Peele explained on Buzzfeed's Another Round podcast (via Variety) where this original idea came from:
"In the beginning, when I was first making this movie the idea was, 'Okay, we're in this post-racial world, apparently.' That was the whole idea," he revealed. "People were saying, like, 'We've got Obama so racism is over, let's not talk about it.' It's a wrap. That's what the movie was meant to address. These are all clues, if you don't already know, that racism isn't over. So the ending in that era was meant to say, 'Look, you think race isn't an issue?' Well at the end, we all know this is how this movie would end right here."
We still get a taste of the dread that would have come from that ending when what appears to be a cop car pulls up to the scene of Chris choking the life out of Rose in the middle of the road. In fact, I thought the movie was going to end with Chris getting blamed for everything and really hit home the message about racism at the core of the movie. But Peele explained that when they finally got around to making the movie, times had changed a bit, and the perspective of society regarding racism was a little "more woke," thanks to headline-making stories about police shootings. He elaborated:
"It was very clear that the ending needed to transform into something that gives us a hero, that gives us an escape, gives us a positive feeling when we leave this movie. There's nothing more satisfying than seeing the audience go crazy when Rod shows up."
When I saw Get Out, there was such a huge sigh of relief and even laughter from the audience when the car door swings open to reveal the word "airport", signifying that Chris doesn't have to deal with anymore bullshit. The alternate ending would have been provocative to say the least, but Peele made the right decision to change it.
If you'd like to listen to more of Jordan Peele on Buzzfeed's Another Round, you can hear the full episode right here. The discussion about the ending of Get Out starts around the 25:30 mark.