20 Movies About Serial Killers That Will Absolutely Creep You Out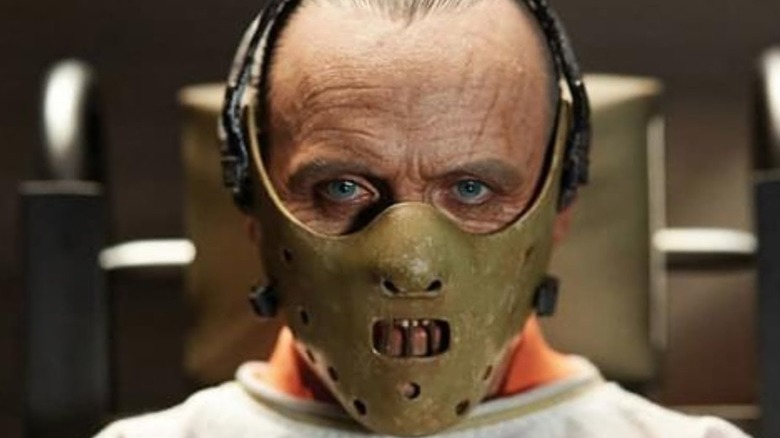 Orion Pictures
Serial killers are scary. Sure, so are ghosts and monsters, but those occupy a distinct, purely fictional part of our minds. Supernatural creatures are ephemeral fears, frightening enough to generate a jolt or a few hours of unease, but nothing really beyond that.
Serial killers are different because they're real. They live in our world, and appear on newscasts and the front pages, not just in books, movies, and old stories. They're flesh and blood, but there's something monstrous about them that makes them difficult to understand, and almost impossible to empathize with. They're diverse, too. In the movies, some serial killers are cheesy slashers. Others are complex, nuanced individuals with a monstrous streak. The most terrifying, however, are the ones who seem just like us — at least at first. 
Here, I highlight 20 movies about serial killers that will absolutely creep you out. Among them are international offerings, lesser-known gems, and bone-chilling plunges into the darkest recesses of the human mind. Brace yourselves.
Evil is real in I Saw the Devil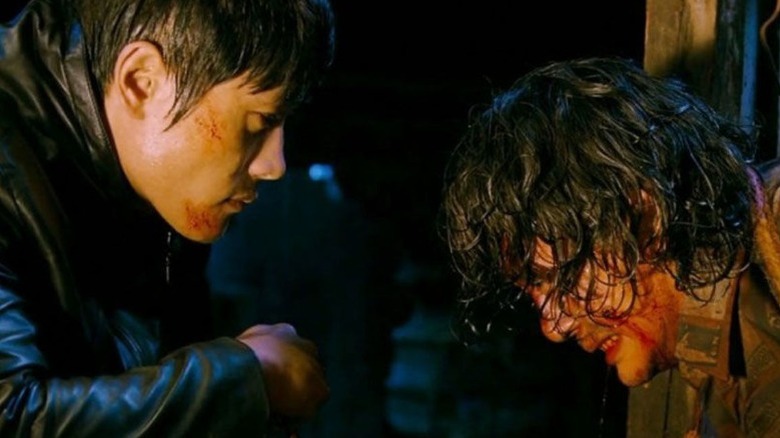 Magnet Releasing
"I Saw the Devil" is a sensational, brutal, uncompromising, and dense exploration of both a serial killer and the avenging angel committed to taking him out. Kim Jee-woon's film follows Kim Soo-hyun (Lee Byung-hun), a man who endeavors to track down the notorious serial killer, Jang Kyung-chul (Choi Min-sik) after his fiancé is horrifically executed. Running nearly two and a half hours, "I Saw the Devil" can be an intermittently exhausting experience, an uber-violent and austere reflection on the minds of two very different killers. 
/Film's own Germain Lussier remarked, "['I Saw the Devil'] deconstructs the entire conceit of revenge by flipping it upside down and spinning it around. At different times during the film, you might sympathize with the murderer, other times, no one is in the right and by the time it's over, [it] leaves the question of right vs. wrong solely in the mind of its audience." Unflinching, terrifying, and exhilarating, "I Saw the Devil" is one of the most high-octane serial killer flicks ever made. It'll creep you out long after it's over.
Question everything in Shadow of a Doubt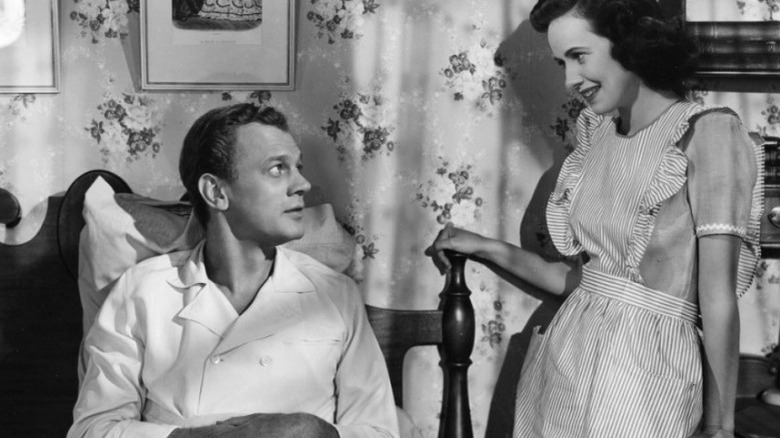 Universal Pictures
Alfred Hitchcock's "Shadow of a Doubt," one of his earliest films, is a measured, slow-burn steeped in paranoia and small town, suburban ennui. It's also one of his lesser-known masterpieces, with The Library of Congress deeming it "culturally, historically, or aesthetically significant" (per the Library of Congress). For the unconvinced, just ask Hitchcock himself — it's his favorite among an extensive filmography.
Teresa Wright stars in "Shadow of Doubt" as Charlotte "Charlie" Newton, a precocious teenage girl with an unmatched affinity for her Uncle Charlie (Joseph Cotton). Soon, however, young Charlie begins to suspect that the older Charlie might just be the "Merry Widow Murderer," a serial killer who targets rich widows. Young Charlie's suspicions are soon confirmed, though no one believes her. The more she shows her cards, the more in danger her life becomes. 
"Shadow of a Doubt" is incredibly well-acted, genuinely tense, and features one of Hitchcock's most astute balancing acts, leveraging between grim gallows humor against bona fide terror. It deserves to sit alongside "Psycho" as one of Hitchcock's greatest contributions to both cinema and the serial killer subgenre.
Lurid thrills in Dressed to Kill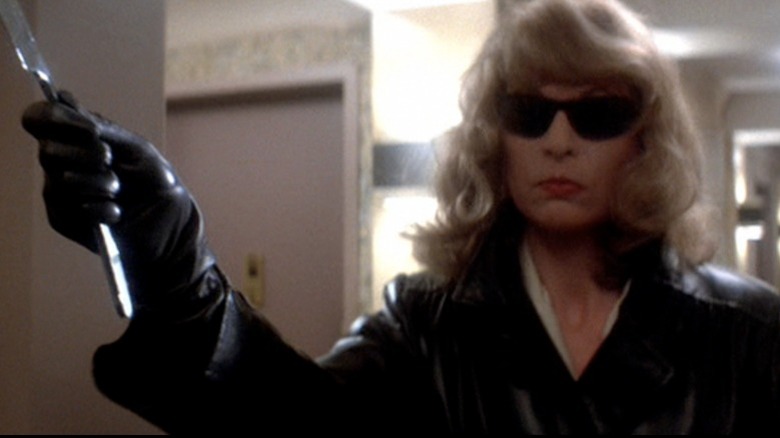 Filmways Pictures
Brian De Palma was unmatched in the '70s and '80s. "Carrie" is a perennial horror classic and "Scarface" remains an unrivaled tentpole of cinema bro culture. "Dressed to Kill," released between those two, is the closest De Palma's ever came to directing a bona fide Giallo film, an Italian sub genre famous for its vivid look and graphic kills. Michael Caine stars as Dr. Robert Elliott, a psychiatrist trailing a murderer alongside Nancy Allen's Liz Blake. Though considerably slower than more contemporary fare, "Dressed to Kill" is a stylish, blood-soaked trek through sleazy streets, problematic subtext, and rapturous acting.
/Film's Chris Evangelista called it a "twisty, lurid, brilliant psychosexual thriller," and in the forty years since release, "Dressed to Kill" has outlived its ostensibly dated shock value. It remains a thoroughly engaging, frightening, and brilliantly acted serial killer slasher quite unlike anything we've seen since. Grab some popcorn, dim the lights, and get "Dressed to Kill."
Italian serial killers in The Bird With the Crystal Plumage
Brian De Palma almost certainly channeled preeminent Giallo director Dario Argento with "Dressed to Kill." "The Bird with the Crystal Plumage" is Argento's directorial debut, and remains one of his most accomplished slasher-mystery hybrids. Tony Musante stars as Sam Dalmas, an American writer vacationing in Rome who witnesses a brutal attack on a woman in an art gallery. The initial outburst of violence is splendidly staged in a way only Argento could pull off, with the camera flash-cutting to the attack and then back to Sam, alone on the street and powerless to help.
The woman is Monica Ranier (Eva Renzi), the gallery owner, and though she survives the attack, several others soon turn up dead. Sam, having witnessed it, fears he may be next, and both he and his girlfriend, Julia (Suzy Kendall), endeavor to discover who the killer is before the murderer catches up to them. "The Bird with the Crystal Plumage" is stylish, brilliantly violent, and boasts a genuinely engaging central mystery. The over-the-top histrionics are somewhat heightened in translation, especially in the dubbed versions available to stream or rent, but "The Bird with the Crystal Plumage" is nonetheless one of Argento's best offerings, as well as being a truly groundbreaking and transgressive slice of serial killer cinema.
Violence is snuffed out in Thesis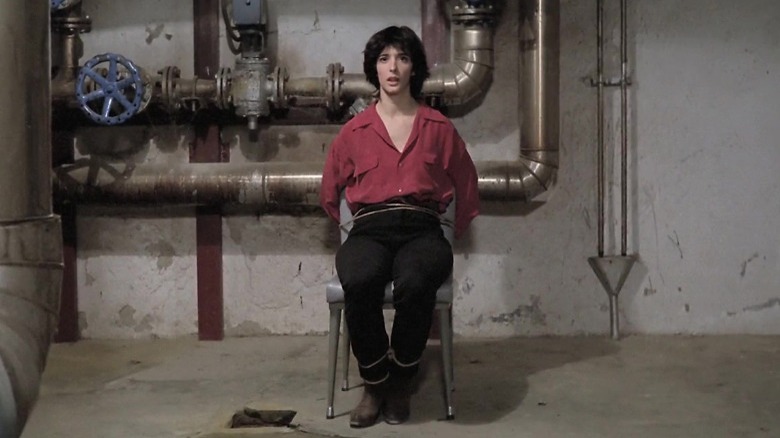 Las Producciones del Escorpión, S.L.
Alejandro Amenábar's "Thesis" ("Tesis" in Spanish) is one of the most genuinely terrifying movies ever made. Ana Torrent stars as Ángela Márquez, a graduate student writing a thesis on audiovisual violence. After witnessing a death by suicide on her commuter train, Ángela asks Professor Figueroa (Miguel Picazo) to help her track down the most violent, disturbing movies he can. Chema (Fele Martínez), a fellow student, agrees to help. Professor Figueroa, meanwhile, finds a tape hidden in the school basement, and is later killed, dead from an alleged asthma attack. Ángela borrows the tape, and upon watching it, discovers that it's a real snuff film starring a student from her university.
The tension in "Thesis" is palpable, and Amenábar, in his directorial debut, wisely suggests more than he actually shows. When Ángela first watches the tape, she adjusts her television's contrast so that no images are visible. Instead, she and the audience are privy to just the audio, a thoroughly chilling mix of screams, pleas, and tears. The images conjured in the imagination are considerably more frightening than anything Amenábar could have put on screen, and as a result "Thesis" is impossible to shake. It poses heady questions about our collective fascination with violence, and makes it clear that there are no easy answers.
A time traveling killer in The Call
"The Call" is one of the newest offerings on this list, having debuted on Netflix in winter 2020, but it is also one of its best. An intoxicating and almost fiendishly fresh take on old tricks, "The Call" stars Park Shin-hye as Kim Seo-yeon, a woman who returns to her mother's country home and discovers that the landline has connected her with Oh Young-sook (Jeon Jong-seo), a young woman living in the same house 20 years before.
A hybrid of a time travel adventure and a slasher movie, "The Call" is unlike anything else released this century. Science is largely sidelined, present enough to establish the central conceit but never focused on the point of distraction. Though Kim Seo-yeon and Oh Young-sook at first develop a friendly rapport, with both using their knowledge of past and present to help the other, only Oh Young-sook's actions in the past have the capacity to reverberate in the present. I won't spoil anything else here — a great deal of the many pleasures of "The Call" come from its subversive script and gut-wrenching twists — but for fans of both time travel and serial killers (what a combination!) "The Call" is worth answering.
Henry: Portrait of a Serial Killer is one of the most chilling movies ever made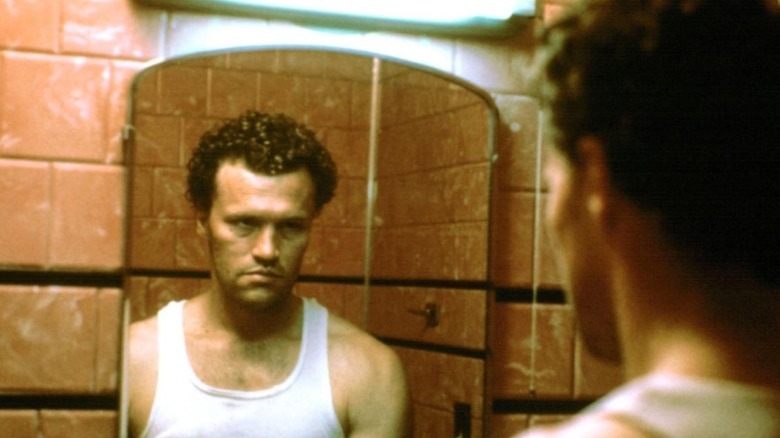 Greycat Films
John McNaughton's "Henry: Portrait of a Serial Killer" is widely-considered to be one of the scariest movies ever made. A raw, austere, and uncompromising portrait of real-life killer Henry Lee Lucas, "Henry: Portrait of a Serial Killer" is a well-constructed yet deliberately grimy piece of work. It's both a horror movie and a character study that relishes in the verisimilitude of its setting, killer protagonist, and unembellished kills. The violence here hits hard, and is never punctuated with filmic flourishes or flanked by high style. It's matter of fact, and all the more chilling as a result.
Michael Rooker stars as the nomadic killer, known only as Henry, and follows his routine life after moving back to the city to live with friend Otis (Tom Towles, playing a character largely inspired by real killer Ottis Toole). The two were really friends and, intermittently, sexual partners. Towles and Rooker turn in two of the most chilling cinematic performances of all time, free of both vanity and Old Hollywood excess. Per Roger Ebert in a three-and-a-half star review, "the story of a pathological mass murderer, ["Henry"] was told in such flat, unforgiving realism that it inspired angry debates after its screenings at film festivals and midnight cult screenings. Some viewers feel it is evil incarnate; others say it is superb filmmaking." Whether it's evil incarnate or superb filmmaking, one thing is certain: "Henry: Portrait of a Serial Killer" is unshakable.
French new wave horror in High Tension
Alexandre Aja, in the early part of his career, was somewhat pejoratively known to be a member of "the splat pack," a group of independent filmmakers, including Greg McLean or James Wan, who directed, wrote, or produced horror movies notable for both low-budgets and graphic violence. "High Tension," one of Aja's earliest movies, was enough to earn him entry to the pack. Filmed in 2003, though not released in the United States until 2005 on account of lengthy edits to avoid an NC-17 rating, "High Tension" is a terrifying, bloody, and not-at-all-for-the-faint-of-heart depiction of one of cinema's most brutal serial killers.
Cécile de France stars as Marie, a young woman staying with her friend Alexia's family in the French countryside. That night, a killer driving a milk truck arrives, murders the entire family — including, it must be noted, a young child in a graphic on-screen death — and kidnaps Alexia. Marie must simultaneously outwit the killer and do what she can to save her friend. A brutal, violent cat-and-mouse game ensues, played out along foggy roads and dimly lit rest stops. Though notable for some on account of its ludicrous final twist, "High Tension" largely works as a terrifying example of what the new century of horror had to offer.
See real terror in Julia's Eyes
Guillem Morales' "Julia's Eyes" (also known by its original title, "Los ojos de Julia") is more restrained than "High Tension," yet considerably more tense. The Guillermo del Toro-produced shocker resembles both "Shadow of a Doubt" and "Thesis" with its slow stalk-and-slash sequences, unbearable tension, and suggestive atmosphere; "Julia's Eyes" is more inclined to insinuate than show.
Belén Rueda stars in the film as Julia, a woman drawn into a dark conspiracy after her twin sister, Sara (also played by Rueda) allegedly dies by suicide. Police and Julia's husband argue that Sara died on account of a degenerative disease that slowly blinded her, a condition that Julia is also afflicted with. Julia, however, is incredulous, and soon discovers that Sara, for some time before her death, had been seeing someone — someone who might know something about Sara's death. 
Julia's sight declines on account of the following stress. As her vision wanes, her insight into her sister's potential murder expands: Sara's unknown beau may very well have been a serial killer. "Julia's Eyes" is tense, terrifying, and replete with visual flourishes that illustrate Julia's failing vision. It works like gangbusters, a deliberately obfuscated filmic technique that heightens the thrills and renders every jolt that much more terrifying. What we can't see might very well hurt us.
'90s horror in Super Dark Times
"Super Dark Times," Kevin Philips' directorial debut, is super depressing. The verisimilitude is astounding, with Owen Campbell and Charlie Tahan turning in some of the most authentic, mid-'90s geek performances ever committed to screen. Campbell stars as Zach Taylor and Tahan as Josh Templeton, two best friends whose lives are upended when Josh, while screwing around, accidentally kills their mutual friend Daryl (Max Talisman).
The suburban ennui is suffocating, punctuated with a grunge aesthetic, droning soundtrack, and hallucinatory vignettes of violence and paranoia that are almost viscerally uncomfortable to sit through. Spoilers will be kept to a minimum, but as Zach endeavors to keep this secret, it becomes clear that what Josh did may not have been an accident. Rob Hunter of /Film highlighted "Super Dark Times" as one of 2017's best, saying "it builds to an incredibly tense third act that intertwines angst, doubt, and suspense into some of the year's most thrilling beats." "Super Dark Times" is not only super dark — it's super good.
Vicious Fun is both vicious and fun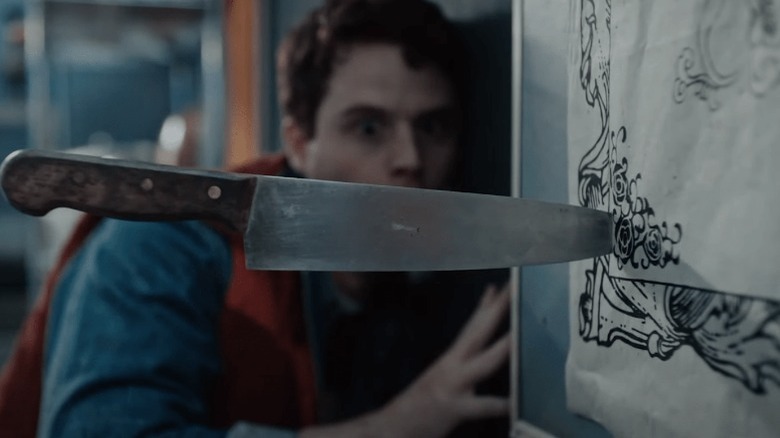 Shudder
"Vicious Fun" is, well, vicious fun. Evan Marsh stars in Cody Calahan's film as Joel, a sad-sack horror writer who, after a late-night dive bar bender, inadvertently stumbles into a serial killer support group. Hijinks and violence ensue as Joel plans his escape, acting like a serial killer himself in order to stay alive.
What really sets "Vicious Fun" apart is its careful treading of the line between comedy and horror. Horror comedies can be among the most difficult movies to actualize, with most failing to be either funny or scary enough to work. "Vicious Fun," conversely, cultivates an enormous amount of heart through its dunderhead protagonist, a genuinely funny script from James Villeneuve, and a smattering of frightening scenes. It also marks Amber Goldfarb as an actress to watch. Though initially innocuous, her role expands into a clever, sensational twist on the dated final girl trope. "Vicious Fun" is not only a great serial killer flick, it's also one of the best of the past few years.
Hitmen descend Into darkness in Kill List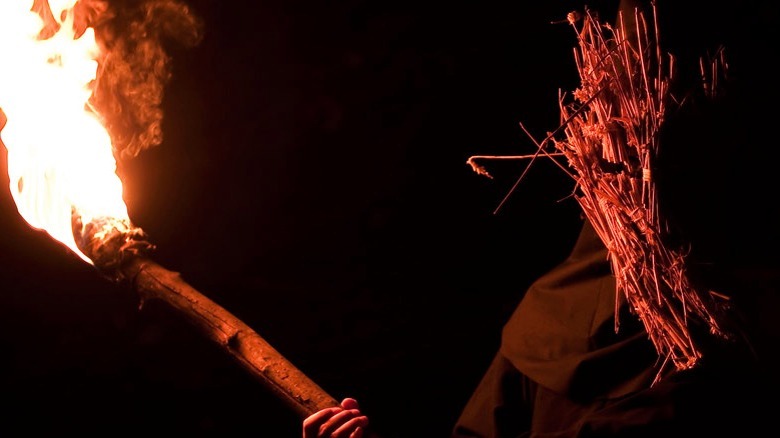 Optimum Releasing
Ben Wheatley's "Kill List," much like Kevin Philips' "Super Dark Times," makes for an exceptionally uncomfortable viewing experience. Neil Maskell stars as Jay, a British soldier who, upon his return from Kyiv, reunites with his old friend, Gal (Michael Smiley). The two work as contract killers, and accept a contract from an ominous new employer who orders three kills. Divided into three distinct parts, each vignette covering a separate murder, "Kill List" effortlessly shifts between urban drama, revenge thriller, and folk horror, with some of the most shocking, visceral cinematic violence of the past decade..
Wheatley has since shifted into more mainstream fare, including Netflix's "Rebecca" remake and, most recently, "The Meg 2." However, "Kill List" remains his superlative feature. Confounding, frightening, and home to some of the most spine-tingling imagery ever, "Kill List" is almost a genre unto itself. It's a radical and wholly unique reinvention of the serial killer movie, one in which the killers are paid, the victims unknown, and the tension suffocating.
Biopic thrills in My Friend Dahmer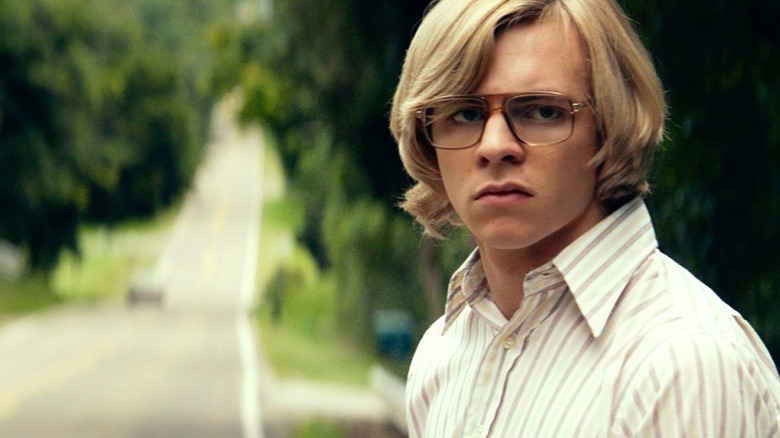 FilmRise
"My Friend Dahmer," an adaptation of Derf Backderf's graphic novel of the same name, had the unenviable task of illustrating how, at one point, Jeffery Dahmer was an ordinary suburban kid without infantilizing or sympathizing with a man who would later murder, dismember, and cannibalize at least 18 boys. 
Ross Lynch of Disney and "The Chilling Adventures of Sabrina" fame plays the titular Dahmer, giving a performance that exceeds expectations for what, on the surface, looked to be consciously controversial casting. After all, how can a conventionally attractive teen throb accurately portray one of the most vicious American serial killers to ever exist? Those fears were unfounded, though the fears of Dahmer, who grappled with a troubled home life, repressed homosexuality, and an uncommon obsession with death and decay, remain. 
By merging troubling-yet-familiar coming of age tropes with darker undertones, "My Friend Dahmer" emerges as a wholly unconventional and frightening exploration of a serial killer's mind. It's a humanely told, yet never sympathetic, account of Dahmer's early years. The cast is stellar, the details convincing, and the burgeoning terror palpable. Audiences will watch knowing what Dahmer will ultimately become, and feel desperate to make it not so.
Backwoods thrills in Hunter Hunter
Shawn Linden's "Hunter Hunter" was one of 2020's most pleasant surprises. Infamous online for its (truly, madly) shocking ending, "Hunter Hunter" is an authentic and gritty account of a family living off the grid who stumble upon both a dangerous woodland wolf and a pile of bodies not far from their remote homestead.
Linden never sensationalizes or romanticizes rural life, with Camille Sullivan's Anne Mersault, wife of star Devon Sawa's Joseph, operating as an audience surrogate, repeatedly bemoaning their meager lives and wondering whether it's time for them to move onto something more normal and stable. Mersault in particular turns in a stellar performance. "Hunter Hunter" is a grab-bag of genres, mixing together wolves, guns, serial killers, dismembered corpses, and even Nick Stahl, and somehow ends up more than the sum of its parts. Chilling, well-shot, and profoundly intense, "Hunter Hunter" is worth hunting down.
Real-life tragedy in Hounds of Love
Loosely based on the real-life crimes of killers David and Catherine Birnie, "Hounds of Love" stars Ashleigh Cummings as Vicki, a riotously disrespectful, rebellious teen. One night, she sneaks out and is lured into the living room of a neighboring couple, John and Evelyn White (Emma Booth and Stephen Curry). Though they attempt to seduce her, Vicki is keen to leave. The couple quickly drugs her, though, and Vicki awakens chained to a bed in their one-story Aussie home.
The early-goings of "Hounds of Love" feel conventional, with Vicki attempting to outwit her captors and while making unsuccessful escape attempts, including an oh-so-common, just-so-close crawl through a bathroom window. As the movie progresses, however, the pathologies of both John and Evelyn are unfurled, and it remains tremendously upsetting to see how two ostensibly normal people could treat another human being so horrifically. Linden wisely suggests more than he shows, on account of both the story's real-life trappings and the sheer horror of what the Whites are known to have done. Underneath it all, though, is a profound meditation on survival, healing, and the roots of trauma. It's a serial killer flick that haunts long after it's over.
Danish horror haunts Nightwatch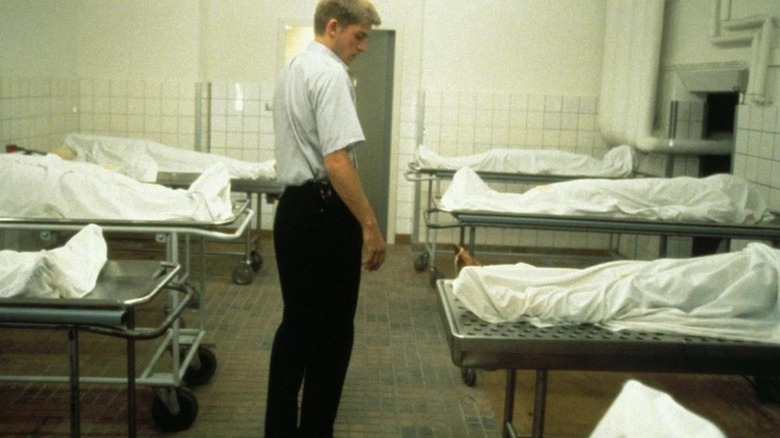 Thura Film
"Nightwatch" ("Nattevagten" in Danish) is a gothic thriller from writer-director Ole Bornedal. Nikolaj Coster Waldau of "Game of Thrones" fame stars as Martin Bork, a law student who takes a gig as a night watchman at a local medical institute, eager to have some alone time to study. Simultaneously, a serial killer targets women in Copenhagen and Martin, spooked by the dark, begins to suspect that the bodies he's watching are truly dead.
Remade three years later with Ewan McGregor (though, it must be noted, that version is much, much worse), "Nightwatch" is a tough to categorize but thoroughly frightening horror film. With a smattering of serial killer intrigue, a gleeful exploitation of man's innate fear of the dark, and some supernatural goings-on, it's a hybrid film that exceeds expectations. Part murder mystery, part violent slasher, Bornedal's "Nightwatch" is tough to track down, but if you can snag a copy, it's a filmic experience unlike any other.
Before Silence of the Lambs, there was Manhunter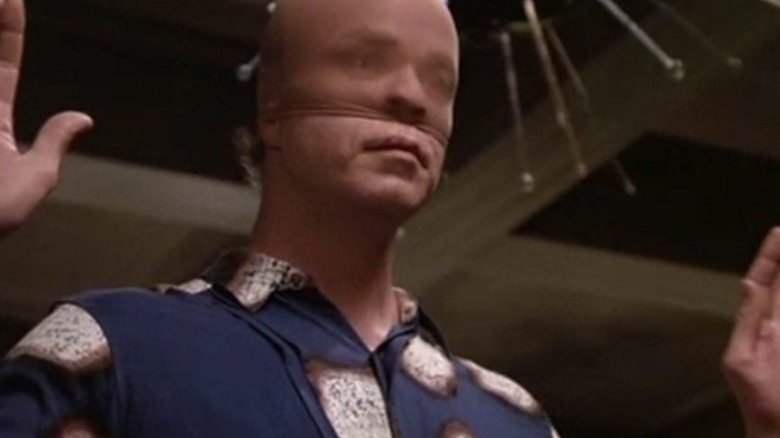 De Laurentiis Entertainment Group
"Manhunter" is the first film adaptation from Thomas Harris' famed series of books about Hannibal Lecter. Long before Anthony Hopkins won his Oscar and Jodie Foster demanded a suspect spread his legs, Brian Cox assumed the now-infamous role of Lecter, the serial killer recruited by FBI profiler Will Graham (William Petersen) to profile and track down the Tooth Fairy (Tom Noonan), a killer named after the bite marks he leaves on his victims.
Less propulsive and violent than its 2002 remake, "Red Dragon," "Manhunter" is nonetheless a fascinating first foray into the Hannibal Lecter mythos. The procedural elements are strong, it has a sensational Joan Allen as the Tooth Fairy's latest target, and the garish Miami of the '80s is distinct and intoxicating. Though it fared poorly at the box-office upon release, "Manhunter" has been reconsidered in recent years and is largely considered one of the better filmic forays for Hannibal the Cannibal.
Audition is one of the most shocking movies ever made
The bag. That damned bag. Takasi Miike's "Audition" takes the slow burn to an entirely new level. Almost completely devoid of violence until the end, it nonetheless remains a deeply disturbing tale of man meets woman. Shigeharu Aoyama (Ryo Ishibashi) is helping with a casting call when he meets Asami Yamazaki (Eihi Shiina), an enigmatic young woman who reads for the role. Aoyama is quickly obsessed and tracks Asami down to an apartment that contains just an empty sack and a phone. Red flags are ignored as Aoyama's obsession consumes him. Asami's references are either missing or aloof, and before they sleep together for the first time, Asami demands that Aoyama pledge his love to her and no one else.
Creepily cryptic, partially confounding, and thoroughly disturbing, "Audition" builds to one of the most famous horror climaxes in history. The imagery is nauseating and the performances unsettling — no one in the movie acts quite human enough — but "Audition" is a fascinating reflection on love, obsession, death, and, yes, murder.
Helen Hunt dazzles in I See You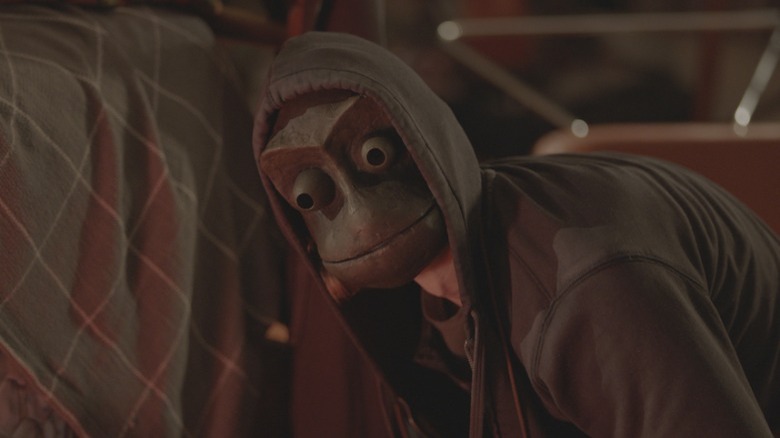 Saban Films
At first, Adam Randall's "I See You" doesn't appear to be a great movie. The first act is plodding and confusing, and it's difficult to move beyond the question of what, exactly, Helen Hunt is doing in a movie like this. It's a haunted house movie, but it also isn't. The conflict and tension start at eleven and only rise from there, and there's little, if anything, for audiences to latch onto.
Then director Adam Randall, the magnificent trickster, shifts gears. Perspectives change, early events are reframed, and "I See You" becomes an addictive guessing game full of twists, subversive turns, genuine pathos, and serial killer thrills. It's impossible to reduce "I See You" to one element, really, but for readers eager to check it out, I implore you to read or watch as little as possible beforehand. No trailers or detailed synopsis. A detective and his family are plagued by strange occurrences. That's all you need to know. Though the start is rough, by the end, it'll be the kind of movie you fervently recommend to friends and family. It's that good.
Throwback terror in Summer of 84
There are a lot of people involved behind the camera in "Summer of 84." While three directors might suggest a movie full of competing ideas and conflicting tones, François Simard, Anouk Whissell and Yoann-Karl Whissell smartly combine their talents in what remains one of the best "Stranger Things" riffs released in recent years.
Thirteen teenage boys have disappeared in Cape May, Oregon, and while the summer of 1984 means bike rides, "Star Wars" jokes, and ogling local hotties, it soon shifts to terror when a quartet of teenage boys begins to suspect that neighbor and police officer Wayne Mackey (Rich Sommer) is the infamous Cape May Slayer. Unrated, "Summer of 84" is a "Stranger Things" redux in its early hour, though it takes a considerably darker (and more violent) turn as the narrative unravels. It's shocking, discordant stuff, but it works as a poignant reminder of how evil, cruelty, and paranoia can permanently disrupt childhood.