Jurassic World Dominion Featurette: Women Inherit The Earth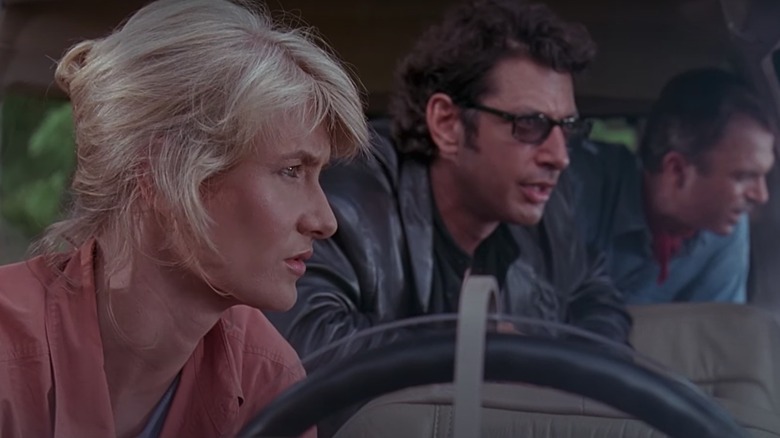 Universal Pictures
The final film in the second "Jurassic Park" trilogy is almost in theaters. With the return of original trilogy cast members Laura Dern, Jeff Goldblum, and Sam Neill in "Jurassic World Dominion," fans have been looking back at the groundbreaking first film. We all remember Goldblum's Dr. Ian Malcolm saying, "Life ... uh ... finds a way" and his chaos theory, but for me, the best line has always been Dern's Ellie Sattler saying, "Woman inherits the earth." When that film came out, I was little, but seeing a character like Ellie, a scientist and a physically strong woman, was really pivotal for me. I'm certainly not alone. 
Today Universal Pictures has put out a featurette for "Jurassic World Dominion" that features the women of the new film, including Dern, Bryce Dallas Howard, DeWanda Wise, and Isabella Sermon, talking about that line, what Ellie meant to them, and the powerful characters we're going to see. The most interesting part of all of this is Howard discussing how all of these women in the new film are strong, but that they're all different. Ellie is a smart, thoughtful woman. Isabella is brave and clever. DeWanda Wise's new character Kayla should be cast as the next Indiana Jones-type character, going by that first shot of her in the trailer, and Claire Dearing is resilient, but very flawed in her past decisions. 
Powerful women
In the video, Dern speaks about what they did with the first film, saying, "When we made the first 'Jurassic Park' movie, I was aware that we were creating a character that was unusual in an action film. It was important to Steven [Spielberg] and myself that Ellie was a feminist female action character." Howard points out that, when the films started, all the dinosaurs were female. Wise says that she's honored to join a cast like this, and that her character has "development and depth." 
Here's the synopsis for "Jurassic World Dominion."
"Jurassic World Dominion" takes place four years after Isla Nublar has been destroyed. Dinosaurs now live—and hunt—alongside humans all over the world. This fragile balance will reshape the future and determine, once and for all, whether human beings are to remain the apex predators on a planet they now share with history's most fearsome creatures.
"Jurassic World Dominion" stars Bryce Dallas Howard, Chris Pratt, Isabella Sermon, Laura Dern, Jeff Goldblum, Sam Neill, DeWanda Wise, Campbell Scott, Omar Sy, Justice Smith, Daniella Pineda, Mamoudou Athie, Dichen Lachman, and BD Wong. Director Colin Trevorrow co-wrote the screenplay with Emily Carmichael ("Pacific Rim: Uprising"). 
"Jurassic World Dominion" will hit theaters on June 10, 2022.