No Sudden Move Was A Reminder Of What Ray Liotta Did Best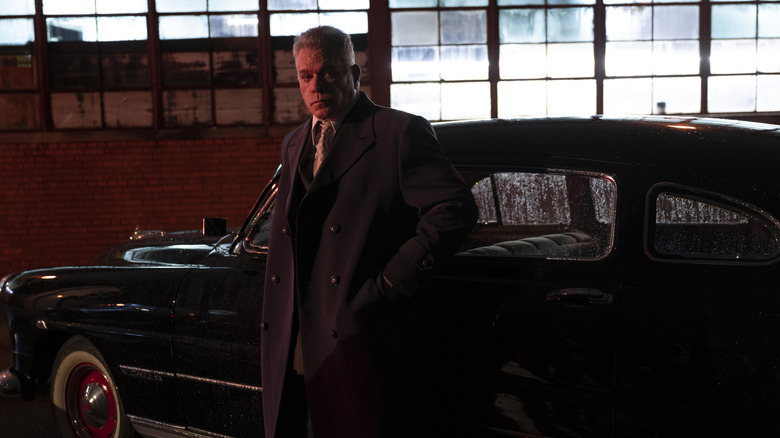 Warner Bros.
Words can hardly do proper justice in the wake of a sudden passing, especially when it comes to memorializing one of the select few individuals who qualify as outright legends in the movie business. Ray Liotta was just that. The late actor, who just passed away at the age of 67, was responsible for many memorable performances, including his most famous, star-making turn — fearlessly leading the charge alongside a murderer's row of talent in Martin Scorsese's 1990 classic "Goodfellas." Just that one role alone would've been enough to usher the grizzled actor into movie star immortality, but Liotta wasn't content to sit back and let just a single production forever define his contributions to the medium.
From "Field of Dreams" to "Heartbreakers" to "Killing Them Softly" to "The Many Saints of Newark," Ray Liotta poured everything he had into every one of his performances over his brilliant career — either playing surprisingly against type or purposefully leaning into his own rugged features that made him such a shoe-in for mobsters, hitmen, cops, and other unsavory characters.
But one recent film perhaps best displayed everything that the charismatic performer was capable of on screen. Steven Soderbergh's "No Sudden Move" represented a breath of fresh air upon release last year, serving as yet another example of a vintage Soderbergh caper while providing enough of a gut punch to stick with viewers long after the fact. As much as the film belongs to Don Cheadle, Benicio del Toro, and especially a scene-stealing Brendan Fraser, Ray Liotta makes his formidable presence felt as the dangerous mob boss Frank Capelli. As much as the film itself feels like a throwback to crime thrillers of yesteryear, Liotta's performance also serves as a perfect reminder of everything the actor did best.
A towering presence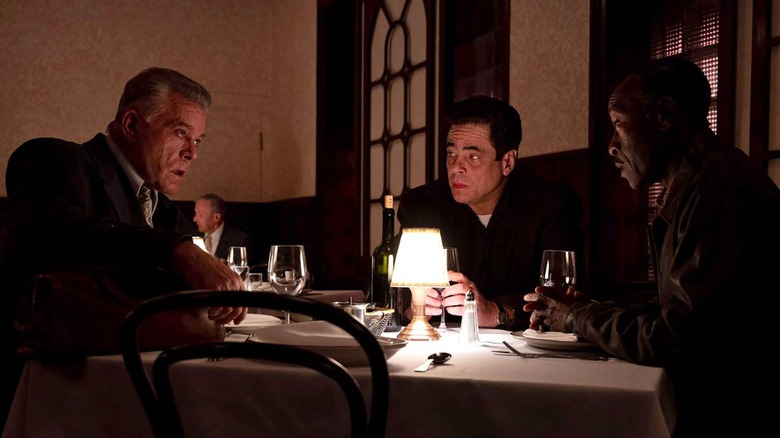 Warner Bros.
A brief flicker of annoyance. Bald-faced lies told with a completely straight face. Barely constrained fury steadily rising underneath his chiseled profile and the square set of his jaw. Much of Liotta's acting in his early scenes in "No Sudden Move" almost seems to work against the actor's strengths. Ed Solomon's script does a tremendous job of unearthing the interiority and private thoughts of many of its characters, but one doesn't cast Ray Liotta for a restrained and minimalist performance. Yet much like the film itself, everything snaps into place the longer we watch.
Frank Capelli is spoken of by other characters in hushed tones, raising the bar of expectations to an almost insurmountable level before we ever even see Liotta's face. It only takes one pivotal scene, however, to appreciate his inspired casting. A quiet dinner room becomes the setting for a tense confrontation between Goynes, Russo, and the treacherous Capelli. The specific details of their exchange are less important than the way Liotta immediately commands the room, even at a (supposed) moment of triumph for our protagonists. Here, his acting works in perfect tandem with the script as he suddenly gains the upper hand and never relinquishes it ... even after the sequence ends in furious rage and a hail of bullets.
Equally as comfortable biting off clipped dialogue in the heat of the moment as he is squeezing the trigger of his gun, Liotta's Capelli can't help but bring to mind his transformation over the course of "Goodfellas." His mob boss is far from sympathetic and commits some heinous acts along the way, but few others could've brought a sense of outraged dignity to such a role, as if he can hardly even believe some of the nonsense he has to deal with. In the suddenness of his passing, I find myself remembering him through his beguiling turn in "No Sudden Move."