Horror Movie Child Stars You Wouldn't Recognize Today
We may receive a commission on purchases made from links.
Children are often used to great effect in horror movies. When they're potential victims, they can really get the audience invested in the story as no one wants to see harm come to something so harmless. Likewise, children can make perfect monsters because who would expect an innocent little kid to be the personification of evil? In fact, children have played important roles in some of the most beloved horror films of all time, including "The Shining," "The Omen," "The Exorcist," "Pet Sematary," "The Ring," and many others.
It's a different story for the young performers who starred in these and other horror films. Some child actors found themselves typecast and unable to work on movies outside of the horror genre. Others used the success from their horror roles to launch them to stardom and a lucrative career across a wide variety of popular and acclaimed films. Here we take a look at the careers of horror movie child stars who are still active in the entertainment industry, but who you wouldn't recognize today.
Haley Joel Osment - The Sixth Sense (1999)
The horror genre rarely gets Oscar love, but "The Sixth Sense" is one of the few exceptions. Haley Joel Osment got an Academy Award nomination for his performance as Cole Sear, a socially awkward young boy who has the unique ability to see ghosts. Bruce Willis stars as Malcolm Crowe, a child psychologist determined to help Cole provide closure for ghosts who died with unfinished business in the realm of the living.
"The Sixth Sense" was a commercial and critical hit, and helped propel Osment's career for some time after its release. He would go on to snag the leading role of David in Steven Spielberg's "A.I. Artificial Intelligence," play several characters in "Family Guy," and provide voice work in the "Kingdom Hearts" video game series. While Osment doesn't have the star power he once had, he remains busy today. He recently voiced Kash D. Langford in "Jurassic World: Camp Cretaceous," along with roles lined up for the upcoming films "Somebody I Used to Know" and "Not an Artist."
Alex Vincent - Child's Play (1988)
Alex Vincent made his film debut in the classic killer doll horror flick "Child's Play" as Andy Barclay, a young boy whose mom buys him a Good Guy doll that just happens to be inhabited by the spirit of a serial killer named Charles Lee Ray. Calling himself Chucky in his new doll form, Charles resumes his murderous rampage and implicates Andy in his crimes, turning the young boy into a suspect. "Child's Play" was a financial success and spawned multiple sequels, a remake, and a TV show.
Alex Vincent has reprised the character of Andy in several other "Child's Play" installments, including "Child's Play 2," "Curse of Chucky," and "Cult of Chucky." He's also appeared in other horror films like 2008's "Dead Country" and 2013's "House Guest Massacre." Some of his upcoming films include "Descending" and "The N00bs." While Alex's film career has been somewhat sporadic over the years, he's still active in the entertainment industry and even runs a recording and production studio called A/V Productions.
Ty Simpkins - Insidious (2010)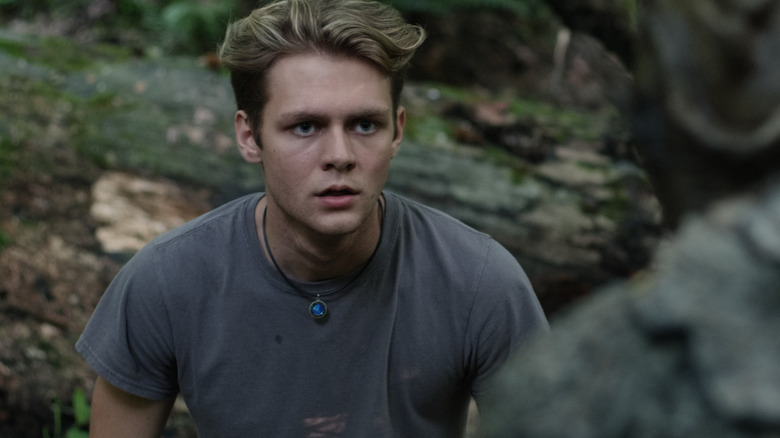 Bowery Media
Ty Simpkins starred in the horror hit "Insidious" as Dalton Lambert, a young boy who mysteriously falls into a coma shortly after he and his family move into a new house. After three months of no improvement in Dalton's condition, the family takes him from the hospital back home to look after him themselves. However, supernatural occurrences begin to take place, prompting Dalton's parents to reach out to some paranormal investigators. They determine that Dalton is not in a coma, but rather he has the unique ability of astral projection and has been captured by a malevolent demon in another plane of existence.
Ty Simpkins was able to avoid being typecast and next appeared in a variety of major film and TV projects. Following "Insidious," Ty starred in the blockbuster "Jurassic World," then joined the Marvel Cinematic Universe as Harley Keener in "Iron Man 3" and again — albeit briefly — in "Avengers: Endgame." Some of his upcoming projects include "The Whale," "The Re-Education of Molly Singer," and a return to his character Dalton Lambert in the upcoming installment in the "Insidious" franchise.
AnnaSophia Robb - The Reaping (2007)
AnnaSophia Robb's fourth feature-length film was "The Reaping" where she played Loren McConnell, a young girl who is believed by the inhabitants of her small town to be responsible for its river turning red. Katherine Winter (played by Hilary Swank) and Ben (played by Idris Elba) have built their careers debunking supposed miracles, and are called to the town to uncover the bizarre occurrences taking place there which seem to correspond with a biblical prophecy.
Possibly because of her previous experience in non-horror roles, AnnaSophia Robb has appeared in a wide range of films and TV shows outside of the horror genre. After her role in "The Reaping," AnnaSophia was seen in 2007's "A West Texas Children's Story," 2008's "Sleepwalking," 2009's "Race to Witch Mountain," and 2013's "The Way Way Back." Some of her more recent projects include playing Michelle Shughart in the miniseries "Dr. Death," appearing in the music video for Ed Sheeran's "Shivers," and starring in the upcoming action thriller "Rebel Ridge."
Oliver Robins - Poltergeist (1982)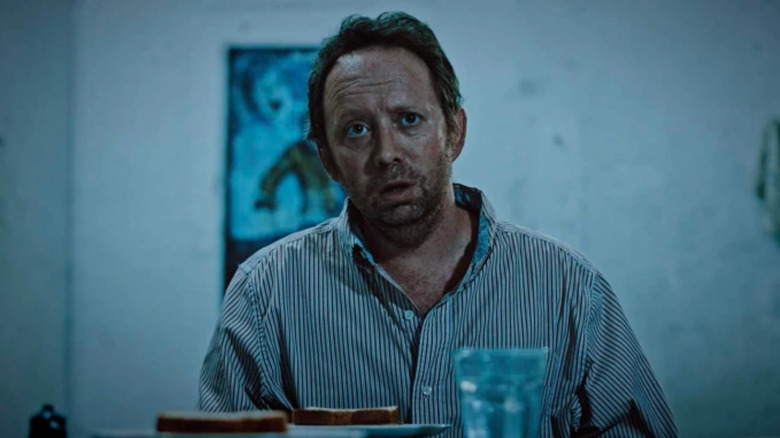 Kyyba Films
Oliver Robins appeared in the Steven Spielberg-produced hit "Poltergeist" as Robbie Freeling, whose family just moved into a new home in a planned community. However, the family begins to experience a series of unexplainable supernatural events taking place at the house shortly after malevolent spirits communicated with Robbie's sister Carol Anne through the TV. In one of the film's scariest moments, a massive tree next to the house comes alive, breaks through Robbie's bedroom window, and tries to eat him.
Oliver Robins' career as an actor has been sporadic since his appearance in "Poltergeist" (he only has eleven acting credits on IMDB). Following his return as Robbie Freeling in 1986's "Poltergeist II: The Other Side," Oliver took a nearly 20-year break from acting before stepping in front of the camera. He's also been working behind the camera, directing such films as 2004's "Wild Roomies," 2008's "Man Overboard," and 2019's "Celebrity Crush." Keep an eye out for him in the upcoming comedy "Hollywood Laundromat."
Chloë Grace Moretz - The Amityville Horror (2005)
Chloë Grace Moretz's first foray into horror was in her feature film debut, the 2005 remake of 1979's "The Amityville Horror." She played Chelsea Lutz, the young daughter of a couple who have just moved into a gorgeous house in the sleepy town of Amityville, New York. However, what the family doesn't know is that a year earlier Ronald DeFeo Jr. killed his entire family in cold blood under the supposed orders of the house itself. Of course, it isn't long before the Lutzes start to notice bizarre happenings in their new home, with Chelsea spending time with an invisible friend who may be one of the children previously murdered in the house.
Moretz was lucky enough not to get typecast after her appearance in "The Amityville Horror," and has since gone on to have a very successful career. She's been seen in such films as "500 Days of Summer," "Kick-Ass" (and its sequel), "The Equalizer," and "Neighbors 2: Sorority Rising," among many others. While she is mostly known for her work in drama and comedy, she has still returned to star in the occasional horror film like "Carrie" and "Suspiria."
Drew Barrymore - Firestarter (1984)
Based on Stephen King's eponymous novel, "Firestarter" tells the story of a young girl named Charlie (Drew Barrymore) who has the ability to control fire with her mind. Her powers come from the fact that her parents were given experimental drugs when they were in college, imbuing them with psychic abilities as well. Now that Charlie's powers have developed, the government program that funded the original experiment is looking to retrieve her and use her for their own purposes.
Drew Barrymore doesn't need much of an introduction. From "E.T. the Extra-Terrestrial" to "Charlie's Angels" to "50 First Dates" and more, Barrymore has appeared in a whole slew of popular movies. She's even returned to the horror genre on occasion, including "Waxwork II: Lost in Time," "Doppelganger," and, of course, "Scream." In recent years she's shifted away from acting to hosting her own program, "The Drew Barrymore Show."
Cody Dorkin - Village of the Damned (1995)
Cody Dorkin is most known for his portrayal of Robert, one of the titular children in the 1995 remake of "Village of the Damned." Directed by horror icon John Carpenter and starring Christopher Reeve, Kirstie Alley, and Mark Hamill, the film follows a group of odd children with mysterious psychic abilities, all of them immaculately born on the same night from different parents. The children all look and act similar to one another, and they use their mental powers to deadly effect on anyone who poses a threat to their existence.
After "Village of the Damned," Cody Dorkin had a relatively minor career in TV and film. Some of his subsequent projects include doing voice work in "Toy Story" and "Johnny Bravo," and appearing in TV series like "Chicago Hope" and "Family Matters." While his last acting credit was as Patrick in "South of Nowhere" in 2007, he has remained in the entertainment industry in his current role as founder and acting coach for the acting studio, Studio 24.
Linda Blair - The Exorcist (1973)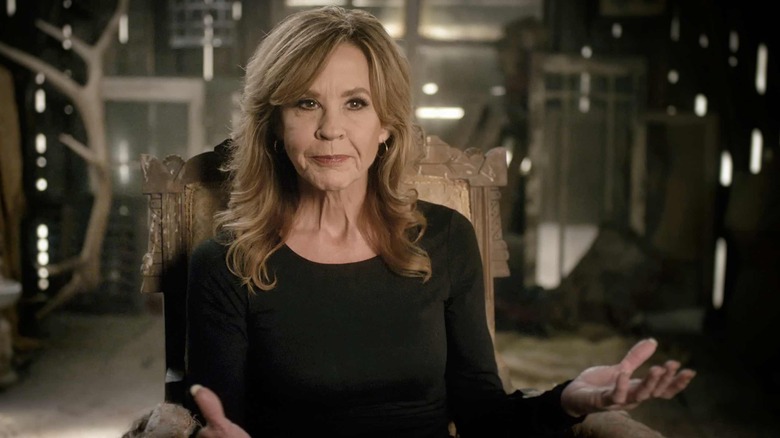 AMC
Linda Blair is quite possibly the quintessential horror movie child star. Her role as Regan MacNeil in "The Exorcist paved the way for countless other child stars to become famous for screaming on screen. In the film, Regan is a young girl who displays escalating demonic behavior that doctors are at a loss to explain. This prompts Regan's mom Chris to seek out the help of Father Karras — who is going through a loss of faith — to rid her daughter of the evil entity corrupting her.
While Blair's place in film history will be guaranteed due to her portrayal of a demonically-possessed little girl in "The Exorcist," she probably won't be remembered for much else despite her long acting career that continues today. Blair would go on to appear in a string of B-movies in the 1980s, including 1981's "Hell Night," 1983's "Chained Heat," and 1984's "Savage Streets." She starred in the "Exorcist" parody "Repossessed" in 1990 alongside Leslie Nielsen, then spent much of the rest of the 90s appearing in small film and TV roles. She will be playing Detective Karen Atwood in the upcoming crime-fantasy film "Landfill."
Dakota Fanning - Hide and Seek (2005)
"Hide and Seek" saw Dakota Fanning play Emily, the daughter of David Callaway (Robert De Niro) who intends to start a new life in upstate New York after the recent death of his wife. Things get weird when Emily spends time with her imaginary friend, Charlie, who she blames for the murder of their cat. Emily starts displaying erratic and even hostile behavior, leading David to believe that Charlie is more than just the product of a child's imagination.
"Hide and Seek" was a critical flop, but it did garner Dakota Fanning award nominations for "Best Actress" at the Fangoria Chainsaw Awards and for "Best Frightened Performance" at the MTV Movie + TV Awards. Since then, Fanning has continued a successful acting career with such credits as Jane in the "Twilight" franchise, Cherie Currie in "The Runaways," and Sara Howard in "The Alienist." She will play Marge Sherwood in the upcoming series "Ripley," and will star in 2023's "The Nightingale" alongside her sister Elle Fanning.
Jodelle Ferland - Silent Hill (2006)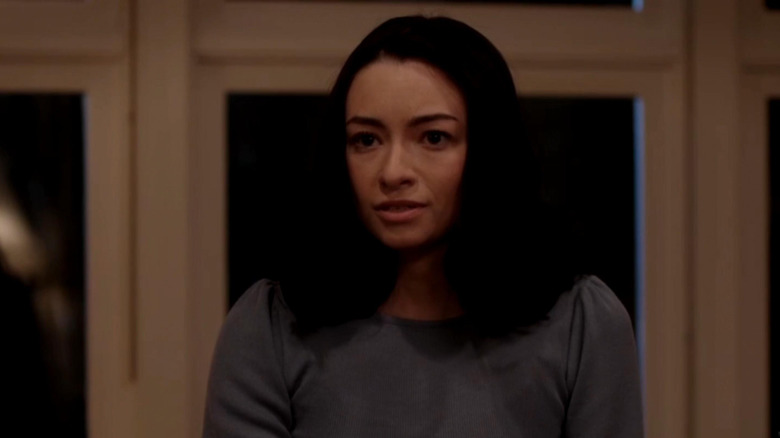 Hallmark
Based on the popular video game series, "Silent Hill" follows married couple Rose and Christopher Da Silva as they grow concerned with their daughters recurring nightmares about the desolate town of Silent Hill. Rose decides to take her daughter to the town herself to find answers, only for the two of them to get separated and encounter a swath of disturbing creatures inhabiting the title town. In her quest for answers, Rose learns about Silent Hill's connection to a young girl named Alessa Gillespie (Jodelle Ferland) who was killed by locals out of the belief that she was a witch. However, Alessa's spirit still haunts the forgotten town and is hungry for revenge.
Jodelle Ferland is no stranger to the horror genre, as she's been seen in such fright flicks as 2002's "Carrie" and "They," 2005's "Tideland," 2009's "Case 39," 2011's "The Cabin in the Woods," and 2012's "The Tall Man." Ferland has also had a busy career on the small screen, having appeared in series like "Kingdom Hospital," "Dark Matter," and more recently "The Order."
Isabelle Fuhrman - Orphan (2009)
Isabelle Fuhrman, in only her second feature film, played the main villain in "Orphan." Vera Farmiga and Peter Sarsgaard portray a married couple who decide to adopt a 9-year-old girl named Esther (Furhman) after their third attempt to conceive a child failed. Despite Esther's young age, she displays the knowledge of someone considerably older than herself, arousing the suspicions of her foster parents. Even more troubling is the manipulative and even violent behavior she begins to display towards the other members of the family. It's obvious that there's more to Esther's past than her parents initially were told.
Other than appearances in 2013's "Don't Let Me Go" and 2016's "Cell," Isabelle Fuhrman hasn't had much to do with the horror genre. However, she's continued to keep herself busy with some wide-ranging projects, such as voice work for "The Cleveland Show" and "Adventure Time: Distant Lands." She had a recurring role in Showtime's "Masters of Sex," and will play the lead in the upcoming thriller "Unit 234." Fuhrman is scheduled to make a return to horror in an "Orphan" prequel titled "Orphan: First Kill," where she will reprise her role of Esther.
Emily Browning - Ghost Ship (2002)
Emily Browning had the small but pivotal role of Katie Harwood in "Ghost Ship." Katie is the only one who wasn't killed in a horrible freak accident, which took place in 1962 aboard the MS Antonia Graza that left everyone else dead. For decades the ship has been adrift at sea until it is boarded by a salvage crew who plan on claiming it and its contents when they bring the Antonia Graza to port. However, the ship has a dark and morbid secret, and Katie's ghost is the key to unlocking it.
Following "Ghost Ship," Emily Browning appeared in other horror films including 2003's "Darkness Falls" and 2009's "The Uninvited." She's also made her mark in numerous other projects like "Lemony Snicket's A Series of Unfortunate Events," Zack Snyder's "Sucker Punch," and the critically acclaimed TV series "American Gods," based on Neil Gaiman's popular novel. She can be seen in the upcoming drama "Monica" and the thriller "Brightwater."