'Avengers 4' Is Bringing Back 'Iron Man 3' Whiz Kid Ty Simpkins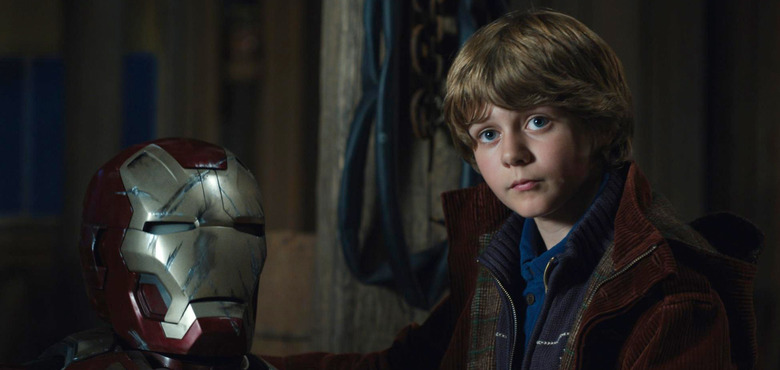 We already know the cast of Avengers: Infinity War will be massive by bringing in all the surviving superheroes from the Marvel Cinematic Universe, and it sounds like the cast of Avengers 4 will be bringing even more characters into the mix outside of all the Avengers and Guardians of the Galaxy.
It's not often that supporting characters who aren't superheroes or villains end up returning for Avengers movies unless they have direct ties to Earth's Mightiest Heroes (like Jon Favreau as Happy Hogan or Gwyneth Paltrow as Pepper Potts), but a new report indicates that Avengers 4 cast is recruiting Ty Simpkins to reprise his role as whiz kid Harley Keener from Iron Man 3. Find out more below.
News of Ty Simpkins, who is now 16 years old, joining Avengers 4 comes from IMDb:
Remember @TYSIMPKINSactor from #IronMan3? Ty has just been added to Untitled #Avengers Movie (2019) as Harley Keener https://t.co/V08lEcYSHl pic.twitter.com/1uvJsoMuKv

— IMDb (@IMDb) October 20, 2017
As you can see, we don't mean that the young actor's name was spotted on the cast list (which is how rumors get started sometimes), but instead, this is IMDb itself is reporting Ty Simpkins as an addition to the superhero ensemble sequel. Unfortunately, that's all we know at this time since there's no indication as to how big or significant his role will be.
Considering how integral Ty Simpkins' role in Iron Man 3 was to the character arc of Tony Stark, I wouldn't be surprised if he served the same purpose this time. Since there are no plans for Tony Stark to have another sequel in his own franchise, the character will have to show some growth in the Avengers franchise instead, which is exactly what happened in Avengers: Age of Ultron.
Then again, the addition of Ty Simpkins in Avengers 4 could signal a more grim development for Tony Stark. What if Simpkins has been cast in Avengers 4 because Iron Man may finally meet he demise? It would stand to reason that Harley Keener would attend Mr. Stark's funeral if that were the case. At the same time, some fans have expressed a desire to see Simpkins step up to replace Tony Stark as the new Iron Man, and there have even been unsubstantiated rumors suggesting that will happen, so that's a possibility too.
As of now, we can only speculate what role Ty Simpkins will play in the overall story. It could easily just end up being a small part where he helps Stark remotely, especially since we know he has a whole high-tech garage to himself, courtesy of Iron Man himself. Either way, we'll be waiting a about a year and a half before we find out since Avengers 4 doesn't arrive until May 3, 2019.