Isabelle Fuhrman Had 'Free Rein' With Her Performance In Orphan: First Kill [Exclusive]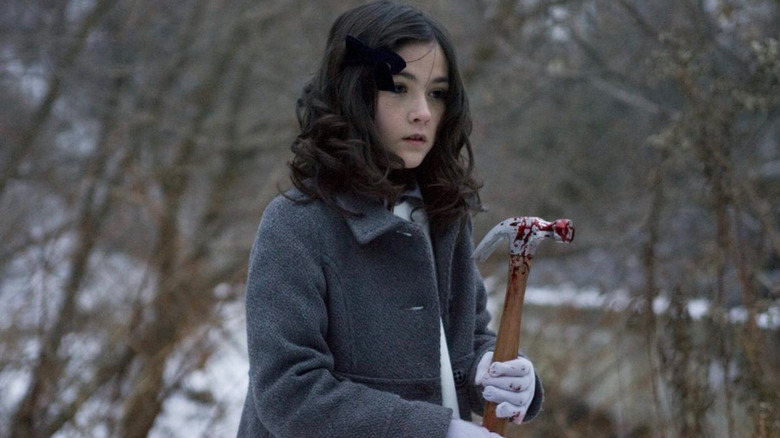 Dark Castle Entertainment
In Lauren Hadaway's "The Novice," Isabelle Furhman plays an obsessed collegiate rower who will do anything to rise to the top, a role that makes heavy demands of anyone brave enough to step into it. /Film's own Shania Russell sat down with Furhman ("Escape Room") to talk about "The Novice" and Furhman's dedication to the lead role. But a revealing tangent developed, addressing the actor's memorable turn in Jaume Collet-Serra's 2009 psychological horror movie "Orphan," which has an upcoming prequel, "Orphan: First Kill," coming soon, with Furhman reprising her role as perpetual bad seed Leena Klammer/Esther.
Spoilers for the first film, but the original featured a 10-year-old actor playing a 33-year-old woman posing as a 9-year-old girl. For "Orphan: First Kill," Furhman (now 24) returns as young Esther, a role that felt "familiar, but... like a different challenge," according to the 5'3" actor. Furhman dishes, "Being a kid and pretending to be an adult, there were different things that I was trying to match. I mean, I was watching Vera Farmiga and my mom and her friends, and how they crossed their legs and how they tilted their heads. How women sit is very different than how girls sit."
Read on to learn how Furhman worked with doubles and a bit of psychological regression this time around.
We Need To Talk About Esther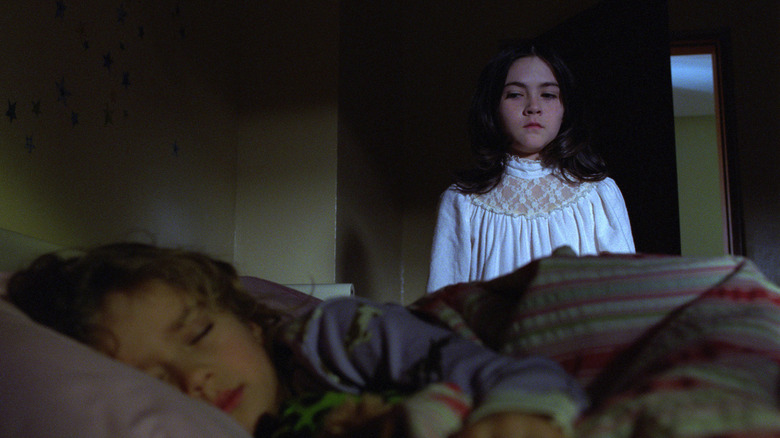 Dark Castle Entertainment
As the "Hunger Games" actress grew and honed her craft, directors trusted her to hold the frame and gave her more creative leeway, which was paid forward in a tag-team effort with Furhman's hired doubles for "Orphan: First Kill." The adult Furhman is taking the unusual step of returning to play the child version of her character in this upcoming prequel, and she told us about the challenges of stepping back into that part:
"For me, what was really lucky is that in order for us to make the movie, we had to hire two young ladies, Kennedy and Sadie Lee, who were me from other angles. And I just got to hang out with them all the time. And I felt really childlike working on the movie, and I felt like it was a great excuse for me to revisit some parts of my childlike self, because instead of finding moments to seem more adult, I had to find more moments to seem more childlike. It was a different challenge. When I was a kid, I thought about everything a lot and made a lot of notes, but it was a different performance as a kid, because you're not necessarily understanding all the themes that you're trying to address. And in this one, I'm completely aware of everything that's going on, because I'm old enough to emotionally grasp it."
This time around, director William Brent Bell ("The Boy") is employing a number of movie magic tricks like forced perspective and yes, some CG de-aging to create a believable Esther for the prequel, but that doesn't mean Furhman just sits and mean-mugs the camera.
"It was really finding ways to explain to the kids that I was working alongside how we were going to do certain things and how we were going to be the same person. And really learning from them every single day and allowing them to play and dance and do things that I didn't know how to do as Esther and finding ways to make it make sense within the story. And William Brent Bell, who directed the film, gave me complete free rein to work with them on my performance. And I'm so grateful to that because it allowed the three of us to create something special. And I think people will be really interested to see this Esther that is the Esther before the Esther you've seen in the previous film."
"Orphan: First Kill" has no set release date yet.