Superhero Bits: New Green Lantern: Beware My Power Trailer, Chris Hemsworth's New MCU Role & More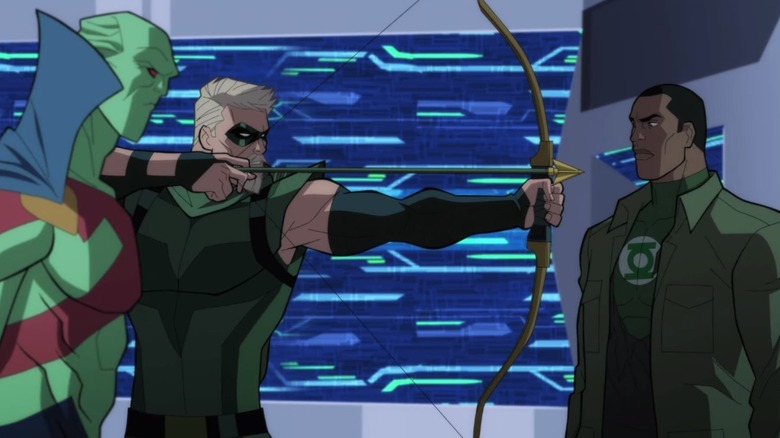 Warner Bros.
(Superhero Bits is a collection of stories, updates, and videos about anything and everything inspired by the comics of Marvel, DC, and more. For comic book movies, TV shows, merchandise, events, and whatever catches our eye, this is the place to find anything that falls through the cracks.)
In this edition of Superhero Bits:
"Green Lantern: Beware My Power" gets a full trailer.
A 2023 comic book movie had a ridiculous amount of writers.
Chris Hemsworth has a new behind-the-scenes role in "Thor: Love and Thunder."
An upcoming Marvel video game has been canceled.
Marvel and Funko team for new Selects line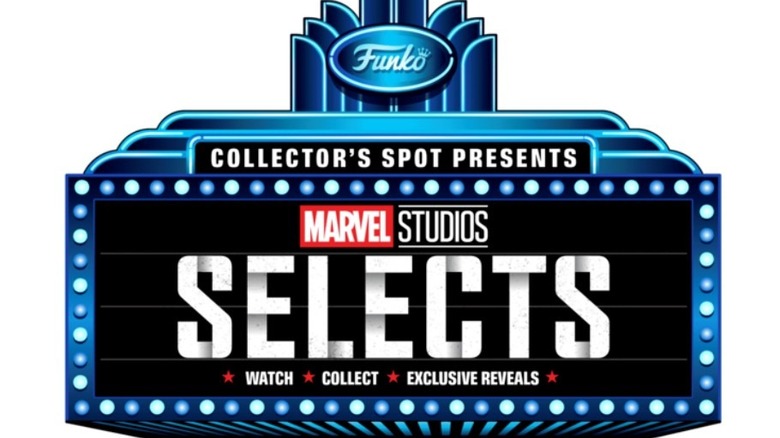 Marvel
Target and Funko have teamed up for a new line of collectibles called Marvel Studios Selects. The new collection includes exclusive Funko collectibles in a variety of forms that will depict a bunch of heroes and villains from across the MCU, be it the movies or the Disney+ shows. The program kicks off on Monday then, come the end of June and every month thereafter for as long as the companies continue the partnership, more Marvel Selects toys will arrive in stores and online at Target. So be on the lookout for the first drop this upcoming Monday.
Rumor control: No, Jason Sudekis is not playing Ted Kord in Blue Beetle
Recently, some rumors started circulating suggesting that "Ted Lasso" star Jason Sudekis was going to be portraying Ted Kord in the upcoming "Blue Beetle" movie alongside Xolo Maridueña, who is bringing the Jaime Reyes version of the character to life. Now, The Wrap reporter Umberto Gonzales has poured some cold water over the situation. In the above tweet, he explains that not only is Sudekis not playing Ted Kord, the original Blue Beetle — he's not in the movie at all. Apologies to anyone who had their hopes up. But hey, we still get Susan Sarandon as a comic book movie villain!
Daybreak Games' Marvel MMO has been canceled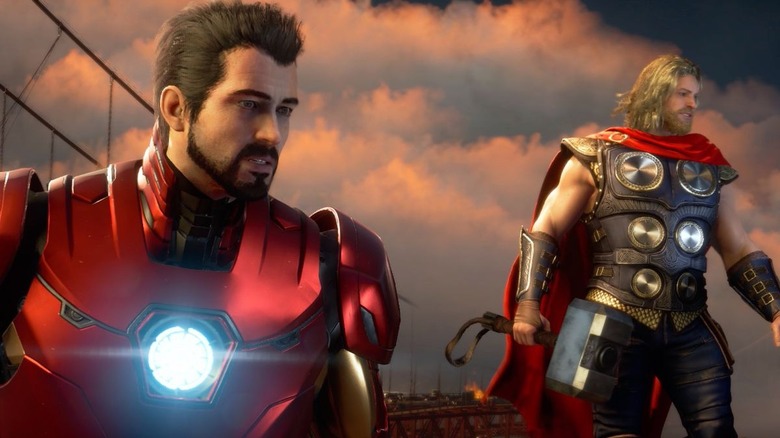 Marvel
An upcoming Marvel video game has officially been canceled. As announced in a press release from Swedish video game holdings company EG7, the folks at Daybreak Games ("DC Universe Online") are no longer going to be working on their untitled Marvel MMO. Per the PR, here's what they had to say about it:
"Based on the re-evaluation of the development risk profile, size of investment, and the long-term product portfolio strategy for the group, the board has decided to change the development priorities and reallocate resources within the group to focus on alternative long-term projects. The company had planned to invest more than SEK 500 million in the Marvel project over the next three years. The company will now diversify this investment across multiple, smaller size projects within the group, including the previously announced major upgrades to The Lord of the Rings Online and DC Universe Online, and new game opportunities with our first party, original IPs."
That breaks down to around $50 million USD, which is by no means a small chunk of change. The good news is that we have no shortage of other Marvel video games on the way in the near future.
Chris Hemsworth is an executive producer on Thor: Love and Thunder
There was a whole lot going on in the latest "Thor: Love and Thunder" trailer, including our first real look at Christian Bale's Gorr the God Butcher, so one would be forgiven for not reading the credits in tiny print at the bottom of the above poster for the MCU's latest. That said, those who did read the credits would discover that Chris Hemsworth, who once again returns as the God of Thunder as he's done since 2011, is listed as an executive producer on the film. This is a pretty big deal as it's not just the first time Hemsworth is producing a Marvel Studios project — it's only the second time a major MCU star has executive produced a movie at all. The first time was Scarlett Johansson on "Black Widow." Now? Hemsworth is joining that exclusive group more than a decade into his tenure as the character.
Here's why Netflix's Sandman show didn't bring back Tom Ellis as Lucifer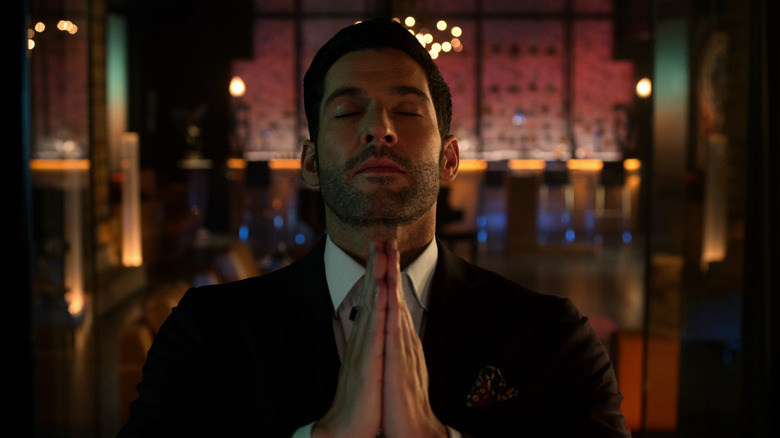 Netflix
Neil Gaiman's beloved "The Sandman" is finally getting a live-action adaptation that will arrive on Netflix later this year. But Tom Ellis will not be returning to the fold as Lucifer, a role he played on the series "Lucifer" for years. Well, in responding to a fan recently on Twitter, Gaiman has explained why Gwendoline Christie ("Game of Thrones," "Star Wars: The Force Awakens") is stepping up to fill those shoes instead of Ellis.
"Because his Lucifer, while inspired by the Lucifer in Sandman, is so far away in terms of Sandman continuity by the end of LUCIFER, that it's easier on everyone to go back to the version in the comics. And this way you don't know what our Lucifer is going to do. Tom's is lovable."
So there you have it, folks. Gaiman has spoken.
A mystery 2023 comic book movie had 45 different screenwriters
As we can see in the above tweet, a recent report from Deadline on the state of screenwriting, particularly as it relates to franchise projects and the many writers that often are brought in to pen those scripts, it was revealed that a comic book movie coming out next year had a reported 45 (yes, 45!) different writers with a hand in writing the film. We will not get into reckless speculation territory here but the above photo may point to a popular suggestion that has emerged on social media with people responding to the news. In any event, it's not uncommon for a few writers to be credited on a project but this is truly remarkable. The report does note that there is virtually no chance all of these writers end up with credit in the end. Still, it stinks of too many cooks in the kitchen.
Madame Web movie casts Ghostbusters: Afterlife star Celeste O'Connor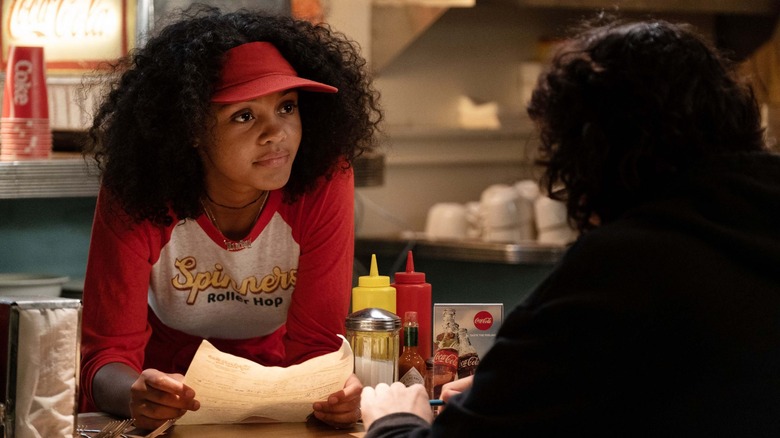 Sony Pictures
Sony's "Madame Web" movie continues to assert itself as a real thing as Celeste O'Connor ("Ghostbusters: Afterlife") has been added to the growing cast of the Marvel Comics adaptation. As reported by Variety, the actor has joined the cast alongside Dakota Johnson and Sydney Sweeney, but their role has yet to be revealed. The outlet also reveals some very basic plot details explaining that "the movie will serve as an origin story for Madame Web, a clairvoyant whose psychic abilities allow her to see within the spider world itself." S.J. Clarkson ("Defenders") is set to direct the film, which is expected to begin filming later this year.
Green Lantern: Beware My Power trailer
Lastly, today brings a new trailer for "Green Lantern: Beware My Power," the latest DC animated movie from Warner Bros. The film will center on John Stewart, with quite a few other key DC heroes getting in on the action including, amongst others, Green Arrow and Martian Manhunter. This looks to be, more or less, an origin story for this iteration of the hero. For those interested in what this trailer is selling, the film arrives on 4K Ultra HD, and Digital on July 26, 2022. Check out the full trailer for yourself above.