Marvel Is Ready To Play With New Spider-Man And Wolverine Video Game Trailers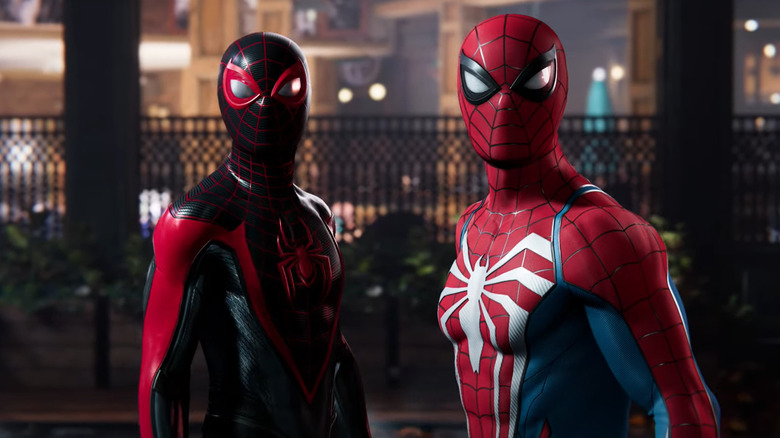 Marvel
The "Spider-Man" video games developed by Insomniac Games have been a web-slinging, city-crawling blast, earning critical accolades and selling enough copies to let Sony build a few more Scrooge McDuck money vaults. Now, the studio is teaming up with Marvel for two more comic book-based video games, one that should prove familiar and one that is new and very intriguing: "Marvel's Spider-Man 2" and "Marvel's Wolverine". 
Peter, Miles, and Venom are Here to Play
Marvel and Insomniac Games announced the two games via announcement trailers. The first, for "Marvel's Spider-Man 2", brings back voice actors Yuri Lowenthal and Nadji Jeter as web-slingers Peter Parker and Miles Morales, and introduces some fun new villains. Candyman himself, Tony Todd, will be voicing the villainous Venom, who will soon be seen on the big screen again in Andy Serkis' feature film "Venom: Let There Be Carnage." 
The game will be a sequel to Insomniac's celebrated 2018 Spidey debut, "Marvel's Spider-Man," and will likely include elements of their acclaimed spin-off, "Marvel's Spider-Man: Miles Morales." Quite a bit of the development team behind those stellar games will be returning, so the upcoming game should be a lot of fun. Players can expect new abilities, new costumes, and more.
The game is planned for release in 2023, exclusively on the PlayStation 5.
Hey Bub, Hit the B Button
For Marvel fans who are more interested in mutants than webheads, there's some great news: there's a Wolverine video game on the way! The Canadian curmudgeon will be getting his own game, currently in development by Insomniac Games for the PlayStation 5. The teaser shows Logan in a situation fans have seen him in many times before, as the sole person upright after a bar fight. There's no gameplay footage, so there's no telling what kind of game it will be. (A brawler would be amazing. Running around as Wolverine slicing things up and throwing down with baddies? Yes, please.)
Wolverine has been a playable character in many other video games, including the "Marvel vs. Capcom" fighting games, but he hasn't starred in his own game since 2009's "X-Men Origins: Wolverine" movie tie-in from Activision. 
This standalone game will be directed by Brian Horton and Cameron Christian, who recently led the creative efforts on "Marvel's Spider-Man: Miles Morales." Having such an accomplished creative team behind a new game for one of the best characters in all of comics is extremely exciting. There's no word on whether Hugh Jackman, who portrayed the character onscreen for nearly twenty years, will voice Wolverine in the game. (Don't count on it.)
More details will be released as the game develops.