The Morning Watch: Moon Knight Movie Magic, Bob's Burgers: From TV To Film & More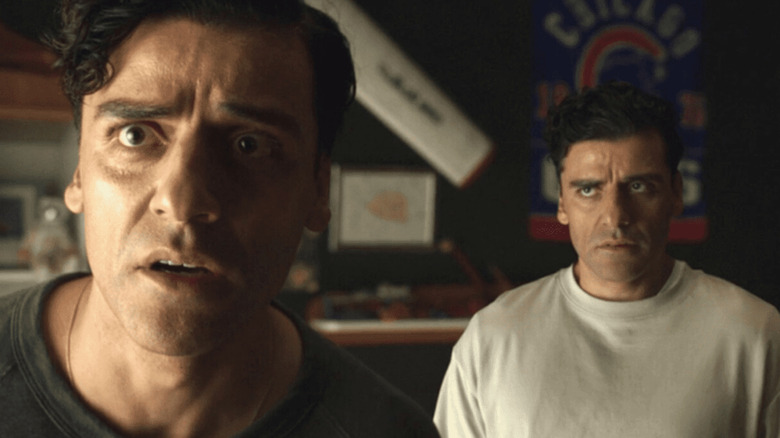 Disney+
(The Morning Watch is a recurring feature that highlights a handful of noteworthy videos from around the web. They could be video essays, fan-made productions, featurettes, short films, hilarious sketches, or just anything that has to do with our favorite movies and TV shows.)
In this edition, go behind the scenes of "Moon Knight" with visual effects supervisor Sean Faden to hear how he pulled off showing Oscar Isaac as both Marc Spector and Steven Grant in the same scene. Plus, "Bob's Burgers" creator Loren Bouchard explains how he brought the weekly series to the big screen. And finally, "Turning Red" star Rosalie Chiang tells the adorable story of how she got the role as Meilin Lee.
Marc is Steven, Steven is Marc
Lorraine Cink, Marvel web series host and director of creative content, sits down with Sean Faden, VFX Supervisor for Marvel Studios' "Moon Knight" to talk about the extensive pre-production planning required to effectively turn Oscar Isaac into Marc Spector and Steven Grant, often in the same scene. Visual effects have come a long way since films like "The Parent Trap," and "Moon Knight" is perhaps the best showcase of one actor's "twin effect" in entertainment. Not only do the two seamlessly appear side by side on screen, but they frequently communicate through mirrors and exist on different visual planes, something that would have been absolutely mind-blowing for filmmakers who once had to rely on finding a door frame seam to break up their shot. The skills of the VFX team allowed Issac to really throw himself into both roles, and his precise movements and timing helped make both characters in "Moon Knight" as believable as possible.
The Bob's Burgers Movie Oscar campaign starts now
"Our first goal was to not ruin the TV show." With "The Bob's Burgers Movie" heading to theaters this weekend, creator and co-director/writer Loren Bouchard met with the Oscars team to discuss what it was like making the movie at the same time as the original series continued to run on TV. The creative team strived to make sure the movie could stand on its own for those who may not know the intricate story beats from the last 12 seasons of the series, but they also ensured that it fits in the world established by the show so that continuity isn't impacted. 
Animation is the heart of everything Loren Bouchard has made, and while he's a big fan of live-action, he said he has no desire to ever tell stories in a live-action format, because he loves the possibility of building worlds through animation. "Animation's like a magic trick," said Bouchard. "Bob's Burgers" has been dazzling audiences for over a decade, and their venture to the big screen is no exception. Hey, Academy! If you can read this, please remember that animation is not just for kids and think about "The Bob's Burgers Movie" for "Best Animated Feature." OKAY, THANKS!
How Rosalie Chiang becomes Mei in Turning Red
Speaking of animated films that could win an Oscar, Pixar truly knocked it out of the park with "Turning Red," their coming-of-age story about puberty, generational differences, teen girl friendships, and giant red pandas. Rosalie Chiang stars as 13-year-old Meilin Lee, the confident, albeit dorky protagonist who discovers that part of becoming a woman in her family means turning into an adorable kaiju anytime her emotions become a little bit too big to handle. 
Pixar movies have boasted some incredible voice talents over the years, like Tom Hanks, Jamie Foxx, Tina Fey, Amy Poehler, Tom Holland, Chris Pratt, Julia Louis-Dreyfus, Octavia Spencer, and many, many more, but Rosalie Chiang only had a handful of credits to her resume when she was cast in the role of a lifetime. Initially hired to be just a temporary scratch voice (meaning, the voice used to help storyboard artists behind the scenes before hiring the permanent voice actor), Chiang was so impressive, Pixar knew there was no one better for the role. The story is sweet enough on its own, but hearing Rosalie talk about it in her own words is a must watch.