Moon Knight Hired Oscar Isaac's Brother To Help Act Out The Split Personalities On Set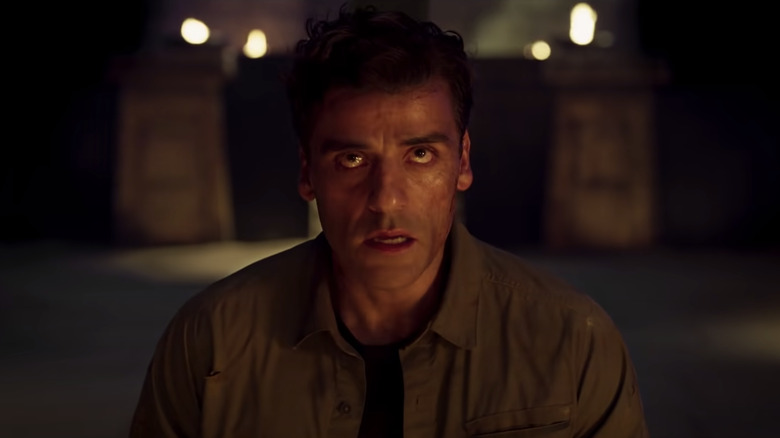 Disney+
With the debut of the Marvel and Disney+ series "Moon Knight" just around the corner, we can't get enough of Oscar Isaac, Ethan Hawke, and all things Marc Spector/Steven Grant/Moon Knight. While all superheroes have their "normal/civilian" alter egos, the human conduit for the Egyptian moon god Khonshu is a human man suffering from blackouts and memories from another life due to his dissociative identity disorder. Mr. Knight doesn't have one alter ego, he has several, all played by Oscar Isaac with varying degrees of personality. While Isaac originally didn't want to tackle the role, he was won over by the character study of Marc Spector, and believed this was his chance to "do something really f***ing nutty on a major stage."
Playing one character is hard enough, but with Isaac tasked with playing multiple characters within the same body, the creative team at "Moon Knight" needed to get creative. Rather than have Isaac try to act against a random green screen stand-in or a random extra, Marvel hired Isaac's brother, the journalist-actor Michael Benjamin "Bro Dameron" Hernandez, to serve as his double as a way to help Isaac act opposite of himself. As Isaac said during a "Moon Knight" press conference /Film attended, "It's the closest thing to me there is on earth." This way, Isaac was able to seamlessly differentiate between the characters and was able to feed off of Hernandez's energy, as if he was actually acting against himself.
'That was challenging'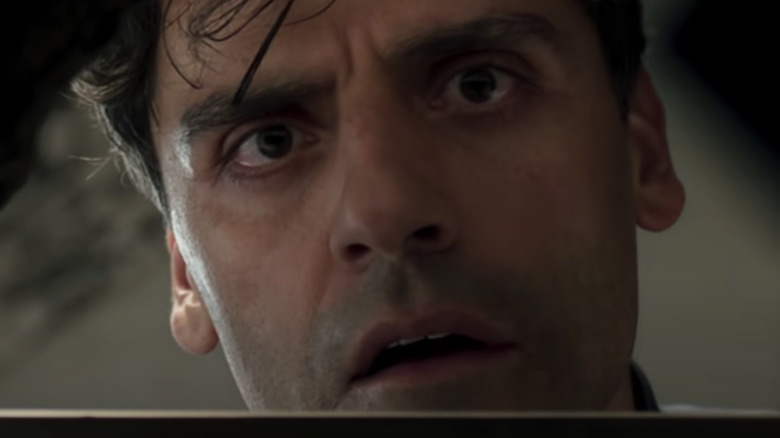 Disney+
According to Isaac, Hernandez would come in and play either Stephen or Mark, going so far as to perform both accents depending on which character he needed to be in the scene. "That was really helpful to have someone who is not only a great actor, but also shares my DNA to play off of," Isaac said. The challenging nature of portraying someone like Marc Spector with authenticity may have been what drew Isaac to the project in the first place, but ultimately seemed to be one of the hardest aspects to tackle. 
"That was something I didn't anticipate — was how technically demanding that was going to be of having to ... show up and decide which character I was going to play first and then try to block that out, give my brother notes, and then do the scene, and then switch characters, and then figure it out."
Having Isaac's brother there was a godsend, because it allowed him to actually interact with "himself." As he put it:
"One of the most fun things about acting is acting opposite somebody and letting something spontaneous happen that you didn't expect, but there wasn't really an opportunity to do that–still having to try to find what makes it feel spontaneous and not all planned out–so that was challenging."
With everything needing to be structured in a way that would allow the editors to showcase Isaac acting with, well, Isaac, having his brother there allowed for natural reactions and a target for delivery.
"Moon Knight" will be available to stream on Disney+ starting March 30, 2022.