Ethan Hawke Finds His Moon Knight Villain 'Terrifying'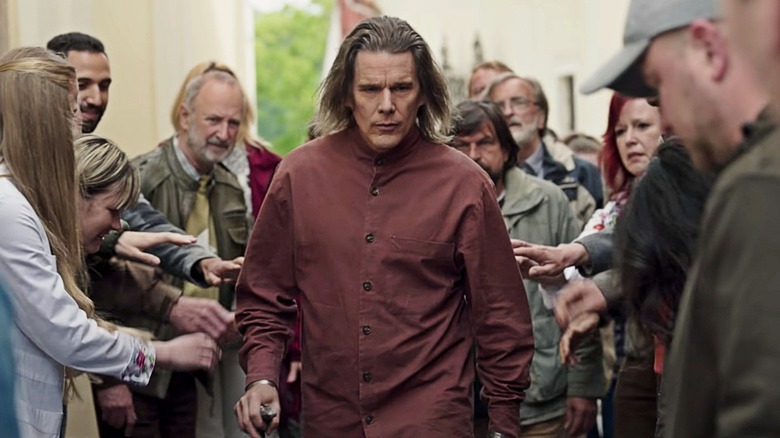 Disney+
Four-time Academy Award nominee Ethan Hawke has more than proven he's one of the most talented working actors of today, with just under 100 credits to his name — and one of his latest credits is playing the villain of Marvel Studios' "Moon Knight." 
After performances in his early years like in ​​"Dead Poets Society" and "White Fang," it looked like Hawke was poised to transition right into one of Hollywood's leading men. Yet his career has been far more evocative, refusing to stay in any one particular genre. Ethan Hawke has pretty much done it all, but now with his upcoming role "Moon Knight" he can finally add a superhero venture to his prolific resume. Hawke reportedly nabbed the role after the titular star, Oscar Isaac, ran into him at a coffee shop and asked him to get on board to play the villain, whom we now know to be Arthur Harrow.
Hawke is no stranger to playing morally complex characters, with his roles in "Sinister" and "The Purge" setting the stage for what has become the current phase in his career: a turn toward bona fide villainy. Hawke reunited with the "Sinister" team of Blumhouse, Scott Derrickson, and C. Robert Cargill for the upcoming horror film "The Black Phone," in which Hawke plays "The Grabber," a magician responsible for a series of missing children. The film's debut has been pushed due to the pandemic, but was originally scheduled to release in January 2022. Thanks to the delay, our first look at Hawke as a serious villain will happen with "Moon Knight," in a role that Hawke finds "terrifying."
"That's Why They Have to Kill You"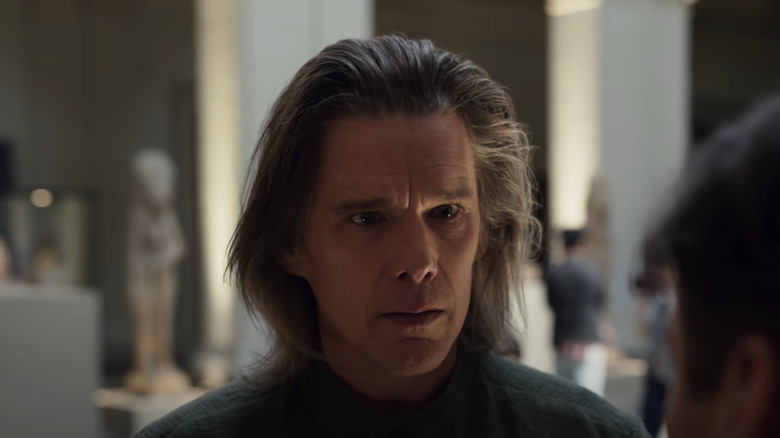 Disney+
In a recent interview with Entertainment Weekly, Hawke discussed how he's learned to embrace the villain role, but admitted he wasn't immediately on board. "I was always a little apprehensive; there's a certain kind of actor that really excels in that universe, and I'm still not sure I'm one of them," he says. 
Hawke looked to psychiatrist Carl Jung and Branch Davidians cult leader David Koresh as inspiration for his "Moon Knight" role, looking to find the ways the mortal man can become a monster. "The uber-rich villain mastermind isn't interesting to me," Hawke said. "I love the ones who believe that they're a good person and that's why they have to kill you ... that I find really terrifying."
While the details of his Arthur Harrow have still been kept tight-lipped from Marvel, the "Moon Knight" trailer has offered some genuinely creepy insight, like a scene of an entire town square dropping to their knees at Harrow's command, or blissful followers reaching forward to touch Harrow as he walks through a crowd. The man has got some serious, serious power over these people, and we can't wait to see how it all unfolds.
"Moon Knight" premieres March 30, 2022, on Disney+.