The Unexpected Way Turning Red Star Rosalie Chiang Found Out She Got The Job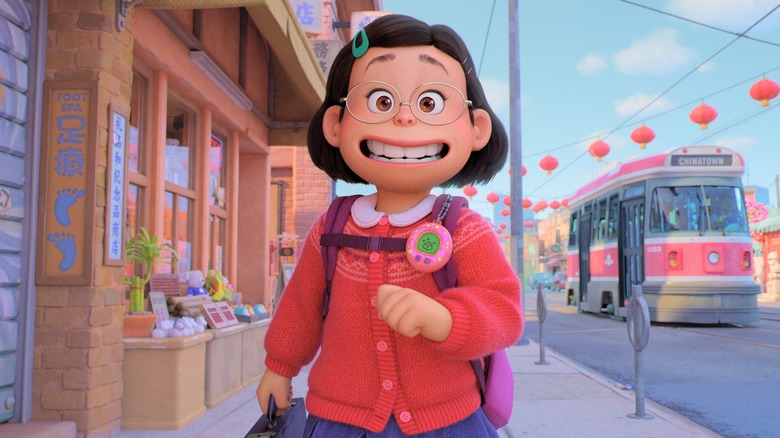 Pixar
Getting to be in a Pixar movie is a career high for so many performers, but nabbing the leading role in a Pixar movie before you've entered high school sounds like a dream come true. Bay Area actor Rosalie Chiang was only 12 years old when she was selected to voice the temporary tracks on the film that would become Pixar's newest feature, "Turning Red."
Temp voices are frequently used to give the animation team something to work with in the early stages of production to appropriately animate mouth shapes and facial expressions. Frequently, these tracks are replaced by performers that come with a flashy Hollywood reputation or a household celebrity name, but every once in a while, a production strikes gold and finds the perfect fit from the very start.
The team at "Turning Red" spent years trying to find the perfect voice for Mei Lee, who would not only be the lead of the film, but would also be starring alongside the iconic Sandra Oh as the character's mother, Ming. "Frankly, nobody came close," said producer Lindsey Collins. "Rosalie had become the main character Mei and there was no other choice in our minds."
With Chiang already coming by Pixar studio to record temporary tracks, the team decided the best possible way to ask her if she wanted to take on the role in an official capacity was to ask her on mic, in the recording booth.
'Please Say Yes'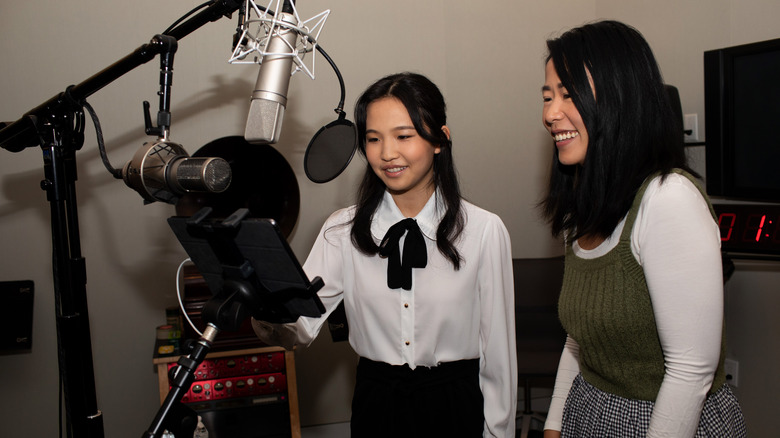 Pixar
During a presentation for "Turning Red," the team shared a video of Rosalie Chiang in the recording booth with director Domee Shi reading the lines for Mei Lee's mother. For Chiang, this was just another day recording temporary tracks, but Shi had a plan up her sleeve. The scene Chiang was reading was a conversation between Mei Lee and her mother, which began with mom asking, "Do you have a moment?" Rosalie replied in character, "What is it?" With Chiang fully immersed in the scene, Shi then went off book, starting with the line, "Well, there's something I've been meaning to talk to you about..." and then sneaking in the job offer:
It's just that, well, [SIGHS] from day one, you've been doing an incredible job recording here at Pixar. Not only are you super talented, you've been absolutely fearless, and bring all of yourself to the mic every single day. And because of you, this character is alive. She's smart, she's goofy, amazing, dorky, and funny, and best of all, real. And because of that, and because of everything you are, we would love to make it official, Rosalie Chiang, on behalf of "Red," will you play [Mei Lee] for us?
Chiang initially thought Shi wasn't being serious, but when the reality set in that this temporary voice over gig had turned into an offer to star in a Pixar movie, she did what literally any human being on the planet would have done in that moment, and she cried. "It's okay to cry!" Shi shouted back.
"As a producer, you get very few of those moments where you get to actually witness the moment you tell somebody they got the job," Collins said. "So it was very fun."
A Star on the Rise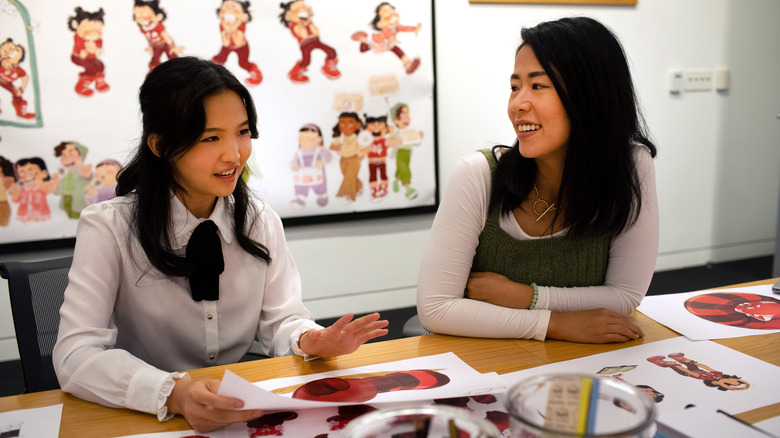 Pixar
Chiang does an absolutely phenomenal job as Mei Lee, perfectly encapsulating the high-highs and low-lows of being a teenager, in addition to the larger-than-life emotions she expresses while in the form of a giant red panda. For a first time professional voiceover role, it's no wonder why she was the only one the "Turning Red" team at Pixar saw for the role, because she brings such a life to the character. While some of our favorite cartoon kids and teens have been voiced by adults for decades (Nancy Cartwright as Bart Simpson and like, 90% of Cree Summer's career come to mind), but casting an actual teenager, especially one that isn't already a household name due to starring on Disney Channel or Nickelodeon shows to play this teen role, brings a level of authenticity we don't get to see very often in big-budget animated features.
It may seem premature to make this call, but "Turning Red" casting Chiang feels like the starting line for a huge career. The vocal demands of Mei Lee's character are huge, and Chiang proved that she's a force to be reckoned with.
"Turning Red" will stream exclusively on Disney+ on March 11, 2022.