How Val Kilmer's Real Life Influenced Iceman's Role In Top Gun: Maverick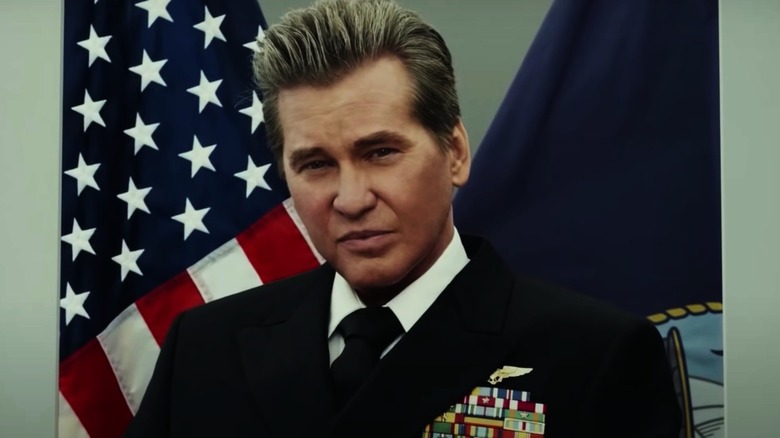 Paramount Pictures
If you remember anything from the original "Top Gun," besides the adrenaline rush of high-speed aerial combat, it's probably sweat-glistened abs playing beach volleyball. But if you remember two things, the other one is undoubtedly going to be that the film features one of the best frenemy-ships betwee two ace pilots, Pete "Maverick" Mitchell (Tom Cruise) and Tom "Iceman" Kazansky (Val Kilmer). After 36 years, the sequel "Top Gun: Maverick" is finally here, and with Tom "Literal Embodiment of Modern Action Movies" Cruise is present and accounted for, his classic counterpart is along for the ride, with Kilmer back as Iceman.
Tom Cruise was clear from the start that he'd only do a "Top Gun" sequel with Kilmer on-board. What you might not know is that Kilmer's own life influenced an unexpected plot development for his character in "Top Gun: Maverick." In an interview with People Magazine conducted in 2021 for the release of the documentary "Val," the titular actor discussed a real-life health challenges and why sharing his story is more important to hi than ever. That personal struggle became part of Iceman. 
Since we're talking about a key "Top Gun: Maverick" plot development, here's a spoiler warning for those who haven't seen the movie.
Once more into the Danger Zone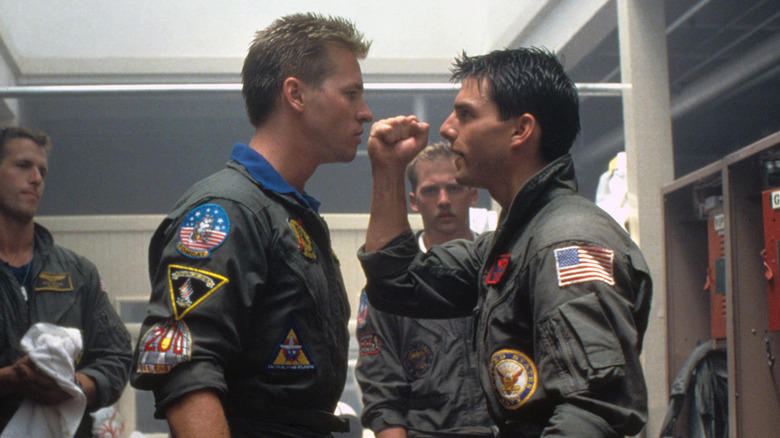 Paramount Pictures
In "Top Gun: Maverick," we find our two flyboys in very different circumstances. Maverick has since become an experimental pilot, which suits his need for aerial speed, near-death experiences, and his inability to follow orders or take instruction. Meanwhile, "Iceman" has risen up the ranks to become a four-star Admiral, putting him in a position to pull Maverick into an unexpected position: the instructor of a new group of "Top Gun" recruits tasked with flying an impossible mission. Despite Tom Cruise's history on the big screen, it's quite the challenge.
Though their initial contact is only by way of text messages, Maverick and Iceman do have an in-person reunion. But it's a bittersweet meeting. We discover that Iceman has been fighting cancer, and regretfully, it has returned. In an emotional scene, as Iceman imparts some much-needed wisdom, his words mostly being translated through text on a computer screen, since speaking is extremely painful. It's a heartfelt reunion of the pair, and seeing such a beloved character face the painful hurdles of cancer really pulls at the heartstrings, especially when Iceman makes an effort to actually speak out loud to Maverick. Sadly, it also echoes Kilmer's real-life struggles with the disease, a battle he wants to be open about.
We never lost that loving feeling for Ice Man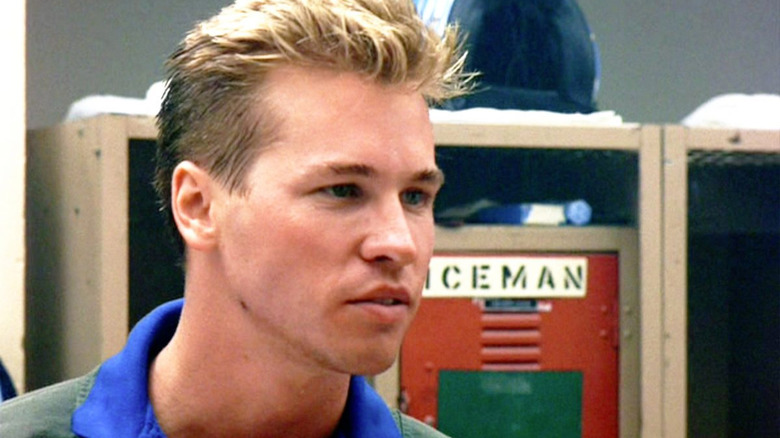 Paramount Pictures
What many "Top Gun: Maverick" fans may not know is that Kilmer has long struggled with throat cancer. The disease, the intense radiation and chemotherapy treatments, and a tracheostomy left Kilmer with a damaged ability to speak, a trait that was carried over into "Top Gun: Maverick." These days, Kilmer is open about his struggle with the disease and its aftermath. "Now that it's more difficult to speak," he explained. "I want to tell my story more than ever." Like his on-screen counterpart, Kilmer utilizes technological aid to communicate:
"I can't speak without plugging this hole [in his throat...] You have to make the choice to breathe or to eat. It's an obstacle that is very present with whoever sees me."
In "Top Gun: Maverick," Val Kilmer's substantial return is a welcome surprise that becomes more emotional once we see the trials his character has faced since the original "Top Gun." In light of Kilmer's own journey, however, incorporating cancer into his character's evolution is a touching choice. Kilmer let his own experiences guide the arc of his classic character, and the film tackles the topic head-on rather than dancing around it. In a world where cancer still affects the lives of millions, Kilmer's choice to pointedly reflect his story in "Top Gun: Maverick" is a powerful one, and the film is all the better for it.
"Top Gun: Maverick" is in theaters now, and the documentary "Val" is available on Prime Video.