Here's How A Key Star Wars Character Will Figure Into The Plot Of Andor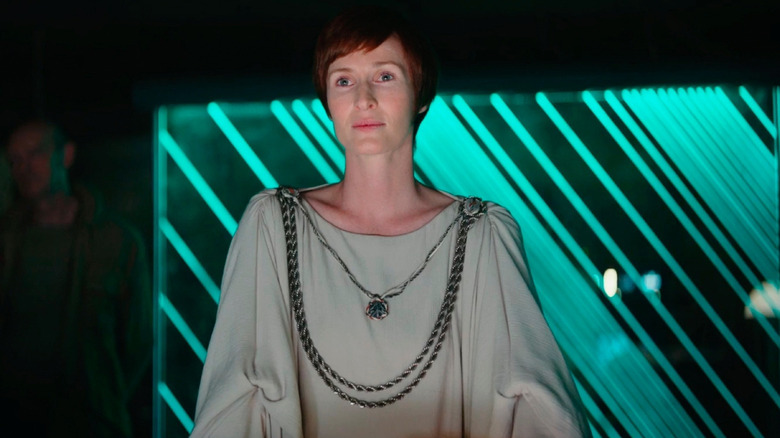 Lucasfilm
"Many Bothans died to bring us this information." It's the line everyone remembers from 1983's "Star Wars: Return of the Jedi," if only for the sheer gravity with which Caroline Blakiston delivers this statement as Mon Mothma. Of course, unless you know your "Star Wars" lingo inside and out, you've probably no idea what the heck a Bothan even is and likely refer to Blakiston's Rebel leader as "that lady with the white caftan." (The film doesn't exactly go out of its way to tell you her name.)
While Genevieve O'Reilly (very) briefly showed up as a younger Mon Mothma in 2005's "Star Wars: Revenge of the Sith," most of her scenes wound up on the cutting room floor. It wasn't until she reprised the role for 2016's "Rogue One: A Star Wars Story" that O'Reilly appeared long enough to really leave an impression. The incoming "Rogue One" prequel series, "Andor," looks to go even further and upgrade her to co-lead as it examines the early days of the Rebel Alliance and how Cassian Andor (Diego Luna) came to join its ranks.
That said, "Andor" head writer Tony Gilroy cautioned Vanity Fair that Mothma and Andor won't cross paths right off the bat in season 1. After confirming a second season is already in the works, Gilroy explained:
"['Andor' has] a huge, orchestral, Dickensian ensemble cast, with Diego at the middle of it, and Genevieve at the middle of another part of it. They intersect. I'm not going to get into how they intersect. They do have an intersection — but they do not meet. They will not meet until the second half."
Politicians and thieves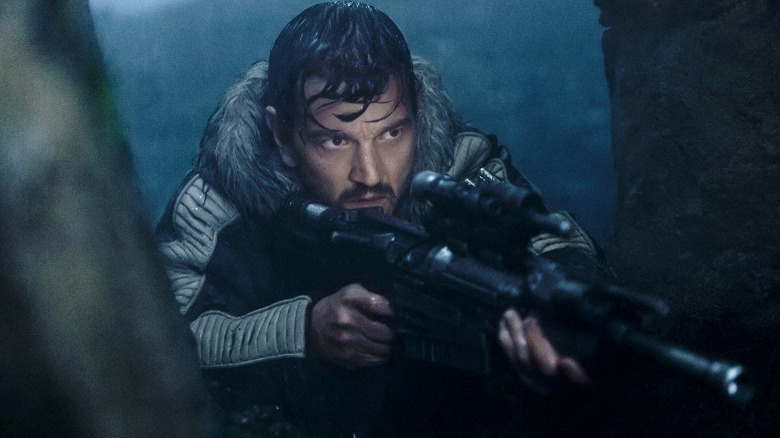 Lucasfilm
Genevieve O'Reilly previously reprised her "Rogue One: A Star Wars Story" role in seasons 3 and 4 of the animated TV show "Star Wars Rebels" (and yes, I'm going to keep pestering all you "Star Wars" fans out there to watch "Rebels" if you haven't already). But where that series takes place far away from Coruscant, "Andor" will show Mon Mothma hard at work on the galaxy's capital planet "trying to navigate the turmoil of the Emperor's new autocracy while quietly fomenting opposition," as Vanity Fair describes it.
While Mothma tries to balance being a politician with leading an underground rebellion, Cassian Andor himself will begin as what Tony Gilroy likens to a film noir antihero:
"Our show starts with a very simple, almost film noir situation for a thief, a skeevy kind of guy who gets in big trouble trying to sell something to save his ass. Someone's been watching him, a rebel talent scout, and he's sort of recruited on the worst day of his life. On episode four, we leave there and we begin to expand out..."
After Gilroy played an extensive role in the reshoots on "Rogue One" (turning what he said was a "mess" of a film into a critical and box office hit), I'm curious to see what he does building a "Star Wars" project from the ground-up. The fact that Disney and Lucasfilm are confident enough to have gotten the ball rolling on "Andor" season 2 this far out suggests they're quite pleased with what he's done, which is obviously encouraging.
"Andor" will premiere on Disney+ at a yet-to-be-announced date in 2022.