Screenwriter Tony Gilroy Says 'Rogue One' Was A "Mess" Before Reshoots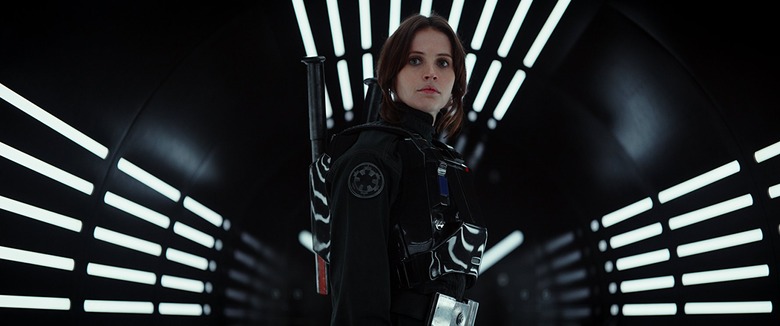 When Oscar-winning screenwriter Tony Gilroy joined the production of Rogue One: A Star Wars Story late into Rogue One reshoots, a few eyebrows were raised. Rumors were already swirling that Disney was unhappy with the first cut of the standalone Star Wars film, and that as much as 40% of the film needed to be completely redone. And reports of Gilroy's big paycheck didn't help alleviate fears that Rogue One was going to be a total bust.
Rogue One ended up being a big box office and critical success. But it was suggested that much of that success was because of Gilroy's last-minute efforts to salvage the film. We weren't sure exactly how much of a role Gilroy played in the Rogue One reshoots — until now.
"I have to be careful," Gilroy said on The Moment With Brian Koppelman podcast (via The Hollywood Reporter). "I don't know what the statute of limitations is. I've never done an interview about Rogue [One], ever."
Gilroy spoke candidly about his experience on the Star Wars film for the first time since Rogue One premiered in December 2016. And from the sound of it, Gareth Edwards' original cut of the film had run into more than a few problems:
"If you look at Rogue, all the difficulty with Rogue, all the confusion of it ... and all the mess, and in the end when you get in there, it's actually very, very simple to solve. Because you sort of go, 'This is a movie where, folks, just look. Everyone is going to die.' So it's a movie about sacrifice."
This lines up with reports that entire subplots were cut out of Rogue One, resulting in a confusing first two-thirds of the movie before the film rallies around the Rogue One team's noble sacrifice.
Gilroy was vague on how much of the film was changed after he boarded the project, but it seems to align with star Ben Mendelsohn's remarks that "an enormously different" version of the film exists. While Gilroy was only credited as co-writer of Rogue One, it's widely known that the Oscar winner did more than tweak the script. Disney called Gilroy late in the process to lead extensive reshoots that would reshape the film. "I came in after the director's cut," Gilroy said. "I have a screenplay credit, in the arbitration, that was easily won."
Translation: Gilroy must have made extensive changes to the movie. To come on board long after a director's screenplay was effectively set in stone and "easily win" a screenplay credit means that Gilroy's changes were definitely significant. And those were changes that Gilroy was able to make because he doesn't really care for Star Wars:
"That was my super power. I've never been interested in Star Wars, ever. So I had no reverence for it whatsoever. I was unafraid about that. And they were in such a swamp... they were in so much terrible, terrible, trouble that all you could do was improve their position."
But Gilroy couldn't have done it without the complete trust of Lucasfilm and Disney. "The gumption, the balls of Disney and Bob Iger and the people there to gamble on what they gambled on is astonishing," Gilroy said. "It was just a mess and fear."
To listen to the full podcast of The Moment With Brian Koppelman, click here. Gilroy's remarks on Rogue One begin just before the 46:00 mark.