Reflecting Back On Betty White's Inspired Community Guest Role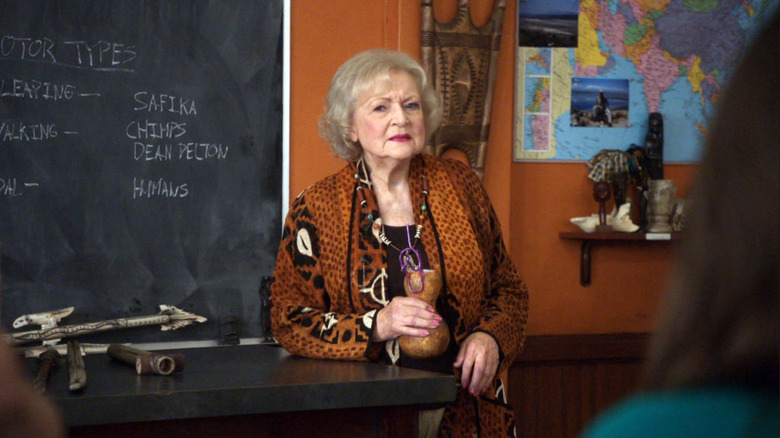 NBC
Okay, so I'd like to insert a "six seasons and a movie" joke right here and then just keep trucking, but there's a reason why "Community" inspired such a strong (and probably divisive) fandom during its run on NBC. The show was adept at creating these perfect little scene morsels that made it feel much richer than so many of the sitcoms on TV. From jokes that take place entirely in the background to surprising cameos and guest stars, there was always something funny happening in "Community," even if you didn't catch it the first time.
But no guest star made quite the impression like Betty White, who slipped into an especially violent role for the second season premiere episode "Anthropology 101." Playing an anthropology professor aptly named June Bauer, White incapacitated students with blow darts, drank a mysterious urine concoction, and wore a variety of jaunty vests. 
You make a great show, despite having Chevy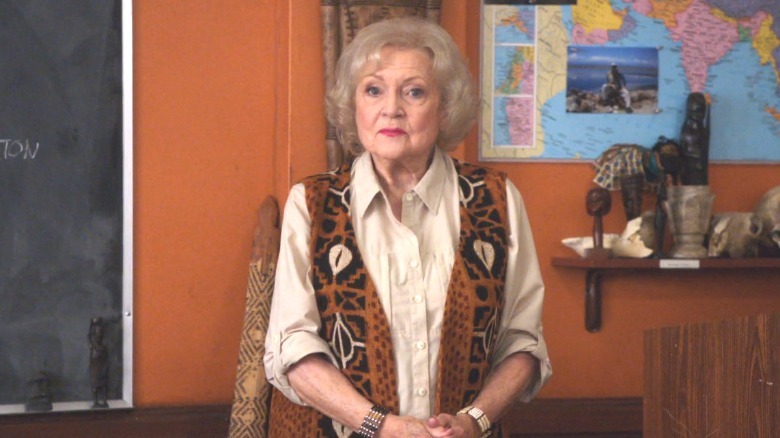 NBC
Her seriously chaotic, and vaguely malevolent, character was the perfect offset to White's most famous role, the sweet and stupid Rose Nylund on "Golden Girls," although the biting sarcasm she exhibited on "Community" seems like it captured White's personal brand of humor. As she (jokingly?) remarked while on set according to a behind the scenes look with TV Guide: "You make a great show, despite having Chevy [Chase]."
White's role on "Community" wasn't only a delight for the fans, it was also a highpoint for the cast a crew of "Community." As actor Joel McHale explained during the "Celebrating Betty White: America's Golden Girl" special (via Bleeding Cool), which was aired after White passed in 2021:
"We had had a lot of guest stars come through, but by a mile, ten miles, everyone wanted their picture with Betty ... When I said Betty White's going to be on the show, my wife was like, 'Oh, I would like to come down and I will bring the boys.'"
Who doesn't want to get beat up by Betty?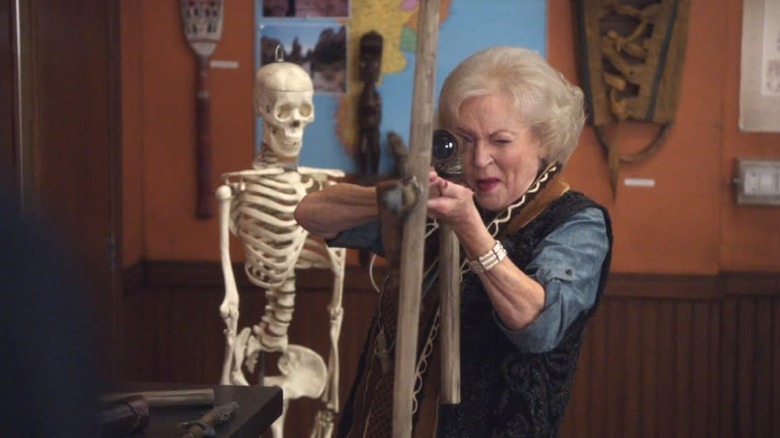 NBC
And McHale's wife clearly did bring the boys, because White ended up making an appearance on the McHale Christmas card that year. She always did know how to nail a cameo. In a career as long and prolific as White's, her role on "Community" was more of a blip than a defining moment, but it absolutely highlights her comedic range and shows that she really was down to try anything. Even if "anything" involves a climax where White's character (via stunt double, the woman was 88 years old) beats up McHale's character.
Deeply aware of the honor that is being beat up by White, McHale's words capture what it must have been like to work with White on that show, even if it was briefly:
"So funny and so lighthearted. She made you want to be kinda better. And I know that sounds like such a cliché but you really did. And I was like, 'Oh, that's how you do it.'"
"Anthropology 101" may have aired way back in the halcyon days of 2010, but if any "Community" episode deserves a rewatch, it's this one. After all, who doesn't want to spend more time with Betty?