The 25 Best Golden Girls Episodes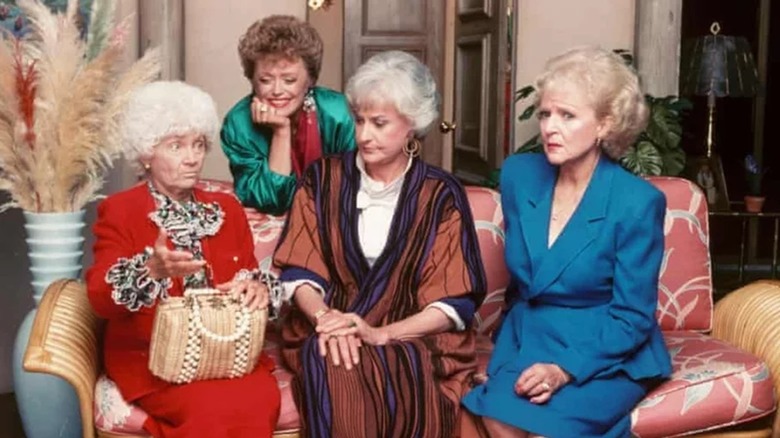 NBC
"The Golden Girls" aired its pilot episode in the fall of 1985 and raked in 44 million viewers. An instant classic, the sitcom followed the lives of four older women — Blanche Devereaux (Rue McClanahan), Dorothy Zbornak (Bea Arthur), Rose Nylund (Betty White), and Sophia Petrillo (Estelle Getty) — and how they cope with aging, dating, and living together. With a sharp comedic sensibility, the show ran seven seasons and frequently addressed major social issues, including racism, body image, and LGBTQ+ rights.
Producers Paul Junger Witt and Tony Thomas initially pitched a show about a female lawyer, but NBC senior vice president Warren Littlefield showed little interest in the concept. Instead, he asked them to develop a sitcom (tentatively titled "Miami Nice") about older women. Witt approached Emmy Award-winning writer Susan Harris (who also happened to be his wife) to write a script. Despite being semiretired, Harris leaped at the idea. She was intrigued with exploring aging and women's relationships and opted to write her script around a much older cast than proposed in the network's original concept.
The show was a hit with critics and audiences. "The Golden Girls" earned numerous accolades, including 11 Emmys and four Golden Globes. Decades since its first episode, the show still holds up — whether we're talking Rose's outrageous St. Olaf stories (perfectly delivered by White) or Blanche's many risqué exploits. Choosing the best episodes is a fool's errand, but we've tried balancing silliness with social significance in our choices.
25. Brother, Can You Spare That Jacket? (Season 4, Episode 8)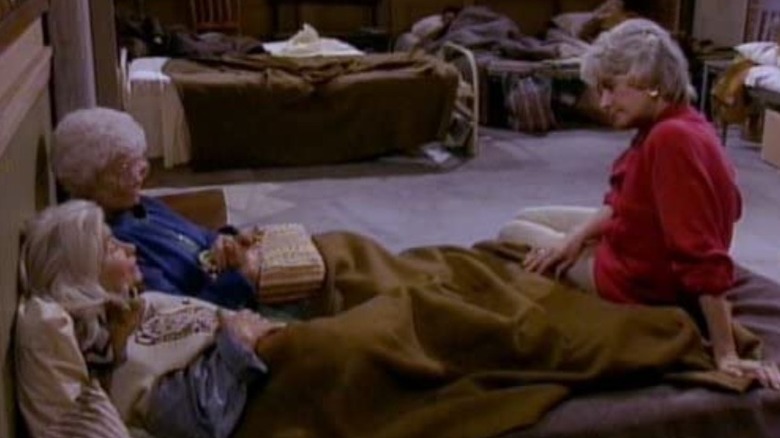 NBC
"The Golden Girls" has a way of exploring important issues through a perfect balance of humor and thoughtfulness. Look no further than "Brother, Can You Spare That Jacket?" in which Dorothy learns a tough lesson about homelessness. Upon discovering they've just won $10,000 in the lottery, the girls tuck the winning ticket inside Blanche's jacket 一 only for Sophia to unwittingly place it inside a box of old clothes going to charity. The jacket soon lands in the hands of Michael Jackson, goes up for auction, and eventually finds its way to a local homeless shelter.
Hoping to locate the missing ticket, the girls decide to pose as homeless women and spend the night in the shelter. Several encounters and conversations give the girls a greater understanding of (and empathy for) the homeless. Blanche befriends a young man who, upon finishing his graduate thesis, couldn't find a job and turned to alcohol, and Rose chats up a gentleman her own age. Sophia also recognizes an old friend from Shady Pines who ran out of money and was forced into the streets. With the song "Brother Can You Spare a Dime" playing in the background, the camera pans across the room to reveal the diversity of the homeless population. When morning finally breaks, the girls decide to donate their winning ticket to the shelter. This season four episode is among the show's most heartfelt.
24. Dorothy's Prized Pupil (Season 2, Episode 21)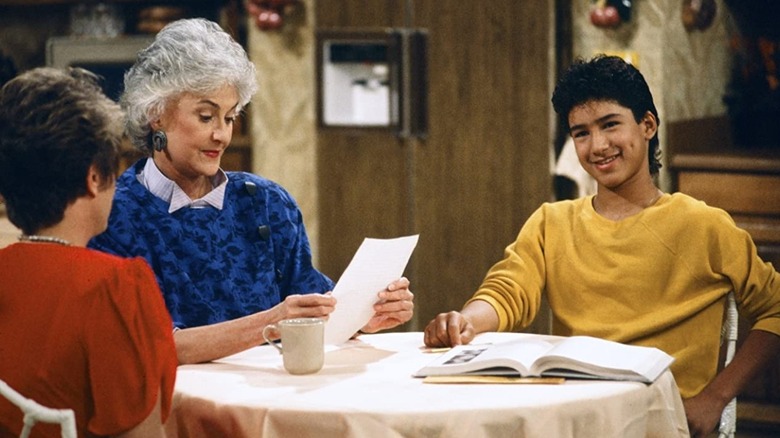 NBC
Mario Lopez, best known for playing A.C. Slater on "Saved by the Bell," guest stars as (appropriately enough) Mario, one of Dorothy's students in "Dorothy's Prized Pupil," an episode about immigration. When Mario writes what Dorothy believes to be a prize-winning essay, she enters his piece into a writing contest — and he wins. Their celebration is abruptly interrupted when a Department of Immigration and Naturalization Services agent arrives on their doorstep and reveals Mario to be an undocumented immigrant.
In a panic, Mario attempts to evade going to court, and Dorothy tracks him down to a local movie theater. She convinces him he needs to attend and vows to speak on his behalf. The presiding judge has little sympathy for Mario and disregards Dorothy's statement, sealing his fate. He is deported the following day, and Dorothy promises to do everything within her power to help him back into the country. Over three decades later, "Dorothy's Prized Pupil" remains as timely as ever.
23. Ladies of the Evening (Season 2, Episode 2)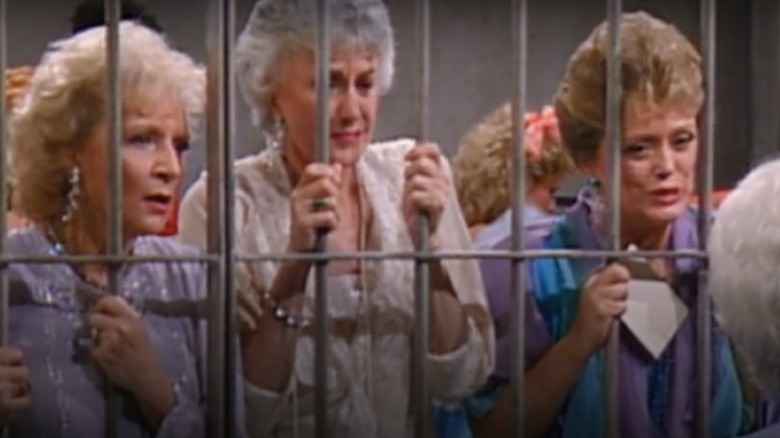 NBC
In "Ladies of the Evening," Dorothy, Rose, and Blanche are planning a night out to attend a post-premiere movie party with Burt Reynolds. Unfortunately, Blanche learns her house is riddled with termites and needs to be fumigated. The girls then decide to have a weekend getaway and rent a hotel room right on the beach. Blanche only has three tickets for the party, so Sophia is sidelined and spends the evening alone. Before hailing a taxi, Blanche suggests they grab a quick drink at the bar, but as luck would have it, the hotel is raided by the cops. The girls get caught up in the commotion and are wrongfully arrested for being illegal sex workers.
Later that night, Sophia comes to bail them out. "Which one of you isn't going?" she asks through the bars. Since she came to their rescue, Sophia says she deserves to see Burt Reynolds up close and personal. But they still won't let her go. Sophia yanks the tickets out of Blanche's hand, cackles, and shuffles off to the party. The following afternoon, Burt Reynolds arrives to take Sophia out to lunch. From its sharp comedic writing to Estelle Getty's hilarious performance, "Ladies of the Evening" is one of the best episodes.
22. Sister of the Bride (Season 6, Episode 14)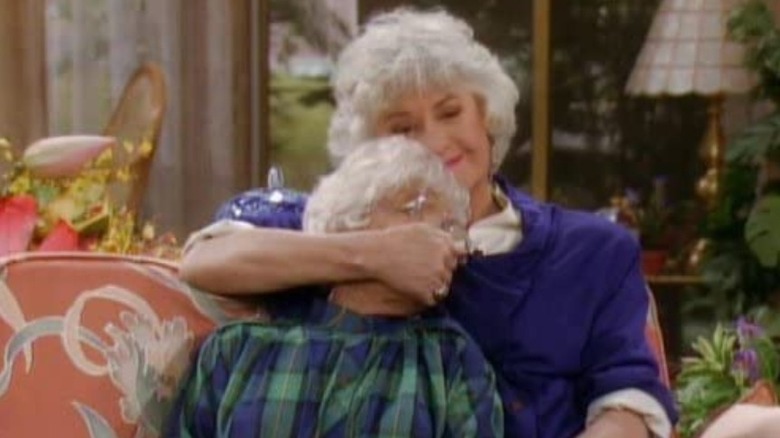 NBC
In the Season 4 episode "Scared Straight," Blanche's brother Clayton (Monty Markham) comes out as a gay man following a very painful divorce. Blanche eventually comes around to the idea and accepts his truth. As a follow-up episode, "Sister of the Bride" carries greater importance, looking at the treatment of the LGBTQ+ community in society. Clayton longs to marry Doug (Michael Ayr), the love of his life, in a private ceremony. At the time, gay people couldn't get married and continued battling wrongful perceptions born of the AIDS crisis of the 1980s.
Throughout the episode, Blanche struggles to understand where her brother is coming from. "I don't really mind Clayton being homosexual, I just don't like him dating men," she tells Dorothy and Rose. Her misguided beliefs lead to her relationship with Clayton nearly collapsing. Tensions come to a fevered pitch during an elegant banquet celebrating the Volunteer Vanguard Award, for which Rose is nominated. When Clayton goes to introduce Doug to a friend, Blanche interrupts, screaming, "Fire!" It's almost enough to sever their relationship, and Clayton acknowledges that maybe she can no longer be part of his family. In due course, Blanche attempts to make amends and confronts Doug to ask him the only question that matters: "Do you love him?" "Sister of the Bride" walks a tightrope between confronting tough social issues honestly and depicting the universal theme of love. Those bonds can't be broken.
21. A Little Romance (Season 1, Episode 13)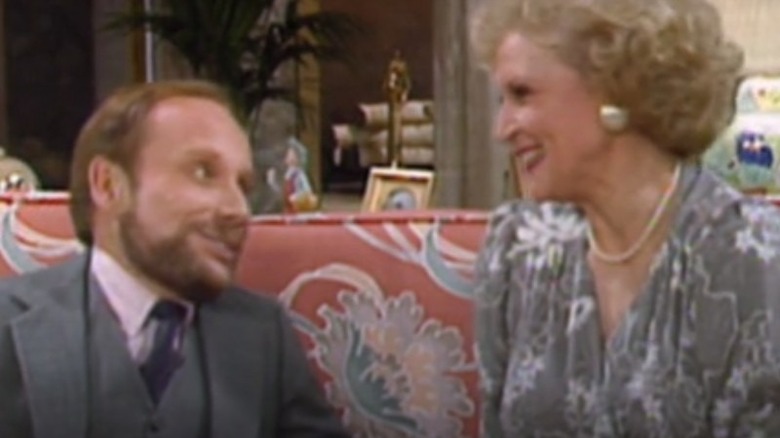 NBC
In "A Little Romance," Rose is madly in love with Dr. Jonathan Newman (Brent Collins), who she met through her work at the grief crisis center. She suspects things may be barreling straight for marriage, but she has concerns about their relationship. Jonathan is a little person, and his inclusion on the show came at a time when short jokes and dehumanizing slurs were commonplace in many sitcoms. Unbeknownst to her, Blanche invites Jonathan to dinner one evening after speaking with him over the phone.
"A Little Romance," which Betty White said was her favorite episode, utilizes stale short jokes to teach a lesson. Blanche (being Blanche) thinks it's all a goof when Jonathan shows up all decked out in an elegant suit and tie, and assumes Rose hired someone to play a prank on her. Jonathan takes it all in stride, though, and Brent Collins' performance is one of compassion and an invitation for the viewer to see him as a warm, funny, and charming human being. In the end, their relationship doesn't last since Jonathan comes from a deeply religious family — and Rose isn't Jewish.
20. Flu Attack (Season 1, Episode 21)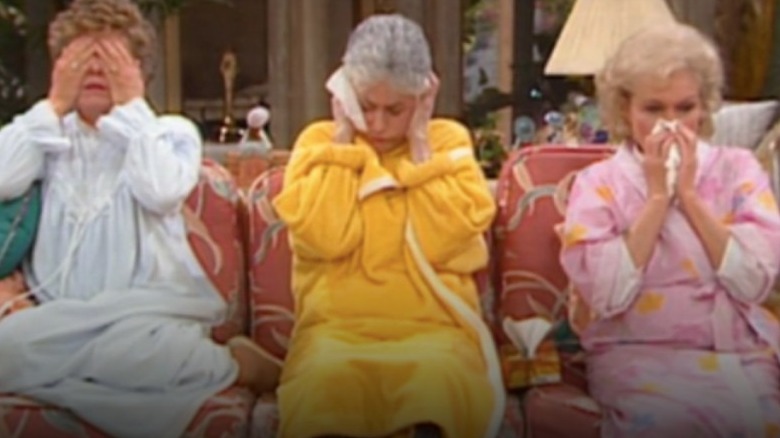 NBC
With the Volunteer of the Year Awards quickly approaching, Blanche, Dorothy, and Rose believe they are all in the running for the night's top honor. Unfortunately, Rose catches the flu and passes it to the girls (except Sophia) sending them all to bed for a week. Tempers flare, and they stop speaking to one another. When Sophia calls to cancel their dinner reservations, she reads between the lines and believes one of the three is the winner. Despite still being severely ill, Rose, Dorothy, and Blanche decide to attend.
"Flu Attack," relies on hilarious situational humor. One of the standout gags features Dorothy stealing Blanche's electric blanket. At the banquet, Sophia turns out to be the winner because she raised boatloads of money for charity the previous year. Her stirring acceptance speech inspires the girls to remember the most important things in life: friends, family, and love.
19. Blanche's Little Girl (Season 3, Episode 14)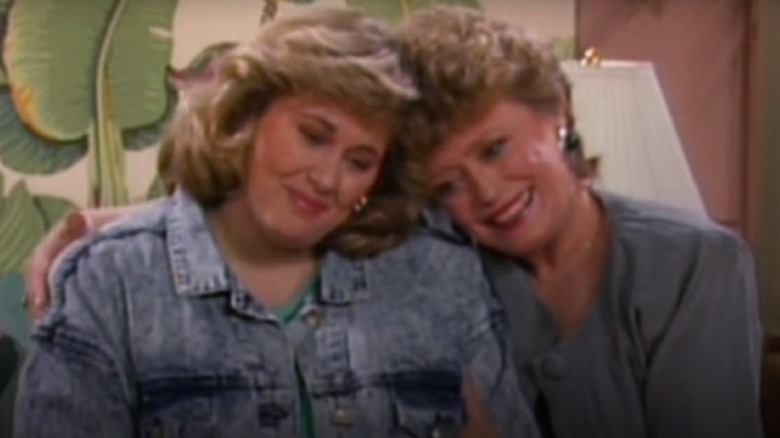 NBC
Blanche and her daughter Rebecca (Shawn Schepps) have been estranged for four years. Once a model in Paris, Rebecca returns with a considerably different image. She's also engaged to Jeremy (Joe Regalbuto), a misogynistic, verbally-abusive man. He constantly berates and belittles Rebecca in front of her family. After years of gaslighting, she believes she is not worthy of anything better. Blanche and the girls immediately pick up on the abuse and try to convince her that the relationship is not healthy.
Before Rebecca hops on a plane to elope with Jeremy, Blanche confronts her daughter about Jeremy's treatment of her and asks her why she is settling for "that lump of nothing out there." In resignation, Rebecca responds, "I want a husband. I want a family, and Jeremy may be my last chance." She's willing to set aside her self-worth for the illusion of a perfect domestic life. Blanche asserts that Jeremy's abuse has her thinking mixed up, but Rebecca storms off. Later, she returns to apologize and to confess she finally dumped Jeremy for good, having needed that extra push to stand up for herself. "Blanche's Little Girl" explores issues of body image and domestic abuse with sharply written dialogue, humor, and real emotion.
18. The Actor (Season 2, Episode 14)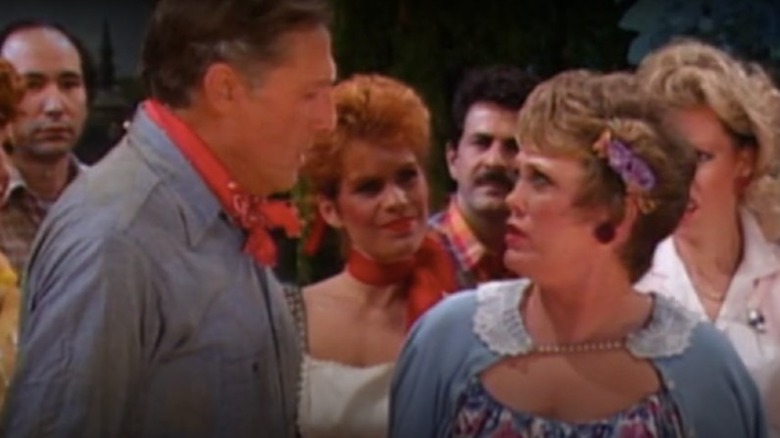 NBC
Famed actor Patrick Vaughn (Lloyd Bochner) is set to make an appearance as the lead in a local theatre production — a spoof of "Picnic." With dashing good looks and charm for days, he has all the ladies eating out of the palm of his hand. Blanche, Rose, and Dorothy decide to audition for the role of Josie, the female lead opposite Patrick. The audition doesn't quite go as planned for Blanche, who attempts to woo Patrick with inflatable, fake boobs. Phyllis Hammerow (Janet Carroll) is instead cast in the role, and the girls are relegated to non-speaking parts. But that doesn't stop Patrick from dating all three women (as well as numerous other cast members) behind their backs.
However, Patrick doesn't realize that they're all roommates until he pays a visit to Blanche and is forced to cover his tracks by making up ludicrous lies. Yet, for Patrick, the drama is part of the appeal, and he continues dating them anyway. On opening night, the girls discover his sleazy, double-crossing ways and expose him during the play's climatic and chaotic crowd scene in the final act. Dorothy, who steps into the role of the sheriff when another actor falls ill, calls him out onstage. The audience is none the wiser and believes it all to be part of the show. Featuring some of the show's most outrageous bits, "The Actor" also includes a side story with Sophia working a day job at Captain Jack's Seafood Shanty against Dorothy's wishes.
17. Grab That Dough (Season 3, Episode 16)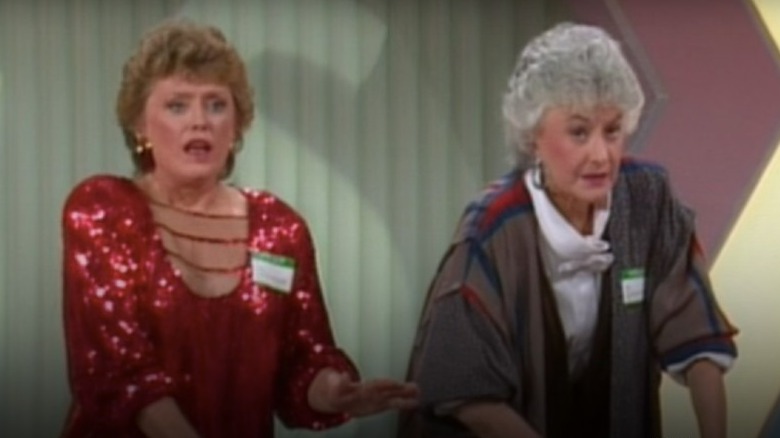 NBC
In "Grab that Dough," Sophia wins tickets to appear on a hit game show. After giving producers her former address in Italy, she receives the tickets the night before they're expected to arrive. On a whim, the girls decide to take the red-eye, get a hotel, and sleep for a few hours.
Naturally, the trip doesn't go according to plan. In fact, it's a total wreck. The airline loses their luggage, their hotel room is given to someone else, and they're forced to sleep in the lobby. When morning breaks, they realize their purses have been stolen. Fortunately, Sophia tucked the tickets into her bra. Groggy and sleep-deprived, the girls trudge off to the studio where Blanche and Dorothy decide to split off to another team, claiming they have better odds of winning. The showdown includes one of the show's best jokes. When asked to fill in the missing word in the phrase "Better late than ...," Blanche smashes her buzzer and shouts, "Pregnant!" To which the game show host replies, "That's incorrect, but certainly not untrue."
Ultimately, even Dorothy and Blanche's winnings are not what they expected 一 a lifetime supply of canned soup. "Grab That Dough" brims with comedic genius, as one of the best episodes of "The Golden Girls" ever.
16. The Days and Nights of Sophia Petrillo (Season 4, Episode 2)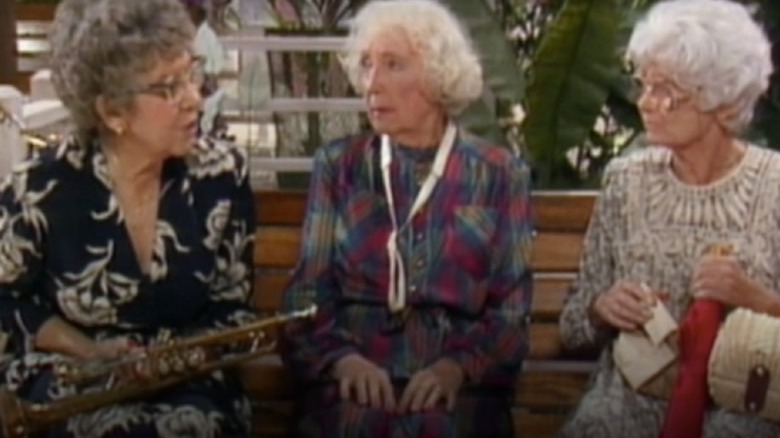 NBC
Sophia likes to put up a front. That's one of her many character flaws — charming as it may be. "The Days and Nights of Sophia Petrillo" explores two sides of her personality. On the surface, she has the exact same routine every single day: taking a bus to the market to purchase a single nectarine. The girls worry about her, believing she's lost her spark for living. What they don't see is how active she truly is. 
She does go to the market to buy a nectarine, but it isn't for herself. It's for a terminally-ill young boy she's befriended at the hospital where she volunteers as a receptionist. Before heading to the hospital, she also spends a few hours conducting a live band filled with older women playing brass and reed instruments like trumpets, trombones, and saxophones. Sophia's fulfillment in life doesn't need to be a big show. It stems from a desire to feel needed. If the girls knew how exciting her life was, maybe they wouldn't need her anymore or feel compelled to make sure she's okay.
There's far less humor than you might expect in a "Golden Girls" episode, but "The Days and Nights of Sophia Petrillo" is memorable and heartfelt nonetheless.
15. Comedy of Errors (Season 5, Episode 9)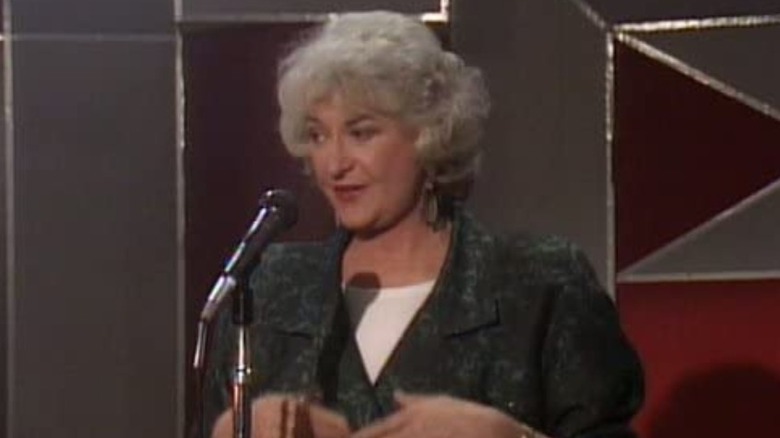 NBC
Rose desperately wants her new co-worker Roger (Oliver Clark) to like her. She goes as far as buying him a cat — which eats his pet bird. She talks to him incessantly at work and bakes him a traditional St. Olaf friendship cake. There are no lengths to which she won't go to prove her loyalty. In a heartfelt story, she tells the girls that her obsession to be liked probably stems from spending part of her childhood in an orphanage and learning that the "nice kids" were adopted.
Roger eventually persuades Rose that true friends respect each other's boundaries and that her behavior isn't very friend-like. "What if I say I am your friend?" he asks. "Then, I'd have to do it. I'd be your friend!" He then kindly but firmly asks her to leave him alone. She obliges, beaming from ear to ear. "See you, buddy!" she shouts. It's a hilarious bit of comedy that just works.
"Comedy of Errors" also includes a storyline about Dorothy doing stand-up comedy. The glimpse we see of Dorothy's routine is an amusing, self-aware handful of jokes about aging, living with roommates, and dating. Meanwhile, Blanche is audited by the IRS. When an agent arrives, Blanche dresses up in her most risqué nightgown 一 but the agent turns out to be a woman. "Comedy of Errors" is a bit disjointed, but the humor and performances are still top-notch.
14. Blind Date (Season 4, Episode 12)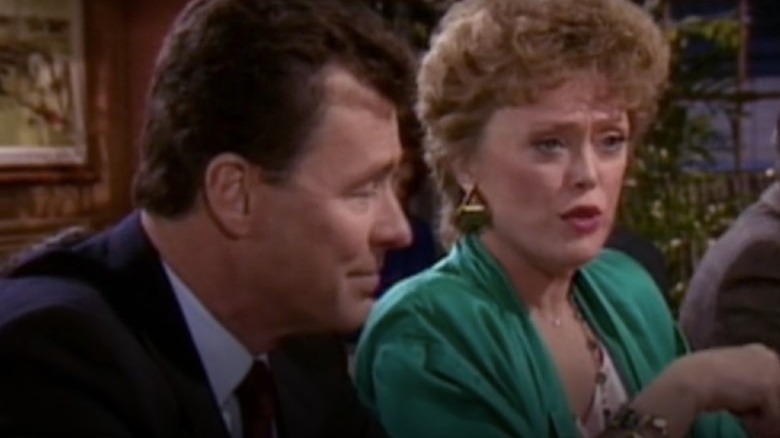 NBC
Blanche sometimes has questionable taste in men. When her on-again, off-again beau cancels yet another date, she drowns her sorrows in martinis and woos a gentleman named John Quinn (Ed Winter) at the bar. Although Blanche doesn't realize that John is blind, the two have an instant connection. Assuming she's giving him a number to a dry cleaners, he extends his hand. Blanche scrawls her phone number on his palm. He later shows up on her doorstep, much to her surprise.
"Blind Date" handles its subject matter with thoughtfulness, and it never feels overly sentimental. Blanche has always relied on her stunning looks to attract men, so taking away what she perceives as her best quality reminds her of the importance of honest relationships. The episode balances its weighted theme with a second storyline involving Dorothy and Rose coaching a children's football team. Many of this episode's one-liners are among the show's best, including Dorothy's exclamation to Rose when they're planning out strategies, "For God's sake Rose, Eisenhower used less chalk planning D-Day!" and Rose displaying her fierce competitive spirit when Sophia takes over coaching a game by declaring, "But if she loses I'll punch her stinking heart out!"
13. The Accurate Conception (Season 5, Episode 3)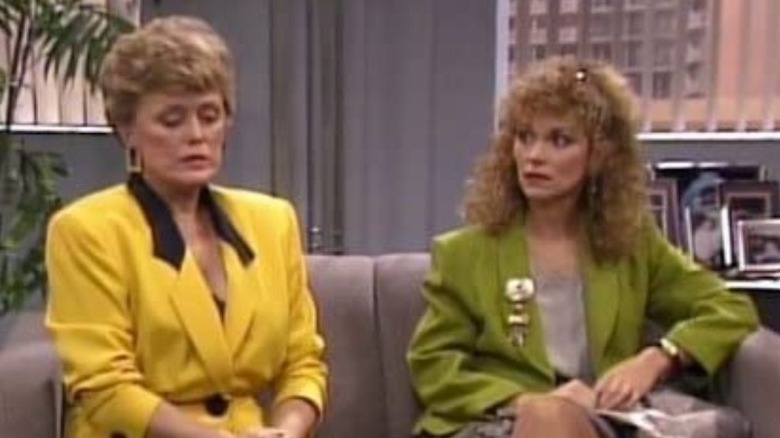 NBC
Blanche's traditional way of thinking frequently supplies the show with both commentary and comedy. In "The Accurate Conception," her daughter Becky (Debra Engle) reveals that she wants to get pregnant through artificial insemination. Well, Blanche just doesn't believe that to be natural and urges her to find a man first. "Mama, I'm gonna do this whether you like it or not," Becky explains, standing her ground. In the 1980s, the discussion of sex was still a taboo topic, especially coming from four older women. But that's what makes this episode such a delight.
A side-story with Sophia needing a physical is a little pointless, but Estelle Getty's line readings are priceless. For many reasons, this Season 5 standout was a turning point for the show. New writers were brought in, and director Terry Hughes would depart at the end of the season. Fortunately, the quality of writing and performances didn't suffer from such a huge behind-the-scenes shift.
12. Girls Just Wanna Have Fun... Before They Die (Season 6, Episode 10)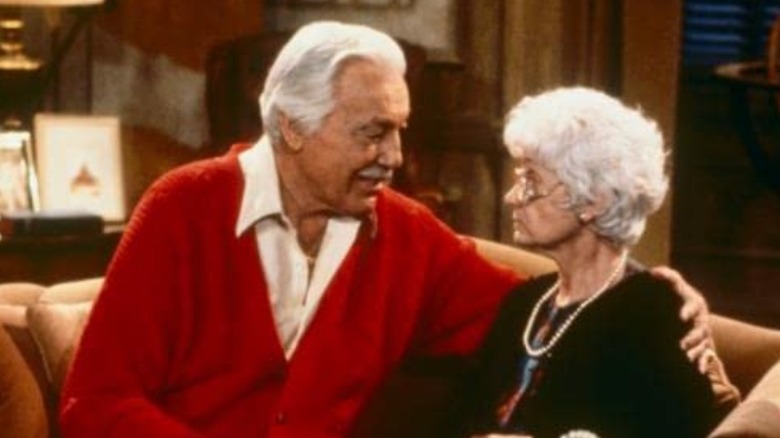 NBC
"The Golden Girls" wouldn't be the same without Rose and her wacky St. Olaf stories. "Girls Just Wanna Have Fun... Before They Die" centers around Rose's hometown enduring a drought and town officials sending out letters asking its former residents to abstain from sex to replenish Mother Nature. Yes, you read that correctly. It's silly, but it makes for an entertaining episode. Rose doesn't tell her boyfriend Miles (Harold Gould) what's going on, and he assumes she has lost interest and found another lover. You have to give Rose a little credit — she at least stands firmly on her principles.
Filled with double entendre and general naughtiness, this episode features gags ranging from moaning over the telephone to faking orgasms. Sophia also enjoys one of the best reveals when Blanche works her magic, turning the 84-year-old into "a 65-year-old drag queen." In a slinky red dress, Sophia saunters into the living room. Mouths agape, Dorothy and Rose look on, and it's close to being the show's most amusing moment. Both Rose and Sophia turn to Blanche for dating advice, and that leads to nothing but heartbreak. Rose continues lying to Miles, and Sophia tells her new boyfriend, Tony, she loves him (and he doesn't say it back). That's a recipe for disaster.
11. Not Another Monday (Season 5, Episode 7)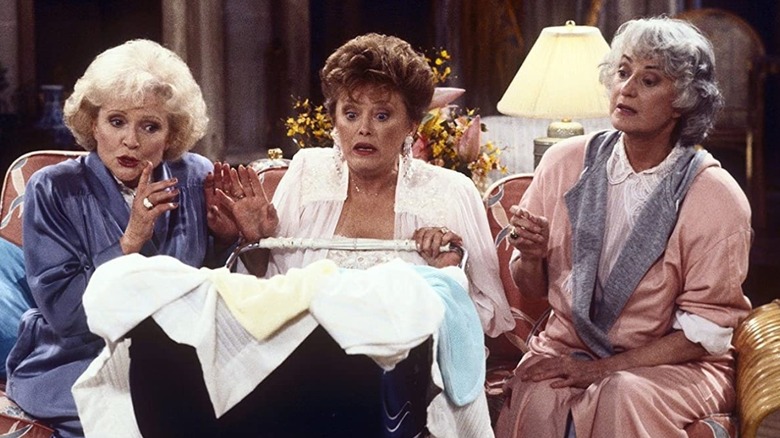 NBC
In "Not Another Monday," "The Golden Girls" tackles the darkest issue in the show's history: assisted suicide. Its theme is grim and borderline depressing. Sophia's friend Martha (Geraldine Fitzgerald) reaches out to her with an unusual request. She needs help ending her life and pleads with Sophia to be there when it happens. Martha is terminally ill and believes suicide is her only option. However, Sophia reminds her that there is more life to be lived, more experiences to be had, and more friendships to forge. She makes a vow to be her best friend.
In the spirit of the show, the episode is counterbalanced with a far more lighthearted storyline. Blanche, Rose, and Dorothy babysit the Lillestrand family's newborn baby Francis while they go on a camping trip for the weekend. When the infant develops a high temperature, Dorothy calls the pediatrician to make a house call. Naturally, Blanche lays it on hot and heavy, endlessly flirting with him. Later that night, the girls have trouble getting Francis to sleep, and they launch into an a cappella version of "Mr. Sandman." With its serious treatment of a sensitive subject, "Not Another Monday" may be the most important episode of "The Golden Girls"
If you or anyone you know is having suicidal thoughts, please call the National Suicide Prevention Lifeline​ at​ 1-800-273-TALK (8255).
10. Old Boyfriends (Season 7, Episode 14)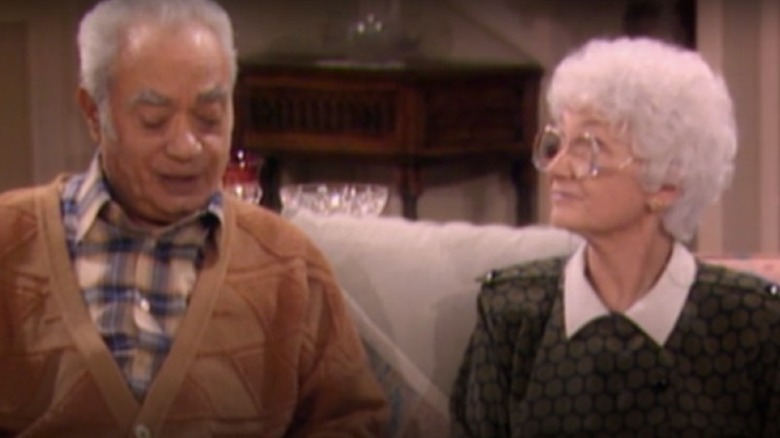 NBC
Similar themes of death and dying run through this Season 7 gem. "Old Boyfriends" follows Sophia and her budding new romance with Marvin (Louis Guss), a man she met through the personal ads. Their relationship seems to be going well, even though Marvin's sister Sarah (Betty Garrett) tags along on all their dates. It's later revealed that Sarah is actually his wife, and she has been searching for her replacement. Sarah is nearing the end of her life and wants to make sure her husband is taken care of. Initially, Sophia agrees to the arrangement, but it soon becomes apparent that's just not what Marvin actually needs — or even wants.
In this episode, Rose also has a bit of relationship trouble. An old flame named Thor (Ken Berry) claims they once dated years ago in St. Olaf, but Rose can't seem to place him. Blanche accompanies them on their date and tries to pry loose any information that may spark Rose's memory. It's not until Thor and Rose part ways with a goodbye smooch that it all comes flooding back in vivid detail. He was a bad kisser 40 years ago 一 and he still is!
9. Break In (Season 1, Episode 8)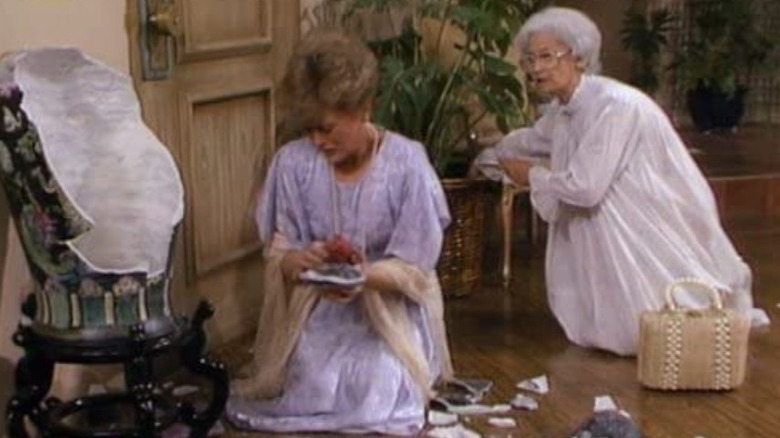 NBC
After a Madonna concert, the girls arrive home to discover they have been robbed. Dorothy's mink stole is missing, and Blanche believes her mother's jewels, which she had hidden in a canister of flour, have been snatched. Sophia also claims the robbers carted off her entire wardrobe. This all leads them to have a security system installed, and Rose adopts a dog from the pound for good measure.
However, Rose still doesn't feel safe. She is pretty shaken and begins struggling in her everyday life. Without the other girls knowing, she buys a handgun, but that still doesn't do the trick. When Blanche arrives home with Lester (Robert Rothwell) after a date, Rose thinks the intruders are back and fires her weapon, destroying Blanche's Chinese vase. Rose believes she may be permanently scarred from the incident, but when she subdues a parking lot attendant she confuses for a predator, she understands that she is more than capable of handling herself. She is finally at peace.
In "Break In," "The Golden Girls" uses its classic formula of comedy and thoughtfulness to explore Rose's trauma. It also features some of the show's best lines, including this one from Sophia after the gun accident: "I manage to live 80, 81 years. I've had pneumonia, two operations, a stroke. One morning, I'll belch, and Stable Mable here will blow my head off."
8. Feelings (Season 6, Episode 6)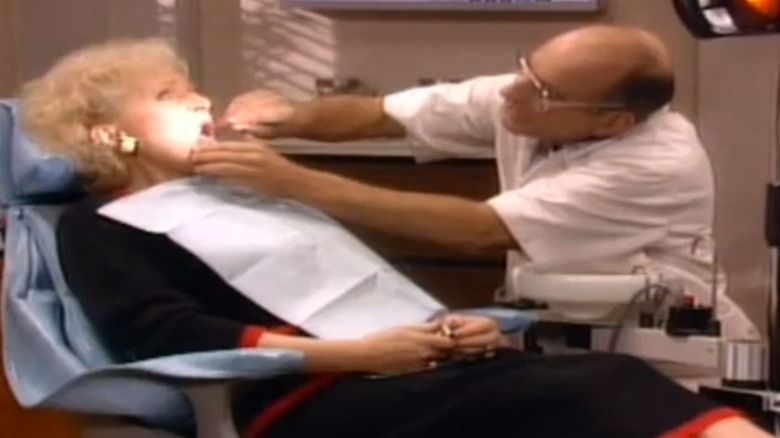 NBC
In "Feelings," the girls deal with a wide range of emotions. Dorothy endures undue criticism when she gives the local high school's star football player a failing grade in her English Literature class. She receives snide remarks and actual death threats from neighbors and finds a dead fish on her doorstep. A parish priest even requests a sit-down to discuss the implications Dorothy's actions could have on his congregation, and the football coach propositions her for a date. However, Dorothy doesn't waver.
"Feelings" also manages to weave in a delicate conversation about sexual assault. Rose believes her dentist, Dr. Norgan (George Wyner), touched her without consent while she was under heavy anesthesia. Of course, he shrugs it off, claiming hallucinations are a side-effect of being put under. However, Rose doesn't just believe it happened — she knows it happened. She threatens to go to the dental board to report him. "The Golden Girls" never shied away from exploring important issues, and this episode is no exception.
7. Old Friends (Season 3, Episode 1)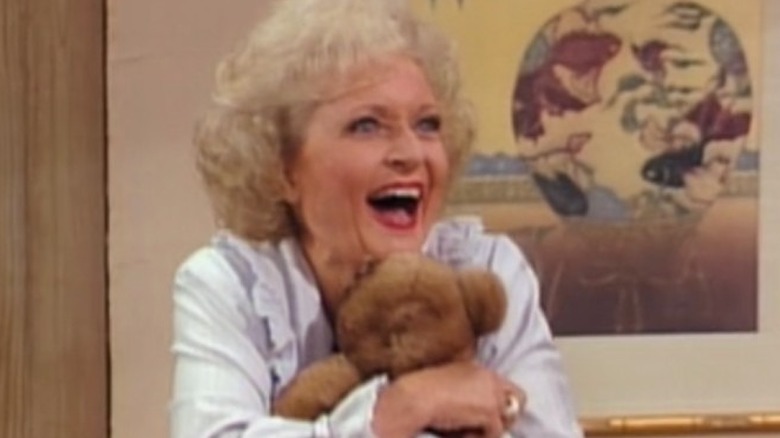 NBC
Friendship is the core of this essential Season 3 episode. In "Old Friends," Sophia's friendship with Alvin (Joe Seneca) is flourishing, and the two spend many afternoons sitting on a bench down by the boardwalk. After an outburst, Alvin brings Sophia a can of soda to make amends — or so she thinks. Another conversation about his wife Edna ends with Alvin in tears. When Alvin's daughter Sandra (Janet MacLachlan) meets with Dorothy, she reveals the true cause of her father's erratic behavior. He has Alzheimer's disease.
 At first, Sophia struggles with this news. Dorothy then reveals to her Alvin will be moving to New York in a few weeks to live with a nephew, so Sophia gets to finishing a scarf she's been making for him. Late one evening, Dorothy finds Sophia at their usual spot on the boardwalk. Sophia realizes Alvin is not coming back. Ultimately, she decides to mail the scarf, wanting to keep the image of Alvin sitting and chatting next to her firmly in her mind.
Rose experiences a different kind of friendship after Blanche accidentally donates Fernando, her favorite childhood teddy bear, to the Sunshine Cadets. In one of the series' funniest storylines, a cadet named Daisy (Jenny Lewis) holds the bear for ransom — first for various gifts and then for a load of cash. Rose, however, isn't about to lose her best friend. She quickly rips him from Daisy's arms, pushes her onto the stoop, and slams the door.
6. Triple Play (Season 5, Episode 15)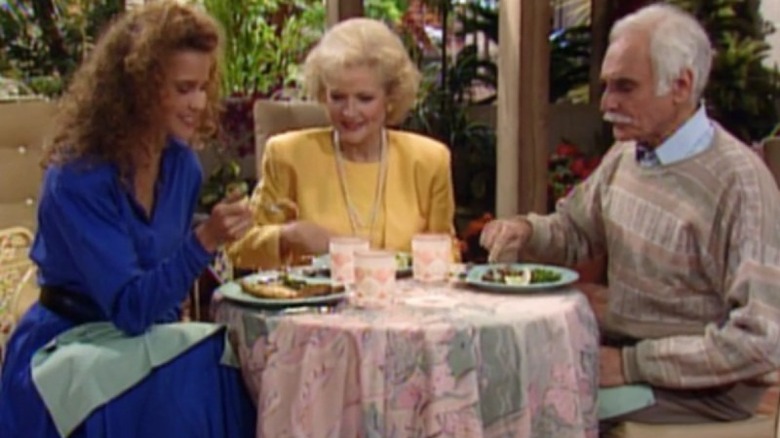 NBC
"Triple Play" more than earns its title, depicting three vastly different and unrelated storylines. First, Sophia receives $170,000 by accident from the Social Security Administration and tries to hide her small fortune. Dorothy quickly picks up on Sophia's little scheme to keep the money and convinces her that it would be wrong to do so. Sophia eventually returns the cash.
In the second storyline, Blanche rents a car and pretends she's selling it as a ploy to meet wealthy gentlemen. It's not a surprising endeavor for Blanche (she is Blanche after all), and the episode gives her some of her best lines, including "I feel just like a fisherman with a new lure." A handful of prospective buyers end up arguing over who can make the best offer, and Blanche enlists Dorothy to tell the men she's not interested in to kick rocks while cluing the others in to what's going on.
Finally, Rose meets Miles' daughter, Caroline (Molly Hagan), who tells her she needs to leave her father alone because it has been such a short time since her mother's death. Rose is utterly heartbroken. She's grown to care about Miles deeply, and the thought of ending things is almost too much for her. With the guidance of Blanche, who exposes Caroline's lie to Miles, Rose is able to continue seeing him. She manages to patch things up with Caroline as well.
5. And Ma Makes Three (Season 3, Episode 20)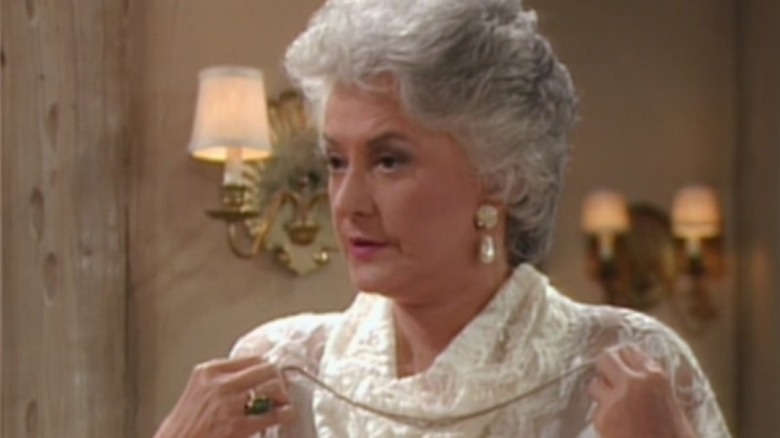 NBC
Sophia is having a tough go of things. Many of her friends are dying or moving away, and she's grappling with aging and overwhelming sadness. Dorothy offers to spend more time with her, including taking her along on several dates with a new boyfriend named Raymond (James Karen). One date turns into weeks of dates. Sophia has the time of her life reconnecting with her daughter, but Dorothy can't seem to muster up the courage to tell her mom that she's cramping her style.
Throughout the series, there are many conversations centered on aging and everything that it entails — from ageism to frequent trips to the doctor. "And Ma Makes Three" takes a step to address other important aspects of getting older — the inevitability of death and the loneliness everyone will eventually experience when loved ones and friends die.
The episode balances out with a lighter storyline about a competition between Rose and Blanche for fashion show chair. When Dorothy asks for advice about wearing a pearl necklace, Blanche and Rose offer up their own perspectives, resulting in one of the series' best exchanges: "Why don't I just wear a sign that says 'too ugly to live'?" barks an agitated Dorothy. Blanche responds, "Fine, but what are you going to hang it from, the chain or the pearls?" Dorothy retorts, "Neither! I'm going to spray paint it on my hump!"
4. Long Day's Journey Into Marinara (Season 2, Episode 19)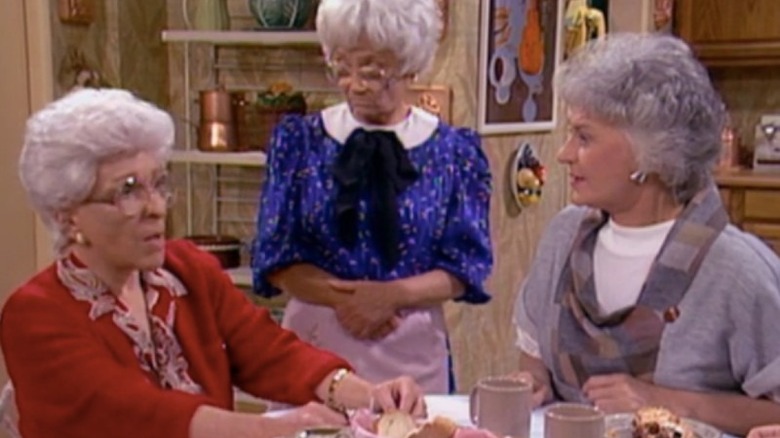 NBC
Sophia is the queen of pettiness, and "Golden Girls" fans love her for it. In "Long Day's Journey Into Marinara," Sophia's decades-old grudge against her sister Angela leads her to believe she is trying to steal her boyfriend, Tony (Joe Alfasa). Angela spends several weeks visiting with the girls, and after Dorothy convinces her to move to Miami, she hunts for her own place but comes up empty-handed. She eventually answers an ad to become roommates with Tony, who, as we learn, is actually cheating on Sophia with another woman.
During Angela's stay with the girls, Rose chicken-sits a hen named Count Bessie who can play piano by pecking the keys. A hilarious bit occurs when Bessie goes missing, and Angela cooks chicken for dinner, leading the girls to believe she chopped up the piano-playing pet. It turns out that Angela just grabbed a packaged chicken from the freezer, and Bessie eventually shows up again. "Long Day's Journey into Marinara" makes this list for being totally silly while delivering a simple yet powerful message of forgiveness.
3. Dorothy's New Friend (Season 3, Episode 15)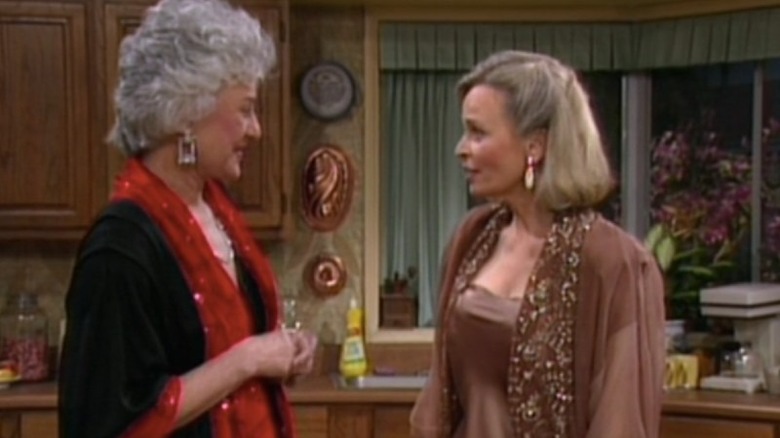 NBC
Dorothy hungers for a friendship with deeper, more intellectual conversations. She meets popular local author Barbara Thorndyke (Bonnie Bartlett), and the two hit it off almost immediately. They go to the movies, to fancy restaurants with literary-themed menus, and to various other highly-cultured hotspots. On several occasions, Blanche and Rose attempt to banter with Barbara about books and men to no avail. They later express to Dorothy their feelings that her new friend looks down on others.
Soon, Dorothy learns a hard lesson about perception. Barbara makes a reservation at the incredibly exclusive Mortimer Club and pulls Dorothy aside when Sophia wants to bring her new date along. The most revealing and insightful scene in "Dorothy's New Friend" comes when Barbara displays her casually anti-Semitic ways. She tolerates the Mortimer Club's egregious restrictions against Jewish people because she loves the food and the free parking. "Boy, did I misjudge you! Blanche and Rose were right. You're not the kind of person I want as a friend," spits Dorothy in an epic takedown. As crucial as the show's comedy is, these moments of confronting dated, archaic, and racist or classist beliefs are what truly define "The Golden Girls."
2. Yokel Hero (Season 4, Episode 4)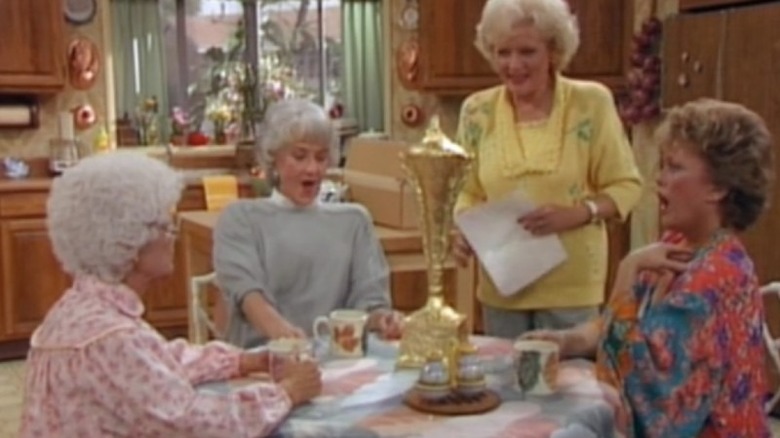 NBC
Dorothy and Blanche have the best intentions when they fudge a few accomplishments on Rose's entry form for St. Olaf's Woman of the Year. Rose has been working her entire life for the honor (which is on par with Butter Queen) and spends much of her time involved in many charitable activities. The girls wait until they have practically arrived in Rose's hometown before breaking the news, and Rose is unsurprisingly devastated. She questions her entire purpose and her reasons for helping others.
The journey to St. Olaf is naturally bizarre (and wonderfully amusing). The airline loses their luggage, and Sophia nearly falls victim to an old St. Olaf myth about tunnels while riding the train. In order to make the final trek to the secluded community, they hop aboard a hay wagon in the middle of the night and travel on dirt roads. When Rose is eventually crowned the winner and gifted a giant, foil-wrapped chocolate statue, she takes it in stride, deciding a couple of white lies never hurt anybody.
"Yokel Hero" also features a side-story involving a Miami heatwave. While awaiting a repairman to fix the air conditioning, Sophia opens the refrigerator to cool off. The blast of cold air causes her dress to flap, (in her words) "giving the leftover meatloaf a thrill." This Season 4 episode is pure comedy genius.
1. Mixed Blessings (Season 3, Episode 23)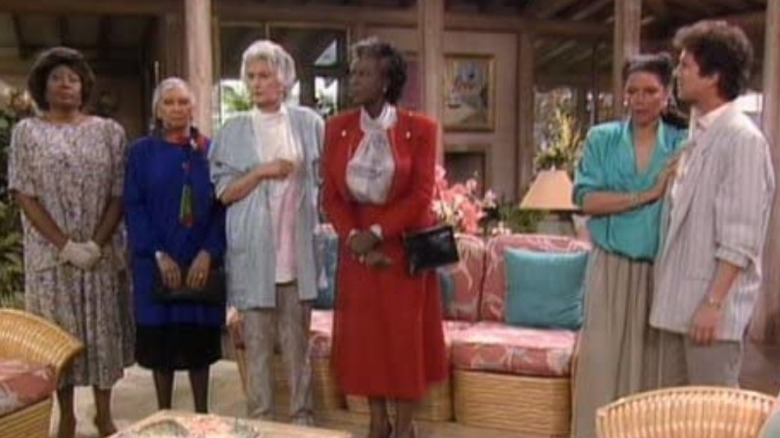 NBC
With "Mixed Blessings," the show addresses the once-taboo topics of interracial marriage and age gaps in relationships. Dorothy's son Michael (Scott Jacoby) comes to visit, and he has news he's been dying to tell her. He's getting married to his bandmate Lorraine (Rosalind Cash). Initially, he only tells her that Lorrriane is a Black woman. It's not until meeting her that Dorothy learns that Lorraine is decades older than her son.
Later, Lorraine's parents stop by to meet the family and express their own reservations about the union. However, their concerns have to do with the fact Michael is white. "Mixed Blessings" came under scrutiny in 2020, and Hulu removed the episode, citing its depiction of blackface (the episode later returned to the streaming platform). However, this is simply not the case. The scene in question involves Blanche and Rose wearing mud masks. Neither their intention nor the impact is ingrained in malice. It's a teaching moment.
While initial concerns were certainly valid, the girls are not in blackface. The episode presents an important reminder of the difference between wearing a mud mask and unearthed celebrity photos depicting white people explicitly engaged in blackface. For all the controversy, "Mixed Blessings" remains one of the show's finest moments and one the most important moments in television history.