Edge Of Tomorrow 4K Will Live. Die. Repeat. In July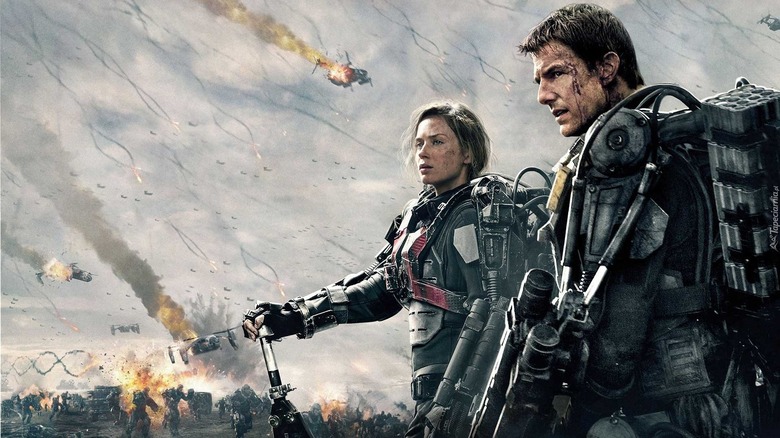 Warner Bros.
Tom Cruise fever is sweeping the globe, folks. Not only can the French apparently not get enough of the movie star, awarding him a Palme d'Or prize at Cannes ahead of the buzzy release of "Top Gun: Maverick," but more importantly, we, as a species are just about to mark the 5th anniversary of the iconic Dark Universe franchise. It may not have ever made it past its very first movie, with 2017's "The Mummy" killing the planned cinematic universe of Universal Monsters in its cradle, but it'll always live on in our hearts. Of that, Tom Cruise can forever remain proud!
In all seriousness, one underrated movie in the actor's career is Doug Liman's "Edge of Tomorrow." Ultimately hamstrung by a woefully generic title and a marketing campaign that did the "Groundhog Day"-esque time loop movie no favors whatsoever, the action flick starring Cruise and Emily Blunt as futuristic mech-soldiers deployed against formidable extraterrestrial foes nevertheless gained a passionate fanbase once the film had its home video and VOD release. Rumors of a sequel have abounded for years and, unfortunately, will have to remain as such for another day.
But today does bring us some good news, at least. The sci-fi flick, since rebranded to the more personality-driven "Live. Die. Repeat." title, is getting a timely upgrade with a 4K Ultra HD and Blu-ray release for the very first time. Check out all the details below.
Edge of Tomorrow in 4K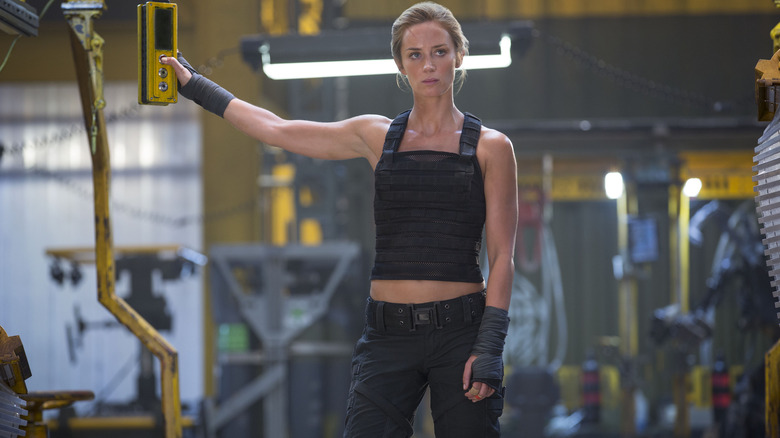 Warner Bros.
If Warner Bros. still needs convincing that there are plenty of viewers out there eager for more adventures directly following up the events of "Edge of Tomorrow," then hopefully the sales of this new 4K home media release will prove exactly that.
Directed by Doug Liman ("The Bourne Identity," "Mr. & Mrs. Smith") and written by Christopher McQuarrie along with Jez Butterworth and John-Henry Butterworth, "Edge of Tomorrow" helps prove the adage (which I've personally just made up here, but is nonetheless true!) that the more selfish and unlikeable a character Tom Cruise plays — this movie's William Cage begins as a coward arrested for desertion — the better the movie is. Seriously, Ethan Hunt, Maverick, his deadbeat dad character in Steven Spielberg's "War of the Worlds," all of these movies speak for themselves!
Anyway, where was I? The "Edge of Tomorrow" Ultra HD Blu-ray Combo Pack will be made available for $24.99 and come with an Ultra HD Blu-ray disc and a digital copy of the film. Unfortunately, the bonus features will remain the same as with prior Blu-ray and DVD releases. Those include:
Operation Downfall – Adrenaline Cut
Storming The Beach
Weapons Of The Future
Creatures Not Of This World
On The Edge With Doug Liman
Deleted Scenes
Viewers will be able to purchase this for themselves on July 5, 2022.
An alien race, undefeatable by any existing military unit, has launched a relentless attack on Earth, and Major William Cage (Tom Cruise) finds himself dropped into a suicide mission. Killed within minutes, Cage is thrown into a time loop, forced to live out the same brutal combat over and over, fighting and dying again and again. Training alongside Rita Vrataski (Emily Blunt), his skills slowly evolve, and each battle moves them a step closer to defeating the enemy in this intense action thriller. ​