Tom Cruise Awarded Surprise Palme d'Or At The Cannes Film Festival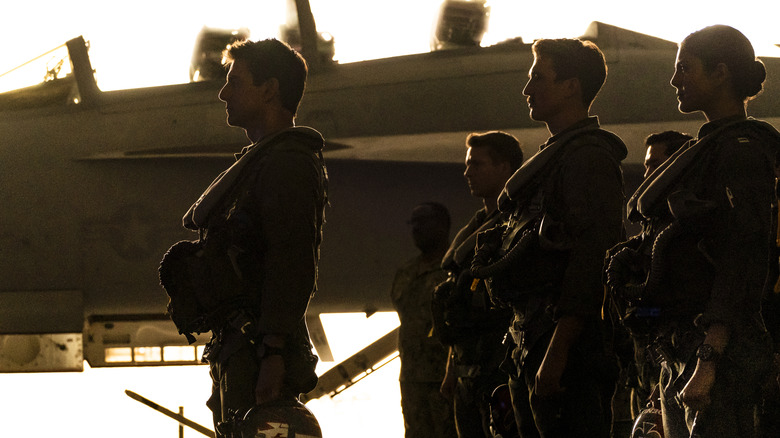 Paramount Pictures
Cannes feels the need — the need to show heaping amounts of love and appreciation for actor Tom Cruise, that is.
The fancy Cannes Film Festival has officially commenced in the quaint European city, where professional film fans from all over have flocked to check out some of the year's most exciting upcoming features. In addition to several films making their premieres at the festival — George Miller's "Three Thousand Years of Longing" and David Cronenberg's "Crimes of the Future" among them — "Top Gun: Maverick" is also set to screen, to the delight of all those fortunate enough to be in attendance.
But if you thought Tom Cruise could attend such an event without the festival programmers pulling out all the stops, think again. Most recently, the larger-than-life movie star made his presence felt at the San Diego premiere for the legacy sequel, even stopping to chat with /Film after flying in on a helicopter and accompanied by a Blue Angels flyover — all taking place from atop the flight deck of the USS Midway aircraft carrier-turned-museum. At Cannes, his welcome just might have surpassed those festivities.
According to Variety, Cruise was awarded a surprise Palme d'Or award, the highest prize awarded at the prestigious film festival. By all accounts, the presentation "genuinely seemed to take him off guard." The extensive celebration included several standing ovations as he accepted the prize, a MasterClass conversation, that already-viral quote likening his penchant for dangerous stunts to Gene Kelly dancing, and a flyover by no less than 8 total fighter jets billowing red, white, and blue smoke (coincidentally, the same colors as the French flag). You can't say they don't know how to throw a party over at Cannes!
'This movie was a dream'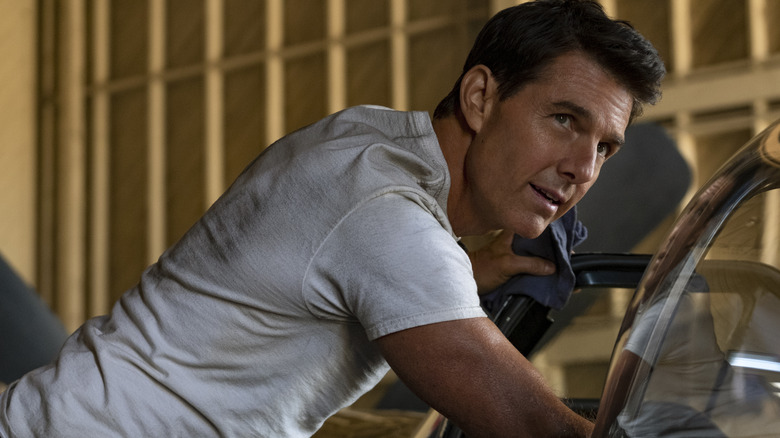 Paramount Pictures
It would seem that Cannes took the opportunity to treat "Top Gun: Maverick" as a victory lap of sorts, celebrating all of Tom Cruise's contributions over his remarkable career in Hollywood. Variety also reports that festival attendees were treated to a greatest hits montage of several of the actor's movies over the decades. The long-awaited "Top Gun" sequel (pushed back several times, as we all know, due to VFX work and then the pandemic) provided the perfect excuse to honor the actor who has repeatedly risked life and limb to help provide visceral entertainment to the masses. While on stage accepting his Palme d'Or, Cruise gave an impromptu speech to the crowds, saying:
This movie was a dream. We talked about it when filming. I just want to see everyone's faces. There's no masks and we're in a movie theater. I'm going to take this all in and I feel very grateful. We're here for you. I make all these movies for all of you and I'm very blessed to do what I do. Enjoy this evening. You all have made my life."
Laying it all on a bit thick? Probably, yeah, but I suppose he can be forgiven for getting a little caught up in the moment while ensconced in that unique Cannes Film Festival atmosphere. "Top Gun: Maverick" is already enjoying rave reviews, with /Film's Ben Pearson crowning it as "one of the most rousing movies of the year" in his review.
"Top Gun: Maverick" will roar into theaters on May 24, 2022.