New Yellowstone Spin-Off Pivots To Focus On True-Life Legendary Badass Bass Reeves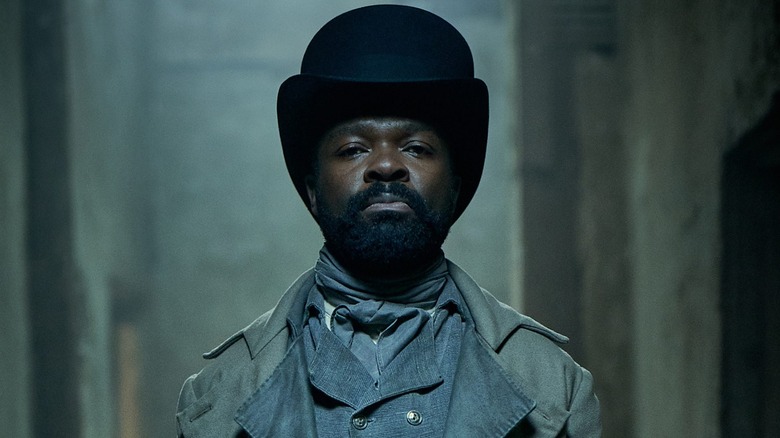 BBC
"Bass Reeves" was originally a standalone limited series that was coming to Paramount+ with Taylor Sheridan, but it's morphed a bit. Now, according to the MTV Entertainment Studios upfront presentation (via Deadline), it's going to be a new chapter in the "Yellowstone" prequel "1883." It's an interesting move and one that I think is very positive. The story of "1883" and why the Duttons settled exactly where they did had, for all intents and purposes, ended at a natural stopping place. Though there was originally chatter about a second season, Sheridan finally said the story was finished. Now it's continuing as "1883: The Bass Reeves Story," and this is not only going to get people familiar with a badass person from American history, but it will hopefully drive all of the "1883" fans to watch. 
If the name Bass Reeves sounds familiar to you, there are a few reasons. He was a lawman from the Old West and a hero. He was one inspiration to the character Will Reeves (played by Jamal Akakpo) in the HBO series "Watchmen," one of the main characters in "The Harder They Fall" played by Delroy Lindo, and he is believed to be the inspiration for "The Lone Ranger." Starring in the limited series is David Oyelowo ("Selma," "The Butler," "Les Miserables"), as was previously announced when this was going to be a standalone series. 
A real-life hero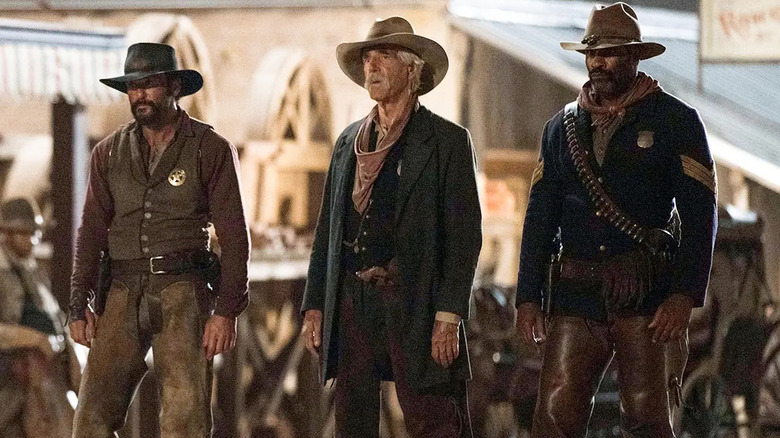 Paramount+
The real Bass Reeves was born in July of 1838, died in January 1910, and was the first Black Deputy U.S. Marshall that lived west of the Mississippi River. He arrested over 3,000 criminals and was never wounded while doing so.
Bass Reeves was born to enslaved people in Arkansas, and the person who likely enslaved his family was William Reeves. That man's son, Colonel George R. Reeves, took Bass with him when he joined the Confederate Army in the Civil War. Bass Reeves gained his freedom (the details of this are unclear), but he then lived among Indigenous tribes including the Cherokee, Creeks, and Seminoles, learning their language, and returning to Arkansas after the Thirteenth Amendment was passed in 1865.
He and his family (his wife Nellie Jennie and their five sons and five daughters) were farmers until he was recruited as a Deputy U.S. Marshall for the Western District of Arkansas in 1875. In 1893, he transferred to the Eastern District of Texas, and in 1897, to serve at the Muskogee Federal Court in the Indigenous territory. He had a settlement of 75,000 square miles in what is now Oklahoma and Arkansas and killed 14 outlaws as part of the over 3,000 he took in. He then became a city police officer in Muskogee, Oklahoma. 
"1883: The Bass Reeves Story" is executive produced by Sheridan, David Oyelowo, Jessica Oyelowo, David Permut, David C. Glasser, Ron Burkle, and Bob Yari. Producing are MTV Entertainment Studios, Bosque Ranch Productions, Yoruba Saxon, and 101 Studios. 
There is no announced release date for "1883: The Bass Reeves Story" yet, but we'll keep you updated. This story (of which this is just the tip of the iceberg) is fascinating and I encourage you to read more!