Yellowstone Spin-Off 6666 Is Not Set In The Distant Future, Sorry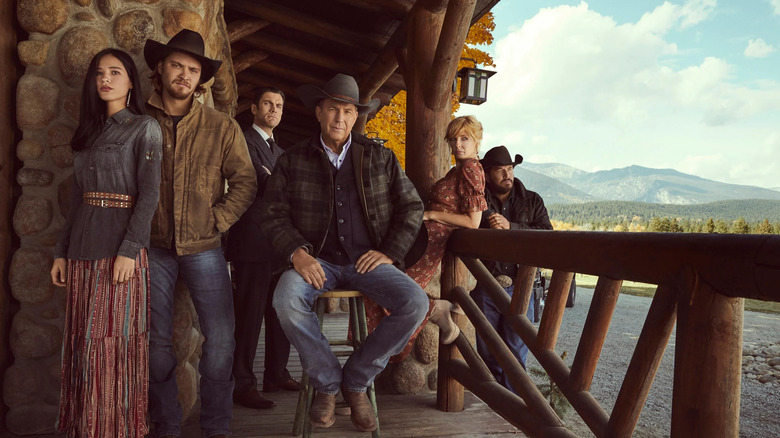 Paramount+
Despite the fact that the two "Yellowstone" prequels are named after the year they're set in — "1883" and "1932" though the later is still a working title — the upcoming spin-off "6666" isn't set in the future. Not that I wouldn't watch a show about space cowboys. I've done it before. It's actually the name of a ranch that is featured in season 4 of "Yellowstone." The series, which was originally expected to air on Paramount+, is now going to be moved to Paramount Network, according to Variety. 
We are reportedly going to get episodes first on Paramount Network, then on Paramount+, though there is no premiere date set for the series. This one, as all the others have, comes to us from Taylor Sheridan who also has "Mayor of Kingstown," and the upcoming series "Lioness," "Tulsa King," "1883: The Bass Reeves Story," and "Land Man," and is clearly keeping some coffee company in business. Maybe someone should go check to make sure he's not AI or something?
Yet another spin-off of Yellowstone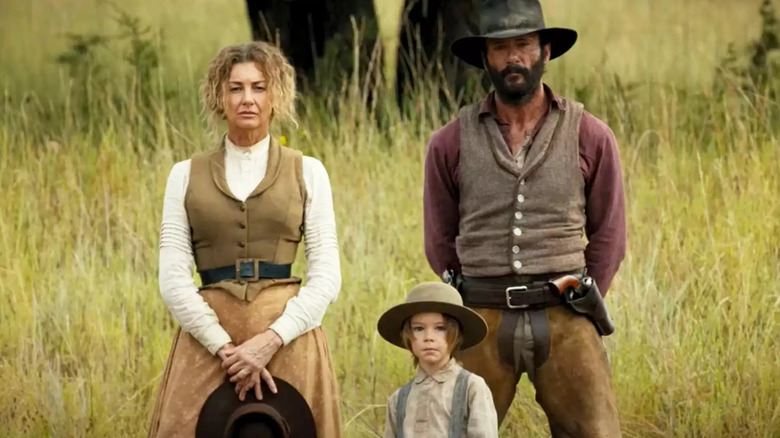 Paramount+
Here is the official synopsis for "6666:"
Founded when Comanches still ruled West Texas, no ranch in America is more steeped in the history of the West than the 6666. Still operating as it did two centuries before, and encompassing an entire county, the 6666 has inspired a new scripted series where the rule of law and the laws of nature merge in a place where the most dangerous thing one does is the next thing. The 6666 is synonymous with the merciless endeavor to raise the finest horses and livestock in the world, and ultimately where world-class cowboys are born and made.
I mean, it sounds as compelling as all the other shows Sheridan has out there. I'm still not over the finale of "1883" though.
"6666" is produced by MTV Entertainment Studios, 101 Studios, and Bosque Ranch Productions. Sheridan will executive produce (because he's not busy at all) with John Linson, Art Linson, Ron Burkle, David Glasser, and Bob Yari. 
Yesterday we learned that Helen Mirren and Harrison Ford, no less, will be the leads in the cast for "1932," and how you could avoid watching those two together on screen is beyond me. That show will be on Paramount+ and is set during the Great Depression. I imagine it's not going to be a cheery series. Someone get me my cowboy hat, because that show will begin airing this coming December.