Bringing Blade Runner Back To Life Was A Tough Sell For Everyone Involved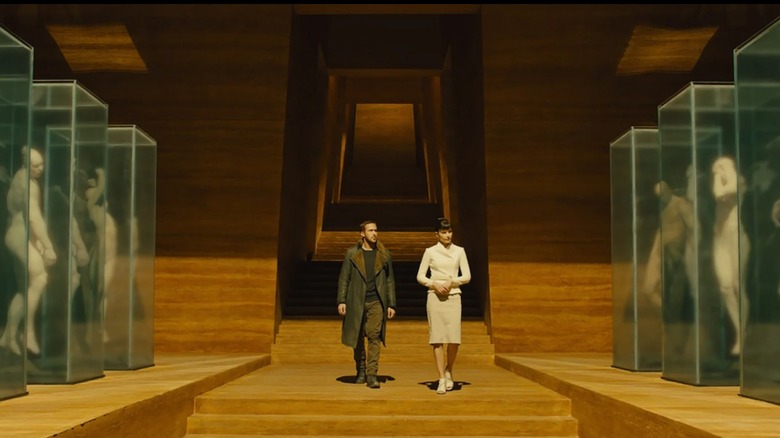 Warner Bros.
No one likes to see their favorite childhood film or cult classic implode because of a bad sequel. Like the incessant habit of remakes and reboots, spinning endless follow-ups for any commercially viable film is pretty common practice. But even successful films that court audiences and critics alike are in danger of essentially ruining a good thing. That's why the reaction to Ridley Scott wanting to make a follow-up to "Blade Runner," his sci-fi noir based on the novel "Do Androids Dream of Electric Sheep?" by writer Philip K. Dick, was less than enthusiastic. Although the film would spurn numerous adaptations of the science-fiction author's books into hit films ("Total Recall," "Minority Report," "The Adjustment Bureau," to name a few), unfortunately, "Blade Runner" didn't immediately see such praise. 
After a lackluster release, the film became a beloved favorite thanks to VHS and the release of Scott's approved director's cut a decade after the film's premiere. Of the many changes to the film between its theatrical 1982 and 1992 releases, one was that it set up via ambiguity at least the possibility of a sequel. But Philip K. Dick's death four months before the first film's release made it was clear any move forward would be uninformed by the new source material. Couple that with the fact that, by the 2000s, when Scott started to test the waters, enough fierce adoration existed for "Blade Runner" that announcing a sequel was destined to be controversial no matter what. So how exactly did Scott manage to get the necessary parties on board? 
A great script is the best persuasion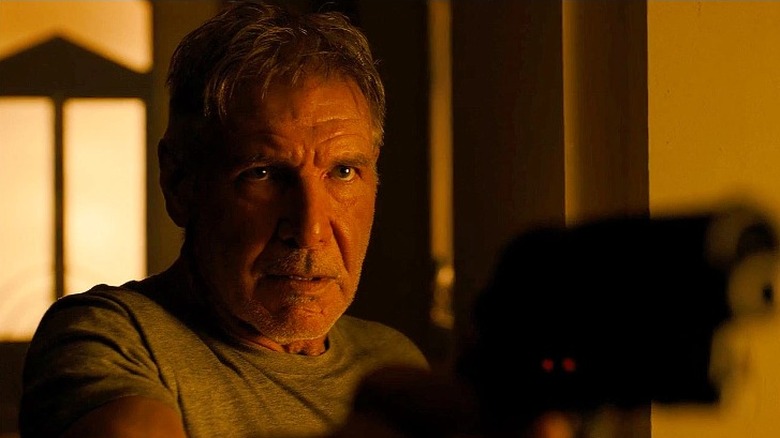 Warner Bros.
Luckily Scott believed he had an ace in the hole. Enlisting the help of Hampton Fancher, who aided him with the script for the first film before creative differences led the director elsewhere, the two sketched the beginnings of Agent K's (Ryan Gosling) character out of one of Fancher's short stories. Eventually, the duties for the script were handed over to Michael Green ("Logan," "Alien: Covenant"), who revealed to Wired just how nervous everyone was about making a sequel:
"Everybody going into this was apprehensive. The prospect of diving back into many people's favorite film, including my own—we all wanted to make sure we were getting it right. You're not playing with fire, and you're not playing with matches; you're playing with M-80s in the backyard, and you've already lost your thumb."
Despite the danger, it's because of Green's finished script that Scott was able to at least convince one monumental sell: Harrison Ford. From the beginning, the director knew he'd be bringing back Rick Deckard. After it was announced, fans speculated that "Blade Runner 2049" would finally settle the decades-long debate over whether or not he really was a replicant. So there was at least some precedent for doing a sequel. Given Ford's willingness to reprise other memorable characters like Han Solo and Indiana Jones, you'd think the actor would have responded with glee at doing a sequel as opposed to, you know, a second trilogy. 
Ford's reply to being asked about doing a sequel? "Meh." Which I suppose is better than a flat no. As reported by Wired, the actor doesn't remember being so curt, "I don't remember saying that, but I don't know if he talked to me before I had a couple cups of coffee. The script is what convinced me." But it's at least comforting to know that Ford does expect to be convinced to reprise certain roles. 
Why it all worked out in the end for Blade Runner 2049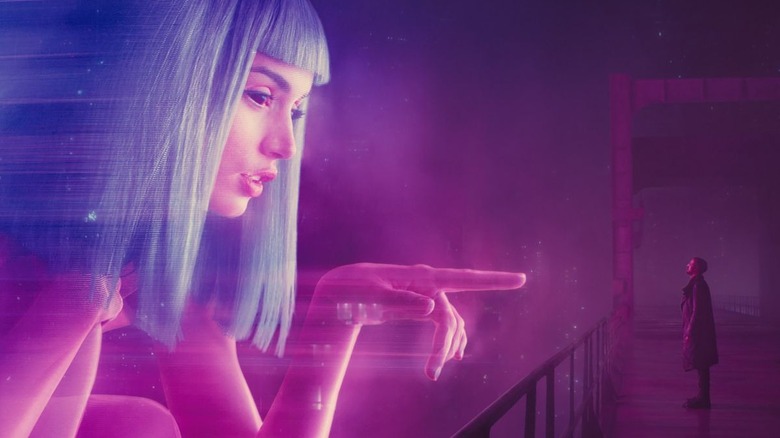 Warner Bros.
"Blade Runner" might've taken a slugging by critics and audiences apathetic to its story, but it did meagerly well at the box office on its opening weekend. In a twist of irony, after convincing everyone to get on board and conceding directorial privilege to Denis Villeneuve due to scheduling conflicts, "Blade Runner 2049" did the exact opposite. Adored by critics and fans alike Villeneuve's film did poorly at the box office. Luckily the amount of money a movie makes for studios isn't the only metric by which films can be judged. But that doesn't mean the director wasn't afflicted by the knowledge the film could end his career.
For all intents and purposes, "Blade Runner 2049" gave a stunning vision of progression of the world audiences were introduced to in the first film, not just in its familiar aesthetic visuals, from neon-lit dystopian vistas and noir elements, but also the introduction of newer cyber-punk influences. Of the many reasons the film works as a sequel its cast of refreshingly original characters stands out. There's protagonist K, a replicant who functions as a soft foil for Deckard in his isolationism; the artificial intelligence Joi (Ana de Armas), to whom K is deeply attached and the veritable soul of the film; and the ruthless Luv (Sylvia Hoeks). Plus, there are cameos of characters from the first movie like Rachael (Sean Young/Loren Peta) and Gaff (Edward James Olmos). Combine that with the film's fresh twist on the common trope of the chosen one, and "Blade Runner 2049" is a more than worthy sequel to the original.
With "Dune" and the forthcoming sequel, Villeneuve is developing quite the track record for restoring beloved sci-fi stories. And with news that a new series also coming to Amazon, with Ridley Scott potentially at the helm again, it appears the "Blade Runner" universe is getting over its sequel-phobia.