The Beatles: Get Back Is Finally Getting A Blu-Ray Release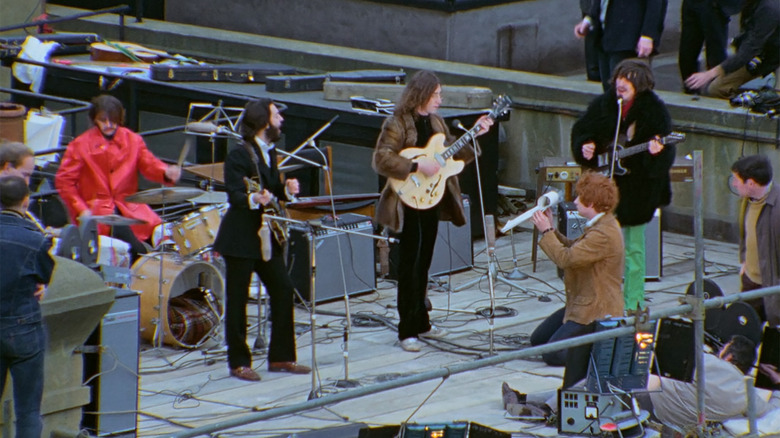 Disney
One of the more frustrating aspects of the streaming era is that often media that debuts on streaming never makes the transition to physical copies. Anyone who wants to check out a movie or series that debuted on streaming has to keep their subscription active for any rewatches, and that's a bummer, plus anyone who doesn't have streaming access is out of luck. Thankfully, at least one recent streaming hit is coming to Blu-ray: "The Beatles: Get Back"! Director Peter Jackson's lovingly remastered and edited documentary series about the creation of the Beatles' album "Let It Be" and their famous final performance together is an incredible feat of filmmaking, and now it's one you can own for yourself.
"The Beatles: Get Back" will be available on Blu-ray and DVD on July 12, 2022, wherever media is sold, so you can hang out with the Fab Four again and again. 
Nearly 8 hours of Beatles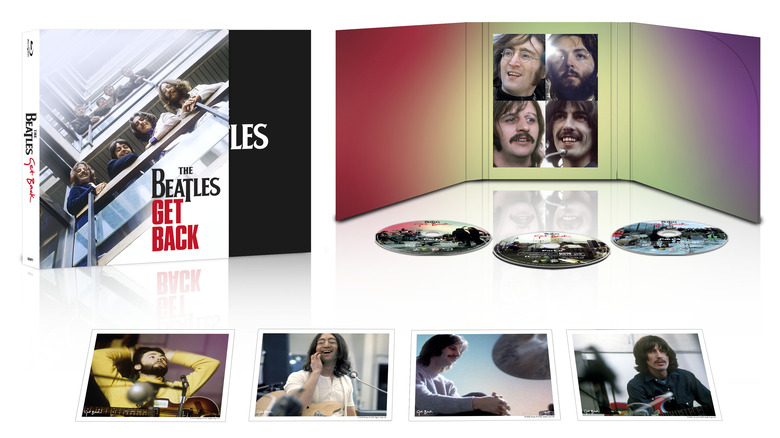 Disney
The Blu-ray Collector's Set features three discs, each containing one of the three parts of the docuseries. In Part One, the band gathers (and bickers) at Twickenham Film Studios in order to rehearse for an upcoming concert. Part Two gives intimate access to the band's recording sessions at Apple Studios and reveals the incredible teamwork behind the band, while Part Three features their famous rooftop performance.
Jackson was clearly passionate about this project, and he delivered the most revealing look at The Beatles we've ever seen. 
Here's the official synopsis:
Directed by Peter Jackson, "The Beatles: Get Back" is a three-part documentary series that takes audiences back in time to the band's intimate recording sessions. The documentary showcases the warmth, camaraderie and creative genius that defined the legacy of the iconic foursome, and is compiled from 60 hours of unseen footage shot in January 1969 (under the supervision of Michael Lindsay-Hogg and his director of photography Tony Richmond) and more than 150 hours of unheard audio, all of which has been brilliantly restored. Also featured – for the first time in its entirety – is The Beatles' last live performance as a group: the unforgettable rooftop concert on London's Savile Row, as well as other songs and classic compositions featured on the band's final two albums, "Abbey Road" and "Let It Be."
Sound quality definitely matters on this kind of release, and thankfully these discs pulled out all of the stops. The Blu-ray features English Dolby Atmos, English 7.1 PCM, English 2.0 PCM, and 2.0 English Descriptive Audio, while the DVD features English 5.1 and 2.0 Dolby Digital, plus 2.0 English Descriptive Audio.
Bring home "The Beatles: Get Back" when it releases on Blu-ray and DVD on July 12, 2022.