The Beatles: Get Back Featurette: Peter Jackson Wanted A 'More Accurate Account' Of The End Of The Band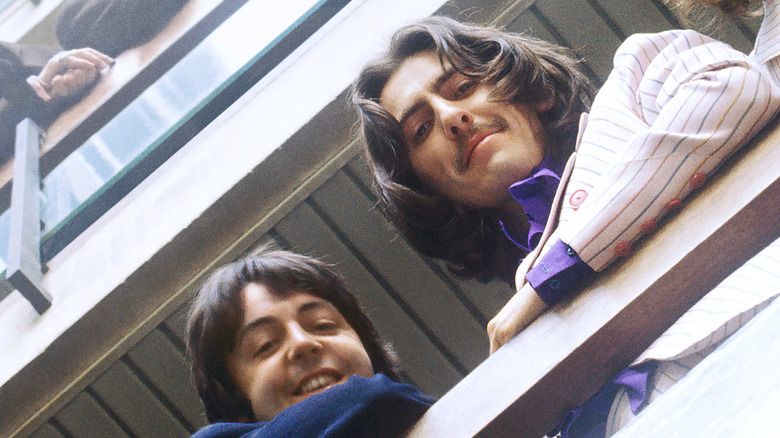 Disney Press Site
"The Beatles: Get Back" began streaming on Disney+ over the Thanksgiving weekend, and we have a new featurette about the making of the docuseries. Whether you think it's a brilliant look at songwriting and performing geniuses and lap up every second like I did, or you think it suffered from director Peter Jackson's tendency to go long as it were, it's certainly made an impact. 
The new featurette gives us a look at some of the footage from the show, and words of wisdom from Jackson himself about why he felt he had to make the series. If you haven't watched yet, here is the synopsis:
Directed by three-time Oscar®-winning filmmaker Peter Jackson, "The Beatles: Get Back" takes audiences back in time to the band's January 1969 recording sessions, which became a pivotal moment in music history. The docuseries showcases The Beatles' creative process as they attempt to write 14 new songs in preparation for their first live concert in over two years. Faced with a nearly impossible deadline, the strong bonds of friendship shared by John Lennon, Paul McCartney, George Harrison, and Ringo Starr are put to the test. The docuseries is compiled from nearly 60 hours of unseen footage shot over 21 days, directed by Michael Lindsay-Hogg in 1969, and from more than 150 hours of unheard audio, most of which has been locked in a vault for over half a century. 
The Beatles: Get Back Featurette: Let It Be
In the video, Jackson says:
"Most of the history books that I've read over the last 30 or 40 years, that whole project sort of signifies the breaking up of the band ... it wasn't until I saw the 60 hours of extra material, that I realized that that wasn't actually the case at all ... I thought it was important to actually give a more accurate account of the band during that period of time."
Watching the series, you get a very different sense of things than you did from Michael Lindsay-Hogg's 1970 documentary "Let It Be." That film really felt like the story of a break-up, whereas this one gives you a look at the friendships and connections that started it all in the first place. I think that's the thing that really sticks out here. You know those friends that you've grown out of as you age? You still love them, but you've gone in different directions. In a way, watching "The Beatles: Get Back" gives you a more, I guess, peaceful ending to what was the greatest band of all time. (Fight me if you don't agree. This is coming from a death metal fan.) There is something soothing in knowing that it didn't end in as unpleasant a way as so many of us thought.
The Creation of Music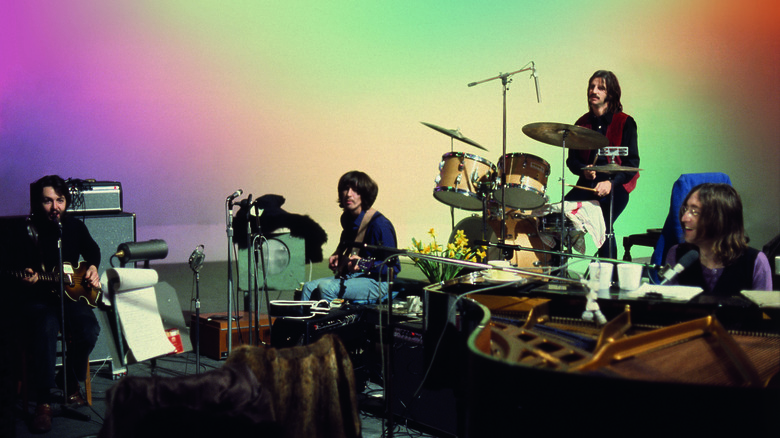 Disney Press Site
I think one of the biggest takeaways from the docuseries is how much fun everyone seems to be having. I was mostly stunned by John Lennon's laughter, though I'm not sure why. Maybe it's because so much of the narrative I've gotten since I was little was that Lennon and Yoko Ono were responsible for the break-up. I'm not sure how different it was if you were alive when it was all happening, but that's been my experience. You can see some of the moments I'm talking about in the featurette. 
If you haven't watched it yet and you're a music fan, the wildest part of the entire thing is seeing how fast and how casually the songs are written. I'm telling you, in the first episode, watching the few moments it takes Paul McCartney to come up with "Get Back," and how Lennon just appears, says nothing, and joins in is one of the coolest things on the small screen. 
"The Beatles: Get Back" is now streaming in its entirety on Disney+.