The Beatles: Get Back: 10 Things We Learned From Peter Jackson Himself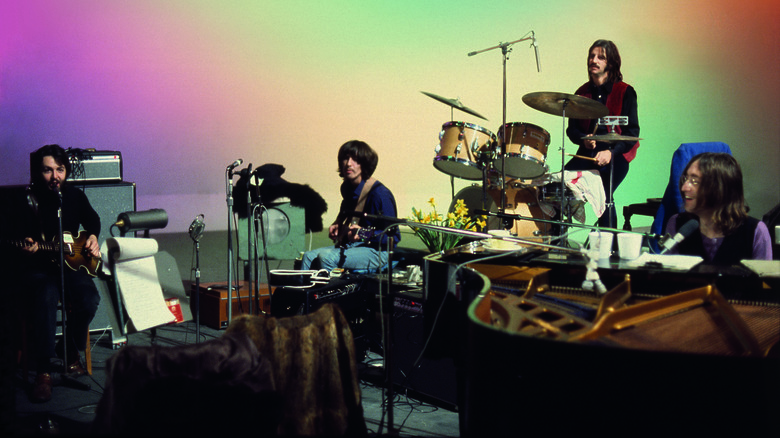 Disney+
This Thanksgiving, fans will be able to immerse themselves in something they ought to be incredibly thankful for: Peter Jackson's restored retelling of the Beatles' Get Back sessions in the form of a three-part docuseries on Disney+, aptly titled "The Beatles: Get Back." We've seen the story played out before in the 1970 Michael Lindsay Hogg film "Let It Be," which painted a sober tale of a band at the end of their rope.
This time, the footage sheds a completely new light on the group's last sessions together, proving that there wasn't nearly as much animosity in the room as 50 years of history would've led us to believe. /Film and other outlets attended a press conference with the doc's director, Peter Jackson, on November 16, where he spoke at length about the project — and we learned a ton about what to expect on November 25 when the series premieres.
Jackson Has 'No Clue' How He Gained the 'Trust' Needed for the Project
The first question asked was an expected one: how in the heck did Jackson get such a coveted gig, and how did he earn the trust of the remaining Beatles and Beatle wives Olivia Harrison, George Harrison's widow, and of course, Yoko Ono? His response?
"You have to ask them," he admitted. "I have no idea..."
However, an interesting note was that Jackson and Paul McCartney connected via the Beatle's love of "Lord of the Rings," which Jackson directed.
Jackson also revealed that he was meeting with the Beatles' team about a potential VR project — a Beatles exhibition using the technology, which has since been scrapped — when he stepped up and asked about the lost footage. At the time, the team had been considering taking a second look at the footage for a potential documentary, so the timing was just right. He asked the team to "think of" him when selecting a director if they decided to go forward with a new doc — and the rest, it seems, is history.
Jackson Didn't Want to Make an 'Unhappy' Film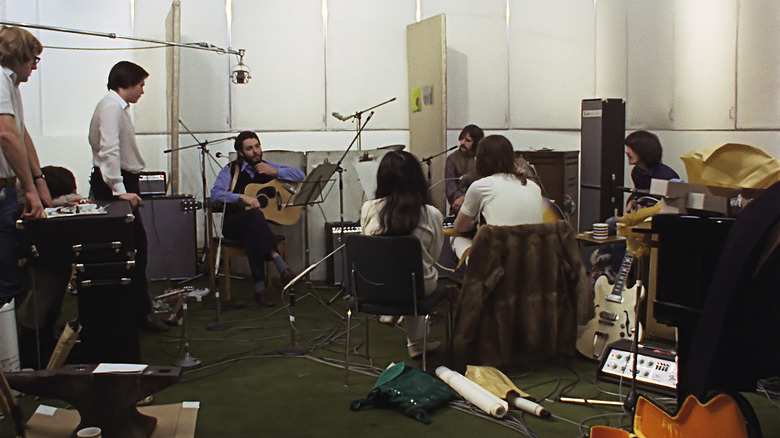 Disney+
The filmmaker is totally aware of the historical significance of this footage — and how what it shows will reframe the Beatles' breakup in the world's mind forever. That said, he wanted to steer clear of the somber and sad vibe of "Let It Be" and really highlight the fun of this period.
"Every negative thing you could imagine over the years has been sort of written, described about these sessions. And so, that's sort of what I was expecting to see. Now, I did say to them, I said, "Look, if this is as miserable as what it's supposed to be, I'm not gonna wanna make a movie of it. But I'll need to see it." Because there's no way I was gonna take a bunch of miserable Beatles footage and try to, you know, make a happy film. And I wasn't gonna make a miserable film. So, I was a bit dreading it a little bit, 'cause I kept thinking in the back of my mind, a little voice in my head was going like, 'If that footage of 'Let It Be,' the movie 'Let It Be,' is what they allowed to be seen, what did they not want the world to see?'"

"I'm watching it and I was laughing. And I thought it was unbelievable, I can't believe I'm seeing, you know, Paul compose Get Back. God, this is incredible. You know, it was day by day, 22 days go by, got about through about half of it and, you know, there was certainly... George leaves at some stage and, you know, things are going wrong and they're trying to work it out, but that happens. That's just life, you know, that's not The Beatles breaking up. That's just, you know, an ambitious project that was probably overly ambitious and things are going wrong."
Speaking of reframing the narrative, Jackson spent a great deal of time discussing how this footage totally dispels the myth that Yoko Ono was a tumultuous presence in the studio, constantly getting in the way and distracting John Lennon from his job. "It's interesting, when you're as famous as The Beatles, everything that gets reported and written about it in the passing of time it becomes a sort of a myth. It's either black or it's white, you know? Yoko is either not in the studio or she's in the studio breaking up the band. It's either one or the other," he said before noting, "She doesn't interfere [in the studio]. She knits, she writes, she does some art, she's there with John. She never, ever interferes. She's very respectful of them. It is what it is and it's just human beings."
This is probably some of the most eye-opening stuff to come out of this series — and it really is heartening, along with the fact that the group is really not at odds with one another like the age-old story told us. It's a strange beauty to watch and it will certainly be an experience for fans to see for themselves what was really going on at Saville Row.
Jackson Employed Past Tactics for an Impeccable Restoration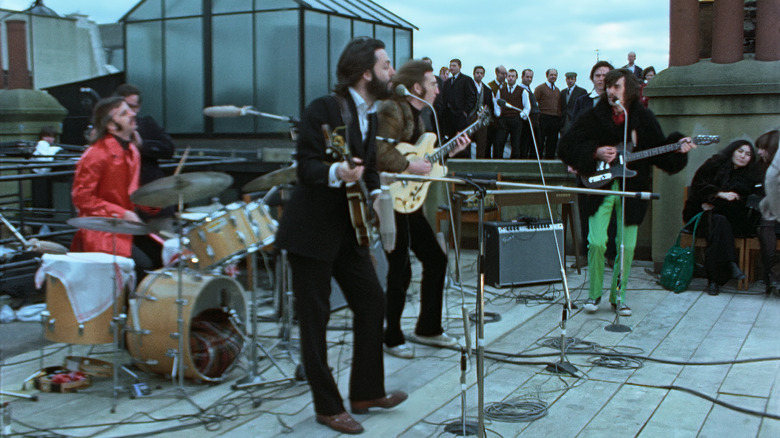 Disney+
The "Lovely Bones" director revealed that he went back to a previous tactic that worked for him on a past film to bring this 50-year-old footage to life. Jackson and his team previously developed software for a World War I documentary "They Shall Not Grow Old" to restore 100-year old footage, which they also used for this project. 
"We did a World War I documentary called 'They Shall Not Grow Old' just before with 100-year-old World War I footage, which is pretty nasty looking stuff. And we tried to make that look as modern and nice as we could. And so, in doing that, we developed a whole lot of software and code. And so, when it came time to put the 16 millimeter negative of the Get Back sessions through our pipeline, it was, you know, we sort of had done it before. Obviously, you're dealing with color 16 millimeter, not black and white. So, you know, but it's something we sort of had done before."
As for the audio, it was recorded to mono tapes and was tough to fix, but done with an AI program that digitizes the mono tapes, and then splits and learns the different tracks in order to isolate them. This allowed a lot of the conversations to finally be unearthed, some of which were conversations the Beatles intentionally drowned out during filming. Jackson wanted the Beatles to "tell their own story," without any modern additions like narration or current interviews, and in pursuit of that goal, he made efforts to isolate and restore those conversations, which helped him build the doc's narrative.
"Here in New Zealand at Park Road Post, we've got these very clever people. They've developed an AI program, artificial intelligence, machine learning program, where we could take this mono tape, we digitize it, put it into the computer, teach the computer what a guitar sounds like, teach the computer what a human voice sounds like, teach them what a drum sounds like. So, when the guys are playing and the drum and the guitars are drowning out the vocals and it's all kind of weird, you know, say, 'Okay, just give us the guitars by themselves.' So, you see Ringo drumming and you can't hear him. You see, you know, that the guys singing and they're just miming but you've got the beautiful guitar tracks. And then you say, 'Give us the vocals.' And you literally just have the voices all by themselves. So, we developed this technology that allows us to de-mix, split the-all the audio components off these mono tracks."
Director Michael Lindsay Hogg Gave Jackson His Blessing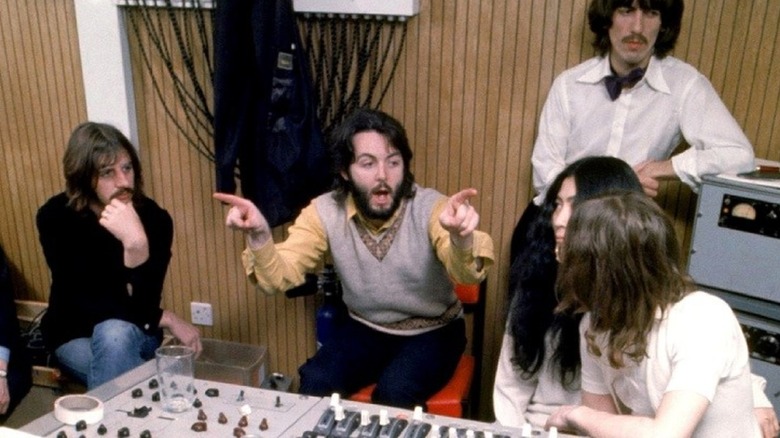 Apple Corps
Jackson was happy to report that the original director of the footage and frequent Beatles collaborator Michael Lindsay Hogg had been in contact with him throughout the process.
"You know, I was expecting a whole bunch of notes from them for two reasons, because Michael Lindsay-Hogg, who I've talked to all the way through this; he's

been wonderfully supportive, Michael told me all the experiences he had in 1969 when he was cutting Let It Be.' And remember, he's cutting 'Let It Be' from exactly the same footage that he shot that I've got. He had the 60 hours, he had the 130 hours that I've got. So, it's very much, you know, just 50 years apart."
Jackson Didn't Want to Put Anything 'Back in the Vault' — Which Lengthened the Runtime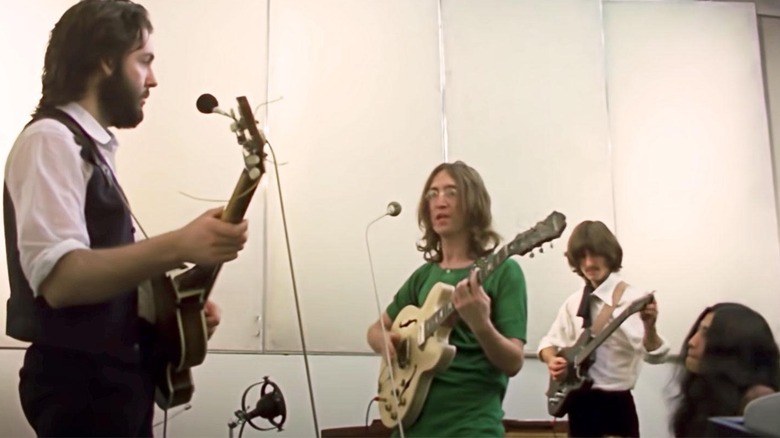 Apple Corps
The "Return of the King" director was originally granted two and a half hours with which to create a Beatles documentary — but there were just too many little moments that simply needed to be included to keep the runtime so short. "I'm just totally aware as a fan, anything we don't put it is gonna go back in the vault for 50 more years," Jackson said. "I mean, I can't do-no, I've got-I've got such a responsibility here to get 'em all the good stuff. And we went through, and then it went from six hours to eight hours."
Namely, Jackson claimed he was most surprised by Lennon in the footage. He claimed that McCartney always called Lennon a "lovely guy" but felt he never saw that person until this footage. "Not one angry word from him. He wants to help Paul, he's lovely and patient. He's goofy, he's a clown," he explained. "Angry John (from the Imagine sessions a few years later) doesn't appear in this film. This is the 'lovely' John."
Jackson also noted that Ringo Starr's role as drummer has never been explored visually this way, with a lot of overhead shots to get right into the action. Visually, it's extremely effective and does frame the iconic musician in a way that he's rarely been looked at. Not many people have been able to watch him work like that, but now we get to.
In the Footage, Jackson Discovered a Secret Lennon/McCartney Track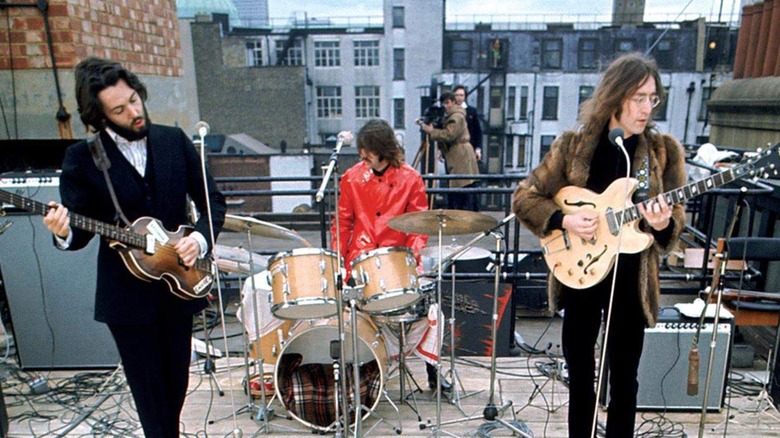 Apple Corps
Through the footage, Jackson explained that he discovered that McCartney actually co-wrote Lennon's solo track "Gimme Some Truth" while at Saville Row during the Get Back sessions, where the band also wrote a hefty chunk of "Abbey Road." He also revealed that McCartney was shocked to learn this and didn't remember it at all.
"'Gimme Some Truth' is definitely a Lennon/McCartney song," he asserted — and technically, he's totally right.
Jackson Is One and Done With Movie Docs — But For Good Reason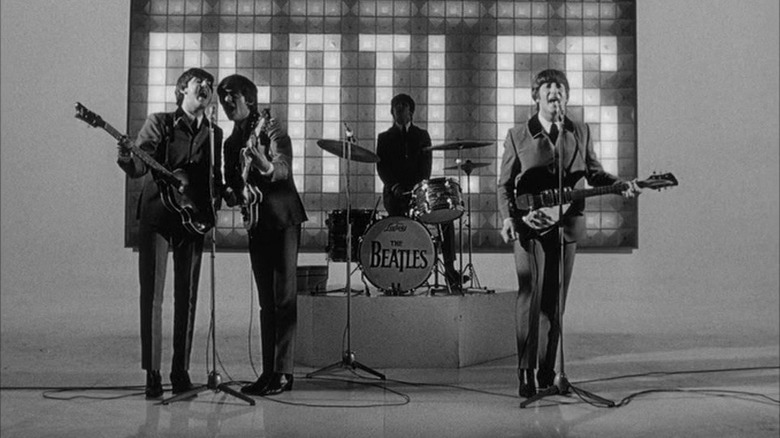 United Artists
When asked if he would ever consider doing another music documentary for another band, and who he would choose to highlight, Peter Jackson made one thing known about himself: he doesn't stan anyone like he stans the Beatles. In fact, he doesn't stan any other bands at all.
"I can answer that question by saying I bought, you know, I bought the Beatles. The first albums I bought, I'd say, the Red and Blue albums, I actually bought in 1972. First albums I ever bought in my life. I don't buy—I've never bought anybody's albums. I bought all the Beatles albums, all the solo albums, everything else. I don't—I'm the most limited, boring person. I don't know anything about anybody else."
"The Beatles: Get Back" debuts on Disney+ on November 25, 2021.