Cassandra Peterson's Role In Rob Zombie's Munsters Was Decades In The Making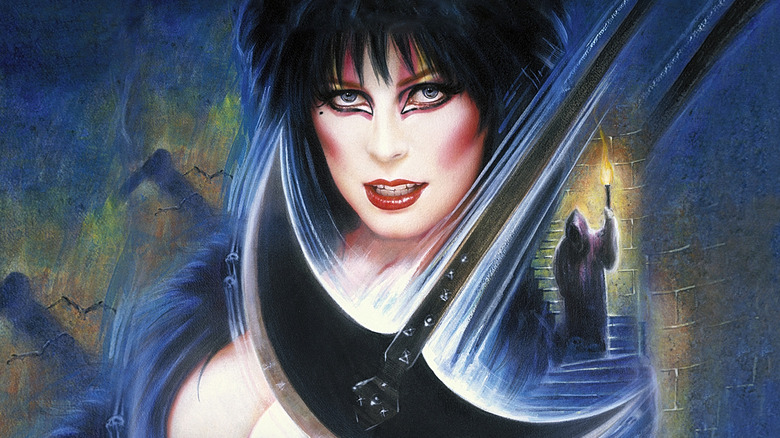 The Elvira Movie Company
Rob Zombie has always been a big fan of the 1964 sitcom "The Munsters," and he details the exact reasons why on a commentary track he recorded for the 1966 feature film spinoff "Munster, Go Home!" It was on that commentary track that Zombie succinctly separated The Munsters from their ghoulish sitcom contemporaries The Addams Family: "The Munsters were people who look like monsters, and the Addams family were monsters who look like people." And while the Addams have received multiple high-profile feature films since the 1990s, the Munsters' film projects have remained obscure; apart from "Go Home!," there has been a 1973 animated film called "The Mini-Munsters," a 1981 made-for-TV movie called "The Munsters' Revenge," a 1995 reboot called "Here Come the Munsters," and a 1996 Holiday special called "The Munsters' Scary Little Christmas." The most recent Munsters endeavor was a 2012 pilot for an unmade series called "Mockingbird Lane" with Jerry O'Connell as Herman, Portia di Rossi as Lily, and Eddie Izzard as Grampa. 
Zombie's new feature film of "The Munsters," set to debut in theaters and on Peacock later this year, will — contrary to what the filmmaker has previously made — be a friendly, PG-rated romp for horror-loving kids and adults. This has always been a dream project for Zombie, and reports from the set reveal a good deal of enthusiasm. The cast will include Sheri Moon Zombie (natch) as Lily, Jeff Daniel Phillips as Herman, and Daniel Roebuck as Grandpa. Also appearing in the film is "31" actor Richard Brake and, most excitingly, Cassandra Peterson — Elvira herself — as Barbara Carr, the real estate agent who handles the famed mansion at 1313 Mockingbird Lane. 
Why did it take so long for Zombie to cast Peterson in a film? She explained why in a recent interview with Rolling Stone. 
You're not old enough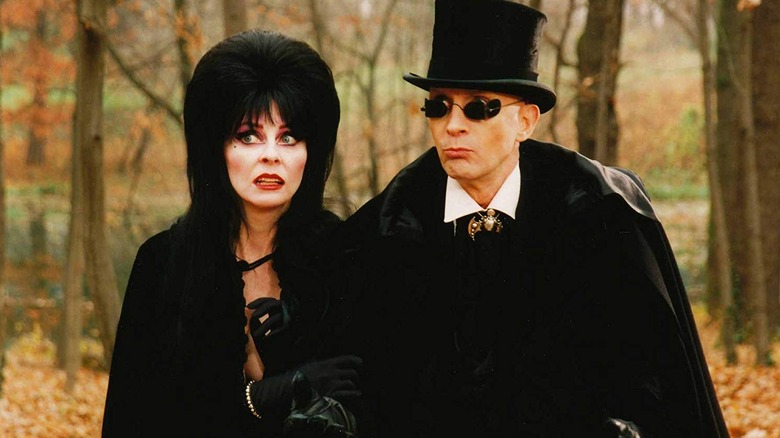 The Elvira Movie Company
Peterson has been a mainstay in the horror community for decades, with Elvira appearing in feature films, as the hostess of her own horror movie program, and a general media personality; she has more than one pinball machine. As such, she has likely stayed on top of certain horror movies, horror musicians, and other such trends. It should come as no surprise, then, that she is friends with Zombie7. In the Rolling Stone interview, Peterson revealed that she had asked Zombie about appearing in his films: 
"Well, I think the thing I'm most excited about is working with my friend Rob Zombie who I've known for like 40 years, I've known Rob. And I'd always say, 'Rob, when are you going to put me in one of your movies?' And he was always sweet, and he said, 'You're not old and haggy enough-looking.'"
Zombie's feature films to date — including "House of 1000 Corpses," "The Devil's Rejects" and "The Lords of Salem" — have been notoriously rough and filthy, and often feature older characters in central roles; Zombie rarely makes films about teenagers, his two "Halloween" films being the exceptions. Peterson jokingly concluded that Zombie was just waiting for her to reach the proper age:
"So, I guess I finally got old and haggy enough for him, because he finally put me in the movie and I play a very, very different character than I've ever played – really super straight."
Who is Barbara Carr?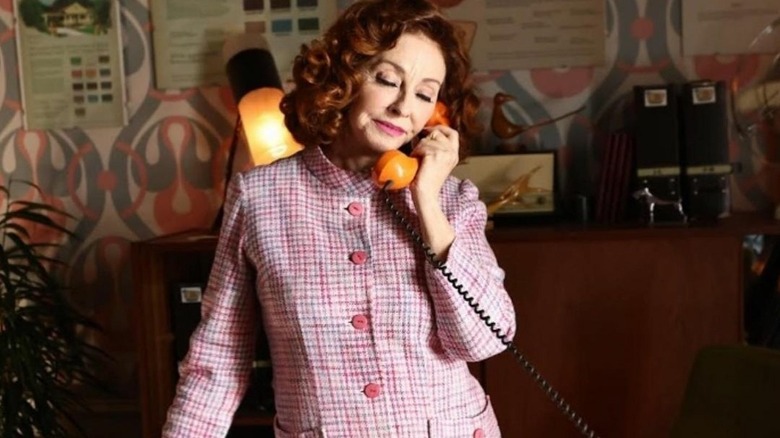 Rob Zombie
Peterson has acted in numerous projects over the years, starting as an uncredited dancer in the James Bond film "Diamonds are Forever." She acted opposite Cheech and Chong, Pee-Wee Herman, and the Super Mario Bros. For the past 20 years, her film and TV appearances have been mostly as Elvira, making the character of Barbara Carr a sizeable change of pace for Peterson. In the Rolling Stone interview, she pointed that out, as well as who Barbara Carr is: 
"A little inside secret is Rob named my character after his real estate lady who is also my real estate lady — happens to be the same person. So, anyway, I'm playing my own real estate lady." 
Peterson gave no word as to whether or not the real Carr knows about her appearance in "The Munsters," although the person who has sold houses to both Elvira and Rob Zombie would presumably be flattered. Zombie and Peterson live in Los Angeles, so if you are a spooky character looking for a home in that area, and you should meet a realtor named Barbara Carr, be sure to say hi.