'31' Trailer: Rob Zombie Embraces His Destiny And Makes A Killer Clown Movie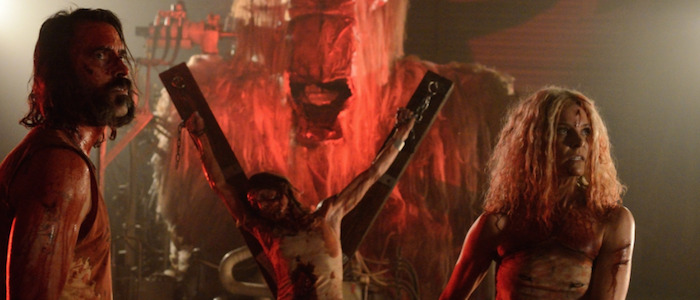 On paper, 31 sounds like the Rob Zombie-est Rob Zombie movie ever made: a group of random people are abducted and forced into a twisted game where they must survive being hunted by murderous clowns for twelve hours. Now that the first trailer for the film has arrived, it officially looks like Rob Zombie-est Rob Zombie ever made, collecting all of his familiar tics and aesthetic choices under own bloody, grungy umbrella. There are twisted clowns and bizarre monologues and a '70s setting and outrageous costumes  and preposterous character names ("Father Napoleon-Horatio-Silas Murder") and Sheri Moon Zombie wearing skimpy outfits and, most importantly, lots and lots of long, scraggly beards.
If you've seen one of Zombie's movies before, you should already have a pretty good idea of what to expect from this trailer, which definitely feels like a greatest hits collection of his filmography to date. And if you've seen one of Zombie's movies, you probably know whether or not this will be your cup of tea. His work is divisive, to say the very least.
To Zombie's credit, he's one of those horror directors whose style instantly announces itself the moment you see it. He doesn't take half-measures and he doesn't water down his vision, even when that vision is about as wrongheaded as you can get (like his remake of Halloween and its totally-off-the-rails sequel). I'm no fan of his most recent film, Lords of Salem, but I'd be lying if I said I didn't think about it more often than horror movies that I actually enjoyed. He makes movies that crawl under your skin whether you want them to or not. Like him or not, it's hard for any horror fan to simply ignore him.
Here's the official synopsis for 31:
From the visionary mind of the man who brought us House of 1000 Corpses, The Devil's Rejects and Halloween comes the horrific story of five carnival workers who are kidnapped the night before Halloween and held hostage in a large compound. At the mercy of their captors, they are forced to play a twisted game or life or death called 31. For the next 12 hours they must fight for their lives against an endless parade of homicidal maniacs.
31, which features the reliably entertaining Malcolm McDowell once again hamming it up for Zombie, is set top open in theaters on September 16, 2016. You can check out the poster for the film below.