The Story Behind The Band That Makes All Those Sad Cover Songs In Movie Trailers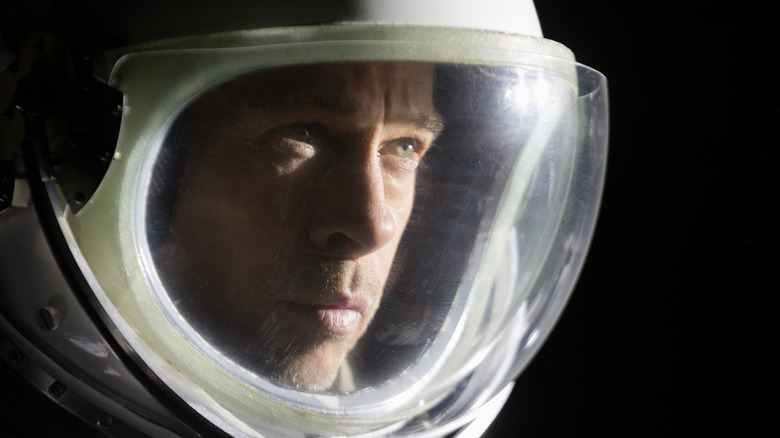 20th Century Fox
You heard them prior to the second season of "The Leftovers," which first aired in October of 2015. A moody cover of A Flock of Seagulls' "I Ran" wailed plaintively in the previews. You might have heard them in the preview for the 2015 ABC series "The Whispers." That was Mike + the Mechanics' "Silent Running (On Dangerous Ground)." If you recall the TV spots for ABC's "Blood and Oil," you heard the penetratingly dramatic cover of Duran Duran's "Hungry Like the Wolf." To cite a more recent sighting, if you listened to the music playing behind the promo videos for the Warner Bros/Discovery merger, you would have heard an intense, sad rendition of Moby's "We Are All Made of Stars." If movies are more your line, you'll have heard their cover of Beethoven's "Moonlight Sonata" in the preview for "Ad Astra," or the bonkers cover of Rockwell's "Somebody's Watching Me" in the preview for "The Girl on the Train." 
Large, bold, epic. Like eight orchestras playing at once. Pounding drums. Soaring crescendos. Dramatic booming. Sudden silence. Aching, volcanic vocals. And — the most noticeable detail — somehow completely nondescript. The sound of previews. The sound of commercials. The most dramatic music you have ever heard sink into the background. You are listening to the music of Hidden Citizens, the mysterious music collective — or perhaps individual — behind the sound of modern advertising. Hidden Citizens, true to their name, has never revealed a list of their members, and sells themselves as freelance composers of "epic" movie trailers. They have made multiple cover songs, as well as brief, explosive pieces of "movie moment" music. 
Hidden Citizens is why all movie trailers sound the same. It's because one band is scoring them all. 
The bummer cover trend
One may recall — with no small amount of exasperation — the musical trend of the mid-2010s that dictated movie trailers be punctuated by "bummer covers" of well-worn pop hits. The first most notable example may be the trailer for "The Social Network," which featured Radiohead's "Creep" performed by The Scala and Kolacny Brothers. Additionally, the preview for "Endless Love" featured Robert Palmer's "Addicted to Love" by Skylar Grey. The preview for "Dracula Untold" featured Tears for Fears' "Everybody Wants to Rule the World" by Lorde. The preview for "A Walk Among the Tombstones" featured Soundgarden's "Black Hole Sun" by Nouela. The preview for "San Andreas" featured The Mamas and the Papas' "California Dreamin'" by Robot Koch & Delhia de France. The preview for "A Cure for Wellness" featured The Ramones' "I Wanna Be Sedated" by Miral Wagner. The preview for "Ghost in the Shell" featured Depeche Mode's "Enjoy the Silence" by KI theory. Weirdest of all was the preview for "Transformers: The Last Knight," which featured The Flaming Lips' "Do You Realize?" by Ursine Vulpine.
Hidden Citizens weren't the ones to invent the trend, but they certainly rode — and are still riding — the wave that began over a decade ago. Their albums "Reawakenings" and "Reawakenings, Vol. 2" (both available on Spotify) were put out circa 2016, and feature aural juggernaut versions of "I Think We're Alone Now," "Another One Bites the Dust," "Hit Me With Your Best Shot," "Paint It Black," and numerous other karaoke staples younger listeners might have learned from "Guitar Hero" DLC. These covers were sold in packages, with several of their tracks making their way into previews and TV spots.
Movie scoring
Hidden Citizens, despite having a band name and a logo, aren't a band in the traditional sense; that is: They don't aim to top the Billboard charts, they do not tour, and they don't seem to make music with any sort of personal statement or enthusiasm for the art. One can indeed download their records and listen to them independently of previews and ads, but that would be to miss the point. Hidden Citizens are a commercial entity that exists solely to be set to filmed action. The music is too aurally busy and massively overproduced to listen to independently, while driving, or making breakfast in the kitchen. It is the kind of music meant to be heard while Captain America slams his discus into the face of an attacker. When Patrick Wilson fights moon robots. When the American version of Godzilla pounds King Ghidorah in the face(s). 
One may not be able to identify any of the band's vocalists, or if the vocalists are even permanent members of the band — Hidden Citizens could, for all I know, be nothing but randomly assembled studio musicians — but credit must be given to the Ethel Merman-sized pipes on some of the singers. Despite their commercial sound, Hidden Citizens has captured some impressive talent in its attempt to infiltrate the world of advertising. Clearly a lot of their sound is created digitally, if not all of it. Given how much mixing and amplification is involved, the average human ear might have difficulty picking out a single instrument apart from a few choice piano strikes or violin chords. To hazard a guess, Hidden Citizens does not play any instruments. Which may be impressive, given the enormity of their sound. 
Trends in musical scoring
Only about a third of Hidden Citizens' output is devoted to pop song covers, with a good deal of their most recent material being brief blasts of orchestral music — their albums "Obsidian" and "Celestine" are also available on Spotify. Hidden Citizens is quite clearly modeling their sound off the work of Hans Zimmer, specifically his score to Christopher Nolan's 2010 film "Inception," the movie score that singlehandedly changed the dominant sound in blockbuster music for the decade that followed it. Zimmer's prevalent violins and booming brass bwaahs are a common feature of modern superhero films, and many composers imitate similar motifs for a wide variety of movies. 
There's a reason why so many film scores sound the same in the modern age, and why so few scores bother to stand out (although films like "The Batman" are certainly trying to buck the trends), and a lot of it has to do with the way films are edited. During the editing process of most movies, the filmmakers will often throw in temporary music as a reminder that a score will be composed and inserted into that scene later. The temporary music will often be the scores to other movies that generically match the action of the scene being edited. What often happens is the filmmakers will become fond of the temp track, and might instruct a composer to match what they have already heard. In short, the composers are instructed to write scores that sound as close as possible to other scores. 
Filling the niche
With a dominant, repeated sound established in the popular gestalt — all of the biggest movies of all time now seem to have a singular musical signature — a band like Hidden Citizens was able to rush in and provide a service where it was needed. Because the commercial world is not tailoring scores to match a movie and make it sound unique — and TV spots are even less interested in standing out as iconoclastic, singular works of art — all that is needed to construct a modern trailer is a collection of stock musical cues to plug in. 
Hidden Citizens enthusiastically stepped up, exploiting what's hot, and mastering a generic "epic" sound as a sonic Swiss Army knife or electric outlet adaptor; something that's handy for whatever the job may be. And, given that they sought to be hugely aggressive and yet wholly unmemorable (again, as the musical trends of the day have dictated), they've performed ably. Are "bummer covers" and "epic" trailer scores terribly interesting unto themselves? Perhaps not. It's difficult to track how well Hidden Citizens records sell (their YouTube channel has about 60,000 subscribers). 
But we do live in an age when a single entity can sell off-the-rack stock music that somehow still feels like the genuine article. In a world that wants film scores and previews to sound like all other film scores and previews, Hidden Citizens has found ample purchase.