Mortal Kombat's Creators Couldn't Believe Anyone Would Want To Make It A Movie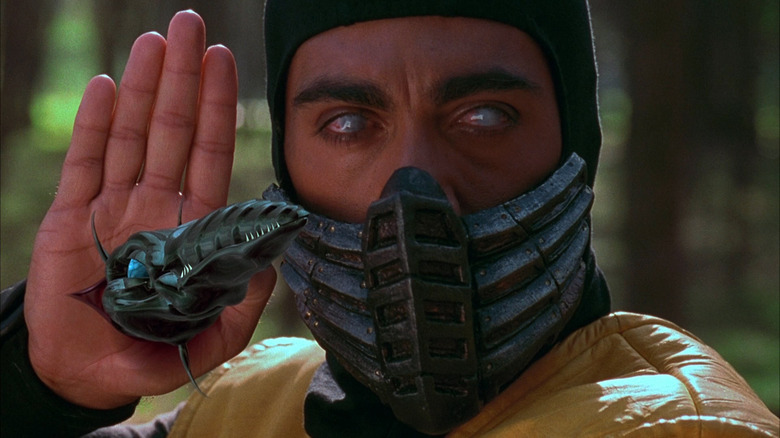 New Line Cinema
"Mortal Kombat" is one of the best fighting games out there. It's silly, and ridiculous, and bloody, and it's so much fun! As someone who's been playing the title since it first came out, I love every goofy thing about it, from fatalities, to the weird ways the characters attack each other, to the look on people's faces when they're fans and you say, "Toasty." I used to warn people away from the arcade cabinet so I could read the character biographies as they scrolled by on the screen. This was before wikis, friends. Perhaps you can understand how much I love the first film based on the game.  
Look, the 1995 "Mortal Kombat" film is bad, but in the very best way. It's just a mess, and I will watch it anytime I see it on. I will argue with anyone about how it is one of the best video game-to-movie adaptations out there. I know that's not saying much, but I was just so happy that it actually happened! I was also surprised, which is something I share with the creators, apparently. 
Fatality!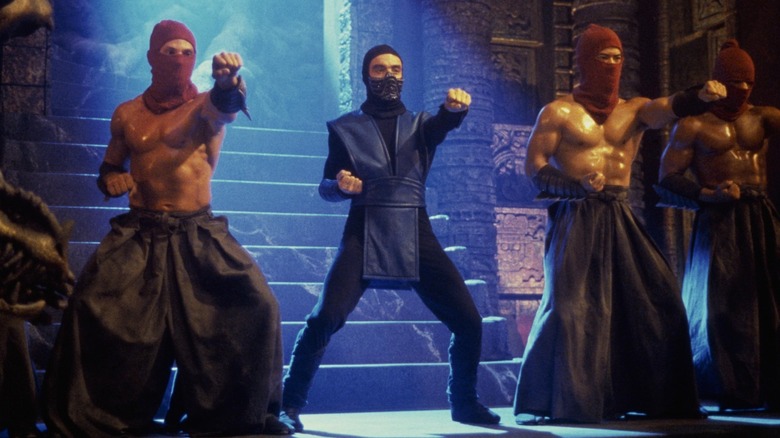 New LIne Cinema
The thing about "Mortal Kombat" is it hit the top spot in theaters in 1995 when it came out. Everyone was stunned, because video game films weren't exactly doing well. According to The Hollywood Reporter, game co-creator Ed Boon didn't believe producer Larry Kasanoff when he said he wanted to make a film based on the video game about a fighting tournament that could save or destroy more than one realm. 
Kasanoff told the site he was playing the game at the Midway Games office (creators of the franchise) where his friends worked and said, "This is 'Star Wars' meets 'Enter the Dragon.' This is not just an arcade game. This is a whole phenomenon." He wasn't wrong. I remember there being lines for the arcade game in college, and let me tell you, they smelled like dirty laundry because the students' quarters were going to the game and not to the actual washing of clothing. 
Kasanoff told former Midway Games chief Neil D. Nicastro: "If you give me the rights to this, I promise you I will produce this, not just in movies, but in every medium in the world." Nicastro didn't believe him, but they did end up giving him the rights after three months of convincing for his first deal at his company. No one believed in the film. In fact, Kasanoff kept hearing that this was going to destroy his career, and the studio head told him he hated the script and the film, but he let him make it anyway.
Mortal Kombaaaat!
I'm not going to pretend this is high art we're talking about. The game is about fighters from different realms that compete in a tournament, and not everyone is human. The early games had hidden characters, and actual backstories, which were a whole lot rarer then. We're not talking about the extensive lore of "Halo" here, but I remember the thrill when you got Jade to pop up in the background and give clues to let you fight her. There wasn't a ton to build a story on, but I'd argue there are game-to-film adaptations that have a lot more lore and are a whole lot worse. 
Ed Boon didn't think this could be a thing. He told The Hollywood Reporter:
"When the movie was being discussed, I remember not taking it seriously at first. I thought, 'This is probably going to be talked about but not happen.' Then all of a sudden we were getting phone calls about casting and they were saying, 'What about this guy for this character? What about this guy for that character?' I remember them saying, 'What do you think of Danny Glover as Raiden?'"
The film was directed by Paul W.S. Anderson and starred Christopher Lambert as Raiden, Robin Shou as Liu Kang, Linden Ashby as Johnny Cage, Cary-Hiroyuki as Shang Tsung, Bridgette Wilson as Sonya Blade, Talisa Soto as Kitana, Trevor Goddard as Kano, Chris Casamassa as Scorpion, with Ed Boon voicing the character, and Keith Cooke as Reptile.
"Mortal Kombat" grossed $122 million, and audiences had a blast. It spawned a sequel that was ... very, very bad, but with game after game coming out in the franchise, it led us to the recent film. I loved the new one, but it wasn't quite what the old one was. It took itself a little more seriously. Still, I'll take any "Mortal Kombat" I can get, in any form, even that sequel.