Will There Be A Sequel To Mortal Kombat? Here's What We Know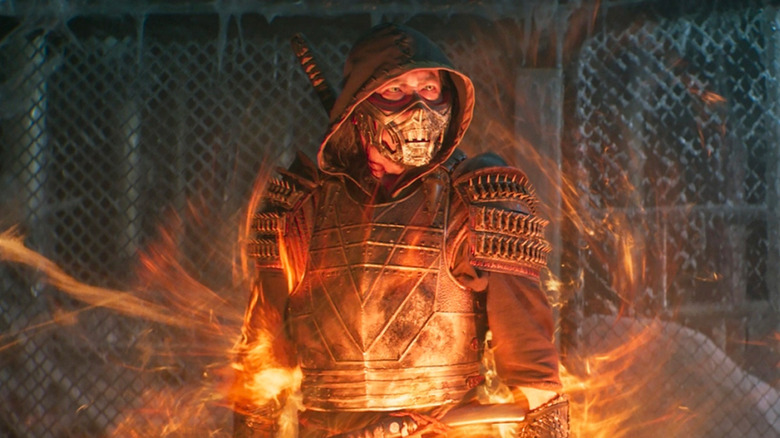 Warner Bros.
(Welcome to Will There Be a Sequel?, a series where we answer that question and explore what comes next.)
Ahem. "MORTAL KOMBAT!!!" Okay, now that I have your attention, let's ask an important question: Will there be a "Mortal Kombat 2"? The recent "Mortal Kombat" reboot from Warner Bros. was a financial success, and the filmmakers spoke of potential sequels in the run-up to release. But nothing has been officially confirmed just yet. So the question remains: are we getting "Mortal Kombat 2," or has the franchise already suffered a fatality? 
Test Your Might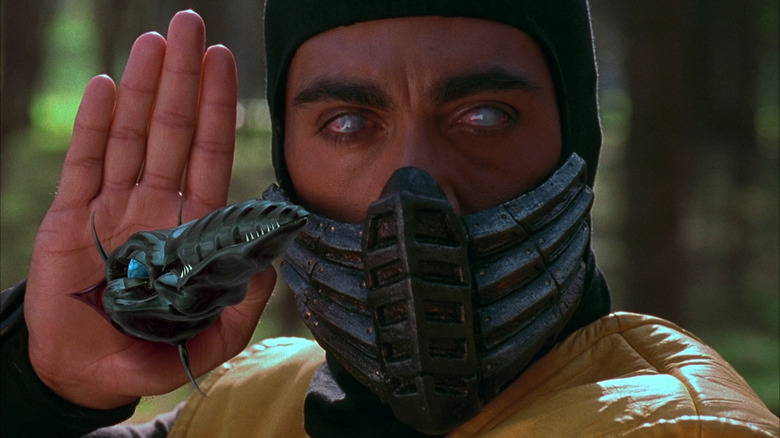 New Line Cinema
In 1995, moviegoers experienced "Mortal Kombat," the big-screen adaptation of the hit video game series. Directed by Paul W.S. Anderson, the action flick was very loud (I remember seeing it in theaters and being startled when the guy yelled "MORTAL KOMBAT!!!" during the New Line Cinema logo). It was also a success, grossing $122 million on an $18 million budget. That's the type of box office haul that screams "Sequel!", and star Robin Shou, who played character Liu Kang, initially signed a three-picture deal. 
Sure enough, a sequel came in 1997. And it was terrible. The film, "Mortal Kombat: Annihilation," was a bargain-basement hunk of junk. Don't get me wrong — the first "Mortal Kombat" movie wasn't exactly high art. But it had its charms, and it was competent enough to entertain fans of the games. The same could not be said of the sequel, which earned $51 million against a $30 million budget, which ain't great, folks. "Annihilation" effectively annihilated any plans for more "Mortal Kombat" movies, at least for a while. 
Get Over Here, and Reboot Mortal Kombat!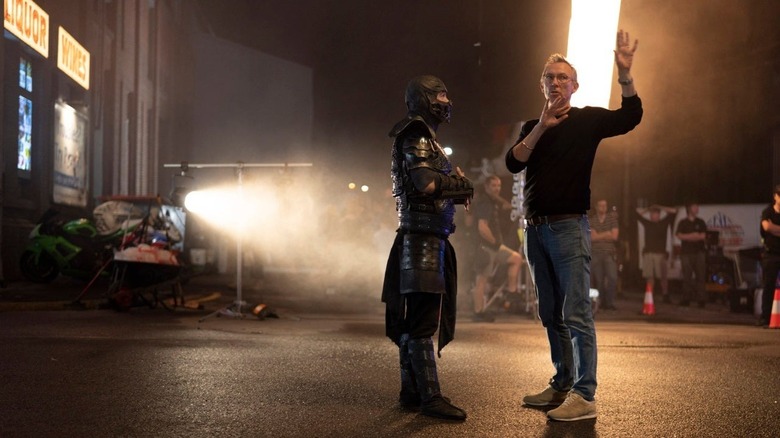 Warner Bros.
Over the years, talk of a new "Kombat" movie came and went. There were plans in the early 2000s for a new movie that might shoot in New Orleans, but Hurricane Katrina in 2005 put an end to that. In 2010, filmmaker Kevin Tancharoen shot a short fan film called "Mortal Kombat: Rebirth," with the hopes that it might land him a gig directing a feature reboot. The plan worked — Warner Bros. liked the short so much that they hired Tancharoen to helm an R-rated reboot (the 1995 film was PG-13, something that never sat right with fans of the game's ultra-gore). 
Unfortunately for Tancharoen, budget issues killed off plans for his reboot and he officially departed the project in 2013. By 2015, though, a new fighter had entered the arena — James Wan, who had built himself up to be a major Hollywood player with his directing and producing credits. Wan signed on to produce a reboot, and by 2016, Simon McQuoid — who had never helmed a feature film before — was brought in to direct. However, the reboot didn't actually begin filming until 2019. Finally, the R-rated new "Mortal Kombat" arrived in 2021, opening simultaneously in theaters in IMAX and on HBO Max in March. 
"That's My Prayer"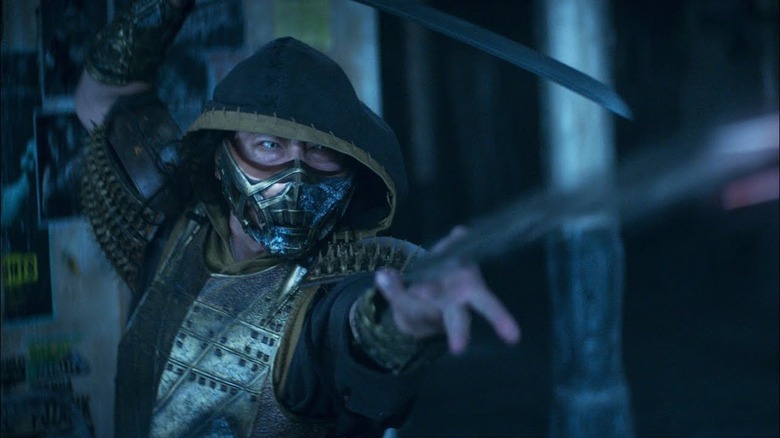 Warner Bros
The reviews for the new "Mortal Kombat" were ... mixed. Some folks really dug it, others not so much. I was in the latter category. I called the movie "boring" in my review, and I stand by that. Talk about a cinematic crime; how do you make a movie with martial arts monsters boring? And not only was the movie boring, it was also all set-up. There's an insidious trend in Hollywood right now when it comes to adapting popular IP — the first movie must act as a kind of prequel, setting things up. The new "Tomb Raider" with Alicia Vikander did it. The Netflix movie "The Old Guard" did it. And "Mortal Kombat" did it, too. The whole premise of the "Mortal Kombat" games involves a deadly tournament, but the damn tournament never even happens in the new movie! Instead, all the characters keep talking about the tournament, and training for the tournament. And then the movie ends. "Oh, you wanted the tournament?" it's essentially saying. "Well, you'll have to wait for a sequel to see that!"
Which brings us to the topic at hand: are we getting a sequel? Per Wikipedia, the movie did well, grossing "$83.6 million worldwide and [becoming] a streaming hit for HBO Max, being its most-successful film launch to-date." But the film also cost $55 million to make, and $83.6 against a $55 million budget isn't exactly a smash-hit. Of course, there are other things to take into consideration here. Namely, the pandemic. 
The folks involved with the movie certainly hoped for a sequel. The way the film ends — setting up both the tournament to come, and the arrival of character of Johnny Cage — practically screams "SEQUEL, PLEASE!" On top of that, Joe Taslim, who plays Sub-Zero in the movie, revealed he signed on for four films, adding: "If this one's successful, maybe we do more." 
Director Simon McQuoid said: 
"Sequels are a bit tricky because you can't totally ignore them, because that wouldn't be a smart move, but none of us used the 's-word.' We'd never talk about it in any depth whatsoever because we feel like we have to put all our energy into this film. That being said, if the fans want another one, that's not for us to decide; that's for the fans to decide. Then, we need a couple of joiner pieces that we know can lead us somewhere because there's a treasure trove of stuff that's just sitting there."
Greg Russo, who co-wrote the script, added even more fuel to the fire, revealing plans for a full trilogy: 
"Movie one, we were always kind of setting this up as — well I was setting it up, it's basically in my head — I always saw [movie one] as pre-tournament, then [movie two is] hopefully tournament, then [movie three is] post-tournament. So the idea was that this was going to be a pre-tournament movie that would hopefully sow the seeds for the tournament, the final."
And producer Todd Garner said: 
"Our goal and our prayer is that this movie does well enough and we've set it up enough and is satisfying enough for both the fans and people who don't know anything about Mortal Kombat, that they're gonna allow us at some point to sit with [game creators] Ed [Boon] and John [Tobias] and all the Warner Brothers execs and put a big whiteboard up like Kevin Feige did and map out the universe, and map out years and years of this. That's my prayer."
Yet despite all these hopes and dreams, there's been zero word on a sequel. Usually, with big IP titles like this, studios greenlight a sequel sooner rather than later. Announcing a sequel is a go is a studio's way of showing confidence in their product. That's why so many blockbusters have sequel announcements before they even open, or at least on the Monday following opening weekend. "Mortal Kombat" had neither, which seems to suggest Warner Bros. isn't keen for a sequel. That could change, of course. But at this point, I think another reboot — perhaps in a few years — is more likely than a sequel.