Sub-Zero Actor Joe Taslim Has Signed On For Four More 'Mortal Kombat' Sequels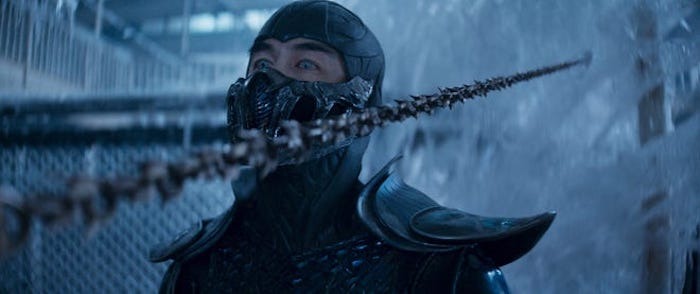 Get ready for at least four more movies of ice-kicking. Sub-Zero actor Joe Taslim, who plays the iconic villain in the upcoming Mortal Kombat, has revealed that he's signed on for four more sequels. Flawless victory (for Mortal Kombat fans)!
In an interview with Variety for its Just for Variety podcast, Indonesian actor and martial artist Joe Taslim revealed that he's signed on for four more Mortal Kombat sequels as Sub-Zero — if Warner Bros. decides to keep going with the franchise.
"If this one's successful, maybe we do more," Taslim said, after breaking the news on the podcast.
The upcoming Mortal Kombat serves as a reboot of the franchise based on the popular video game franchise, which spawned two live-action films in the '90s. Though the first was a box office success, the two Mortal Kombat '90s films failed to break the "video game curse," which refers to the poor Hollywood track record for video game adaptations, which are mostly critical and commercial flops. But Warner Bros. seems confident that the upcoming Mortal Kombat directed by Simon McQuoid will reverse that curse, and has prepared the cast for potential sequels.
For what it's worth, Taslim, who broke out in the 2011 Indonesian action hit The Raid and has popped up in memorable roles in Fast & Furious 6 and Star Trek Beyond, is game to stick by the Mortal Kombat franchise. In the interview with Variety, he spoke about his long relationship with the game franchise, starting when he was 12 years old.
"I was born in South Sumatra. We were poor so I didn't have the console because it's expensive. I went to my friend's house every day to play the game. But you get there and there are like 10 kids lining up. Who wins keeps playing...so it takes me to get to my part like 40 minutes," Taslim said.
Mortal Kombat is set to release in theaters and HBO Max on April 23, 2021.
In "Mortal Kombat," MMA fighter Cole Young, accustomed to taking a beating for money, is unaware of his heritage—or why Outworld's Emperor Shang Tsung has sent his best warrior, Sub-Zero, an otherworldly Cryomancer, to hunt Cole down.  Fearing for his family's safety, Cole goes in search of Sonya Blade at the direction of Jax, a Special Forces Major who bears the same strange dragon marking Cole was born with.  Soon, he finds himself at the temple of Lord Raiden, an Elder God and the protector of Earthrealm, who grants sanctuary to those who bear the mark.  Here, Cole trains with experienced warriors Liu Kang, Kung Lao and rogue mercenary Kano, as he prepares to stand with Earth's greatest champions against the enemies of Outworld in a high stakes battle for the universe.  But will Cole be pushed hard enough to unlock his arcana—the immense power from within his soul—in time to save not only his family, but to stop Outworld once and for all?