Mortal Kombat 2 Writer Promises A Longtime Fan Favorite Fighter Will Appear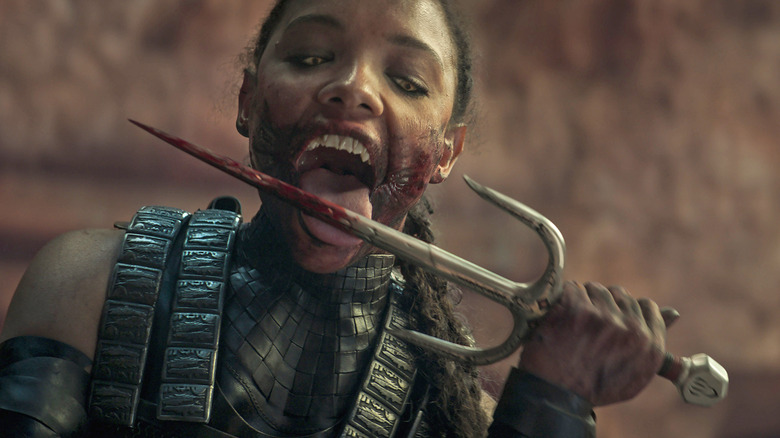 New Line Cinema
The 2021 "Mortal Kombat" movie had its fans and detractors, but one thing most people agreed on was a need for a big, likable personality that wasn't Kano (Josh Lawson). Kano was great, but having the only really charismatic character be a huge jerk was a letdown for some fans. Thankfully, the "Mortal Kombat" video game roster is massive, and there are plenty of important characters that could make the movie sequel shine. While my favorite fighter, Mileena (played by Sisi Stringer above), was actually pretty great in the 2021 film, some fans might have been disappointed not to see their hero, Johnny Cage. He's the all-American hero of the "Mortal Kombat" series, a movie star who does martial arts and really likes sunglasses. Cage is a fun character who brings quite a bit of comedy to the game series, and his absence was clearly felt in the movie.
In an interview with ComicBook.com, "Moon Knight" scribe Jeremy Slater, who will be writing "Mortal Kombat 2," teased that Cage was definitely coming to the sequel. At the end of the first movie, Cole Young (Lewis Tan) goes to Hollywood to find Cage and recruit him, so the setup is already there, and Slater confirmed there's more Cage to come.
Better find some sweet shades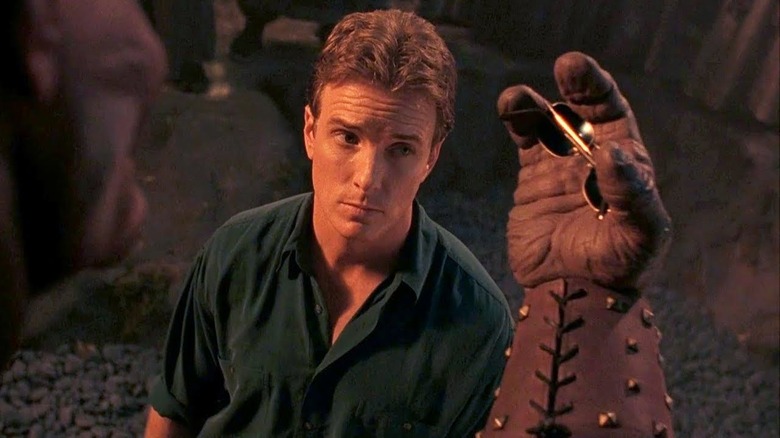 New Line Cinema
The character of Johnny Cage was actually the first one developed for the "Mortal Kombat" games, and he was based on actor Jean-Claude Van Damme in the movie "Bloodsport." Cage was portrayed by Linden Ashby in Paul W.S. Anderson's 1995 "Mortal Kombat" film adaptation, and he had a great scene where Goro broke his $500 sunglasses. He's a fun character, and one that many fans were bummed to see left out of the 2021 movie. Slater explained that while Cage will definitely be included, his amount of involvement is still a bit of an unknown:
"Johnny Cage is one of my favorite characters, and I think there's definitely a promise with the way the first movie ends of seeing Cole being like, 'Okay, my next stop is to go recruit Johnny.' So I think if he wasn't included in the sequel at all, it would feel very strange. It's still a little bit up in the air how much he will be included, it's one of the things we're currently working on. But yeah, I love Johnny and I would love to really do the definitive version, if possible, and really take everything that's fun about that character and bring that to live action."
Johnny Cage could bring the kind of sardonic humor "Mortal Kombat" fans know and love to the new films, and the right casting could help win back folks who were frustrated by the first film. They could even make a deal with Ray-Ban or something and have "Mortal Kombat" branded shades, because who doesn't love a marketing tie-in? Who would you want to see as Johnny Cage? Ryan Reynolds? Chris Pratt? Maybe make him just a hair older and cast actual martial artist Jason David Frank, who played the Green Ranger in the "Mighty Morphin' Power Rangers" series? Whatever they decide to do, I just hope he fights in a dang tournament. That's what "Mortal Kombat" is supposed to be about, after all!