Hulu Has Canceled M.O.D.O.K. After Its First Season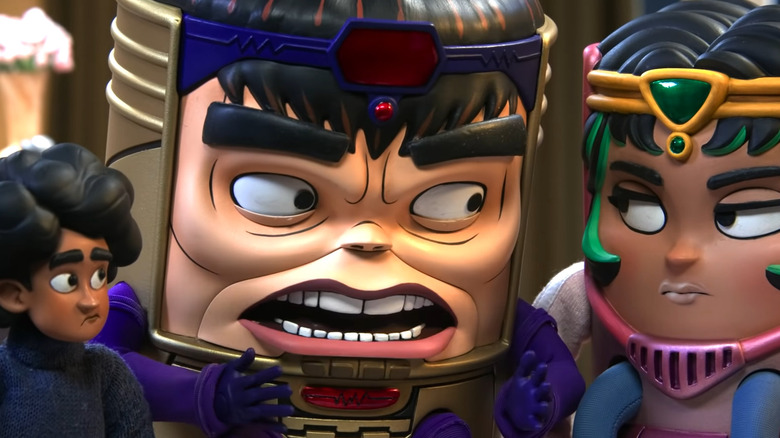 Hulu
The cancellation bloodbath continues! Variety reports that "M.O.D.O.K." will end after a single season airing on Hulu. The stop-motion animation series came out in May 2021, and there are 10 episodes available to watch on the streaming service.
If you're not familiar with the character, M.O.D.O.K. stands for Mental Organism Designed Only for Killing. Oswalt voiced the main character and should continue to do so. The fault — in my humble opinion — lies in not promoting this series the way others have been. The series was part of a group of four animated Marvel shows that ran on Hulu, including "Hit-Monkey," which had one season and has yet to be renewed, "Howard the Duck," and "Tagra and Dazzler," neither of which ended up happening. 
Apparently, these shows, which are part of Jeph Loeb's Marvel Television group that isn't happening anymore, were set to have a crossover event series, "The Offenders." 
Dazzler is a character that I'm continually surprised isn't out there more. She's really fun and would be especially great if animated. And may I just say that, whether or not this is part of a streamlining of Marvel series that aren't on Disney+, you don't cancel things that Patton Oswalt is in! You just don't.
'That big, beautiful, womb-wrecking head'
The cast of "M.O.D.O.K." included Oswalt, Melissa Fumero, Aimee Garcia, Wendi McLendon-Covey, Ben Schwartz, Beck Bennett, Jon Daly, and Sam Richardson. If you haven't seen the series yet, here is the official synopsis:
The megalomaniacal supervillain M.O.D.O.K. (Patton Oswalt) has long pursued his dream of one day conquering the world. But after years of setbacks and failures fighting the Earth's mightiest heroes, M.O.D.O.K. has run his evil organization A.I.M.
The series was created by Oswalt and Jordan Blum, who also executive produced. Other executive producers included Brett Cawley, Robert Maitia, Joe Quesada, Grant Gish, Karim Zreik, and Loeb. The animation came from Stoopid Buddy Stoodios. 
Just ... please give Patton Oswalt all the geek series. And the other series. Just put him in everything. Also, maybe calm down with the cancellations? I know there are a whole lot of shows out there (and to be very honest, I haven't even heard of some of the things they canceled), but maybe take a deep breath and consider before you order things in the first place? I liked this show a lot, and it's nice to have a few silly things in the MCU.