Why Gedde Watanabe Thinks His Breakout Sixteen Candles' Role Is Bittersweet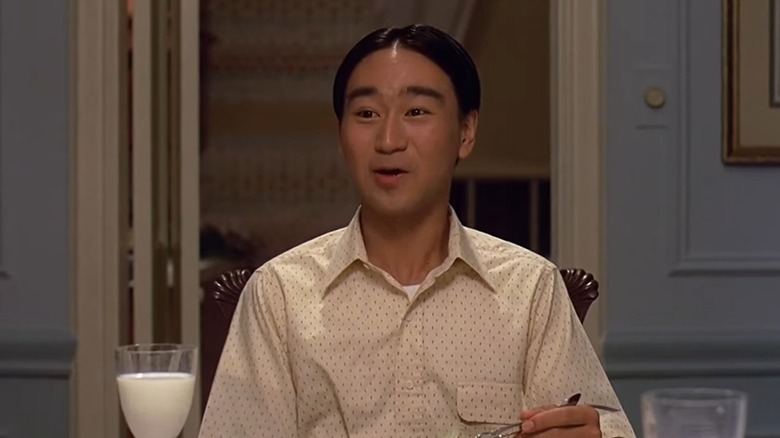 Universal Pictures
Actor Gedde Watanabe was born in 1955 in Ogden, UT, and he got bit by the acting bug as a teen. He performed in high school productions and worked the streets of San Francisco as a busker and public performer. His first notable film role didn't come until 1984, when he landed the role of Long Duk Dong in John Hughes coming-of-age comedy "Sixteen Candles." Long Duk Dong is a randy foreign exchange student, a comedy character whose function in "Sixteen Candles" is to highlight how his host sister Sam (Molly Ringwald) is having an overwhelmingly awful home life; Long Duk Dong's presence is yet another distraction for her family, another thing forcing the world to forget her that it's her 16th birthday. 
Long Duk Dong's entrances are punctuated by gong sound effects, he constantly misuses American catchphrases, and is generally depicted as a clueless Asian outsider, including being unfamiliar with a knife and fork, for instance. He calls himself The Donger. 
Watanabe has had a long career since, having appeared in cult comedies like "UHF" and "Gremlins 2: The New Batch," as well as high-profile animated films like "Mulan" and its sequel and spinoffs. Watanabe can also frequently be seen in cameos and supporting roles in comedies over his 35-year career. His most recent role was on an episode of "The Sex Lives of College Girls." 
In an interview with NPR, however, Watanabe admits that Long Duk Dong is still the role he's most recognized for, "People still come up to me to this day and quote my lines: 'What's happenin', hot stuff?' 'Oh, sexy girlfriend.'" To many, he will always be that character, "which is still hard for me to say," he admits. Why is it so hard? Watanabe is ambivalent about his role, as he got to make people laugh and was happy for the work, but he only gradually acknowledged what a broad Asian stereotype he was playing. 
'What's happenin' hot stuff?'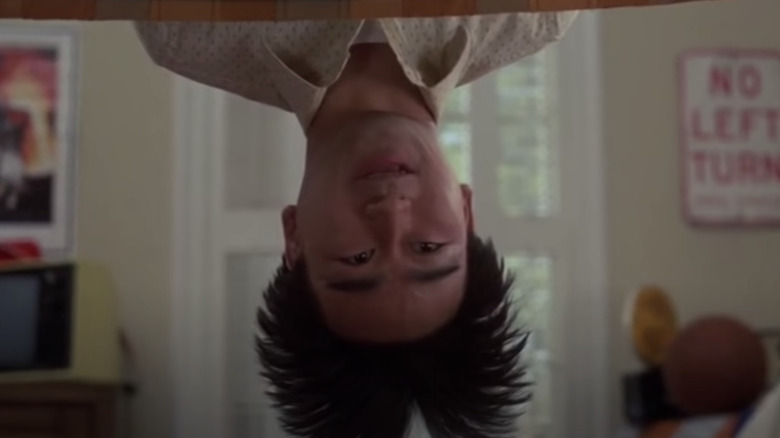 Universal Pictures
Watanabe, a professional, was more concerned with making people laugh than he was about proper representation. And make people laugh he did. The fact that he is recognized decades later is a testament to his comedic talents. But even at the time, critics recognized the stereotyping involved in the creating the character. Roger Ebert praised Watanabe, despite the racial clichés, saying, "He elevates his role from a potentially offensive stereotype to high comedy." 
For many, the character is more the former than the latter. Cartoonist Adrian Tomine created a brilliant page in 2001 called "The Donger and Me," wherein he related his personal experiences as an Asian teen in a mostly Caucasian school following the release of "Sixteen Candles." In the strip, Tomine reveals how he was treated following the intorduction of Long Duk Dong into the popular consciousness, and how much he began to hate Watanabe personally. An interview with Watanabe revealed a funny actor who was grateful for the high profile role, and Tomine appreciated that work for Asian actors was hard to come by. That didn't make him like Watanabe as Chan in "Booty Call" any more, however. 
Watanabe himself is ambivalent. Long Duk Dong was, after all, a stereotype character:
"It took me a while to understand that. In fact, I was working at the Metropolitan Museum of Art, and I was accosted a couple of times by a couple of women who were just really irate and angry. They asked, 'How could you do a role like that?' But it's funny, too, because at the same time I laugh at the character. It's an odd animal."
The Donger needs food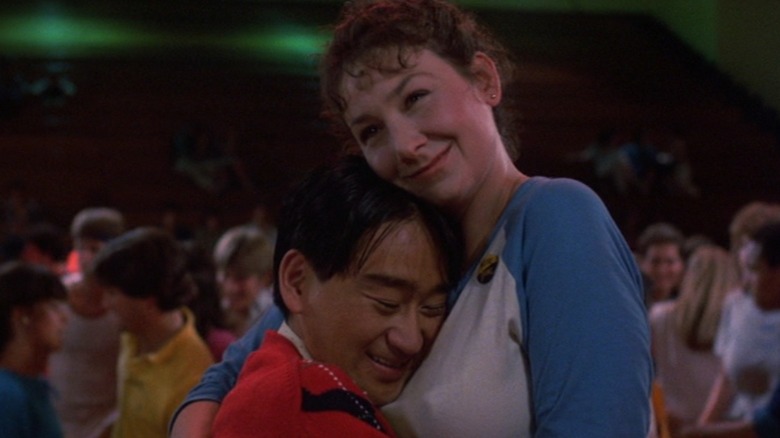 Universal Pictures
On NPR, various artists weighed in on Long Duk Dong's lasting cultural legacy. Co-founder of Giant Robot Magazine, Martin Wong, pointed out, "Every single Asian dude who went to high school or junior high during the era of John Hughes movies was called 'Donger' ... If you're being called Long Duk Dong, you're comic relief amongst a sea of people unlike you." 
Giant Robot's other co-founder Erik Nakamura was harsh, saying, "You're being portrayed as a guy who just came off a boat and who's out of control. It's like every bad stereotype possible, loaded into one character." The two of them pointed out that, prior to "Sixteen Candles," they were typically mocked with the name "Bruce Lee," which they minded less, as Lee was a powerful fighter who could beat up anyone. Long Duk Dong, in contrast, was a buffoonish character. The mockery was just as dismissively racist, but now it bore an extra element of derision. 
In Tomine's comic, he describes Watanabe as a funny, genuine man whose need to act was more important than adhering to being politically correct. He played stereotype characters a lot: In "Gremlins 2," Watanabe played a camera-happy Japanese tourist, and in "UHF," he was a karate instructor. But Watanabe has worked constantly, and hilariously, to this day. Watanabe is 66 now and has dozens and dozens of credits to his name. Not bad for a guy who started acting in a Utah high school. 
While Long Duk Dong is a undoubtedly a problematic character, in the NPR interview, Wong and Nakamura admit that, despite it all, Watanabe does still make them laugh. At the end of the day, Watanabe is just an honest and very funny person. But maybe don't ask him where your automobile is anymore.