South Park's Matt And Trey Have Ambitious Expectations For Their 14 Paramount+ Movies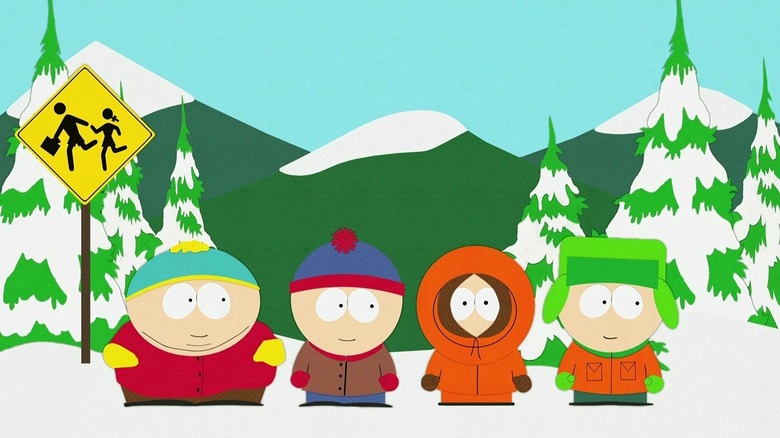 Paramount
Comedy duo Matt Stone and Trey Parker continue to push creative boundaries decades into their storied careers. Their irreverent animated series "South Park" is known for its no-holds-barred comedic approach, which has not relented in the face of cancel culture. No stranger to controversy, the creators remain unafraid of the effects that a cultural shift towards political correctness will have on their show. Parker said in 2017 that he and Stone have been "waiting for that moment" that the public turns on them for decades (via Idiot with Chris Hardwick). Years later, that moment is still to come.
Stone and Parker recently announced that they have signed a new deal with the streaming service Paramount+, revealing to The Hollywood Reporter that the contract includes fourteen new projects. This comes on the heels of Comedy Central's renewal of "South Park" for another five seasons. The proposed seven year timeline is incredibly impressive, if not seemingly formidable, so series creators were quick to respond to misconceptions about the upcoming productions.
...But not too ambitious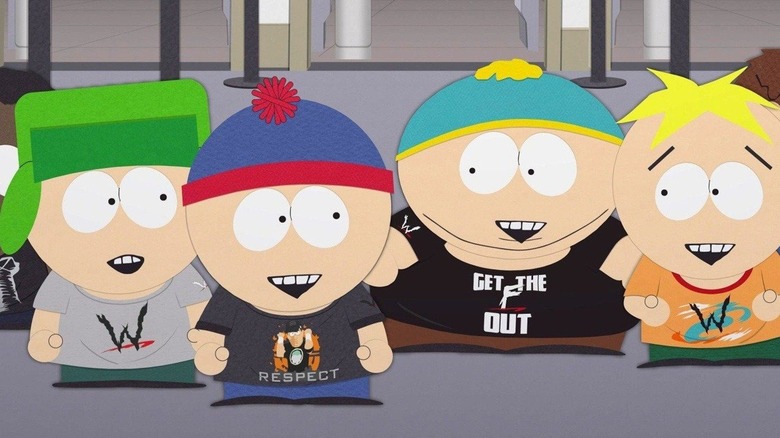 Paramount
When the contract was initially announced, Viacom representatives referred to the projects as movies, which Parker found to be hilariously inaccurate. "They are the ones who said we are giving them 14 movies in seven years," Parker explains, adding that he had only managed to make three movies in his 52 years on Earth so far, "so you do the math."
Parker is referring to two comedy films he co-wrote with Stone early in their careers, "Orgazmo" (1997) and "Cannibal: The Musical!" (1993), as well as their 2004 stop-motion action comedy "Team America: World Police." The director is being a bit modest, though, failing to note their Tony award-winning Broadway musical "The Book of Mormon," a smash success that proved Stone and Parker were more than equipped to venture outside the confines of episodic television to create a work of genius.
The comedy duo clarified that their upcoming projects will not be traditional feature-length films or extended "South Park" episodes like the pandemic specials. Instead, the creators want to break into "hour-long made-for-TV movies," with a release schedule of two per year. These projects will be ambitious, but "not quite movie scale," Stone says. The writer says this mid-length medium was chosen in an effort to "make what's on Paramount+ different from anywhere else."
The Streaming Wars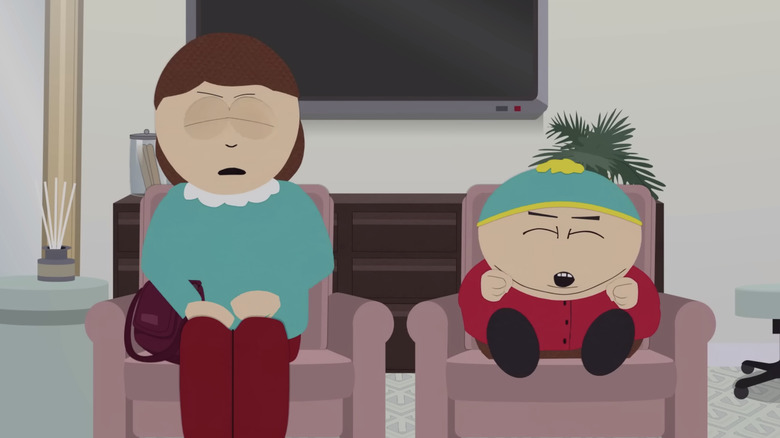 Paramount
It is difficult to say whether these projects will all take place in the "South Park" universe but, if so, the series has proven that it knows no bounds. Even after almost thirty years on air, Parker and Stone continue to experiment with the format of the series to keep it interesting. They developed a serialized narrative arc in the 18th and 19th seasons of the show, then later moved into fewer, longer episodes in the 24th season. 
"South Park" has aired for 25 seasons and counting, with most of the series available to stream on HBOMax. The creators' new exclusive package with Paramount+ includes two of the three pandemic specials of season 24 as well as the upcoming projects. Paramount's pivot to streaming presented a conflict with the existing HBO deal to stream South Park until 2025, but the show is slated to stream exclusively on Paramount+ once the deal with HBO Max ends (via Variety).
Parker and Stone's first Paramount+ movie, "South Park: The Streaming Wars," will incorporate a meta-commentary about the series straddling two platforms. "Streaming Wars" is slated for release on June 1, 2022.