South Park: The Streaming Wars Teaser: Next Paramount+ Movie Gets A Premiere Date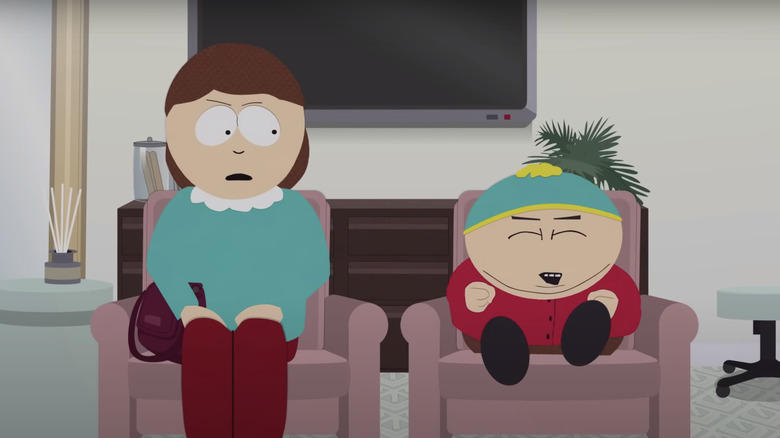 Paramount+
The next wave of original "South Park" movies are heading to Paramount+ with the third of fourteen expected films arriving in less than a month. As part of Trey Parker and Matt Stone's $900 million deal, "South Park: The Streaming Wars" is the latest edition of exclusive films for the streamer following the two-part Covid special set in the future where our favorite foul-mouthed elementary schoolers are adults. Paramount+ released a short teaser video to announce the upcoming film, with no footage included other than Cartman throwing a tantrum while his mom Liane looks on with annoyance. 
Cartman squealing like a whiny cry baby because he doesn't get his way? Color me shocked. 
(This is sarcasm, obviously.)
The title is an obvious reference to Paramount+ entering the ongoing battle for streaming supremacy with Netflix, HBO Max, Disney+, Hulu, Peacock, and AppleTV+, and will likely include some meta-commentary on the real-life streaming confusion "South Park" is caught in the middle of. As of publication Paramount+ is the home of the exclusive new films and will take over the streaming rights to the entire catalog for the show's 25th season, but HBO Max currently houses all 25 years of the show, fulfilling a deal made with Comedy Central before Paramount+ ever existed. "South Park" remains one of the most valuable IPs on the market, and the team is clearly laughing their way to the bank while mining the situation for storyline gold.
South Park: The Streaming Wars teaser trailer
According to the official announcement from Paramount+, "South Park: The Streaming Wars" will debut in the U.S. first, with a second release internationally in all areas where Paramount+ is currently available. The premise of the film is said to center on yet another conflict between Cartman and his mother, locked in a "battle of wills" while an even bigger storm brews that threatens the very existence of South Park. 
Uh, yeah. Sounds like the bigger storm is HBO Max v. Paramount+. "South Park" has never been one to shy away from criticizing the Comedy Central network that gave them a home, and it's honestly great to see that they're not afraid of doing the same for streamers.
"South Park" has currently been renewed on Comedy Central through 2027, which will mark the show's 30th season. The series is the network's longest-running scripted series, and the second-longest animated series in television history, following "The Simpsons." International markets will see the show pivot to Paramount+ later this year, while U.S. viewers will have to continue juggling between HBO Max and Paramount+ until 2025.
"South Park: The Streaming Wars" hits Paramount+ on June 1, 2022.