The Deer King Trailer: A Fantasy Epic From The Animator Behind Spirited Away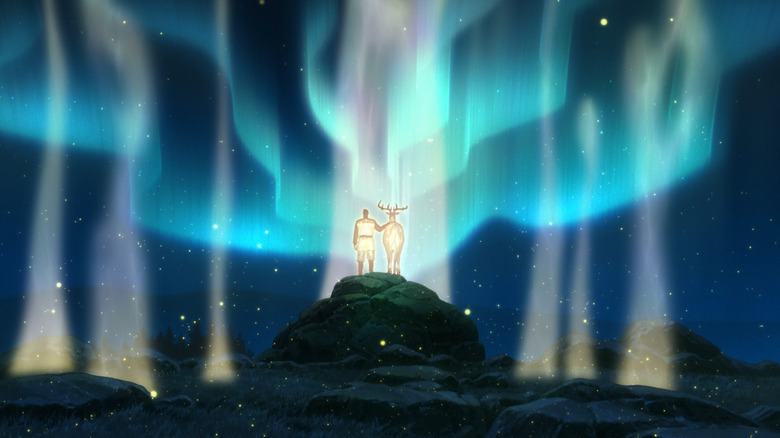 GKIDS
If you go wild over the animation in movies like "Your Name," "Paprika," and "Spirited Away," then I highly recommend you 1) Immediately scroll down to the trailer in this article and 2) Start blocking out your July weekends. I write all of this because "The Deer King" is hitting theaters in July 2022 and it marks the directorial debut of Masashi Ando (along with co-director Masayuki Miyaji), who worked as a character designer, animation director, and key animator on those incredible movies. So if you're looking for a fantastical story paired with some killer animation, you've come to the right place.
Still here? Need a little more info before you press play and start canceling summer plans? Okay, fine. "The Deer King" is coming straight from the production and distribution company GKIDS, who have produced and distributed Oscar nominated films like "My Life as A Zucchini" and "Ernest & Celine," as well as popular Studio Ghibli films like "Howl's Moving Castle," "Kiki's Delivery Service," and the aforementioned "Spirited Away." They're teaming up with Fathom Events to bring "The Deer King" to the U.S. for a limited theatrical release through the month of July.
The Deer King trailer
Doesn't that look incredibly cool? "The Deer King" is a sprawling fantasy tale based on a series of novels by Nahoko Uehashi that follows a former soldier who becomes the surrogate father of a young girl set in a world where a plague carried by wild dogs has devastated mankind. Here's the official synopsis, just in case you want to dive into all of the details:
In the aftermath of a brutal war, former soldier Van toils in a mine controlled by the ruling empire. One day, his solitary existence is upended when a pack of wild dogs carrying a deadly and incurable disease attack, leaving only Van and a young girl named Yuna as survivors. Finally free, the pair seek out a simple existence in the countryside but are pursued by nefarious forces. Intent on protecting Yuna at all costs, Van must uncover the true cause of the plague ravaging the kingdom—and its possible cure.
Five seconds into the trailer you can tell this is a movie that's definitely going to pull at your heartstrings, but like so many of the movies worked on by directors Ando and Miyaji, as well as the production company GKids and the animation studio Production I.G., it looks like the kind of story you can fully get lost in. It's these qualities that make movies like "Spirited Away" and "Paprika" so special, watching them feels like taking a peek into a fully formed world that's been bustling before you dropped by and will keep on bustling after.
"The Deer King" gallops into select theaters on July 13, 2022.