'My Life As A Zucchini' Trailer: No, It's Not About Vegetables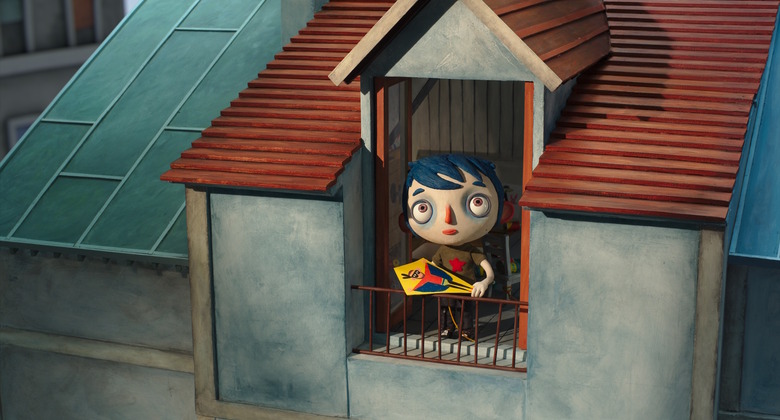 During the Golden Globe Awards this past weekend, you may have noticed a rather bizarre-sounding film buried among all the usual suspects in the Best Animated Film category. While My Life as a Zucchini hasn't hit U.S. theaters yet, it spent most of 2016 traveling the festival circuit and picking up praise and prizes at every stop. Now it's Switzerland's submission for the Foreign Language Oscar, as well as a serious contender for Best Animated Feature.
In other words, if you haven't heard of this film before, you may want to sit up and pay attention now. And not just because of its awards prospects. Directed by Claude Barras from a script by Céline Sciamma (Girlhood), My Life as a Zucchini looks utterly delicious — poignant and empathetic, gorgeously animated ans strikingly unusual. Watch the My Life as a Zucchini trailer below.
My Life as a Zucchini Trailer
Although the trailer is in French, there's also an English dub on the way featuring the voices of Will Forte, Nick Offerman, Ellen Page, and Amy Sedaris.
Disappointingly, it does not appear that My Life as a Zucchini has anything whatsoever to do with actual zucchinis. Instead, "Zucchini" is just the nickname of the protagonist, a little boy who comes of age in an orphanage. Once you get past that misleading title, though, My Life as a Zucchini looks well worth checking out. The premise could veer either profoundly depressing or obnoxiously sentimental in the wrong hands, but Zucchini seems to find that perfect balance. I love the look of the animation, too. Zucchini and his friends aren't really pretty in the way Disney or Pixar characters are, but that's part of their shaggy charm. They're cute in their own weird way.
My Life as a Zucchini is in theaters starting February 24. Hit the official site to find out when it's coming to your area.
After his mother's sudden death, Zucchini is befriended by a police officer, Raymond, who accompanies him to his new foster home, filled with other orphans his age. At first he struggles to find his place in this at times strange and hostile environment. But with Raymond's help and his newfound friends, Zucchini eventually learns to trust and love, as he searches for a new family of his own. From its debut in Director's Fortnight at Cannes to winning audience awards at Annecy, Melbourne and Angoulême, this accomplished debut feature from director Claude Barras, based on a script from acclaimed writer/director Céline Sciamma (Girlhood, Tomboy), has received an overwhelming response from audiences worldwide, and is shortlisted as Switzerland's official entry for Best Foreign Language Film at the Academy Awards®. Brought to life through memorable character designs and expressive stop-motion animation, the story soars with laughter, sorrow, and joy, and stands as a testament to the resilience of the human heart.