First Look: 'Ernest And Celestine,' The New Film From The Directors Of 'A Town Called Panic' [Updated With Video]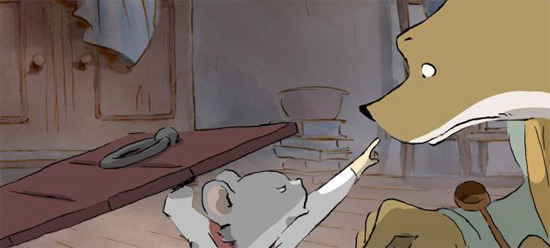 Just today I was recommending the incomparably wonderful animated film A Town Called Panic to a friend, which it occurred to me to wonder: what progress has been made on the project the makers of that film (Stéphane Aubier and Vincent Patar) are cooking up now? They're making a new film, Ernest and Celestine (co-directed by Benjamin Renner), and as it turns out there is actually a current article about it in Variety, based on the fact that yesterday saw the debut of footage at the Annecy festival in France.
So that crop above is probably your first look at Ernest and Celestine, which adapts the book series by Gabrielle Vincent. The full image is below, along with some more news on the film.  It looks like quite a change of pace from A Town Called Panic...
Variety announces that Lambert Wilson (The Matrix Reloaded, Of Gods and Men) will voice Ernest, "a gruff bear who wants to be an artist, who befriends Celestine, an ingenious mouse." Also in the cast are Anne-Marie Loop, voicing an aged lady mouse and Dominique Collignon, playing a dentist.
Acclaimed French writer Daniel Pennac penned the screenplay, based on the series of illustrated kids books by the late Gabrielle Vincent. Goran Bregovic, who has often worked with Emir Kusturica, is reportedly doing the film's music. And Didier Brunner is producing; he was behind a couple films that people liked, such as The Triplets of Belleville and The Secret of Kells, so that is probably a good sign for this one.
The site Wallimage offers quite a bit more story detail:
The friendship between a little mouse who didn't want to become a dentist and a big bear who didn't want to become a notary.
Ernest, a big marginal bear, with a cold and starving, is looking through garbage to find something to eat. Just when he's ready to put the first thing he finds into his mouth, a piercing cry rings out! "Stooooppp!". The little mouse he was going to swallow pleads: "if you don't eat me, I will give you whatever you want most in the world! And it will be better for your health than all this crap." And this is how Célestine, while trying to save her own life, turns that of Ernest upside down. From these unfortunate circumstances a friendship grows, fought by the world of mice (the upper world) and the world of bears (the underworld) but in vain: Ernest and Célestine will conquer all prejudices.
The only thing is: Ernest and Celestine is not scheduled to be finished until next year, and likely will not be released until 2013.
Here's the full image. Click to enlarge. The two images that follow are from Gabrielle Vincent's books, so you can compare the styles.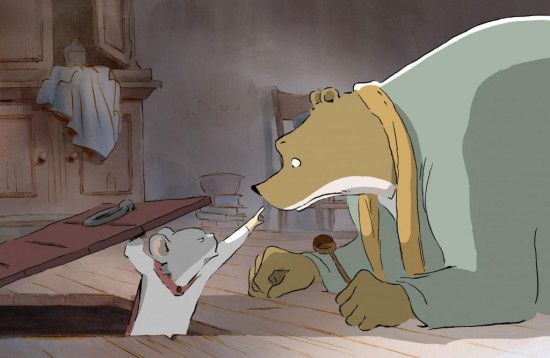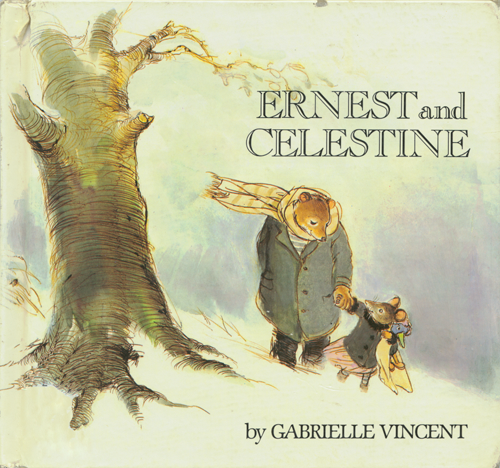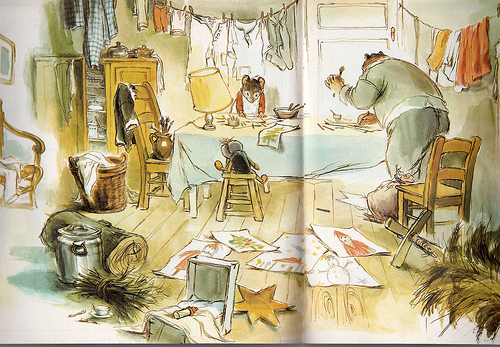 Update: The fine folks at Animatie emailed me this morning to point out that they have a few more materials up. The still that follows comes courtesy of the Dutch animation blog, as do the two 'in progress' video clips.