The 15 Most Iconic Fashion Moments In '80s Teen Movies
We may receive a commission on purchases made from links.
Known for its totally rad looks, the 1980s was quite the iconic decade for fashion. From the business suits of "Working Girl" to the "Let's Get Physical" era of gym attire, it's a time full of bold, stylish trends. Yet the movie genre that (arguably) defined the '80s aesthetically the most would be the teen movies of the time. And while much credit is due to the incredible costume design within said movies, there's something just as magical about the moments these iconic outfits are featured in. They make for a genuinely bodacious cinematic experience.
Yet, with so many incredible '80s teen movies, which fashion sequences continue to delight audiences the most? Which of them still inspire countless Halloween costumes and fashion photoshoots? That's where this list comes in. From ridiculous montages to multiple close-ups of scrunchies, here's a look back at the iconic teen movie moments that will continue to define the world of '80s fashion for years to come.
Baby walking into the staff party in Dirty Dancing
Set in the summer of 1963, "Dirty Dancing" left a pop culture impact on the '80s with its dance sequences, quotable one-liners, and equally memorable costumes. From Baby (Jennifer Grey) and Johnny's (Patrick Swayze) finale attire to Lisa's (Jane Brucker) tiki-inspired performance ensemble, the film has no shortage of incredible outfits. Yet the scene where Baby enters the Catskills resort staff party with a watermelon in her hands leaves quite the fashionable impression.
Featuring costumes designed by Hilary Rosenfeld, the sequence begins with Baby sheepishly walking into the crowded dance floor of the party. As her eyes begin to examine the various couples, it becomes clear that the mousy, cardigan-wearing heroine will not fit in here. And that juxtaposition of Baby's more conservative wardrobe next to the attendees' more rebellious outfits perfectly sets the tone for the rest of the movie. The scene prepares us for the changes Baby will go through from her childish ways to discovering her mature side through her relationship with Johnny. And with Rosenfeld's keen eye for style, it's easy to see why this scene remains as iconic as the entire movie itself.
The concert attire in The Lost Boys
One benchmark of a memorable teen movie is a rocking soundtrack — an element that Joel Schumacher's "The Lost Boys" is remembered fondly for. And while many moments and songs left a memorable impression on audiences, nothing is quite as iconic as the "I Still Believe" concert sequence in the movie. Featuring the musical stylings of Tim Cappello, the scene not only serves as a fantastic introduction for Michael (Jason Patric) to cross paths with Star (Jami Gertz), but it establishes the vibe of the entire movie, including its much-beloved unique sense of fashion.
From Sam's (Corey Haim) fabulous combination of bold prints to Star's lace-covered tank top attire, costume designer Susan Becker dressed every concert attendee in the best of rock n' roll-inspired wear. Yet the fashion MVP of the entire scene is the Beach Concert Star himself. From his elaborate collection of chains on his wrist and neck to his absolutely fabulous pants, Cappello is the definition of iconic here. He proves that all you need is confidence and a saxophone to steal the spotlight.
The parade performance in Ferris Bueller's Day Off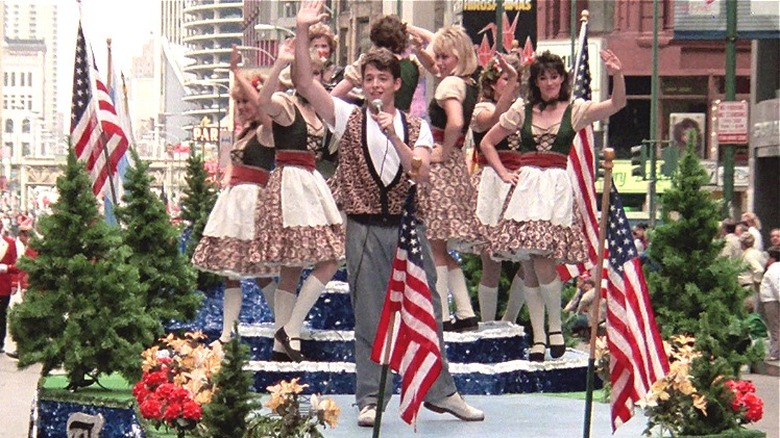 Paramount Pictures
When it comes to characters who always want to be the center of attention, Ferris Bueller (Matthew Broderick) is certainly at the top of the list. He is an individual who creates chaos wherever he goes and often seems to thrive from that fact. And while various moments throughout "Ferris Bueller's Day Off" show the rebellious character's fashionable side, none are quite as magical as the parade takeover sequence. Why? Because it shows off how Ferris stands out from a crowd, both in terms of wardrobe and his eclectic personality. 
Featuring the costume work of frequent John Hughes collaborator Marilyn Vance, this scene displays Vance's signature injection of rock n' roll culture into her creations. From Ferris' leopard print vest to the adorable dresses of the float dancers, the outfits in this scene are as bold as the film's energy. And as Broderick lip syncs to "Twist & Shout" by The Beatles, it becomes clear that Vance is a master at making anyone look like a rockstar. 
Lisa's grand entrance in Weird Science
Serving as a very '80s retelling of "Frankenstein," John Hughes' "Weird Science" isn't precisely the most fashion-focused movie. But when it comes to the wardrobe of the all-powerful Lisa (Kelly LeBrock), that's a whole different story. From Lisa's pink party dress to her Phys Ed outfit, costume designer Marilyn Vance makes this fantasy lady a fashion icon. And while many sequences show off Lisa's fascinating style, none of them have left as much impact as when main characters Gary (Anthony Michael Hall) and Wyatt (Ilan Mitchell-Smith) bring her to life.
From the neon-colored cinematography by Matthew F. Leonetti to the pink smoke behind the film's leading lady, this odd scene establishes the quirky nature of "Weird Science" as a movie while showing that Lisa is a confident figure — even when all she's wearing is a long-sleeve crop top and some high-rise undies. And while the outfit at the center of the scene is quite simple, Vance's work continues to stand as a memorable visual icon of the decade.
Jerry and Amy dancing in the club in Fright Night
With its creepy-meets-campy energy and special creature effects, the original "Fright Night" features a lot of visual treats — including its fascinating collection of costumes. Every moment within this teen horror treasure has a fashionable edge, from scenes featuring Amy's (Amanda Bearse) white dress to those showcasing Peter Vincent's (Roddy McDowall) monster-fighting attire. Yet what is arguably the most stylish (and sexy) moment in the movie is the sequence where Jerry (Chris Sarandon) seductively charms Amy at a modern nightclub.
With the addicting musical stylings of Evelyn "Champagne" King and Ian Hunter throughout, this dance sequence is one you can't take your eyes off of. Costume designer Robert Fletcher does a fantastic job of fashionably juxtaposing Amy's youthful style with Jerry's attempts at being modern. Indeed, a deep eggplant grey sweater has never looked this cool. With the way the characters' wardrobes enhance Jan Kiesser's bold cinematography, this scene proves how much Fletcher's work made "Fright Night" the beloved vampire classic it is today.
Andie getting dressed for the day in Pretty in Pink
There's no denying that "Pretty in Pink" is quite the fashion extravaganza. Directed by Howard Deutch and with costumes by Marilyn Vance, this pastel fever dream of a film definitely embraces the experimental styles of the '80s full-on. And while there are quite a few sequences to mention from this beloved John Hughes-written classic, it goes without saying that the movie's opening has to be discussed. Mainly because it serves as a great introduction to Andie's (Molly Ringwald) unique sense of style.
From the time our heroine puts on her tights to the second she enters high school, this montage does a fantastic job of setting up all of the fashionable pieces on the chessboard. We get to see Andie's collection of vintage accessories and how she arranges her outfits every day. But the most significant element of the scene is how it establishes Andie's relationship with her father, Jack (Harry Dean Stanton), and how he takes in Andie's quirky sensibilities. It's a critical element of their dynamic that is essential to the film's dramatic arc. Ultimately, this scene is an excellent example of how to introduce your character to an audience through the perfect combination of music and fashion.
Daniel and Kumiko go dancing in Karate Kid Part II
While the "Karate Kid" franchise is often remembered for Mr. Miyagi and "wax on wax off," the franchise definitely isn't afraid to flex its fashion muscles. But the most fantastic outfits in the series are in the highly underrated "Karate Kid Part II." From '80s Japanese street fashion to Daniel's own brand of American style, this second entry in the original trilogy offers many iconic outfits. Yet easily the scene with the most stylish elements takes place when Kumiko (Tamlyn Tomita) takes Daniel (Ralph Macchio) to a rockabilly dance party. 
Considering Japan's own fascinating history with rockabilly culture and the '80s interest in '50s nostalgia, it's cool to see those aspects of the decade reflected in this sequence. Yet the great garments on display (by costume designer Mary Malin) are what make this fun scene really pop. Not only does Malin's work wonderfully evoke the personalities of the characters, but it also perfectly sets the sock-hop romantic mood needed for the moment. And when all the elements blend together, the result becomes one of the most adorable scenes in not only "Karate Kid" history, but in any '80s teen movie. 
The school montage from Sixteen Candles
Like the fashionable opening to John Hughes' "Pretty in Pink," "Sixteen Candles" features quite a memorable montage. After Samantha (Molly Ringwald) realizes her family has forgotten her 16th birthday, we cut to a series of shots showcasing the lives of all the students at Samantha's school. And while many would consider this montage to be nothing special compared to other selections from its era, it serves as a fantastic tribute to the authentic fashion trends of the time.
Featuring the costume design work of Marla Denise Schlom and Mark Peterson, the montage begins with a collection of random kids exiting a school bus. As it proceeds, editor Edward Warschilka treats us to a selection of well-crafted, documentary-like shots (composed by cinematographer Bobby Byrne) of the various footwear and apparel worn by the students. From broken Converse sneakers to button-covered jean jackets, this sequence checks every '80s fashion box humanly possible while also perfectly encapsulating a timeless teenage experience.
Lloyd sees Diane in her party outfit in Say Anything
Some of the best moments in '80s teen movies involve the characters going to a party. And that is certainly the case with this sequence from Cameron Crowe's underrated classic, "Say Anything." The film follows Lloyd Dobler (John Cusack), an offbeat high school graduate. In a last-minute attempt to feel cool, he asks the beautiful but introverted Diane Court (Ione Skye) to go with him to a graduation party. Surprised, she agrees to go with Lloyd, leading the trenchcoat-wearing rebel to pick her up at her house on the night of the event. As Lloyd speaks with Diane's intimidating father (John Mahoney), Diane emerges in a stunning, classic white dress.
Featuring the costume designs of Jane Ruhm, this scene is a perfect Cinderella-inspired moment. Not only is it adorable to see John Cusack's reactions as Lloyd, but it's equally rewarding to see a typically mousey character like Diane look so radiant and confident. Plus, with the 1940s aesthetic of Diane's dress and hairstyle, the already stunning Ione Skye looks even more glorious. Ultimately, this scene works simply because every element (from the actors to the costumes) comes together to create something truly magical.
The finale dance from Footloose
When it comes to movies that evoke all the fun, the original 1984 "Footloose" definitely ranks at the top. Sure, the flick has its dramatic moments when it comes to its dance and dialogue. But when audiences arrive at the film's grand, sparkly finale, this movie becomes quite the cinematic party. The fun theme fits the emotional vibes of this electric sequence, as well as the wild prom outfits featured throughout it. 
Designed by Gloria Gresham, the beautiful dresses and wacky tuxedos perfectly match the happy outcome for "Footloose's" entire cast of rebellious dancing teenagers. From the maroon jacket worn by Kevin Bacon's Ren to the plethora of pastel-colored prom dresses, every garment evokes how joyful the characters are for getting the freedom to dance the night away. And with the added magic of Mary Swanson's balloon-filled set design and Ric Waite's cinematography, it becomes clear why this fashionable sequence has been recreated multiple times over. 
The mall montage from Valley Girl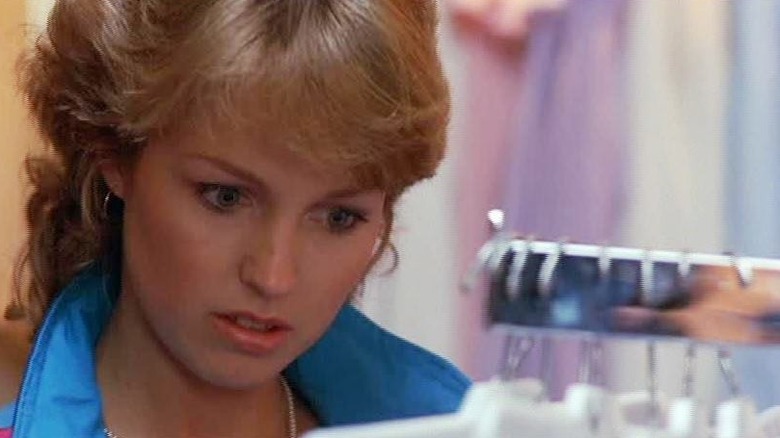 MGM
One of the staples of the 1980s was the ever-changing mall culture. From local spots to giant shrines to consumerism, these shopping meccas were popping up everywhere in America. And it was only a matter of time before they became a central location in the plots of various teen movies. Enter the underrated 1983 California classic "Valley Girl," whose opening montage features iconic mall imagery and is quite a time capsule of the decade's trends in teen fashion. 
From pastel clothing racks full of gems to a plethora of plastic bangles, this sequence has just about everything any '80s fashion fan could dream of. But the best elements of the opening scene are the outfits worn by the film's main tribe of valley girls. Featuring the wardrobe consulting talents of Sean Frye and Barbara Smith, each of the characters (including lead heroine, Julie aka Deborah Foreman) are dressed to neon perfection and have ensembles that exactly represent each of their quirky, radical personalities. 
Allison's makeover from The Breakfast Club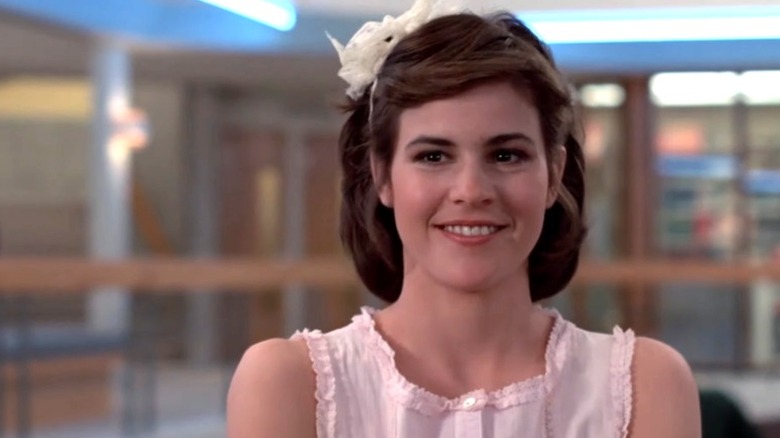 Universal Pictures
Teen movies of any decade sure love their transformation moments. But when it comes to the ones from the '80s, none of them were quite as interesting as this scene from John Hughes' "The Breakfast Club." In the movie, Molly Ringwald's Claire looks Allison (Ally Sheedy) up and down, inviting "The Basket Case" to come with her to a different part of the library. From then on, Claire begins to wave her "magic wand" (by way of drugstore products) to transform Allison from an all-black wearing introvert into a natural girly-girl. 
Starting with the close-ups of Allison's eyes and Andrew (Emilio Estevez) glancing up at her face, everything about this scene feels adorably awkward yet natural. And while some would argue that Allison's transformation is a tad problematic, props should still be given to the talented folks behind the scenes that made it possible. Without costume designer Marilyn Vance and the entire make-up department (including artists Robyn Goldman, Ron Walters, and hairstylist Linle White), pop culture wouldn't have one of the most impactful makeover scenes of all time. 
Keith, Watts, and Amanda get ready in Some Kind of Wonderful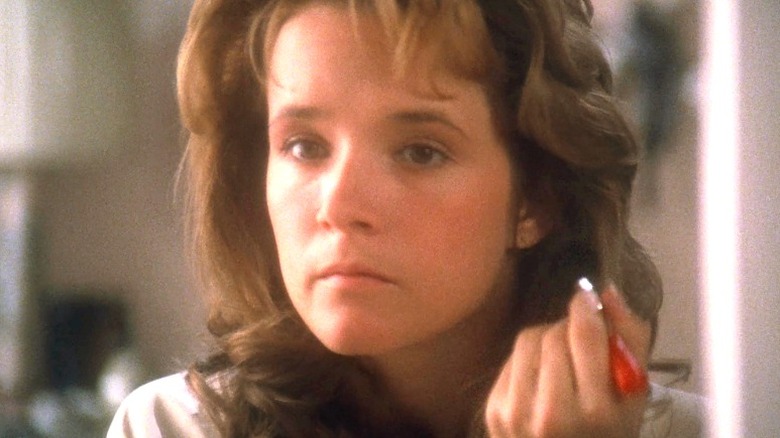 Paramount Pictures
While many John Hughes movies contain some fantastic montages, one of the best occurs within the Howard Deutch-directed "Some Kind of Wonderful." Near the film's third act, protagonists Keith (Eric Stoltz), Watts (Mary Stuart Masterson), and Amanda (Lea Thompson) are simultaneously getting ready for the epic plans the film has been leading up to — in which Watts will chauffeur her best friend and his date. And with the iconic Rolling Stones song (which shares the same full name as the film's popular girl) "Amanda Jones" playing in the background, we get to see the characters transform into (what they believe to be) the best versions of themselves.
With costume designs by Marilyn Vance, this sequence does a great job of visually explaining each of the characters without a single piece of dialogue. From Watts' insecurities about her looks to Amanda's attempts at being confident, these segments speak volumes about the internal struggles that the ensemble is going through. And with the brilliant editing styles of Bud S. Smith and M.Scott Smith, all of cinematographer Jan Kiesser's wonderfully composed shots are blended into one fascinating and fashionable scene that summarizes the vibes of the movie perfectly.
The opening montage from Heathers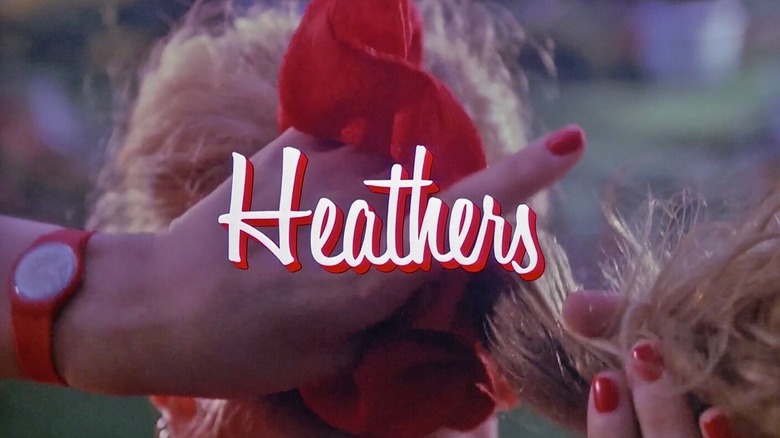 New World Pictures
Though most of the films on this list have a sweetness to them, "Heathers" thrives more on its cynical nature. This is evidenced through Daniel Waters' screenplay and in the incredible costumes created by Rudy Dillon. No scene blends Waters and Dillon's talents together like the film's memorable title sequence. Set to the unnerving melodies of Syd Straw's "Que Sera, Sera," the scene features a lot of visual delights, including some iconic staples of '80s fashion.
From the terrifying use of scrunchies to the striking color blocking of the Heathers' blazers, this scene establishes the visual dynamics between accidental popular girl Veronica Sawyer (Winona Ryder) and the film's titular trio. But it is how cinematographer Francis Kenny captures the twisted preppy aesthetic of the characters' clothes that makes this opening montage a fascinating piece of '80s history. The Heathers (and Veronica's) garments express their personalities in fabulous yet exaggerated ways, which gives audiences a glimmer of the highly stylized piece of filmmaking they're about to explore.
Andie making her prom dress in Pretty in Pink
It would be a crime not to discuss a sequence that defined the '80s teen experience. That being, of course, the moment in which "Pretty in Pink" heroine Andie (Molly Ringwald) makes her prom dress. And whether you're in the camp that thinks the end result is a dream or a nightmare, there's no denying that this Marilyn Vance-designed frock has impacted pop culture. Because both the dress and the sequence evoke everything magical about teen movies.
With infectious '80s synth beats throughout, the montage mainly focuses on viewers witnessing Andie's creativity as an aspiring designer. From sketch to construction, it's supremely cool to see a character fuel their anger into energy toward something they love. The inclusion of the male characters also getting ready for the big night also makes the sequence interesting. As much effort as Andie puts into her look, the scene showcases Duckie (Jon Cryer) and Blane's (Andrew McCarthy) almost dreadful feelings about attending the event. By the time Andie steps out in her pink gown, it becomes clear that while this scene has its melancholy moments, it ultimately stands as a symbol for anyone who wants to remind the bullies that "They didn't break me!"