The 14 Greatest '80s Romantic Comedies Ranked
The Samuel Goldwyn Company
Rom-coms have been popular since the '30s and '40s, when classics like "It Happened One Night," "His Girl Friday," "The Philadelphia Story," "Bringing Up Baby," and "Some Like It Hot" courted moviegoers. It wasn't uncommon for these uproarious films to receive rave reviews from both critics and viewers, and they continued to permeate as Hollywood moved into the '50s and beyond.
'80s rom-coms continued this beloved tradition, infusing classical filmmaking techniques with the innovations of blockbuster movies, pioneered by the likes of "Jaws" and "Star Wars." Accordingly, rom-coms of the era borrowed from many different genres, including fantasy, satire, and science fiction. The rise of John Hughes meant that high school movies were more popular than ever, and adolescent viewers were excited to see themselves represented on screen.
In fact, there were so many '80s rom-coms that are now considered classics that narrowing them down was no easy task, and some great titles didn't make the cut. Here are the best romantic comedies of the '80s, ranked.
14. Valley Girl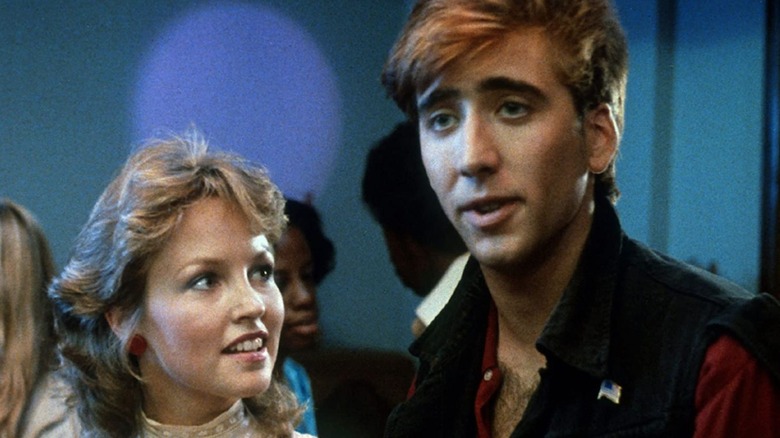 Atlantic Releasing
Nicolas Cage has delivered so many wild performances that it's easy to forget that an entire generation knew him as a teen heartthrob. Cage made his start in more serious roles thanks to his uncle Francis Ford Coppola, but his breakout role came in the 1983 teen romantic comedy "Valley Girl." Cage stars as the Los Angeles punk Randy, who meets the titular valley girl Julie Richman (Deborah Foreman) when they both attend a wild party. Despite the fact that they're from complete opposite social circles, Randy and Julie fall for each other.
"Valley Girl" is a fun spin on the "Romeo and Juliet" premise that combines party movie raunchiness with genuinely clever social satire — Julie feels pressure from her wealthy friends to stay away from the punk crowd, even though Randy is much more sensitive than his tough outward persona suggests. Cage does one of his signature goofy accents, but he's genuinely charming and treats the familiar story beats seriously. It's fun to see the extremes that Randy and Julies' adventures reach over the course of a single night.
13. Splash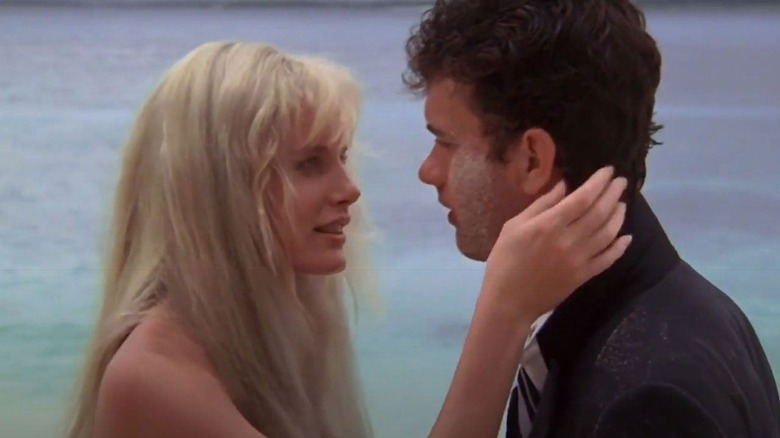 Buena Vista Pictures/ Touchstone
"Splash" is a literal fish-out-of-water story. A mysterious mermaid (Daryl Hannah) makes her way to the shores of Cape Cod and takes human form. Allen Bauer (Tom Hanks) has been fascinated with the creatures beneath the ocean since he encountered a mermaid as a child, and 20 years later he's shocked to find her standing in front of him. Allen explains the unbelievable reunion to his brother Freddie (John Candy), who helps him operate a successful food packing business. Allen and Freddie help the mermaid, who takes the name "Madison" after seeing a Madison Avenue sign, elude the pursuits of a cruel scientist (Eugene Levy).
Hanks is an actor who commits to the wildest of scenarios, and he's perfectly cast as a man who's still caught up in his childhood crush. Hannah finds a naive sensitivity in the mermaid, and watching her adjust to modern New York City is hilarious. Candy's amusing side performance makes the film even funnier, but he doesn't detract from the touching love story at the center.
12. Romancing the Stone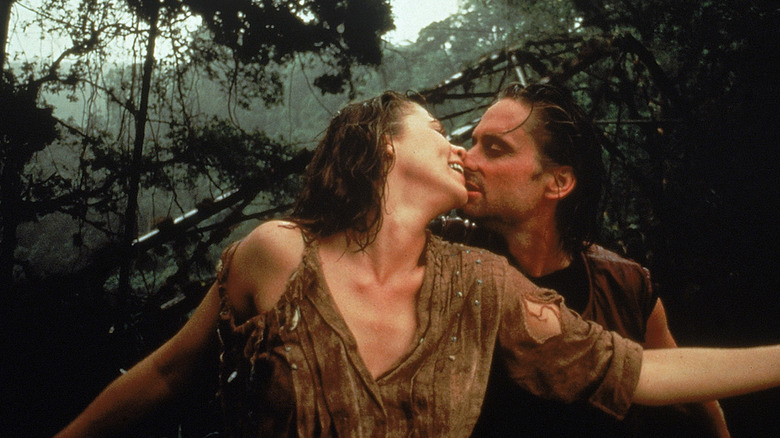 20th Century Fox
Robert Zemeckis is one of the quintessential innovators of cutting-edge visual effects and thrilling action set pieces, and skills he used while making this heartwarming romantic adventure. "Romancing the Stone" follows a love story between the romance novelist Joan Wilder (Kathleen Turner) and the eccentric adventurer Jack Colton (Michael Douglas). After receiving a mysterious letter, Joan ventures to the jungles of Columbia with only a map left by her brother-in-law to guide her. Jack saves her life, and she pays him to stay on as her protector.
Joan and Jack work together finding clues, and their wildly different personalities clash immediately, leading to plenty of humor. Although she's a beloved writer, Joan has little experience outside of her sheltered daily life, and it's amusing to see her draw connections between her stories and her actual experiences. Douglas is charismatic, but he's not quite the experienced traveler that he claims to be, and often gets them in danger, not out of it.
11. Sixteen Candles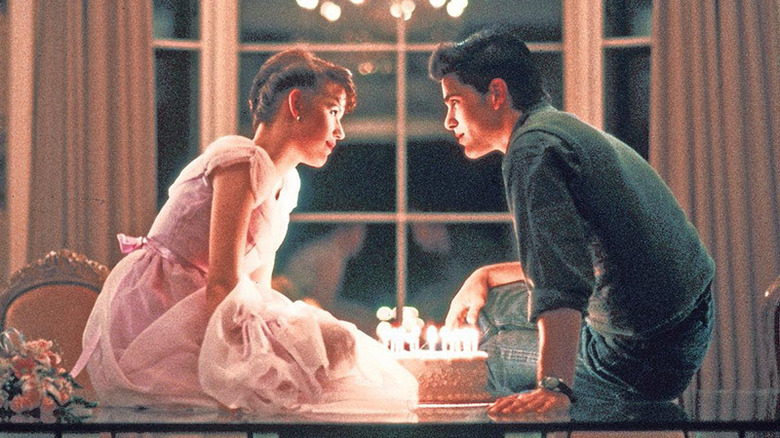 Universal Pictures
After penning several projects for National Lampoon, including "Vacation," John Hughes made his directorial debut with "Sixteen Candles." The first of his teen films explores the realities of high school with the authenticity that would make him the voice of a generation. The raunchy "Sixteen Candles" follows the painfully embarrassing misadventures of Samantha Baker (Molly Ringwald) during the worst birthday of her life. It seems as if everyone around her, including her family, has forgotten all about it.
Samantha is hopelessly in love with jock Jake Ryan (Michael Schoeffling), but she's forced to deal with increasingly chaotic events that prevent her from expressing her feelings. Her sister Ginny (Blanche Baker) is about to get married, causing stress in her household, and the obnoxious freshman Ted (Anthony Michael Hall) insistently flirts with her. It's fun to see both Ringwald and Hall develop early versions of characters they'd flesh out in depth a year later in "The Breakfast Club."
10. Something Wild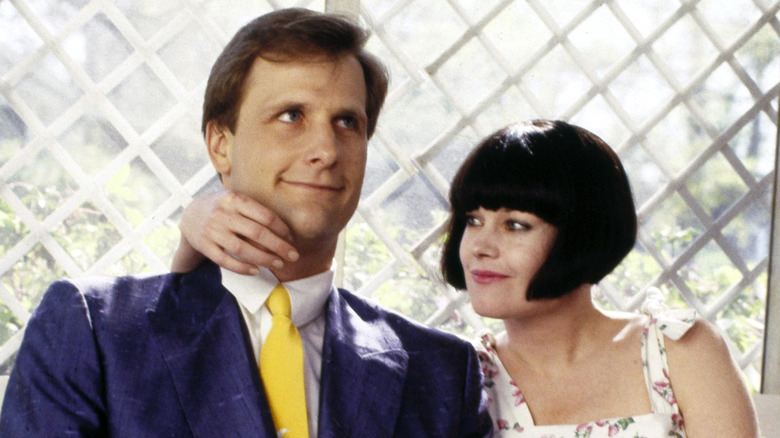 Orion Pictures
Director Jonathan Demme is renowned for his humanistic approach to storytelling, and "Something Wild" pits two troubled characters against each other on an unpredictable road trip adventure. The Wall Street player Charles Driggs (Jeff Daniels) is kidnapped by the unpredictable drifter Audrey Hankel (Melanie Griffith) after she catches him not paying for a meal. The two are forced to fake a relationship in order to avoid the pursuits of law enforcement as well as Audrey's dangerous ex-con husband, Ray Sinclair (Ray Liotta).
This screwball comedy goes to absurd places, but the characters develop naturally. Diggs isn't openly egocentric, but he's definitely selfish, and his worldview only expands after he learns the pressure that Audrey is under. Audrey is at her lowest point, and Charles is the last person she thought she'd ever open up to. While there are conventionally funny sequences, including an uncomfortable high school reunion where the two awkwardly dance, "Something Wild" has a chaotic, violent edge that makes it unique.
9. Dirty Dancing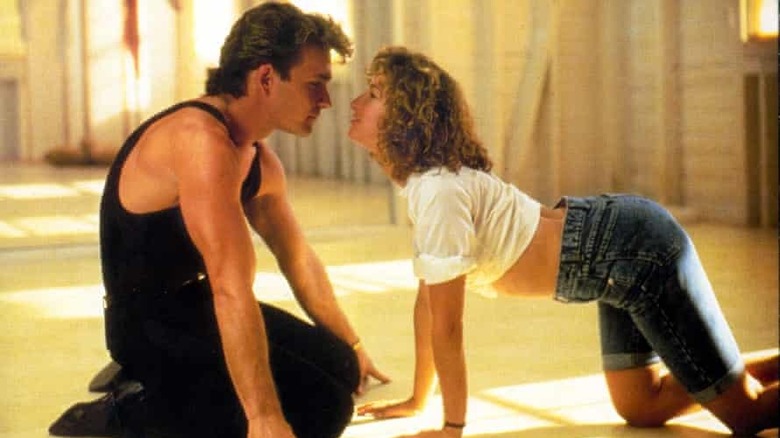 Vestron Pictures
The iconic soundtrack and musical numbers of "Dirty Dancing" are such fixtures in popular culture that it's almost hard to appreciate them in retrospect. Although it's been parodied and referenced countless times in the years since, the climactic dance number set to "(I've Had) The Time of My Life" is a brilliantly choreographed sequence that concludes a heartwarming film on a thrilling note. "Dirty Dancing" is undeniably corny, but that isn't a bad thing.
Baby Housemen (Jennifer Grey) is spending a summer vacation with her parents when she meets dance instructor Johnny Castle (Patrick Swayze). Attracted to both his dancing skills and his defiant personality, Baby dedicates herself to learning from Johnny. Swayze was an unforgettable movie star who passed away far too soon, and "Dirty Dancing" is one of his definitive roles. Swayze is effortlessly cool, and Grey earnestly matches his charisma by developing Housemen's disenfranchisement with her upbringing.
8. The Princess Bride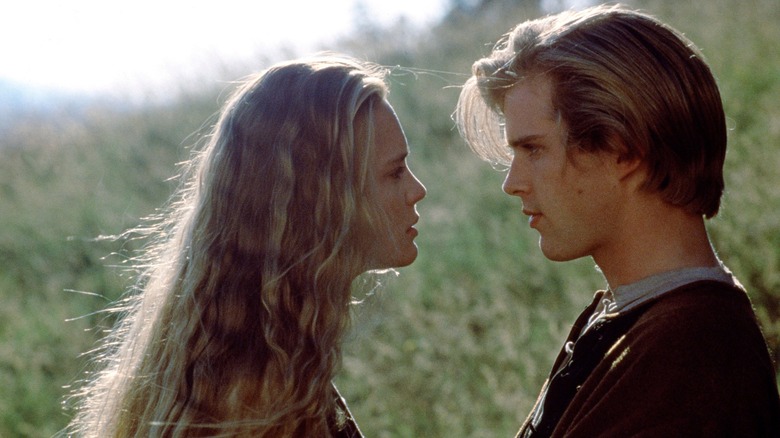 20th Century Fox
"The Princess Bride" is a clever and insightful parody of fairy tales that specifically calls out the unrealistic nature of storybook romances between brave knights and damsels in distress. The film brilliantly frames its narrative as a story that is being read by a quirky older man (Peter Falk) to his skeptical grandson (Fred Savage), and cuts to their commentary throughout.
However, the inventive swordsman Wesley (Cary Elwes) is not a standard noble hero, and his lifelong love Buttercup (Robin Wright) is far from a helpless princess. Their romance is pure, but they're surrounded by unforgettable (and notably less heroic) allies, including the scoundrel Inigo Montoya (Mandy Patinkin) and his cohort Fezzik (Andre the Giant). The wicked Prince Humperdinck (Chris Sarandon), who attempts to win over Buttercup, is one of the great antagonists of '80s fantasy films.
"The Princess Bride" is an epic adventure comedy, but the romance is what brings all of the setpieces and gags together. In the final moments, Elwes and Wright ditch the satire and play the emotional moments straight.
7. Coming to America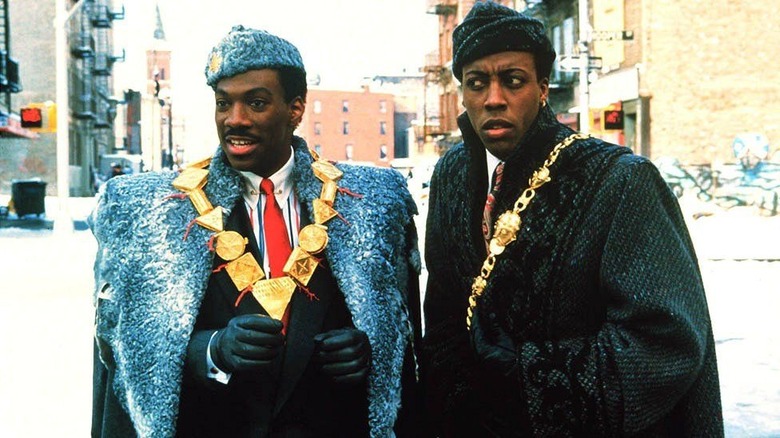 Paramount Pictures
Eddie Murphy was at the height of his powers in the '80s, having capped off his breakout "Saturday Night Live" run with a series of hits that included "48 Hrs.," "Trading Places," and "Beverly Hills Cop." Murphy has the unmatched ability to create exaggerated personas that he's able to develop into fully realized characters. With "Coming to America," Murphy showed that he could also be a compelling and believable romantic lead without sacrificing any zaniness.
The film follows Murphy, who plays the idealistic Prince Akeem Joffer of the fictional African nation of Zamunda, who is set up in an arranged marriage by his proud father King Jaffe (James Earl Jones). However, Akeem wants love that is authentic, and travels to the United States in search of an American woman who won't know about his royal heritage. The pampered politician finds a romantic partner in Lisa McDowell (Shari Headley), a New York woman whose upbringing couldn't be more different from his. Watching Lisa steadily learn Akeem's identity is hilarious, and both Murphy and Headley make the dramatic tension feel heartfelt amidst the film's frequent gags.
6. Big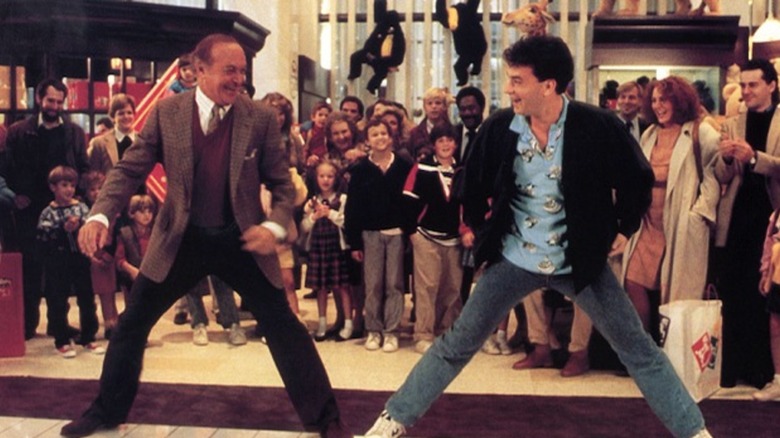 20th Century Fox
The premise of "Big" questions many romantic comedy cliches by showing them through a child's eyes. The film follows the adventures of 12-year-old Josh Baskin (David Moscow), who is granted his wish to become an adult (Tom Hanks) overnight thanks to a magical carnival. Josh learns that adulthood isn't as great as he's imagined, and that love between grown-ups is certainly not as simple as it is for kids.
The adult Josh becomes a "toy tester" at FAO Schwarz, where his quirky energy gains the attention of the executive Susan Lawrence (Elizabeth Perkins). It's hilarious watching Josh work through an actual romantic relationship with only middle school dating in his background; Hanks embodies the spirit of an overgrown child, and received an Academy Award nomination for best actor. "Big" explores many comedic scenarios beyond Josh's doomed relationship with Susan, but the romantic subplot is integral to his acceptance of childhood's many merits.
5. Mystic Pizza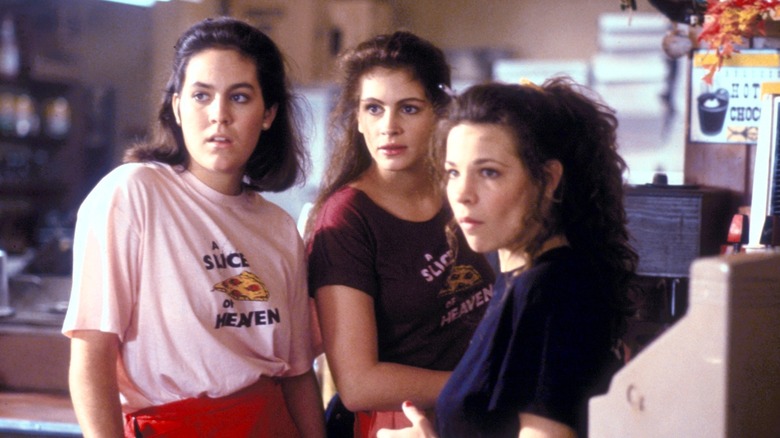 The Samuel Goldwyn Company
"Mystic Pizza" isn't only a great rom-com, but also a terrific coming-of-age story about the challenges that financial constraints have on a small-town community. Although poignant and sentimental, it's not a disrespectful depiction of the working class. Julia Roberts, whose breakout role came in this movie, would go on to become one of the most popular rom-com stars of the '90s. Roberts is inherently charismatic onscreen, and her performance plays up the vulnerability of an adolescent girl who is discovering her identity.
Daisy Araújo (Roberts) and her sister Kat (Annabeth Gish) work in the titular pizza parlor alongside their lifelong best friend, Jojo Barbosa (Lili Taylor). As they attempt to preserve the restaurant's legitimacy, each one of the girls goes through a chaotic romantic encounter. Daisy seeks adventure, but grows uncomfortable in her relationship with Charles (Adam Stroke), whose family is very wealthy. Kat falls in love with her boss Tim Travers (William Moses), but learns that it might as well just be a teenage fantasy. Jojo has an amusing "on and off" relationship with lunky dock worker Bill Montijo (Vincent D'Onofrio).
"Mystic Pizza" doesn't define the women by their relationships, and many of the film's best scenes center entirely around their attempts to please incoming food critics who could boost their business. It's a heartfelt depiction of female friendship that promptly concludes with the girls considering their futures together.
4. Working Girl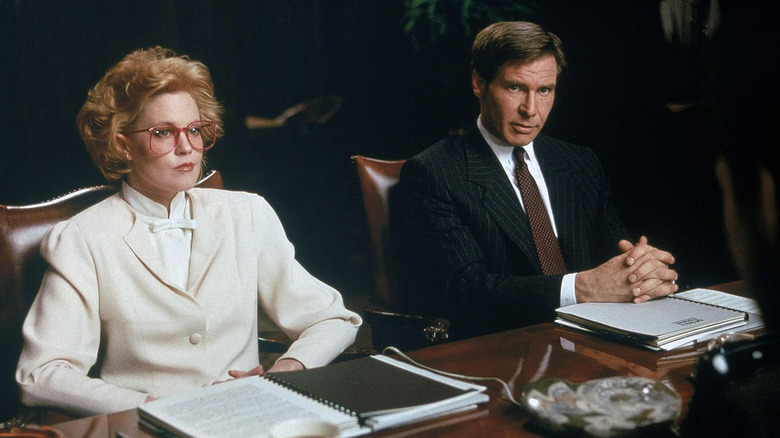 20th Century Fox
"Working Girl" has many of the caper elements you'll find in Golden Age romantic comedies, but deploys them in the corporate landscape that was unique to the '80s. There's an optimism in the film that is inspiring, but "Working Girl" doesn't take the realities of a competitive workplace for granted, especially when it comes to the challenges that women face. Director Mike Nichols explored the complexity of the corporate chain of command and the importance of standing up for innovation in this classic rom-com.
Tess McGill (Melanie Griffith) is a hard-working secretary at a Staten Island stockbroker's office, and she's constantly disrespected by her rude coworkers. Tess is ambitious and takes night classes as she pursues her dream of becoming an executive. After her boss Katharine Parker (Sigourney Weaver) is injured, Tess imagines a brighter future for herself. She's introduced to Jack Trainer (Harrison Ford), an upper-level businessman who could help her pitch to the senior partners. Unfortunately, Katherine steals her idea, and Tess works alongside Jack to get the credit she deserves.
The situation forces Tess and Jack to work together, but they begin to develop feelings for each other as well. It's amusing to watch both business-oriented characters attempt to mask their burgeoning affection for each other, and the situation grows even more complicated when Tess discovers that Jack and Katherine used to be involved. Griffith is compelling as the stressed-out Tess, and Ford has rarely been as charming as he is in "Working Girl." Weaver succeeds at becoming a detestable antagonist.
3. Say Anything...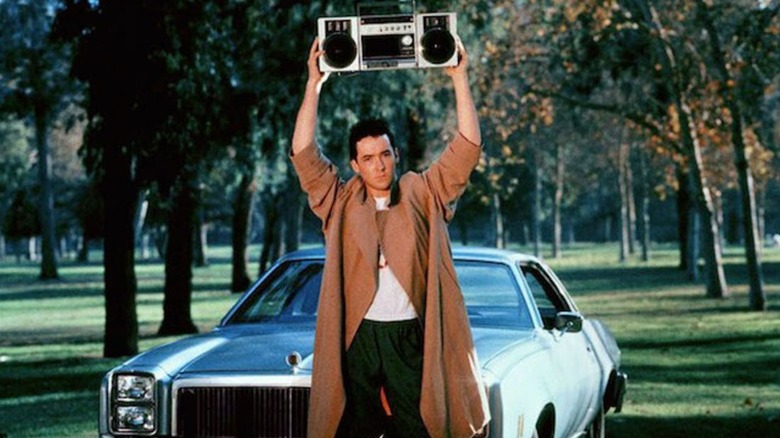 20th Century Fox
Writer-director Cameron Crowe is one of the most singular voices in romantic comedy filmmaking, and would go on to helm many classics in the genre, including, "Singles," "Jerry Maguire," and "Almost Famous." Crowe's directorial debut "Say Anything..." introduced the earnest emotional honesty that he'd become known for, and fit perfectly with the '80s trend of high school rom-coms that had launched in the wake of John Hughes' many successes. "Say Anything..." is an earnest story about teenage love, but it's not raunchy or uncomfortable in the way that many high school movies are.
Lloyd Dobler (John Cusack) is the senior class slacker, but he's not a bad guy. Lloyd has close relationships with many female friends, and his main ambition is to ask out the class valedictorian, Diane Court (Ione Skye). Despite his obsession, Lloyd isn't pushy or insensitive. He innocently believes that simply sitting next to Diane at the mall counts as a first date, but his attempts at a second are blocked by Diane's restrictive father, Jim (John Mahoney). Jim deeply wants to see his daughter succeed after the work she's poured into her education, and doesn't want to see her stoop to Lloyd's level.
But Diane gets to develop her own voice, even as she faces added pressure after a government investigation reveals that her father could face jail time for illicit trading. Skye makes this vulnerability very relatable. The film was a breakout role for Cusack, who brought all of his uniquely naturalistic energy to Lloyd.
2. When Harry Met Sally...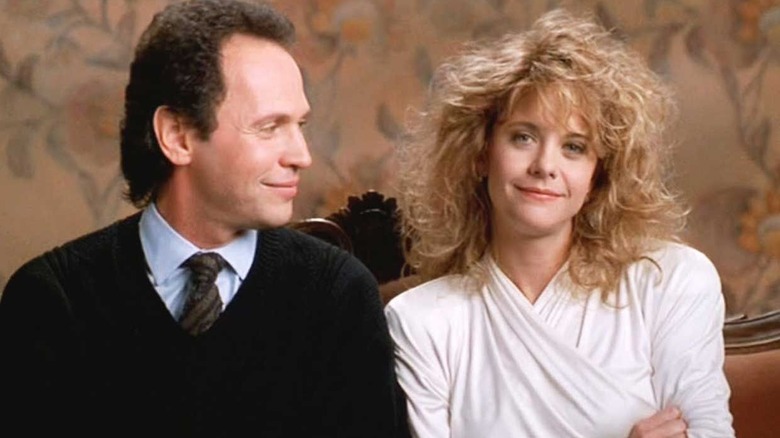 Columbia Pictures
Although many classic rom-coms can still be enjoyed in a modern context, quite a few feel problematic to present-day viewers for not properly considering the perspectives of all characters. As such, "When Harry Met Sally..." is a novelty, as it's equally focused on its male and female characters, and was crafted by a diverse creative team. Directed by Rob Reiner, the film was written by Nora Ephron and features rewrites from co-star Carrie Fisher. Although the situations it depicts are hilarious, "When Harry Met Sally..." is a slice-of-life story that doesn't descend into an absurdity that would tarnish its realism.
Harry Burns (Billy Crystal) and Sally Albright (Meg Ryan) begin the story as idealistic college students eager to start their careers upon graduation. An early conversation teases the film's themes; Harry doesn't believe that men and women can simply be friends, as the pressures of sex will always get in the way. Although the disagreement creates tension, both Harry and Sally realize they're beginning to fall for each other. Their mutual attraction is tracked over the course of 12 years, as they enter and exit each other's lives.
Crystal and Ryan craft a complex relationship; neither character is sure of their feelings, but they care enough about each other to know that they'll always be connected. Reiner inserts interview footage with real couples throughout the film to offer more insights on relationships and gender dynamics, but it never feels as if "When Harry Met Sally..." is making statements unconnected to its central narrative.
1. Broadcast News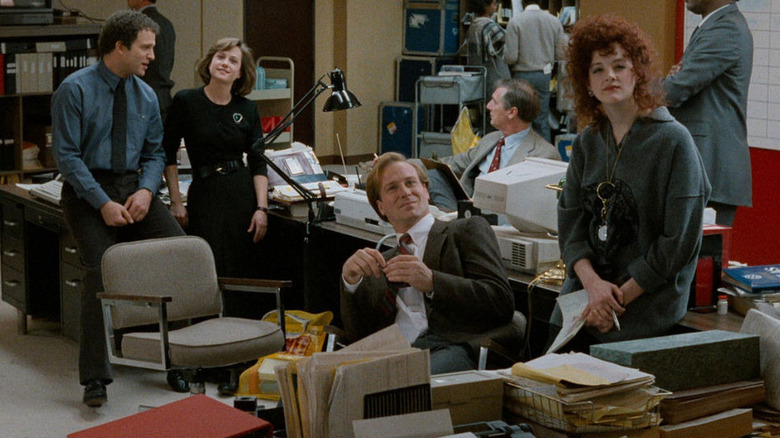 20th Century Fox
An astute exploration of developing friendships, romances, and misgivings over the span of many years, "Broadcast News" is one of the quintessential films of the '80s. Not only is the film uproariously funny at many points, but its specific focus on the lives of journalists who attempt to diligently pursue their professions outside of the influence of public opinion makes it startlingly unique. Many rom-coms explore the struggle of balancing business with pleasure, but "Broadcast News" does so with a timely message about journalistic integrity that's still relevant today.
Jane Craig (Holly Hunter) is a career news producer and workaholic who never landed the big network job that she's obviously ideal for. Jane works tirelessly alongside her loyal co-producer Aaron Allston (Albert Brooks); Aaron admits to Jane that he wants to have her onscreen charisma, but hides his secret lust for her in order to maintain his professionalism. Their lives are changed when Jane is offered an opportunity to work alongside career anchorman Tom Grunick (William Hurt). Tom is confident, but doesn't do his own writing, and seeks Jane's help in developing his voice. He also falls for her as they begin working closer together.
All three performances are equally compelling and relatable, and Hunter, Brooks, and Hurt capture their characters' passion for both each other and the careers they've dedicated their lives to. Even when Tom makes mistakes, he's not characterized as malicious, and there's a respect between all three that is admirable. Jane's ethical standards are inspiring.