Viggo Mortensen Was Up For A Big Role In Sixteen Candles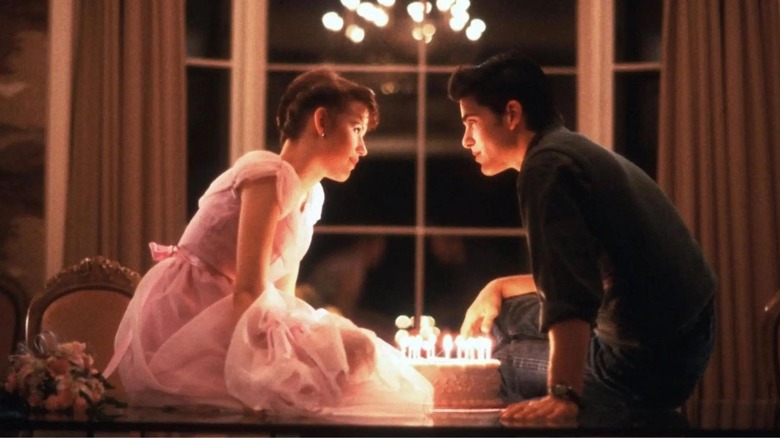 Universal Pictures
John Hughes' directorial debut "Sixteen Candles" is one of the most popular romantic comedies of the 1980s. It tells the story of Sam (Molly Ringwald), a young teenager whose 16th birthday is overshadowed by her older sister's wedding, causing her parents to forget about her special day. The only thing keeping her going is her unrequited high school crush. Sam secretly pines for Jake Ryan (Michael Schoeffling), her senior in school and a certified dreamboat, while simultaneously navigating the affections of Ted (Anthony Michael Hall), AKA "The Geek," and seemingly the only boy interested in her.
Ringwald, Hall, and Schoeffling were perfectly cast for their respective roles. As Samantha, Molly Ringwald's performance illustrated teenage confusion, frustration, and the dread of being an adolescent with incredible ease. Hall displayed a nerd who didn't need to hide behind big black glasses, and Schoeffling was the quintessential heartthrob — handsome, and yet, not unfeeling towards Sam. It's hard to imagine that there was a possibility that Schoeffling never played Jake — and you'd be surprised to hear about the other actor who was up against him for the role.
This actor did not pass ... the audition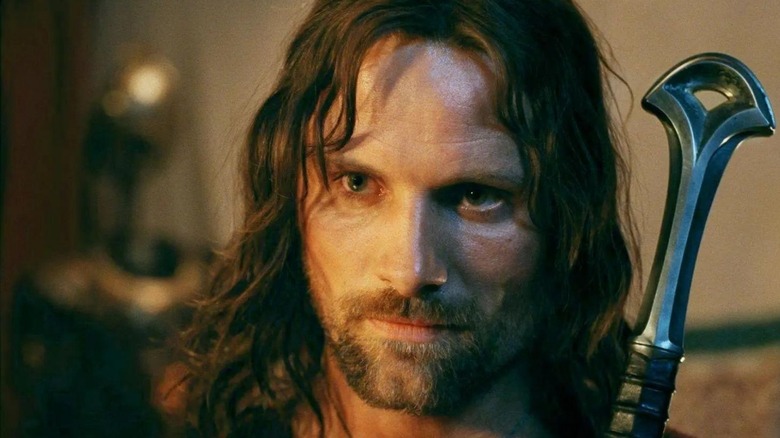 New Line Cinema
Viggo Mortensen — who captured international audiences with his role as Aragorn in Peter Jackson's "Lord of the Rings" trilogy nearly played Jake in "Sixteen Candles."
When the casting process on the film began, Molly Ringwald was brought in to play Samantha at the behest of John Hughes, who wrote Sam's character based on her. For the role of Jake, both Viggo Mortensen and Michael Schoeffling were in the running. Two decades after "Sixteen Candles" was released, Ringwald revealed who she hoped would act alongside her in a 2011 interview with Access Hollywood:
"I really wanted [Viggo Mortensen]. He made me weak in the knees. He really did."
The actress later disclosed that she auditioned with Viggo Mortensen and Michael Schoeffling both — but only one actor kissed her during the audition (via Yahoo! Movies), leaving her smitten. She added:
"I was 15 years old, and I flew to New York to read with everyone. It got to the (final) Jake Ryan shot, and we had the kissing scene. And Michael Schoeffling did not kiss me during the audition — Viggo Mortensen did."
However, the film's casting director, Jackie Burch, didn't think Mortensen was the right the guy for the role. She recalled:
"I did meet Viggo Mortensen. He came in and read for Jake and I remember saying to him, 'I hear an accent.' He was so quiet. He didn't want me to hear his accent. I just didn't think he was right. I thought he was really interesting, but I didn't think right."
Looking back, the significant age difference between Ringwald and Schoeffling explains why he didn't kiss her during their audition — she was 15, and he was 23. It's creepy enough that their roles in the film demanded it.
The coming-of-age movie transformed the careers of Molly Ringwald, Michael Schoeffling, and Anthony Michael Hall, turning them into stars. Unfortunately, the film hasn't aged well in the years since — it is a bit raunchy and mature compared to the other teen comedies that defined the '80s. Perhas more concerning is that "Sixteen Candles" also features damaging references to date rape and a vicious caricature of Asian stereotypes. Thankfully, most of the film's laughter stems from jokes made by family members and the increasingly embarrassing situations Sam is subjected to, which will conjure a sense of empathy in any viewer's heart. In the end, it is a film about the inconsistencies of family, and the pains of being a teenager. If you're wondering if it's still relevant — allow me to tell you that "Sixteen Candles" is getting a modern-day remix as a half-hour series for Peacock, so there you g.