Here's When You Can Watch The Northman At Home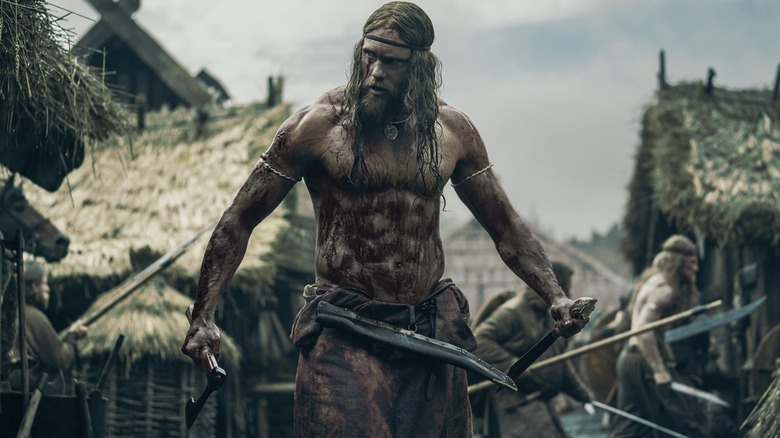 Focus Features
Repeat after me one last time for posterity, everyone! I will avenge you, Father. I will save you, Mother. I will kill you, Fjölnir.
Director Robert Eggers' latest film, "The Northman," eschewed the mostly one location-set dramas he previously released, 2015's "The Witch" and 2019's "The Lighthouse," to establish itself as a significant step up for the horror filmmaker and far more epic in scope ... with a budget to match, unfortunately, as evidenced by the film's fading prospects of making a profit at the box office. That's probably why the film quickly burned out after its wide release in late April, rapidly losing theater screens and now getting rushed into its home media release. (Although it bears noting that truncated theatrical windows are now a reality for the vast majority of films released in this ongoing pandemic era of moviemaking). It's a shame, really, given just how entertaining and well-crafted the film is ... even if Eggers himself made it sound like the production was an awful one for him. He's since walked those comments back, to his credit.
But luckily for viewers at home, there's now a firm release date for when to expect "The Northman" to be made available to watch without having to step outside. If you missed this in theaters or simply want to revisit the Shakespearean adaptation of the classic tragedy that actually predated our modern historical retellings and drink in all its rich influences, you'll get your chance to do so this upcoming Friday. Only 3 weeks after its theatrical release, "The Northman" will be made available on digital and VOD on May 13, 2022.
The Northman comes to Digital and VOD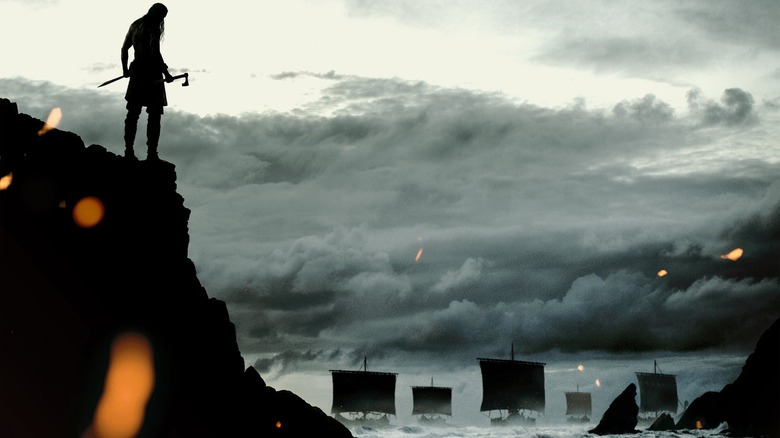 Focus Features
The official "The Northman" Twitter account announced the news recently, trumpeting the film as still playing in theaters (though you'll likely have to hunt a bit to find some screenings at this point, if you want to catch it on the big screen — as you should, if you can!) ahead of its release on demand.
#TheNorthman is in theaters now and on demand THIS FRIDAY.

Set a reminder now: https://t.co/3A3AwxwxWC pic.twitter.com/ta8e0WF8Ss

— The Northman (@TheNorthmanFilm) May 9, 2022
The tweet includes a link to the official website for the film, where viewers will be able to choose from several digital providers in order to watch the Viking revenge film for themselves. "The Northman" stars Alexander Skarsgård as the main character Amleth, driven on a hopeless mission of vengeance after his uncle Fjölnir (Claes Bang) murders Amleth's father King Aurvandil (Ethan Hawke) and takes the Queen Gudrún (Nicole Kidman) as his own. The cast also includes Anya Taylor-Joy as Olga, Willem Dafoe as Heimir the Fool, Björk as the mysterious Seeress who guides Amleth on his quest, and more. The historical epic features plenty of intense fighting, a dash of the supernatural, and no shortage of Eggers' usual grasp of atmosphere and stunning visuals to craft a movie that will likely rank among the best of the year when all is said and done.
From visionary director Robert Eggers comes The Northman, an action-filled epic that follows a young Viking prince on his quest to avenge his father's murder. With an all-star cast that includes Alexander Skarsgård, Nicole Kidman, Claes Bang, Anya Taylor-Joy, Ethan Hawke, Björk, and Willem Dafoe.