Daniel Day-Lewis Made This Important Pledge To Himself After His Early Film Career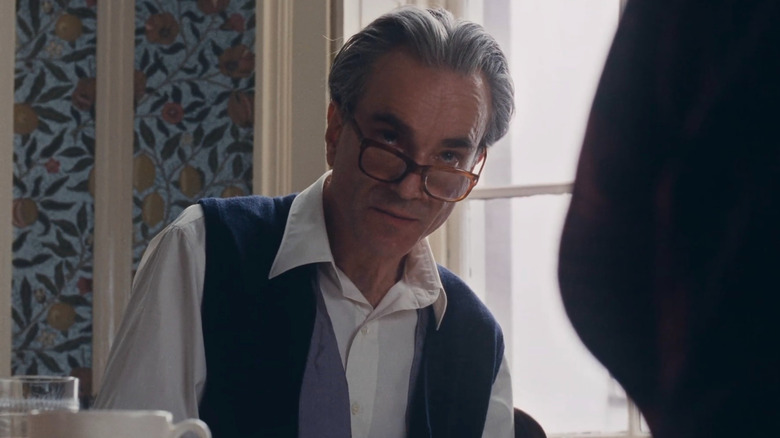 Focus Features
In the two decades from 2002 to 2022, Daniel Day-Lewis has only appeared in half a dozen films, beginning with "Gangs of New York" and ending with "Phantom Thread," which was preceded by the announcement of his retirement in 2017. Day-Lewis had already gone into semi-retirement once after starring in "The Boxer" in 1997. He was famously off the grid, working as a shoemaker in Italy, when director Martin Scorsese approached him to play Bill "The Butcher" Cutting in "Gangs of New York."
Scorsese and Day-Lewis had worked together on "The Age of Innocence," and Day-Lewis would go the method route with his performance as Bill to the point of making himself sick. Since then, only a select few filmmakers have been able to lure the three-time Academy Award winner (and six-time nominee) back in front of the camera. Two of his Oscars for Best Actor subsequently came for Paul Thomas Anderson's "There Will Be Blood" in 2007 and Steven Spielberg's "Lincoln" in 2012.
Accolades like those helped each Day-Lewis film appearance come to feel like an event, but it does raise the question of why his movie roles have been so few and far between in the 21st century compared to his earlier, more prolific filmography in the 1980s and 1990s. While promoting his 2009 musical "Nine," directed by Rob Marshall, Day-Lewis told The Guardian:
"I'm not picky, quite honestly. It's simply that I recognize pretty quickly the stuff that I don't like. And I also recognize the impulse that is dragging me towards a piece of work. And perhaps as you get older, that impulse comes less often."
'I made a personal pledge'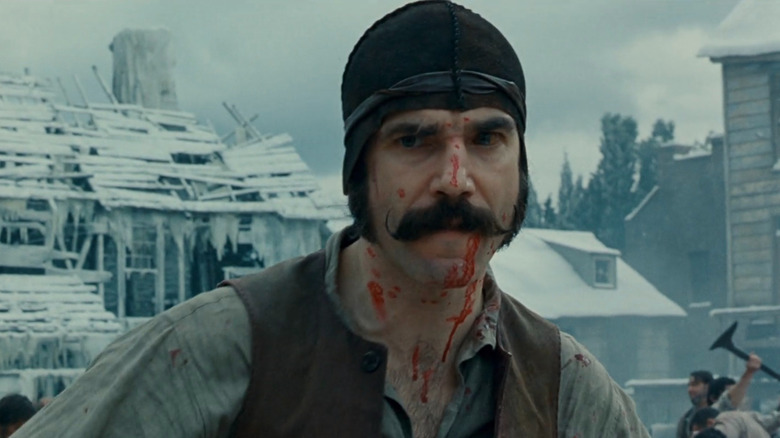 Miramax
Daniel Day-Lewis talked about identifying the impulse that would attract him to a piece of work, and maybe part of the reason why he has given such powerhouse performances is each one represents a highly concentrated dose of that creative energy. In other words, working less kept him from diluting his creative spirit. This seems to jibe with his view of creative pursuits that have grown habitually rather than from inspiration. In his comments to The Guardian, Day-Lewis continued:
"In all fields of creativity you see the result of work that has become habit. Where the creative impulse has become flaccid or has died out altogether, and yet because it is our work and our life we continue to do it. But I made a personal pledge that I wouldn't work unless I needed to. [...] That's a tremendous privilege. But I've always thought that if [it] was a question of paying bills, simple as that, then I would much rather do any work than this."
This pledge not to work unless he needed to was, as Day-Lewis himself acknowledged, a privilege born of his success. Turning down major opportunities like a starring role in "The Lord of the Rings" is not a decision a struggling actor or any creative person starting out in their respective field could probably afford to make.
For comparison's sake, if you go back to his first credited theatrical role in "Gandhi," Day-Lewis appeared in a total of 14 films over the 15-year period from 1982 to 1997, versus the six movies he made from 2002 to 2017. He was averaging almost one movie per year, which is still less than other actors, but Day-Lewis was also juggling a stage career in England. Part of the appeal for him with acting, he said, was the "intoxicating" sense of "losing [himself] in time," but we can probably rest assured that his performances will not soon be lost to time.