Guardians Of The Galaxy Vol. 3 Wraps Shooting, Teases Unannounced Actor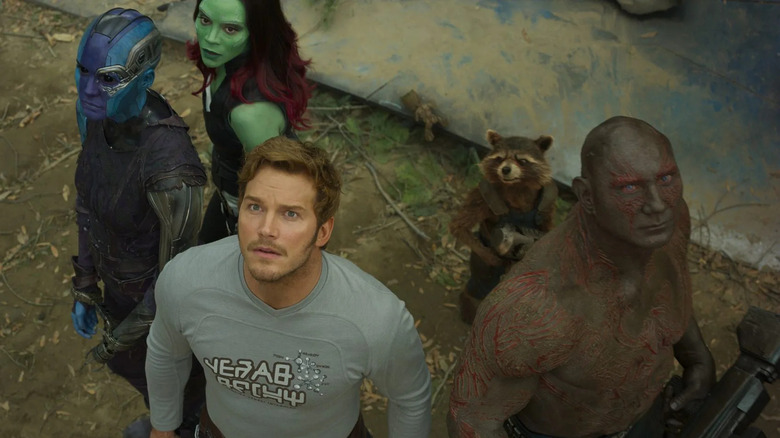 Marvel Studios
After nearly ten years, James Gunn's "Guardians of the Galaxy" is finally coming to a close, as "Guardians of the Galaxy Vol. 3" has officially hit picture wrap. The director took to Twitter to make the announcement, including a cast photo featuring Sean Gunn, Pom Klementieff, James Gunn, Chris Pratt, Karen Gillan, and Dave Bautista all sharing a celebratory drink to mark the end of principal photography. The 32nd film in the Marvel Cinematic Universe, "Guardians of the Galaxy Vol. 3" will conclude the main storyline of Star-Lord, Gamora, Nebula, Drax, Rocket Raccoon, Groot, and Mantis, while the characters will likely pop up in other Marvel projects in the following years.
And that's a picture wrap on the Guardians of the Galaxy trilogy. I love this amazing cast & crew & their beautiful talent & kind souls. I'm a lucky human to have them on the journey with me for nearly a decade. pic.twitter.com/oVQCIfJjuZ

— James Gunn (@JamesGunn) May 7, 2022
Many fans quickly noticed that Zoe Saldana, who plays Gamora in the trilogy, was absent from the commemorative cast photo. Before speculation could get the better of anyone, Gunn quickly cleared the air by confessing that he only has one personal on-set photo of Saldana, but it included her alongside an unannounced actor on the project. Gunn then tweeted out a polaroid of Saldana hugging actor Jennifer Holland, who is known for playing Emilia Harcourt on Gunn's DCEU series "Peacemaker" for HBO Max. 
This led to even more speculation that Holland herself would be joining the team, which Gunn clarified by tweeting, "No no not Jenn. I mean the only picture I have with her and me – this is from the same night." Not that it wasn't already assumed, but this confirms that there's going to be a pretty cool character added to the final film that has yet to be announced. Time to speculate wildly.
Who is the unannounced actor in Vol. 3?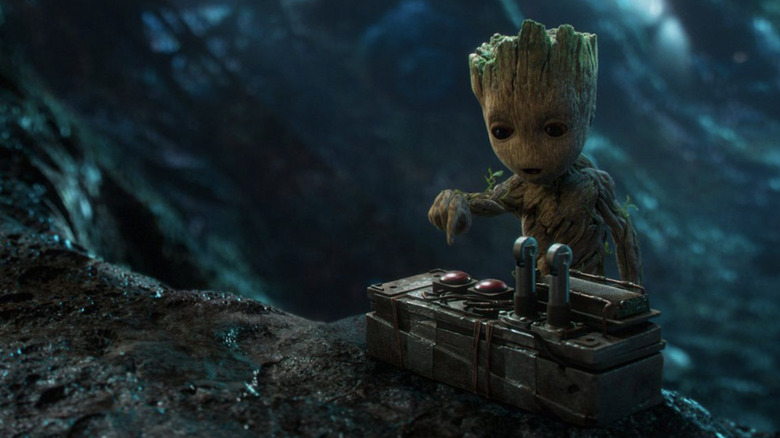 Marvel Studios
A few days ago, Karen Gillan said that "Guardians of the Galaxy Vol. 3" was likely going to be the end of Nebula's story, and many have been speculating that "Vol. 3" will highlight the relationship she has with Saldana's Gamora. If the only photo available of Saldana is with an unannounced actor, it's likely that Saldana spends a lot of time with them in the film. 
If I had to make a guess, perhaps we'll be introduced to one of the many children Thanos "adopted," since that dude collected kids like the Butkis family in the Mary-Kate and Ashley movie "It Takes Two." (Shout out to the four of you who got that joke.) Gunn previously announced that "Vol. 3" had broken the Guinness World Record previously set by "How the Grinch Stole Christmas" for most makeup appliances created for a single production. 
Perhaps this will be because we're going to meet all the siblings?!
Okay, that's admittedly a farfetched prediction, but Nebula and Gamora have already lost so much in their lives and they deserve some joy. Thinking about the two of them getting the chance to reunite with all of their fellow intergalactic orphaned siblings gives me warm fuzzies and it's fun to dream! Realistically, it's probably going to be a character that's either being shown for the first time and will continue on in future Marvel projects, or an existing MCU character showing up into their world for fun cameo crossover goodness. And before anyone gets too excited, Gunn has already confirmed that Michael Rooker will not return as Yondu, as much as we'd love to see him ... but that doesn't mean he isn't playing someone else?! 
Come on, a gal can dream.