The One Scene Moon Knight Never Quite Recovered From
Marvel Studios
The first and possibly last season of "Moon Knight" has come and gone, and as is ever the case with the Marvel Cinematic Universe, conversation is already shifting to the next big thing. In this case, that would be "Doctor Strange and the Multiverse of Madness," the 28th film in the ever-expanding MCU. When "Moon Knight" was at the halfway point, I argued that it, too, should have been a movie rather than a Disney+ series. When you're watching something at home and have the ability to pause it anytime, coupled with natural weekly breaks in-between episodes, it's easier for reality to intervene and snap you out (Thanos pun intended) of the willing suspension of disbelief.
Until "Eternals," Marvel Studios had a sterling track record on Rotten Tomatoes, with all 25 of its movies averaging out to "Fresh" scores across the boards. As Chris Evans once said, "Their internal barometer of what is good and bad is pretty on point." At worst, a "Moon Knight" movie might have turned out like "Eternals." At best, it might have turned out like "Shang-Chi and the Legend of the Ten Rings."
The thread running through all three of these titles beyond their shared-universe ties is that they are more fantasy-based and centered on lesser-known Marvel Comics characters. In the early phases of the MCU, it was more science or tech based, with the first couple of "Thor" movies making it a point to establish that the god of thunder and his ilk were not, in fact, gods, but more like humanoid aliens with long lifespans.
Now, we're well into Phase Four and the MCU has cast off any pretense of being grounded in reality, showing us dragons and other mythical creatures in "Shang-Chi" and giving the earth a new creation myth in "Eternals." Judging from the critics consensus (87%) and the audience score (93%) on the Tomatometer, if nothing else, it would seem "Moon Knight" was still well-received and a success overall. Yet, there is a scene that comes midway through the series that, for me, was something of a jump-the-shark or nuke-the-fridge moment.

From this point forward, there are massive SPOILERS for "Moon Knight." Proceed with caution.
'The opulence of the Overvoid' scene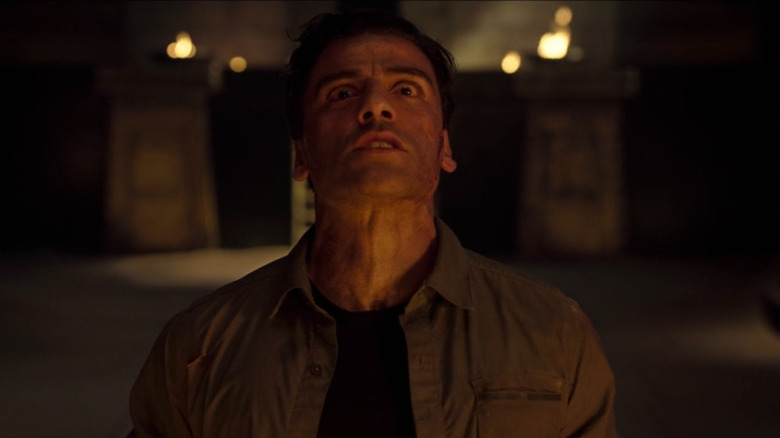 Marvel Studios
Karim El Hakim (and F. Murray Abraham's voice) bring the Egyptian moon god, Khonshu, to life in "Moon Knight." Audiences are told that Khonshu's "theatrics are unparalleled." Ethan Hawke's antagonist, Arthur Harrow, maintains that "Khonshu is unhinged, and his servant, unwell."
Substitute "Marvel" for "Khonshu," and you'll see where I'm going with this.
"This is a safe space for you to tell us if you feel exploited by Khonshu," Steven Grant/Marc Spector (Oscar Isaac) is told inside a pyramid in "Moon Knight" episode 3. Soon, our hero throws up his head, with his eyes and neck veins bulging, and adopts a possessed voice, literally yelling groan-worthy dialogue like, "Return from the opulence of the Overvoid before you lose this realm!"
As a viewer with no frame of reference for what "the opulence of the Overvoid" was, I half-seriously wondered if I had missed something or if the Overvoid was just some upscale disco nightclub we were all supposed to know about, like Studio 54 circa the 1970s.
In the pyramid, we're told that a guy in a suit and tie and other people with glowing eyes are the avatars of Egyptian gods like Horus, Isis, and Osiris. Suit and Tie Guy, credited as "Selim" (Khalid Abdalla), has warned our hero and his avatar, "Manipulate the sky again, and we will imprison you in stone!" If I had a nickel for every time I've heard that ...
I realize I'm in the minority here, and I certainly don't mean to detract from anyone else's enjoyment of "Moon Knight." Go ahead and label this an unpopular opinion, but for me, the show was all downhill from the "opulence of the Overvoid" scene.
I was hoping that scene was just a hiccup, but the show got progressively zanier and messier in its second half, jumping more sharks and other animals, starting with episode 4, which ended on the cliffhanger reveal of ... a talking hippo. Again, while I was in the moment, watching the show without the benefit of an explainer (like an old-fashioned TV viewer?), I had no idea what the significance of this hippo was supposed to be.
The downward slope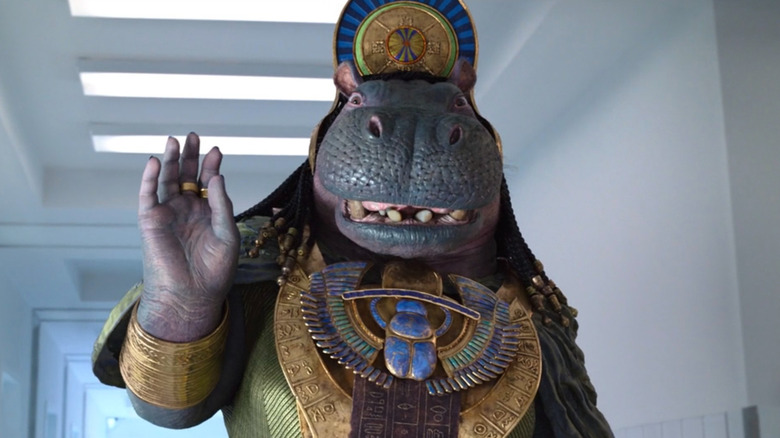 Marvel Studios
True, there's already a talking raccoon named Rocket in the MCU, but seeing the goddess Tawaret throw open the doors and make the Oscar Isaac twins scream made me feel like we'd reached the height of all absurdity with "Moon Knight." Maybe that was the real jump-the-shark scene, since Tawaret made the previous Overvoid dialogue look positively understated by comparison. This show was even more willfully weird than FX's X-Men-adjacent series, "Legion." 
"Moon Knight" is otherwise to be commended for introducing the MCU's first Jewish superhero and first Egyptian superhero. It even sort of commends itself for doing that with the latter hero when it has May Calamaway's character, Layla, aka Scarlet Scarab, proudly identify aloud as "an Egyptian superhero" to a civilian bystander.
Isaac and Calamaway did the best they could with roles that required them both to spasm between different accents and personalities. I just wish their debut hadn't been such a rough ride, born on the wings of a bad CG costume and a bird-skulled god whose own voice and dark passenger and lethal protector M.O. made him seem like a Venom knock-off.
"Moon Knight" suffered from a terminal case of tonal whiplash. It subjected the audience to a show with the same identity crisis as its hero, vacillating wildly between gruesome horror, anthropomorphic creatures straight out of Disney's "Fantasia," and other baffling plot twists. In episode 5, the series seemingly killed off its protagonist, then made us think his superhero adventures were all in his head. In episode 6, it resurrected him, then introduced a talking crocodile and had her engage in kaiju battles over the pyramids of Egypt.
Even as it wrestled with serious subjects like child abuse, "Moon Knight" hit the downward slope narratively, even seeing the hero manipulating the stars in the sky by hand (like Iron Man used to do with lab holograms), and just basically throwing in the kitchen sink on its way to a tacked-on credits scene that will only ever pay off if the show gets a second season (which, again, is not guaranteed). If you liked "Moon Knight," then more power to you — but I wonder if anyone else out there felt it wasn't their cup of tea. Meet you on disco night at the Overvoid?