15 Underrated Thrillers You Really Need To See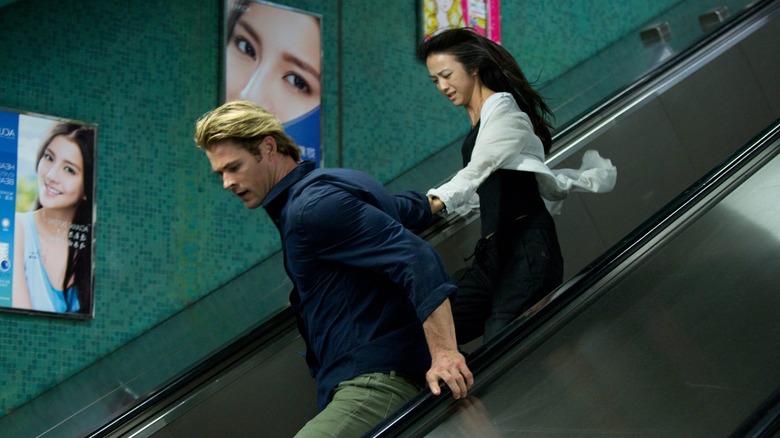 Universal Pictures
What makes a thriller movie? Does it shock the viewer, or leave them feeling uneasy? Do they center mostly on crime stories, or could it be any film that gets an audience excited and their blood pumping? Is a psychological thriller the same thing as an "elevated horror" movie? Or, can a thriller be something that makes us laugh and shake our heads at the same time? The answer to all of those questions is, arguably, yes. The parameters of the genre are vague, and there's seemingly not a strict or singular guideline that filmmakers are required to follow to explore thrillers. 
One of the great things about the theatrical experience is watching an exciting story with a crowd. If you're lucky enough to have an audience that is engaged in the film, it can make the journey even more memorable. There's nothing quite like watching an entire audience hold their breath at the same time. Over the years, there have been plenty of great thrillers that have slipped under the radar. Even if you missed out on seeing them on the big screen, here are 15 underrated thrillers that you should check out. 
Stoker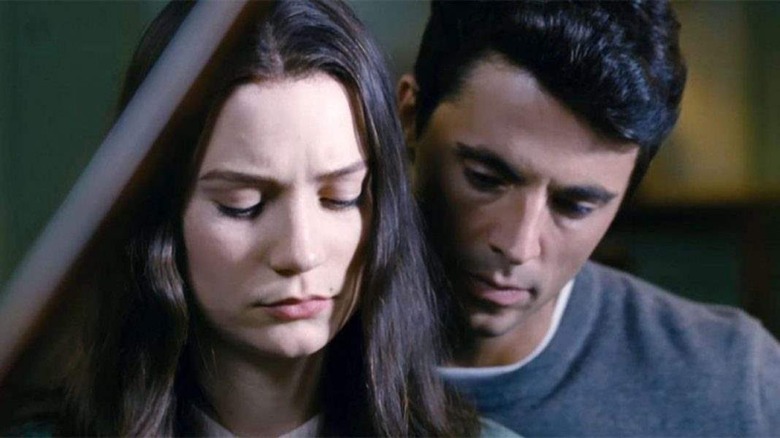 Fox Searchlight Pictures
The legendary South Korean filmmaker Park Chan-wook is renowned for his acclaimed thrillers "Oldboy," "The Handmaiden," "Lady Vengeance," and "Thirst." Park's English-language debut "Stoker" is an unusual mix of prestige and sleaze. While Park creates gorgeous aesthetics, he focuses on the shocking behavior of utterly unlikable characters. By bringing his meticulous style to a pulp thriller, Park made something that was completely unique for American audiences.
On her 18th birthday, India Stoker (Mia Wasikowska) loses her father, Richard (Dermot Mulroney), in a car accident. She is sent to live with her domineering mother, Evelyn (Nicole Kidman). India and Richard had been very close, but Evelyn is completely oblivious of the feelings of her daughter, who is also an outsider in the wealthy community. During the funeral, India is introduced to her father's younger brother, Charlie (Matthew Goode). Charlie claims to have traveled the world, but for some reason, he's particularly obsessed with India. India is suspicious of her uncle, but Charlie sticks around and moves into Evelyn's house. India tries to determine Charlie's real motivations as he seduces her mother.
The performances from the entire cast are excellent. Wasikowska doesn't try to make India inherently likable, even though her character is in a difficult situation. Goode does a great job at making Charlie both charismatic and creepy. Kidman perfectly embodies an affluent, wealthy character, but she does not turn Evelyn into a caricature of the upper class.
Saboteur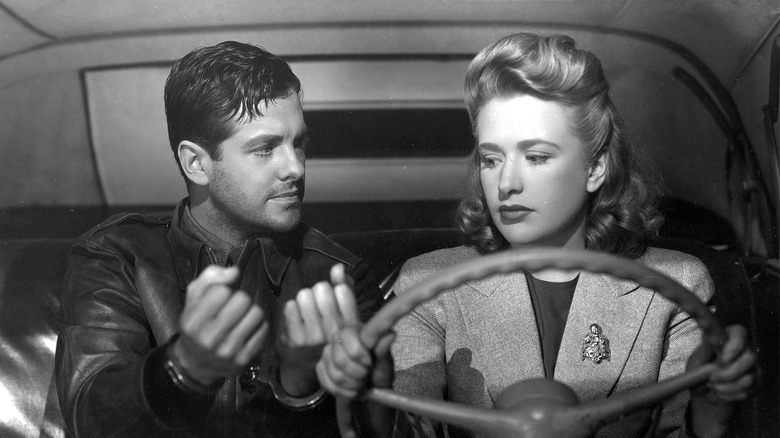 Universal Pictures
Alfred Hitchcock, also known as the Master of Suspense, directed over 50 films including the 1942 spy thriller "Saboteur," one of his most underrated. Aircraft repairman Barry Kane (Robert Cummings) is accused of sabotaging a military plane that was set on fire. Barry works in the production factory Stewart Aircraft Works in Glendale, California, and helps to build planes for the war effort. When Barry is questioned about his knowledge of the crime, he tells the police that the plane was sabotaged by a man named Fry. The cops don't believe him, but Barry is determined to find the real culprit, so he sneaks away on an early morning train.
Barry is automatically a sympathetic character because he is accused of a crime he didn't commit. Although the stakes are very high, "Saboteur" is very fun because of the ensemble cast. Barry meets an eccentric group of allies as he travels across the country and searches for clues. "Saboteur" is very exciting, and has many amazing action sequences, such as the chase scene on top of the Statue of Liberty in one of Hitchcock's greatest set pieces.
Blackhat
Universal Pictures
Michael Mann is a fascinating filmmaker who has a unique way of blending action and suspense to create intensity. Mann has many classics under his belt, but his 2015 cyber-thriller "Blackhat" doesn't get the credit it deserves. Although "Blackhat" received scathing reviews upon its debut, it has stood the test of time as a terrifying examination of a potential global financial meltdown.
The film follows the aftermath of a devastating nuclear plant meltdown in Chai Wan, Hong Kong. Shortly thereafter, the Chicago Trade Exchange is hit by a cyber attack. The Hong Kong People's Liberation Army and the FBI determine that the same hacker is responsible for both crimes. This mysterious terrorist is nearly impossible to track down, so P.L.A. Captain Chen Dawai (Leehom Wang) suggests a risky plan.
Dawai recruits his old college roommate, Nicholas Hathaway (Chris Hemsworth), to find the hacker. Hathaway is a convicted hacker himself, serving time in prison for a series of bank robberies. He reluctantly agrees to the plan, but only if his sentence is commuted. However, Hathaway isn't prepared for just how dangerous this ghostly threat really is. Several other world markets are attacked as Hathaway and Dawai's sister, Chen Lien, (Tang Wei) travel the globe. Although "Blackhat" is very fast-paced, Mann doesn't just focus on action sequences — he explores how unstable the global economy is.
Cop Land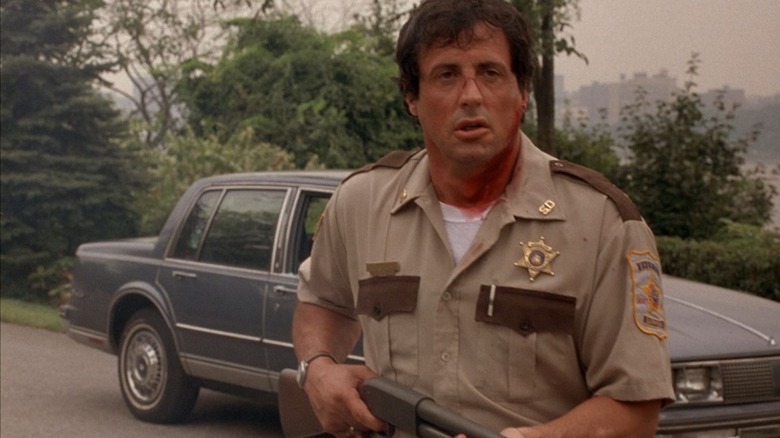 Miramax
Sylvester Stallone is one of the greatest action movie stars of all time, starring in fun, enjoyably ludicrous blockbusters since the 1970s. While he's certainly been successful, Stallone's acting abilities aren't always praised. He's not just a charismatic stunt performer — Stallone can deliver amazing dramatic performances.
In 1997, Stallone gave one of his best performances ever in the underrated crime thriller "Cop Land." Compared to the action films that Stallone is best known for, "Cop Land" is a much more character-driven story. The film focuses on the systematic corruption of the law enforcement infrastructure in a small New Jersey community.
"Cop Land" follows the local Sheriff Freddy Heflin (Stallone), who has dreamed of joining the New York Police Department for his entire life. Although he cares deeply for the community, Freddy is mocked by the veteran cops for his kindly nature. NYPD Lieutenant Ray Donlan (Harvey Keitel) is Freddy's idol, but he's not worthy of any admiration as he leads a group of corrupt cops. When NYPD Infernal Affairs investigator Moe Tilden (Robert De Niro) asks for help taking down Donlan's gang, Freddy must decide where his loyalties lie.
Trance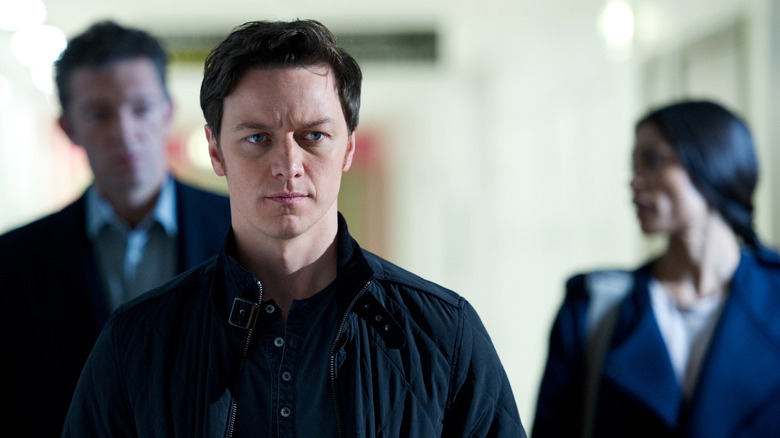 20th Century Fox
The actual heist isn't always the most interesting part of a caper film. Even if there's an exciting robbery sequence, the events both before and after can be just as engaging. Danny Boyle's 2013 crime thriller "Trance" opens with a thrilling moment, when Francisco Goya's 1798 painting "Witches in the Air" is stolen during an auction. Career criminal Franck (Vincent Cassel) and his men brutalize an auctioneer, Simon Newton (James McAvoy), when he tries to fight back.
After the robbery, it is revealed that Simon was actually an inside informer for Franck's gang. Although he was told to hide the painting in his apartment, Simon can't remember anything about the night of the burglary. Franck is infuriated. He decides to send Simon to a hypnotherapist, Dr. Elizabeth Lamb (Rosario Dawson), to regain his memories.
After a few sessions together, Elizabeth begins to suspect that Simon is in danger. He is forced to wear a listening device during therapy so Franck can listen in. After Elizabeth does some research into Simon's criminal history, she realizes he's being set up by Franck. During their time together, Simon and Elizabeth start to fall in love. Meanwhile, Franck becomes suspicious of their relationship, and he tells Simon that he's willing to kill Elizabeth if they can't find the painting in time. Boyle does a great job of slowly unraveling the story as the mystery unfolds.
Official Secrets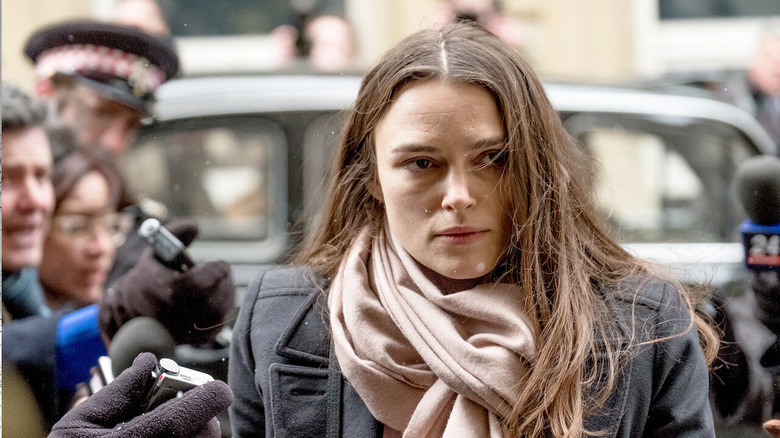 IFC Films
The shocking government conspiracies in the 2019 political thriller "Official Secrets" seem completely implausible. The film focuses on how American and British spies used their influence to promote warfare. If it was fictitious, this unthinkable concept would have strained the film's plausibility. However, "Official Secrets" is based on a true story, inspired by the nonfiction novel "The Spy Who Tried to Stop a War" by Marcia and Thomas Mitchell, which detailed the events leading up to the 2003 invasion of Iraq.
The film focuses on the heroism of GCHQ analyst Katharine Gun (Keira Knightley), who comes across a report that explains how international espionage agents were assigned to covertly operate in Cameroon, Chile, Bulgaria, and Guinea. Their mission was to find information that would incriminate Iraq before the United Nations Security Council meeting. Katharine decides to inform the British public.
"Official Secrets" does a great job of humanizing a brave activist. As Katharine survives a chaotic press cycle and is accused of being a traitor, Knightley wonderfully explores her character's unflinching dedication to the truth.
Nighthawks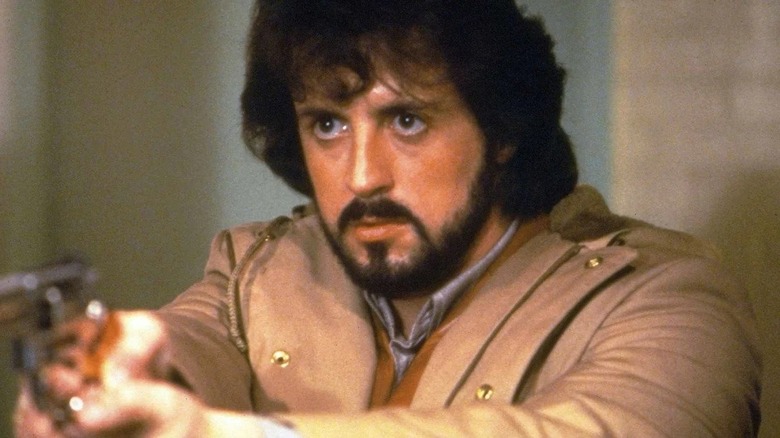 Universal Pictures
Many buddy cop movies are very comedic. While classics like "Lethal Weapon" and "48 Hrs." contain plenty of action, there's an element of humor that adds levity to the story. Compared to these crowd-pleasers, the 1981 buddy cop film "Nighthawks" is significantly darker. The neo-noir story focuses on two New York City Police Department detectives who search for an elusive terrorist.
Deke DaSilva (Sylvester Stallone) and Matthew Fox (Billy Dee Williams) are attacked by three armed criminals at a subway station. Deke is incapacitated by one of the attackers and is embarrassed by his failure. He decides to prove his merit by investigating a drug network. As Deke and Matthew search for corrupt police officers linked to a Bronx smuggling ring, the British terrorist Wulfgar Reinhardt (Rutger Hauer) travels to New York from London.
Stallone does a great job portraying the complex character of Deke, who feels completely alone between his failed marriage and the corruption in the police department.
Street Smart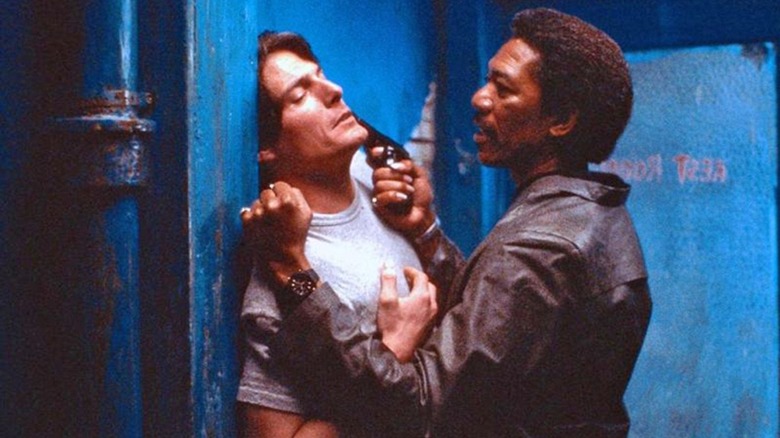 The Cannon Group
Morgan Freeman is one of the most inherently likable actors of all time. His breakout performance in the 1987 crime thriller "Street Smart" earned him his first Oscar nomination. Before "Driving Miss Daisy" and "The Shawshank Redemption" turned him into one of Hollywood's friendliest faces, Freeman showed just how menacing he could be.
"Street Smart" follows the magazine writer Jonathan Fisher (Christopher Reeve), who struggles to find a story that interests his editor, Ted Avery (Andre Gregory). Jonathan is struggling financially and needs his next story to be a success, so he decides to write a false article about a local pimp. Although the story is completely fictitious, Jonathan's character is very similar to an actual pimp, Leo Smalls (Morgan Freeman). Leo is currently on trial for murder, and he becomes convinced that Jonathan is trying to plant evidence to sway the jury against him.
Freeman is completely terrifying in this role. Leo is feared by the New York criminal underworld, and earns the moniker "Fast Black." Jonathan was also a much different role for Christopher Reeve. After playing Superman in three films, Reeve struggled to be seen as anything but heroic. Jonathan isn't inherently sympathetic, though; his dishonesty as a journalist ends up putting innocent people in danger.
The Holcroft Covenant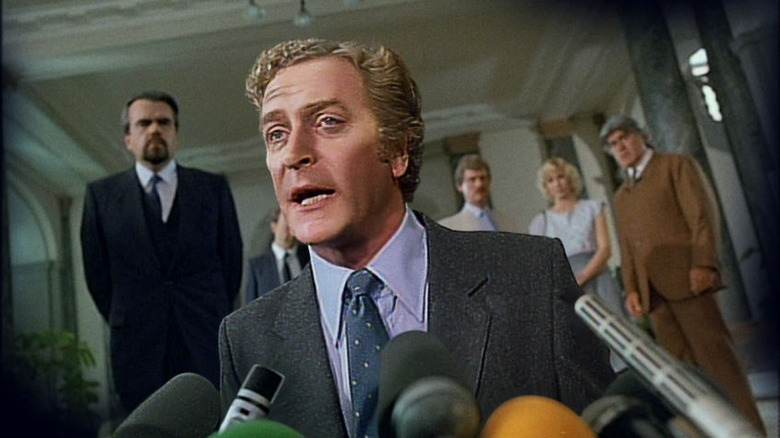 Universal Pictures
Although he's not exactly a household name, John Frankenheimer has directed many classics. Frankenheimer helmed iconic thrillers such as  "Birdman of Alcatraz," "The Manchurian Candidate," "The Train," and "Grand Prix." The 1985 mystery thriller "The Holcroft Covenant" is one of Frankenheimer's most underrated films. Based on the classic novel of the same name by Robert Ludlum, the movie tells an international story of adventure, suspense, and conspiracy.
"The Holcroft Covenant" centers on the search for a secret Nazi fortune, which has been stashed in secret since the end of World War II. Noel Holcroft (Michael Caine) knows that his late father was one of Adolf Hitler's closest advisors. Although they never had a close relationship, Holcroft learns that his father left him a fortune, to apologize for his crimes. However, a syndicate of Nazi loyalists wants the treasure to fuel a new war effort. Holcroft must follow his father's clues across Europe, and find the treasure before the Nazis do.
The film does not attempt to absolve fascism in any way, and Holcroft himself isn't necessarily a likable character. He is in over his head when he's tasked with stopping a renewed radical movement, and Caine portrays the character well. 
Frantic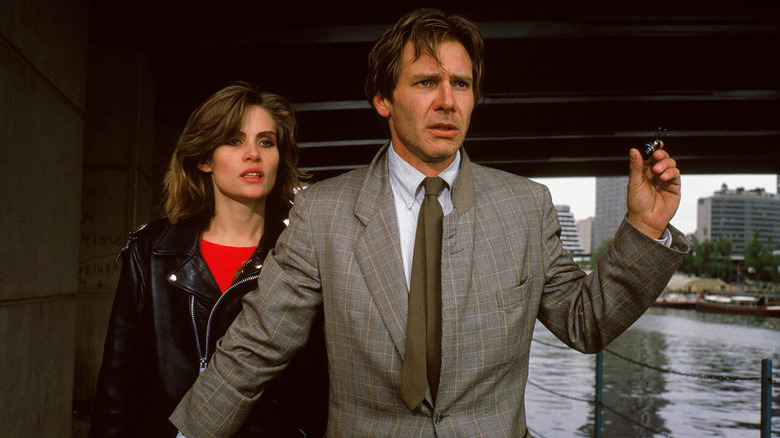 Warner Bros.
Although Harrison Ford was one of the most popular movie stars in the world in the 1980s, the thriller "Frantic" sadly underperformed. The film's disappointing box office performance does not reflect its quality, though. Ford gives one of his best performances ever as a surgeon who wakes up to find his wife is missing.
Ford's character, Dr. Richard Walker, travels to Paris, France to attend a professional medical conference. His wife, Sondra (Betty Buckley), disappears after they get to their hotel room. After searching the area, Richard doesn't receive any help from the U.S. embassy. They tell him there is little hope that Sondra will be discovered, as they have many ongoing cases. Richard later learns that Sondra was mistaken for Michelle (Emmanuelle Seigner), a local smuggler. Michelle had been carrying a briefcase containing a nuclear detonator.
Richard reluctantly agrees to help Michelle find the briefcase, so he can bargain for Sondra's life. Ford does a great job at showing the stressful situation that his character is in. He doesn't want to be involved with someone like Michelle, but he knows that she's his only clue to finding Sondra alive.
Talk Radio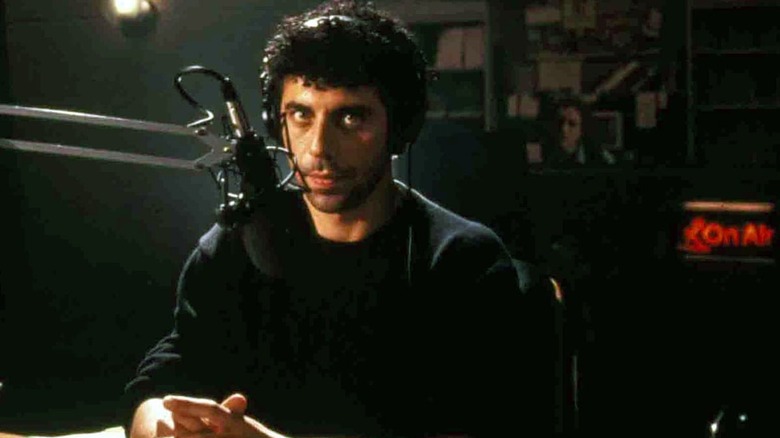 Universal Pictures
The maverick filmmaker Oliver Stone has never kept quiet about his political beliefs. Stone's films frequently focus on controversial subjects, including his 1988 thriller "Talk Radio," which was based on a Pulitzer Prize-winning play by Eric Bogosian and Ted Savinar. It was loosely inspired by the life of Alan Berg, an inflammatory Denver radio personality. Berg was murdered by the white supremacist group the Order in 1984.
The film stars Bogosian as Barry Champlain, a similarly radical radio personality. Barry hosts a late-night radio program in Dallas, Texas, and his condescending, rude humor generates backlash from his listeners. Despite the controversy that surrounds it, Barry's show is in its final audition to be nationally syndicated. However, Barry receives a disturbing fan mail letter from an outspoken listener, threatening to kill him. Barry tries to determine the writer's identity, but he doesn't stop giving his angry tirades on air.
Dead Again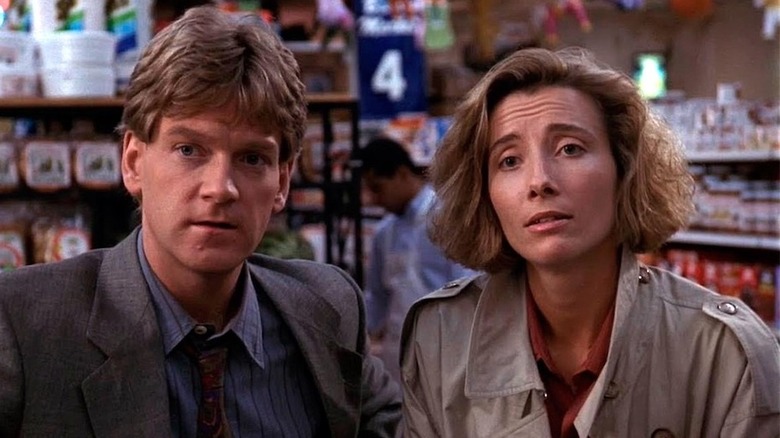 Paramount Pictures
Kenneth Branagh has a fascinating career as a director. Branagh is often associated with his Shakespearean adaptations, including "Much Ado About Nothing," "Henry V," and "Hamlet." He's also no stranger to blockbusters, having helmed major franchise projects such as "Thor," "Jack Ryan: Shadow Recruit," and "Cinderella." Compared to the rest of his filmography, the 1991 thriller "Dead Again" was a novelty. A mid-budget mystery is exactly the type of film that Hollywood should be making more often.
"Dead Again" follows private investigator Mike Church (Branagh), who meets a nameless woman (Emma Thompson) connected to his childhood orphanage. Church nicknames her "Grace." Grace has amnesia, and the hypnotist Franklyn Madson (Derek Jacobi) offers his help in restoring her memories. During their therapy sessions, Grace has visions of a murder from 43 years earlier.
Branagh and Thompson also play the historical characters, Roman and Margaret Strauss, in flashbacks. "Dead Again" does a nice job at linking these two timelines, and intertwining the mystery.
Breakdown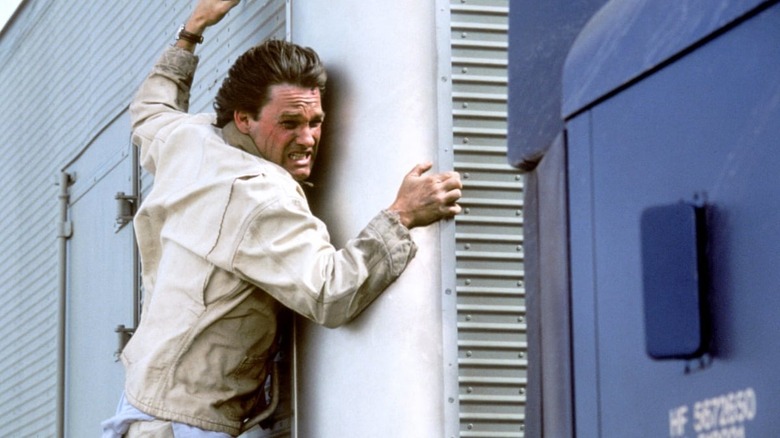 Paramount Pictures
Kurt Russell is possibly best known for his work with filmmaker John Carpenter. The pair collaborated on classics such as "Escape From New York," "Big Trouble in Little China," and "The Thing." However, Russell has given many other great performances in films that aren't quite as well known, such as the 1997 thriller "Breakdown."
Jeff (Russell) and Amy Taylor (Kathleen Quinlan) take a long drive from Boston to San Diego in their new Jeep Grand Cherokee. Although the cross-country trip begins smoothly, the couple's car breaks down after nearly colliding with another vehicle. They are stranded in the middle of the desert, and Jeff goes to a local diner to find help. When he returns to his car, he can't find Amy anywhere.
Russell is a unique movie star, who is still convincing when he's playing realistic characters. Jeff, an ordinary man caught in extraordinary circumstances, is in a relatable position and must rely on his wits to survive.
Outbreak
Warner Bros.
The 1995 thriller "Outbreak" is even more terrifying now than it was during its initial release, as the film centers on the rapid spread of a dangerous virus. Steven Soderbergh's 2011 thriller "Contagion" has been reassessed amidst the COVID-19 pandemic, and "Outbreak" deserves the same critical praise. Although "Outbreak" is the less realistic of the two, it still has many insights into why it is important to listen to scientists.
The film begins by revealing an American cover-up of a virus called Motaba in 1967. A camp of infected soldiers in the Republic of Congo is destroyed in order to erase all evidence of the disease. However, a similar infection emerges 28 years later in Zaire. The USAMRIID virologist Colonel Sam Daniels (Dustin Hoffman) discovers that the virus has become airborne, and could potentially wipe out the global population.
Sam must elude his superior, Major General Donald McClintock (Donald Sutherland), who was involved in the initial cover-up. The movie shows how political inaction only puts more people in danger. 
The Pelican Brief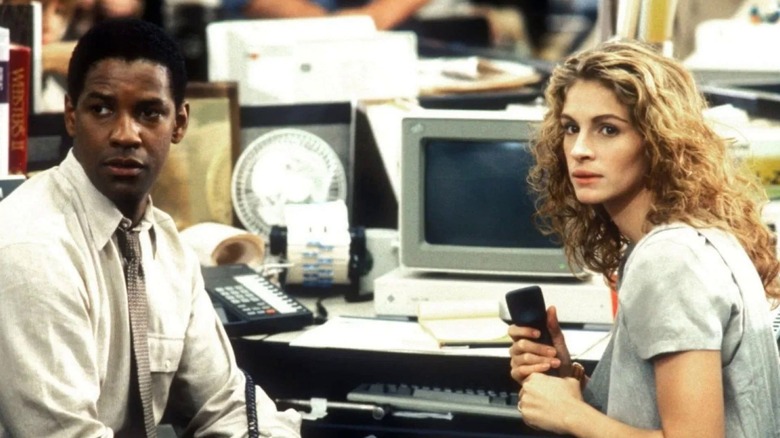 Warner Bros.
The 1990s were a great decade for fans of legal thrillers. Many of the best courtroom dramas of the decade were based on the novels of John Grisham. Alan J. Pakula's 1993 thriller "The Pelican Brief" is a great example of why Grisham's work was so popular. While Grisham's premises never seemed entirely implausible, they contained just enough intrigue and suspense to create a captivating mystery.
"The Pelican Brief" follows Tulane University law student Darby Shaw (Julia Roberts), who is having an affair with her professor, Thomas Callahan (Sam Shepard). After two Supreme Court justices are murdered by the assassin Khamel (Stanley Tucci), Darby writes a report theorizing why they were killed. She delivers it to Callahan and later realizes her assessment was correct after he is killed by a car bomb. Crime reporter Gary Grantham (Denzel Washington) reaches out to Darby, and they work together to find the conspirators.