These House Of The Dragon Character Posters Will Get You Ready For Fire And Blood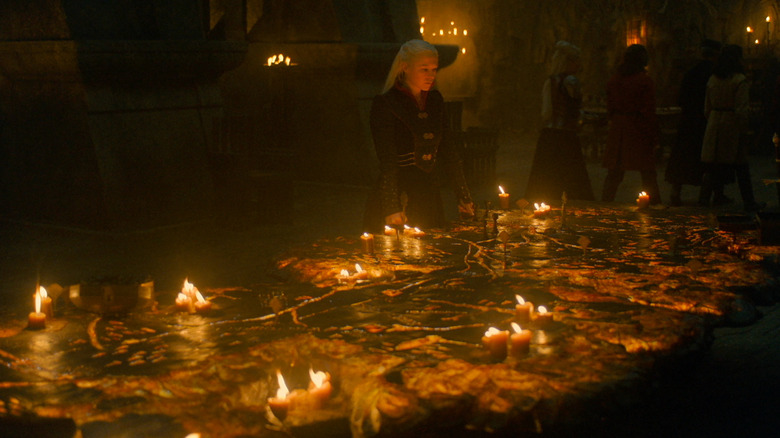 HBO
May has only just begun and it's already turning into a busy month for several of our favorite pop culture titans. May the Fourth, obviously, was all about "Star Wars," with Disney and Lucasfilm dropping another "Obi-Wan Kenobi" trailer on us with no shortage of details for fans to pick through and dissect. Amusingly enough, that other major space-set franchise, "Star Trek," decided to crash the party with two major events: the finale of "Star Trek: Picard" and the premiere of "Strange New Worlds." And, of course, Marvel would never be let itself be forgotten entirely as "Doctor Strange in the Multiverse of Madness" is set to release in theaters as early as tonight, with most audiences likely living up to the advanced tracking numbers by heading out tomorrow and throughout the upcoming weekend.
Not to be outdone, HBO has decided to enter the fray with some brand-new looks at their "Game of Thrones" prequel, titled "House of the Dragon." Earlier today, we received the trailer for the series to help make viewers wash that lingering taste of the parent show's final season out of their mouths — though the focus on the Targaryen family dynasty once again should make it a little difficult to keep fans from remembering where exactly Daenerys Targaryen ended up. Hint: it involved a lot of fire and blood. And mass murder.
In any case, "House of the Dragon" will take fans hundreds of years into the past, long before the events involving Hodor, Jon Snow knowing nothing, and Sean Bean once again dying gruesomely on-screen. Instead, we have a new ensemble cast of characters who come bearing names that are impossible to spell correctly without double-checking first, confusing family histories that'll take several seasons for newcomers to straighten out, and hopefully the likelihood of overeager parents naming their children after seemingly "heroic" characters who will ultimately end up becoming fascists. All that good stuff!
In an effort to get our bearings in the early going, however, HBO has helpfully debuted a number of new character posters along with their names. Check them all out below.
House of the Dragon posters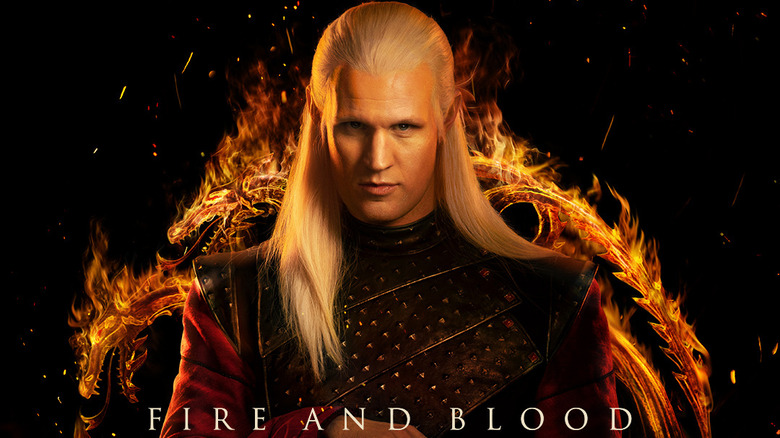 HBO
"House of the Dragon," as you might have deciphered from that very subtle title, is all about House Targaryen and the dynasty they forged in Westeros through the overwhelming power of their dragons. Where "Game of Thrones" was adapted from author George R.R. Martin's (still-incomplete!) "A Song of Ice and Fire" series, "House of the Dragon" will take its cues from Martin's "Fire & Blood" series. If you thought the political machinations of the original HBO series were operatic already, with the Starks and Lannisters and Targaryens and Tyrells all bickering over control of that sword-encrusted throne, you ain't seen nothing yet.
The newly-released character posters all come emblazoned with the House words of "Fire and Blood" and their (weirdly "Hunger Games"-esque) flaming sigil in the background. Above, you can see Matt Smith's Prince Daemon Targaryen, who has previously been described as the "younger brother to King Viserys and heir to the throne. A peerless warrior and a dragonrider, Daemon possesses the true blood of the dragon. But it is said that whenever a Targaryen is born, the gods toss a coin in the air..."
The series will also star actor Paddy Considine as King Viserys Targaryen (not to be confused with another Viserys Targaryen, the descendent and would-be king played by Harry Lloyd in the first season of "Game of Thrones"). We know that this main character of the series was "chosen by the lords of Westeros to succeed the Old King, Jaehaerys Targaryen, at the Great Council at Harrenhal. A warm, kind, and decent man, Viserys only wishes to carry forward his grandfather's legacy. But good men do not necessarily make for great kings."
Finally, there's also Olivia Cooke's Alicent Hightower, "the daughter of Otto Hightower, the Hand of the King, and the most comely woman in the Seven Kingdoms. She was raised in the Red Keep, close to the king and his innermost circle; she possesses both a courtly grace and a keen political acumen."
You can head on over to the official "House of the Dragon" Twitter account to eyeball all the nine total character posters released, featuring cast members Emma D'Arcy as Princess Rhaenyra Targaryen, Steve Toussaint as Lord Corlys Velaryon, Eve Best as Princess Rhaenys Targaryen, Fabien Frankel as Ser Criston Cole, Sonoya Mizuno as Mysaria, Rhys Ifans as Otto Hightower, and more. "House of the Dragon" is set to premiere on HBO on August 21, 2022.