DC League Of Super-Pets Trailer: It's Raining Cats And Dogs And Giant Pigs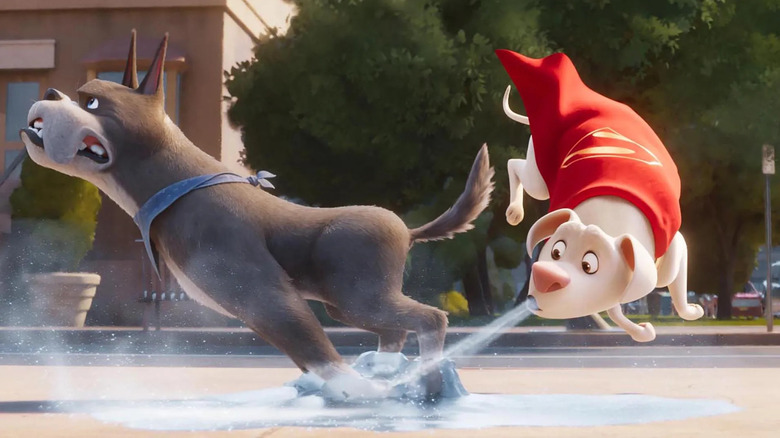 Warner Bros.
The past few years, Warner Bros. has given us increasingly darker and more violent DC movies. From the broody "The Batman," to the R-rated blood, guts, and over the top swears of "The Suicide Squad," "Birds of Prey," and the nihilism of "Joker." 
And yet, when DC caters to younger audiences, it leads to some of their absolute best movies. Whether it's "Batman: Mask of the Phantasm," the delightful "Teen Titans Go! to the Movies" or the second-best Batman movie ever, "The Lego Batman Movie," DC animated movies can be as good, if not better, than their live-action counterparts.
Now, Warner Animation Group are hoping to find gold once again by appealing to the purest thing in the world: pets. More specifically, a "DC League Of Super-Pets."
What if pets, but with powers
The latest trailer seems to be the same one that screened at CinemaCon 2022 last week, now online for your convenience. The trailer expands on the story and the titular league, as we see a group of pet animals gain superpowers in a freak accident, and set out to rescue a kidnapped Justice League. 
The tailer's tone and story bring to mind the similarly premised "The Secret Life of Pets," but where "DC League Of Super-Pets" shines is in the interactions between the pets and their super owners, as we see Kevin Hart's Krypto being so protective of his human (well, Kryptonian, but you get the gist), John Krasinski's Superman, that he imagines hurling Lois Lane into the sea before she and Superman can go out on a date. Indeed, a big appeal of the movie is the cast, with Hart once again playing opposite Dwayne Johnson, who plays Ace the Bat dog. But it is Keanu Reeves' hilarious Batman who steals the trailer, as he is visually annoyed by Krypto playing with a Batman chewing toy, which he hopes is officially licensed. 
It remains to be seen how much "DC League Of Super-Pets" will poke fun at the DC universe or just focus on the titular pet adventure, but so far the trailers have been both cute and quite funny.
"DC League Of Super-Pets" is directed by Jared Stern, who co-wrote the film with John Whittington. In addition to hart, Johnson, and Reeves, the film also stars Kate McKinnon, Vanessa Bayer, Natasha Lyonne, and Diego Luna as the rest of the League of Super-Pets, Thomas Middleditch, Ben Schwartz and Jameela Jamil in undisclosed roles, and Marc Maron as Lex Luthor.
"DC League Of Super-Pets" is set to hit theaters on July 29, 2022.